The watch industry has seen too many great watch brands go under during hard times. Unfortunately we are all going through some hard times right now. But as history has shown, things get better and sometimes brands that have left are able to return. These lucky brands are born anew and restart with various degrees of success and faithfulness to their original prestige. No brand has done this better than A.Lange & Söhne. Forced to close their doors during World War II, they relaunched in 1994 and quickly asserted themselves at the very top of the watchmaking mountain.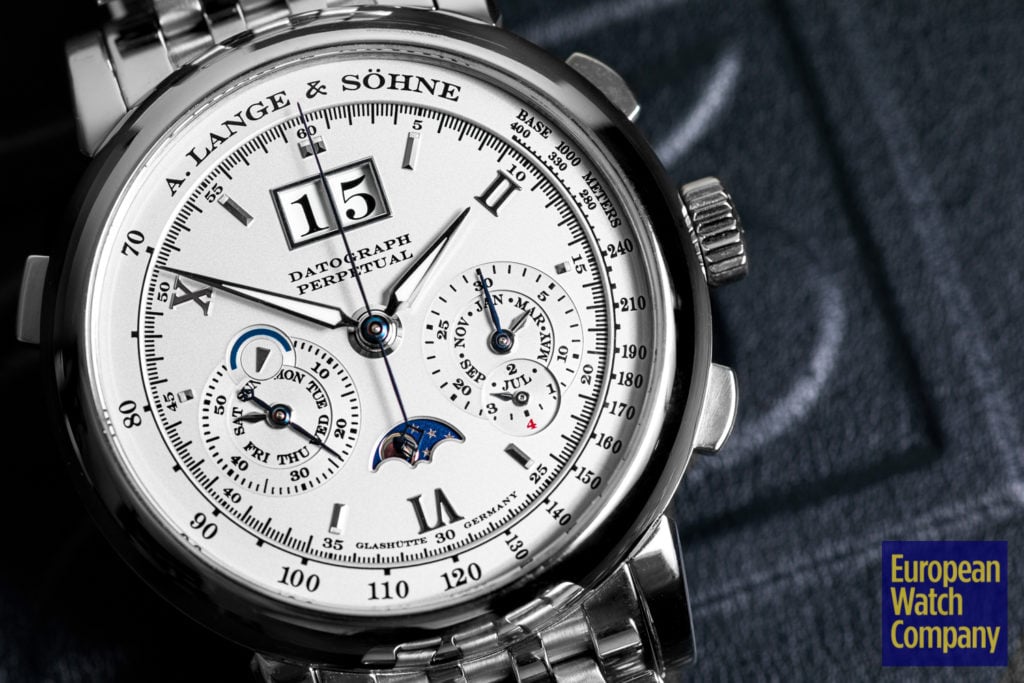 This is the A. Lange and Söhne Datograph Perpetual Calendar Chronograph Reference 410.025 on Platinum Bracelet (34502). The initial impression of this watch can be jarring as platinum on platinum is not for the faint of heart. With the silver dial added to the mix, you get a pure, almost surgical looking watch that is instantly recognizable as both an A. Lange & Söhne watch and a precision instrument. The Datograph is one of A. Lange & Söhne's most popular models and is regarded by many as the best chronograph watch ever made.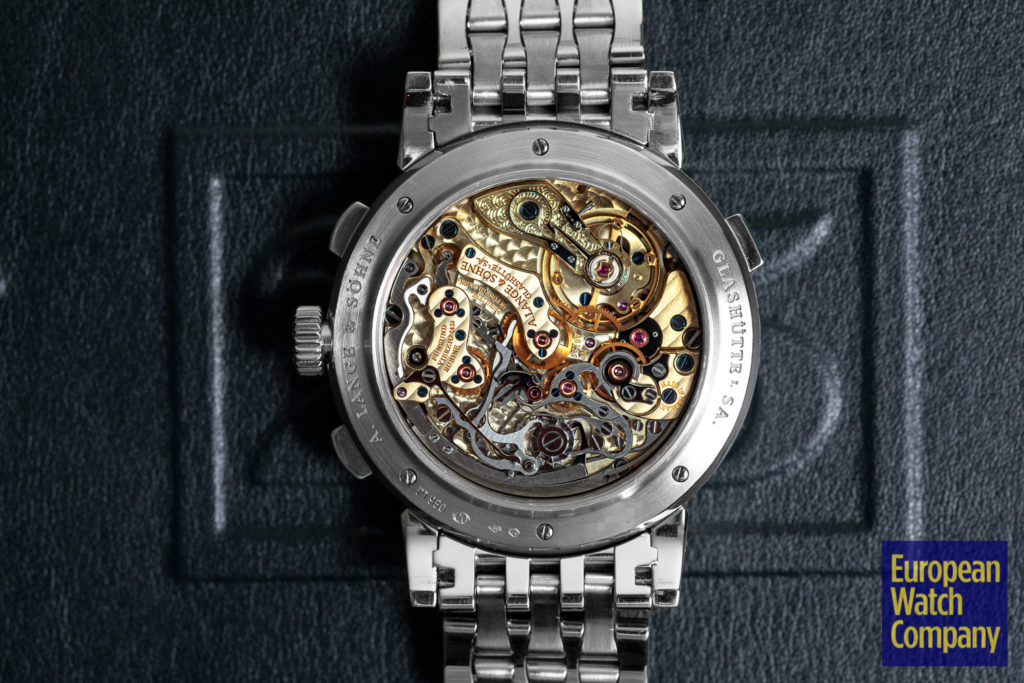 A. Lange & Söhne designed the original movement from the ground up. Something that at the time of its release—1999— the watch industry hadn't seen in close to twenty years. This watch takes the famous flyback chronograph you know and love from the Datograph and ups the ante. The flyback chronograph, if you're not familiar, differs from a traditional chronograph in that it combines the three steps you usually use to restart—stop, reset to zero, and restart—into just one button push. Simultaneously all chronograph hands 'fly back' to zero and begin timing again.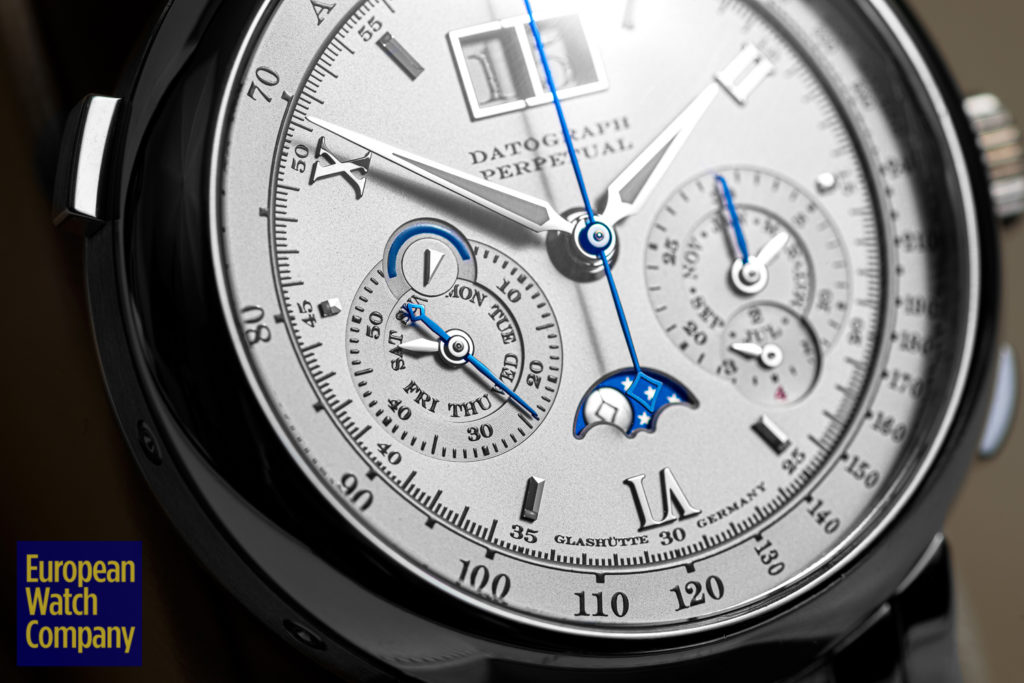 In addition to the greatest flyback chronograph on earth, there's still the matter of its perpetual calendar complication. This includes the classic big window date, day of the week, month, moon phase, and of course leap year indications. A perpetual calendar complication delineates months with 30 and 31 days as well as accounts for the date on a leap year. The perpetual calendar in this Datograph is excessively accurate, the only time you'll need to adjust the date is after the year 2100. The fact that changing the date is a task for whoever inherits the watch says volumes about the accuracy but also of the expected life of the timepiece.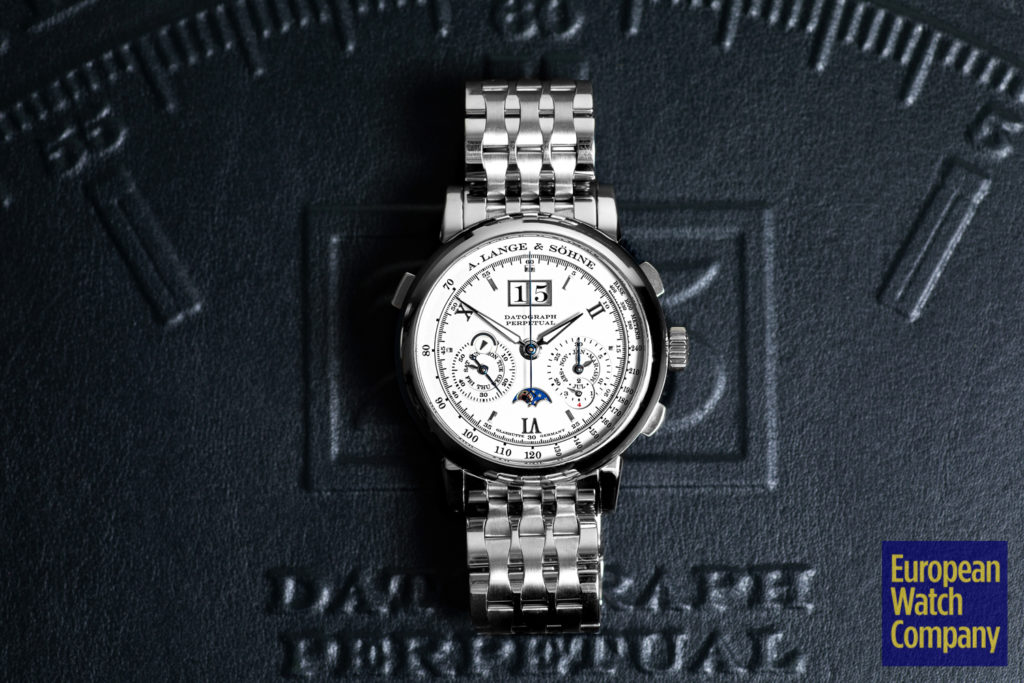 With that many complications in one watch, one would expect a prohibitively busy dial—not the case here as A. Lange & Söhne has kept things very clean and symmetrical. This is German design at its best. The dial is beautiful to look at, but it has some competition with what beats underneath it. The Caliber L952.1 is made up of 556 components, a good chunk of which are visible behind its sapphire crystal display back. Lange movements are touted as some of the most nicely finished calibers in the industry, and between the use German silver mainplates with Glashutte ribbing, gold chatons surrounding movement jewels, and a hand engraved balance cock, there's little else out there that compares. It's one of the main reasons their watches are thought of so highly.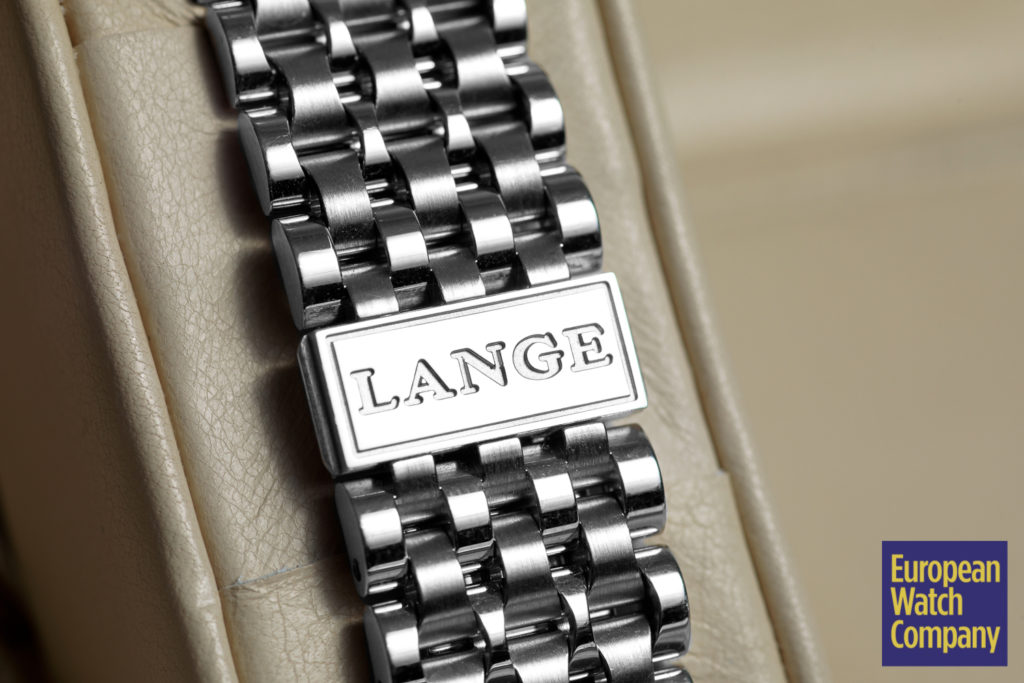 With that said, the standout feature of this watch for me is the bracelet. This variant is discontinued and currently this model only comes in white gold on a leather strap. Even when it was in production most examples of the 410.025 came on leather. Bracelets are a rare exception among A. Lange & Söhne watches, and the use of the bracelet here makes the watch not only more rare but much more versatile. While its 30m of water resistance—and overall aesthetic—prevent it from being considered sporty, the bracelet has advantages that leather doesn't. You're not putting a watch with a fine leather strap on during a humid summer day. The bottom line is a watch on a bracelet can be enjoyed more often than one on leather, and the platinum can take more punishment than gold. If you want a top tier complicated Lange that you can enjoy every day without worry this is the watch.