There's no doubt about it: the Audemars Piguet Royal Oak is one of the most iconic watches to come out of the last century. It's instantly recognizable form factor is still a point of contention for many collectors, and its incredible popularity with elite tastemakers has made it even more of a lightning rod for hot takes. No matter where you stand on this audacious timepiece, the Audemars Piguet Royal Oak 25820SP Perpetual Calendar undeniably has much to offer. At a time when steel watches sell for positively grotesque prices, this intriguing stainless steel and platinum watch, complete with perpetual calendar complication, defies expectations and beckons us to take a closer look. So let's get down to it, shall we?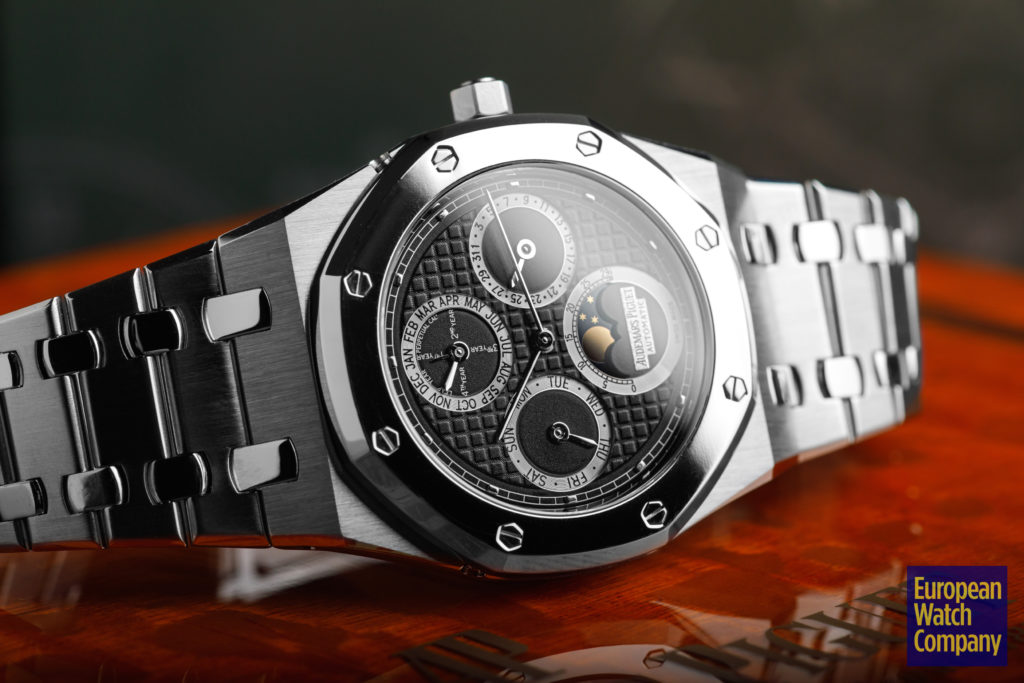 The "SP" in the reference number for this watch (25820SP) speaks to its unlikely combination of precious and non-precious metals. If you're wondering what's what, just take a close look at these photos and let your eyes see the answer; the platinum surfaces are polished to a beautiful, mirror like sheen while the steel is brushed. That gentle contrast lends a sophisticated beauty to the design, making the platinum bezel leap from its brushed steel backdrop. For anyone who feels the Royal Oak lacks subtly, this piece comes as a clear refutation.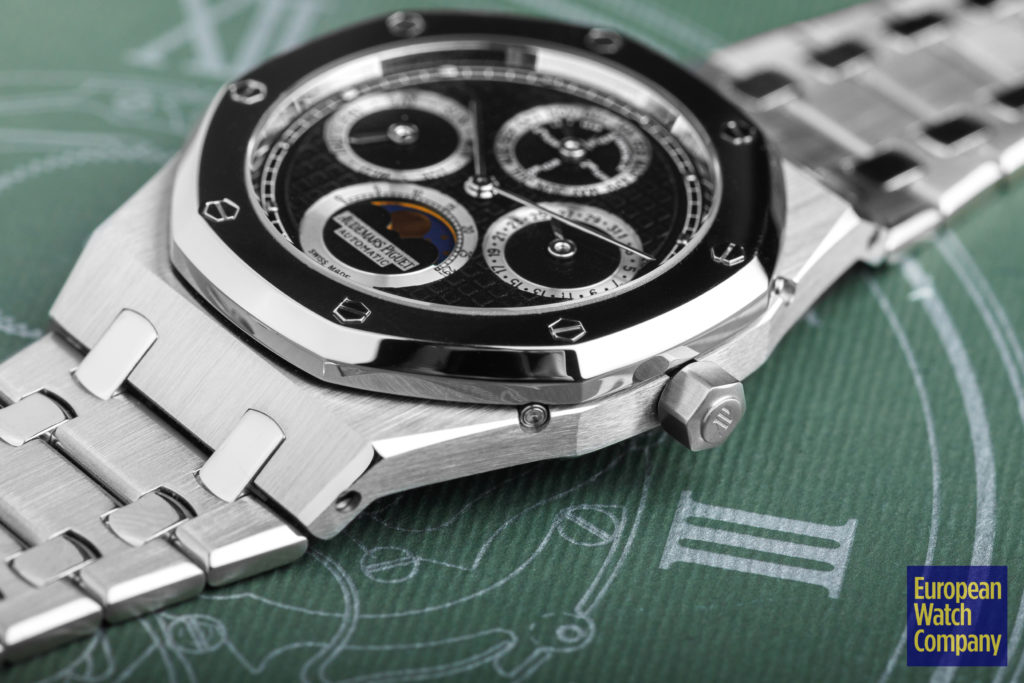 The contrast between the bezel and the rest of the case, along with the integrated bracelet, help draw the eye to this watch's "main event": the dial. The crisp, black grande tapisserie pattern is both sleek and mesmerizing. Audemars Piguet is famous for this kind of detailed work, and these dials require highly-delicate use of specialized metalworking tools. One slip and the entire dial is ruined. Surely, it's worth taking a long, close look at these beautiful closeups to fully appreciate the workmanship.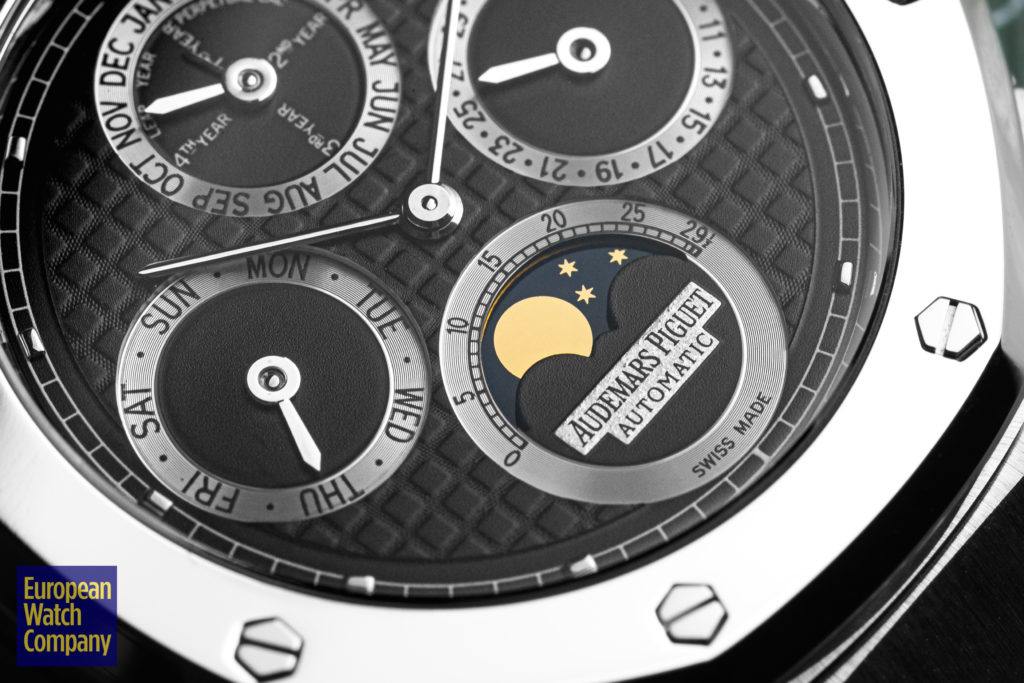 The dial features four subdials. At 9 o'clock is the day of the week, positioned opposite the date subdial at 3 o'clock. At 6 o'clock is the moonphase containing the Audemars Piguet signature. North of that, we see the month and leap year indicator at 12 o'clock. The watch's calendar will stay accurate for decades to come. Classic AP baton hands indicate all this information, aside from the moonphase. Applied hour markers punctuate the outer minute track.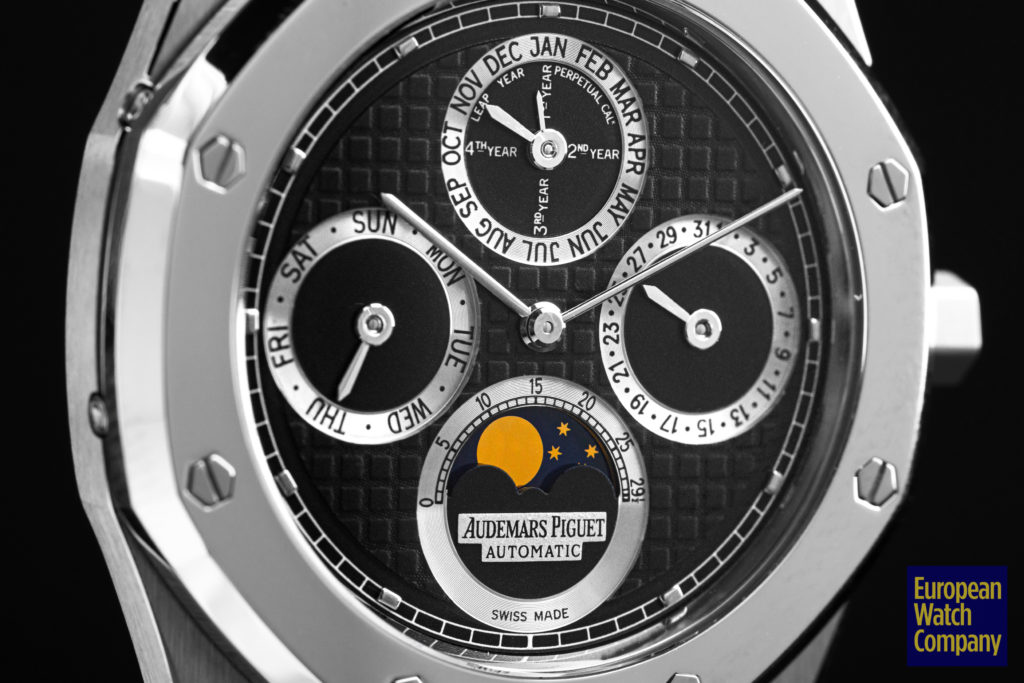 The perpetual calendar, along with the unusual combination of metals, is no doubt a large part of what makes this watch so collectible today. It is powered by the cal. 2120/2802. This automatic movement features 38 jewels and 343 components, with a power reserve of 40 hours. It beats at 2.75Hz or 19800 vph. The basis for this movement was originally developed by Jaeger-LeCoultre and was first introduced in 1967. Other brands like Patek Philippe and Vacheron Constantin have also made watches from this movement. It's reliable and thin, which made it a perfect starting point for Audemars Piguet's Cal. 2120/2802, which adds the perpetual calendar function. Part of what allows the caliber to be so thin is its use of four peripheral ruby bearings rather than a central ball bearing, which allows the rotor to move smoothly. It employs a "flying" mainspring barrel, anchored only on one side.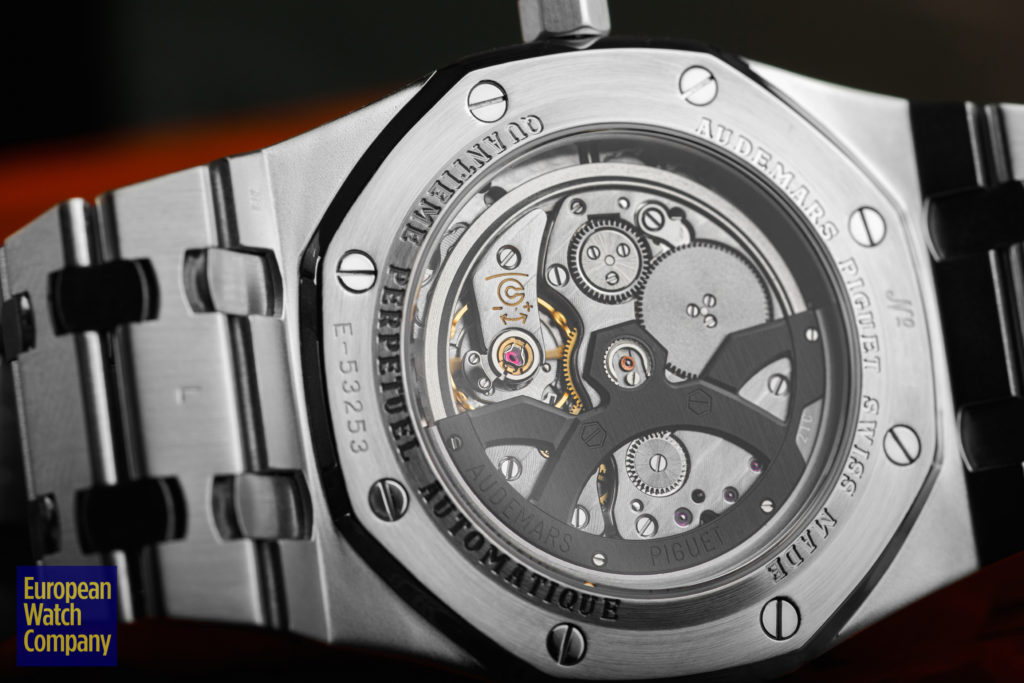 The lovely, rhodium plated movement is visible through the sapphire case back. As you might expect, the finishing work offers even more examples of expert craftsmanship. The bridges are all polished by hand and feature polished bevels, satin brushed edges, and perlage. The rotor is openworked, allowing a great glimpse of the movement from any angle. The segment is 21k gold.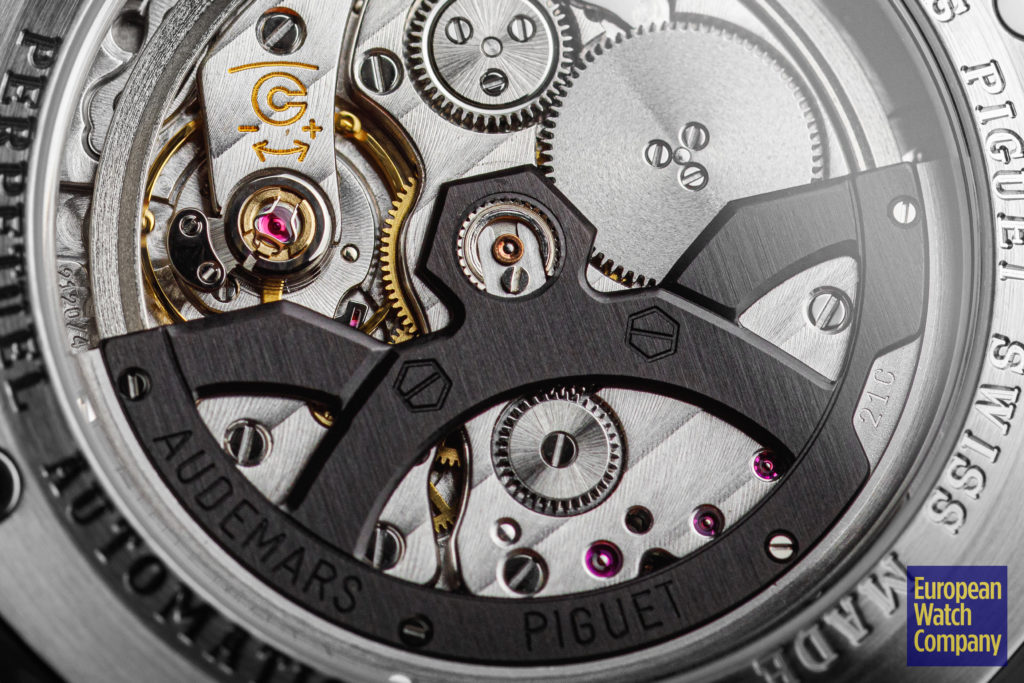 Of course, this is not Audemars Piguet's first perpetual calendar, nor is it their first Royal Oak perpetual calendar. The year 1948 saw the release AP's first perpetual calendar wristwatch, the ref. 5516. Only 12 were ever produced and they evolved over time; one of these evolutions was the first-ever perpetual calendar wrist watch with a leap year indicator featured on the dial. This, of course, should remind you of the ref. 25820SP we have in front of us, today. The first Royal Oak perpetual calendar, ref. 5554, was announced in 1984. Unlike the ref. 25820SP, this watch lacked a leap year window. Other than that, its design actually bears a fair amount in common with the ref. 25820SP.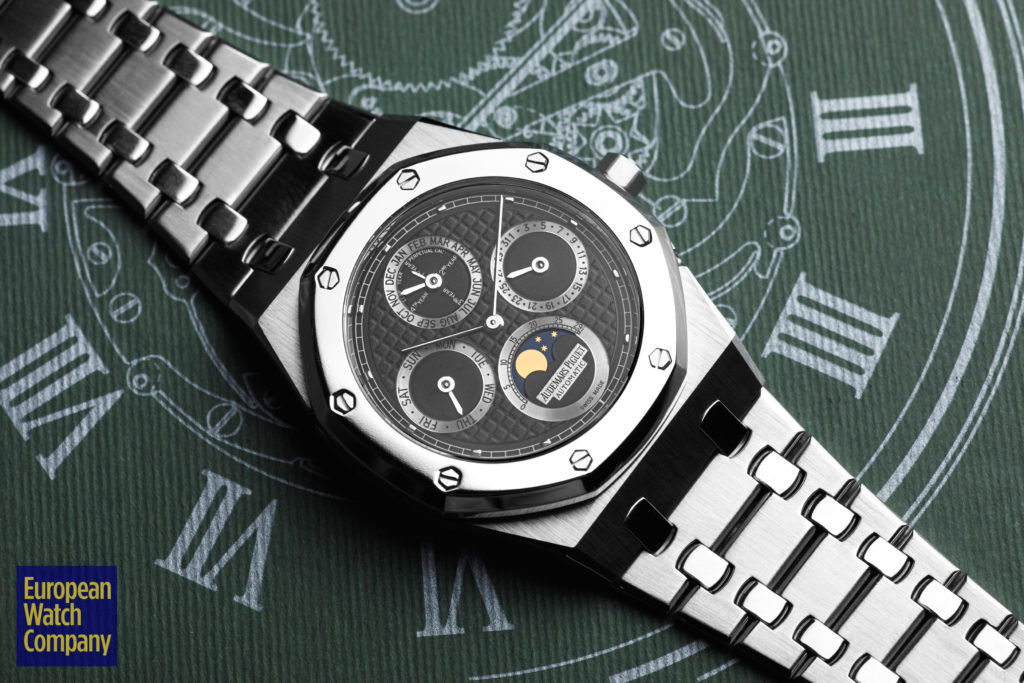 The Audemars Piguet Royal Oak 25820SP Perpetual Calendar is a special watch for a number of reasons. For one, it hails from a highly-revered lineage, both in the sense that it's a Royal Oak but also considering AP's groundbreaking history in the realm of perpetual calendar wristwatches. It's also special because of the rare combination of stainless steel and platinum that gives the watch a unique look and feel. And finally, it's special because of the incredible handiwork and attention to detail that has gone into its creation. If you're looking for a Royal Oak but don't want to feel like you've given in to all the hype, the ref. 25820SP is a good bet.