If I ask you to name an iconic luxury watch off the cuff, there's a good chance you might toss out the legendary Audemars Piguet Royal Oak. It's bold, it's hard to come by, it's downright polarizing. Whatever you think of the Royal Oak–from its distinctive design elements and integrated bracelet to its more recent pop culture bling factor—I think we can agree it's a special watch.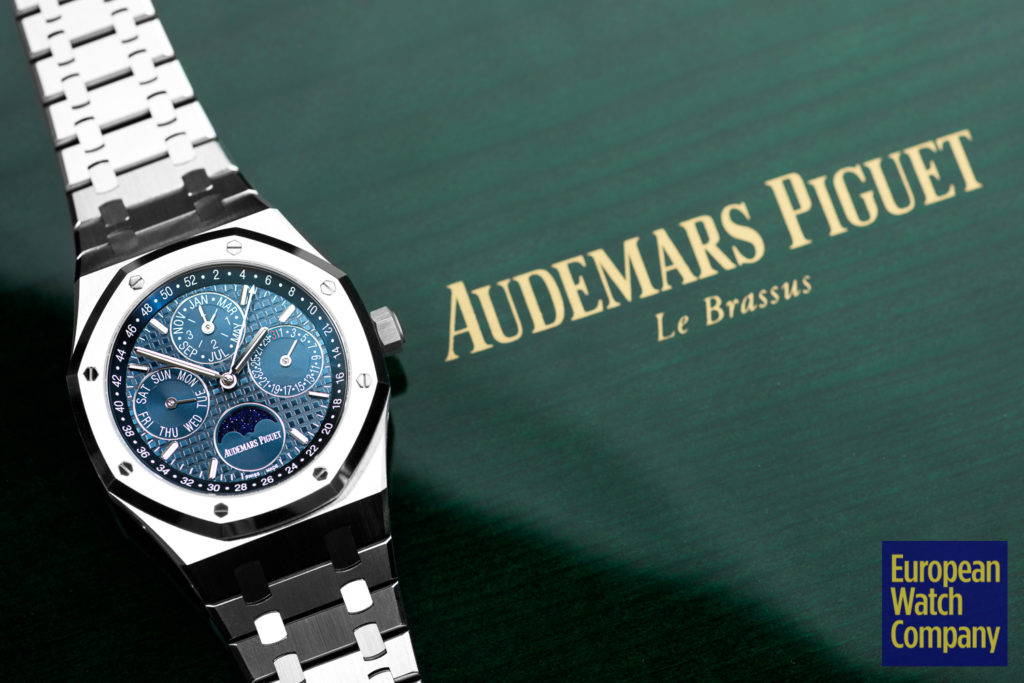 Now, take a watch like this, one that is already heavy with the weight of its own reputation, and give it a perpetual calendar complication complete with a moon phase display, and you've got yourself a very special watch—the Audemars Piguet Royal Oak Perpetual 26574ST.OO.1220ST.02.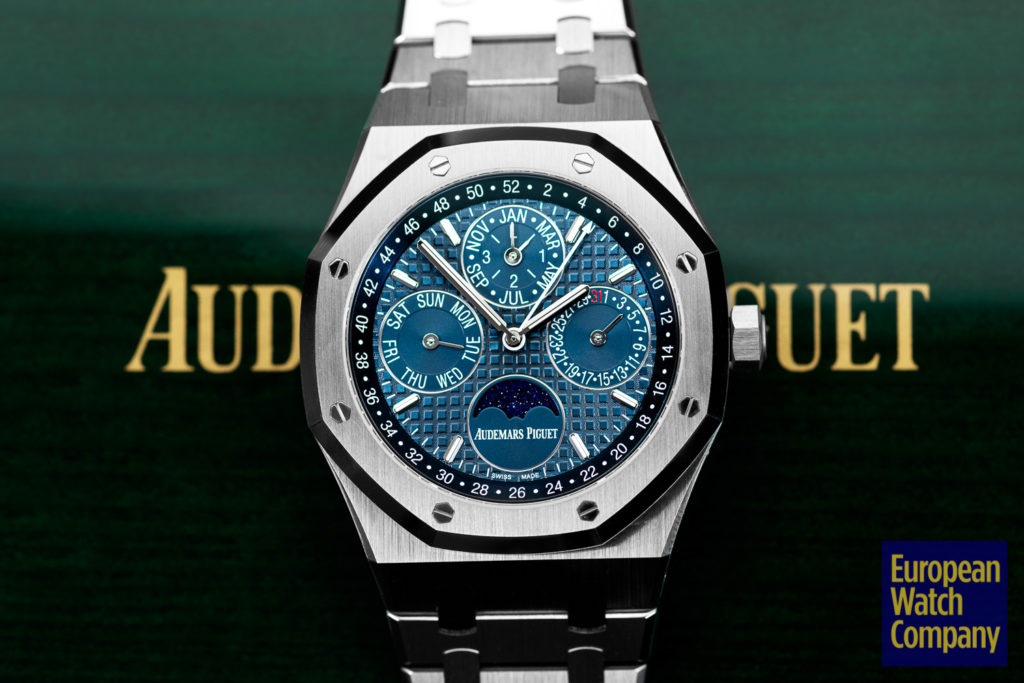 The example we're looking at here is the newest model AP perpetual calendar, released in 2017. You know it's a Royal Oak from a mile away, of course; that classic octagonal bezel held in place by eight hexagonal screws immediately give it away. Somehow this design, which made its Basel debut in 1972 in the thick of the quartz crisis, still feels like it pushes the envelope in a distinctly modern way. It's okay if it makes you a little uncomfortable. That's the point, actually.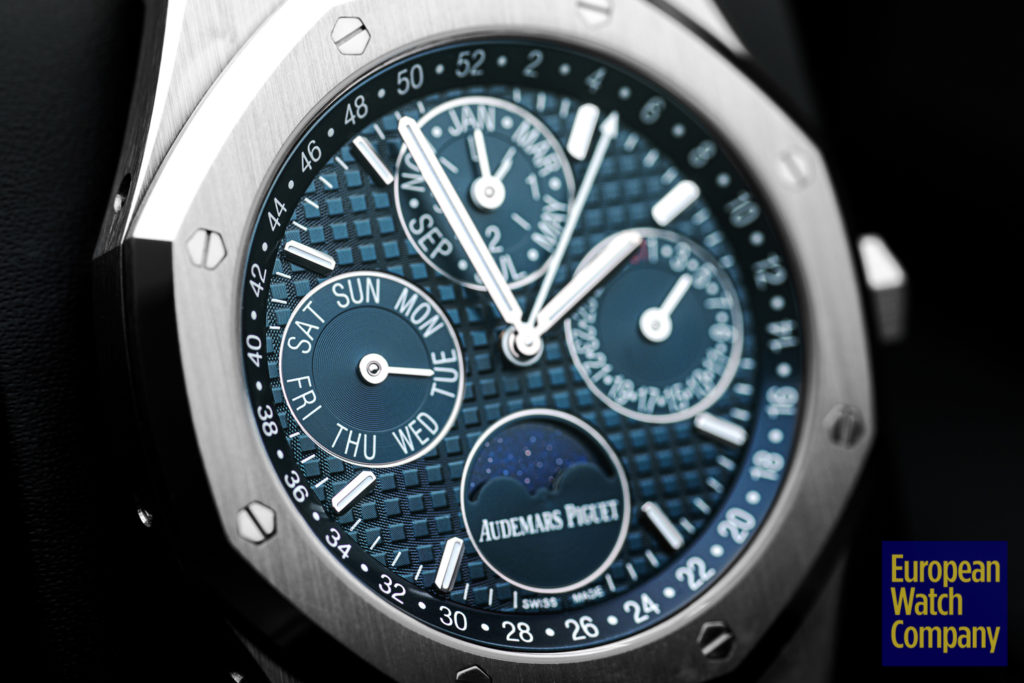 The blue dial of the Royal Oak Perpetual 26574ST.OO.1220ST.02 features the famous "grand tapisserie" waffle pattern with applied faceted white gold baton hour markers. If the tapisserie pattern really suits your fashion sense, you're very much in luck—AP makes matching cufflinks for a breezy $1,600 MSRP. On the other hand, if the notion of buying cufflinks specifically to match the dial of your Royal Oak makes you cringe, let's hang out; I want to buy you a beer.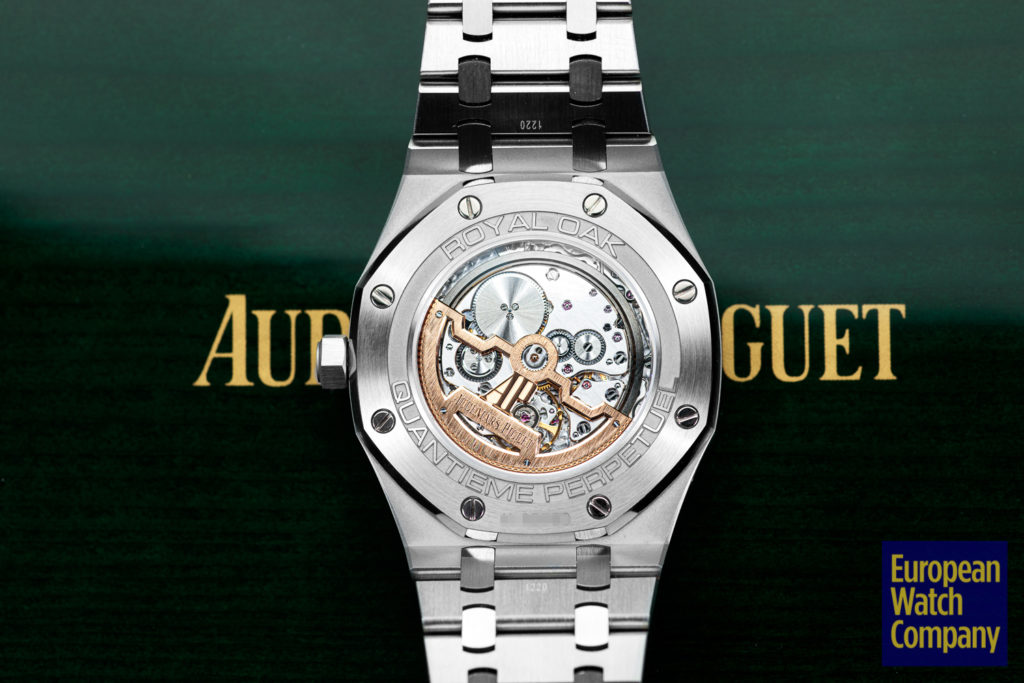 The watch is powered by the new self-winding calibre 5134, an enlarged version of its predecessor (the calibre 2120), featuring a 40 hour power reserve. This 38 jewel movement is rhodium plated and hand engraved. You can check it out through the glare-proof sapphire case back. The self-winding rotor is 21k rose gold. Oh, and get this—you can have that rotor custom engraved upon request.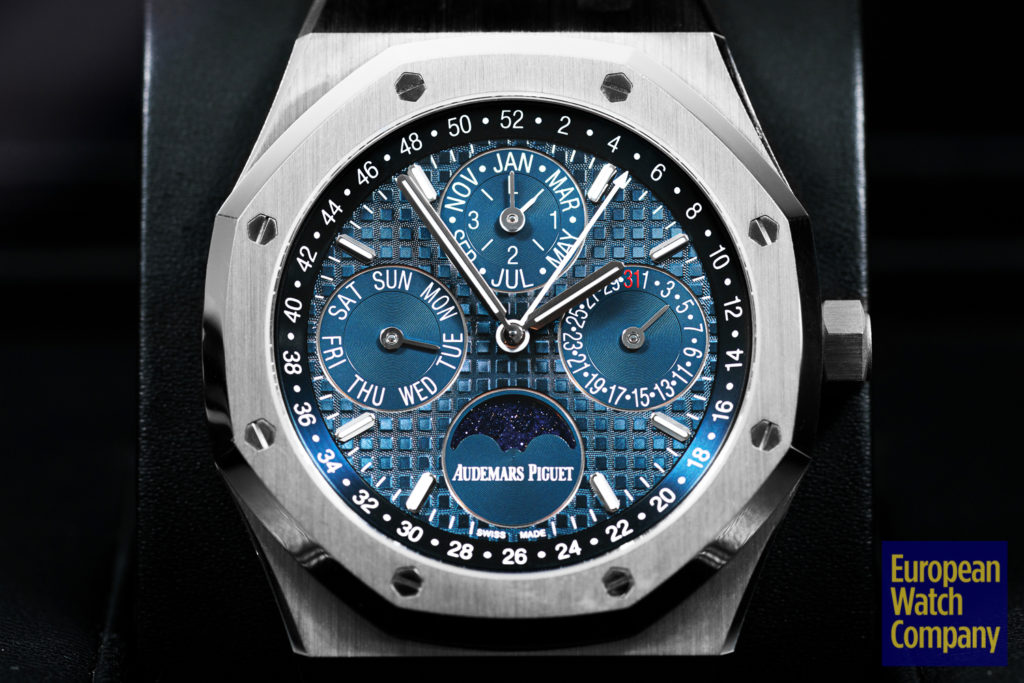 This impressive movement powers an equally-remarkable set of complications. This perpetual calendar will tell you the correct day, date, week, month, whether or not it's a leap year, and moon phase; and once you set it, it only needs correction once every 125 years and 317 days. Barring some pretty dramatic medical advancements, or you deciding to travel to a far-off time zone, it's pretty safe to say you won't need to worry about resetting it.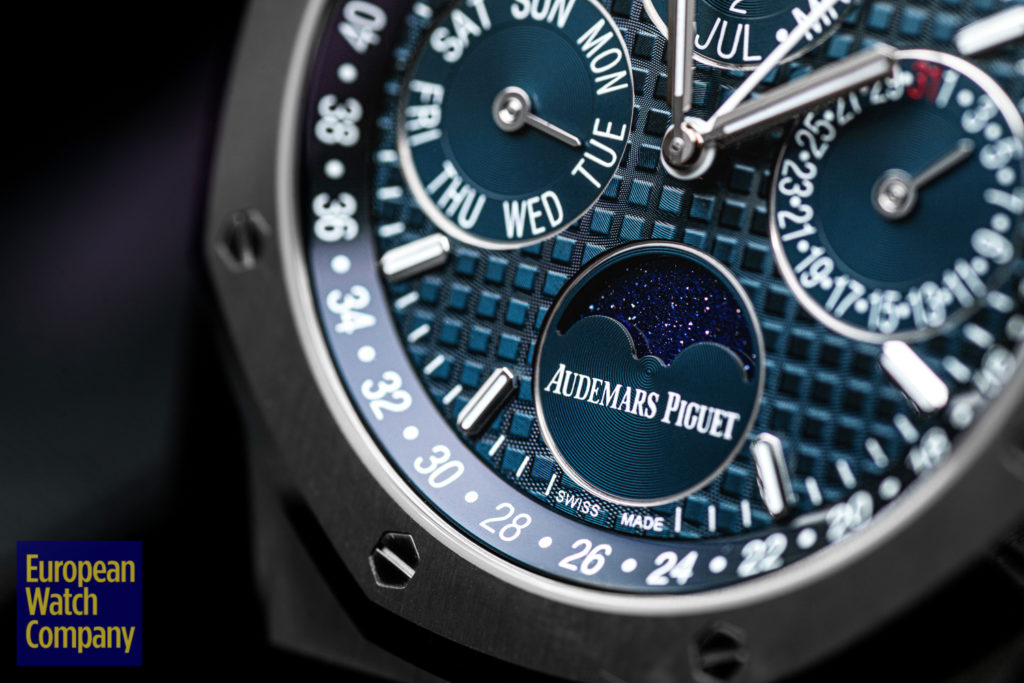 Now, I'd be risking my hard-won journalistic integrity not to confess I'm biased toward just about anything with a moon phase complication. Even still, it's hard to deny that AP's execution here is flawless. The beautiful midnight blue of the night sky dawning over the Audemars Piguet logo at 6 o'clock is illustrated with impeccable detail on an aventurine disk. It's the star of the show, and deservedly so.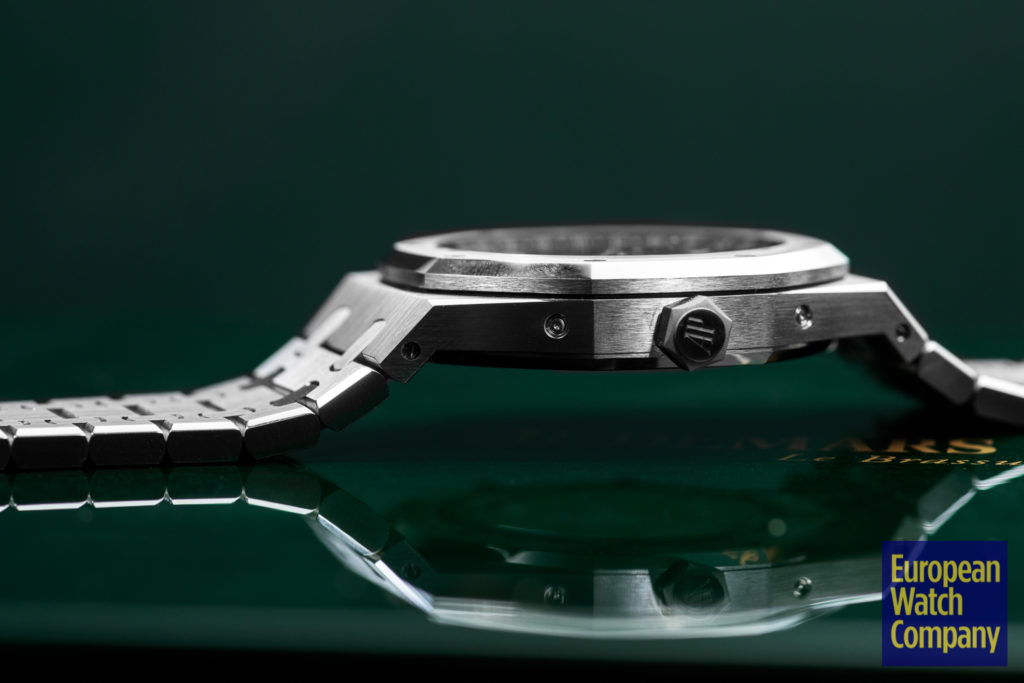 Any watch that features a perpetual calendar ought to be timeless (particularly ironic pun, I know). What good is a timepiece that will be correct for the next 125 years but will look dated after 10? Sure, the timelessness of an AP Royal Oak is categorically different from that of a Patek Philippe perpetual calendar, but every once in a while, a design or other artwork that is revolutionary in its own time ascends to the level of being a "classic" without ever losing that modern edge. Read T.S. Eliot or Gertrude Stein. Take in Picasso's Les Demoiselles d'Avignon. Or, slip on this Audemars Piguet Royal Oak Perpetual 26574ST.OO.1220ST.02.
I think you'll see what I mean.