When it launched in 1993, the Royal Oak Offshore—like its forebear—was criticized and misunderstood. People saw it as a brutish and profane take on the iconic Royal Oak design. But like the original Royal Oak, the Offshore eventually proved that it was simply ahead of its time. The collection expanded, and increased its hold on a new part of the watch market. Fast forward to 1999, and Audemars Piguet would introduce a fresh take on the Offshore that again was ahead of its time. The Royal Off Shore 'End Of Days' reference 25770SN.OO.0001.KE.01 takes the Offshore concept—already a hyper-aggressive and masculine version of the original Royal Oak—to the extreme.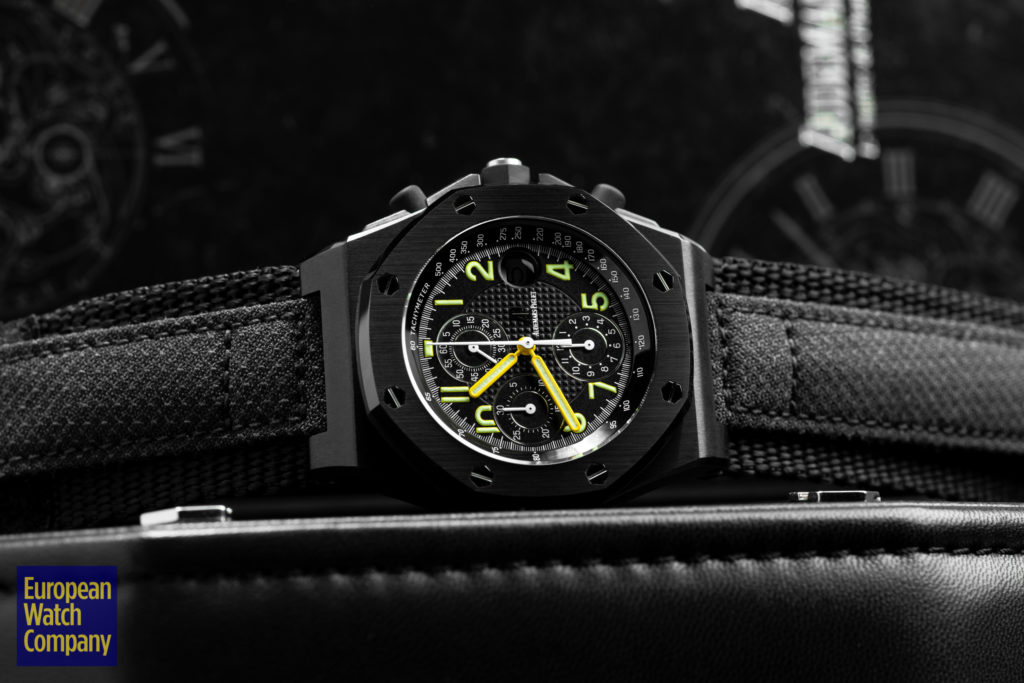 The initial impression the watch gives off is purely tactical. It looks like it would come in a large black plastic briefcase lined with foam with a Beretta M9 next to it. The first time I ever saw this timepiece, I thought to myself, "this looks like a watch Arnold Swarzenegger would wear." Well, lo and behold, he did. AP designed the watch especially for his character in the film End of Days, where he plays an ex New York City cop on a mission to fight the devil.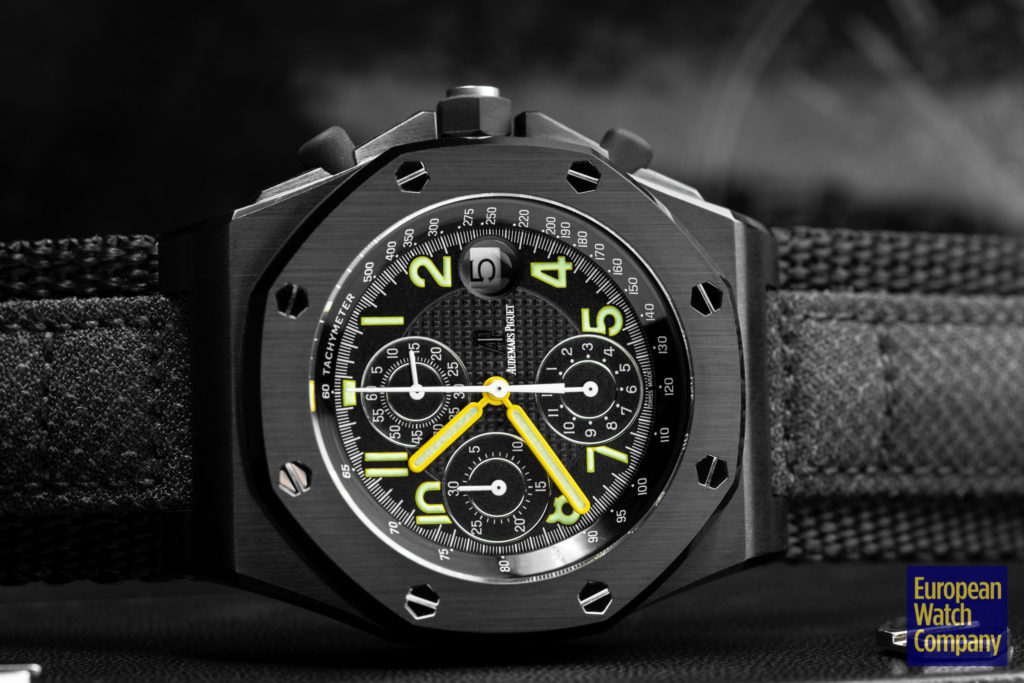 This context of its connection with the film helps one understand why this watch is so aggressive and toolish; it was designed to be worn by one of the biggest on-screen badasses ever while on a mission from God to fight the devil. Also, to deepen the cinematic connection of this specific example, it appears to have been a gift given to a friend from the Governator himself, and it comes with papers hand signed by Arnold Schwarzenegger.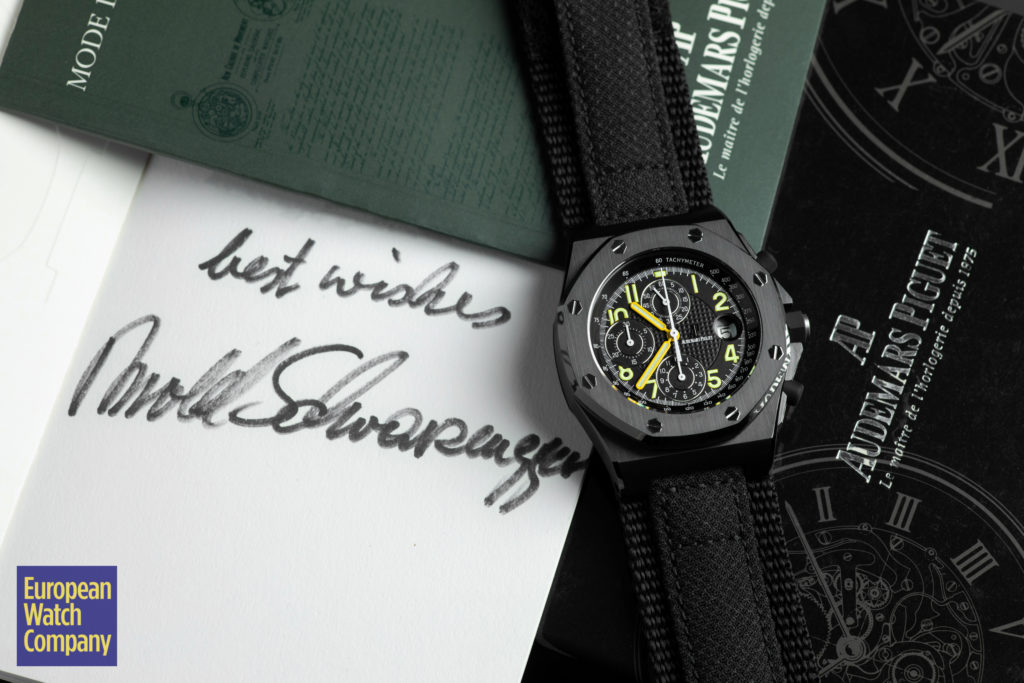 While large black PVD watches were not common at the time, especially for a brand of AP's caliber, this watch's design hit a nerve, and the limited run of 500 pieces sold out quickly. The Offshore End of Days would act as a harbinger for watch trends to come as the early 2000s watch market would go on to become dominated by large chunky blacked out technical-looking watches. Measuring at 42mm in diameter and 14.05mm thick, this watch is not small by any standards, but it is more wearable than other large watches of this era. Its thickness is almost a full half a millimeter less than a modern 42mm Offshore— this is likely due to its use of the JLC based Audemars Piguet Caliber 2226/2840, which is thinner than AP's fully in house version. It's the slight thickness difference that makes the End of Days one of my favorite Royal Oak Offshore models.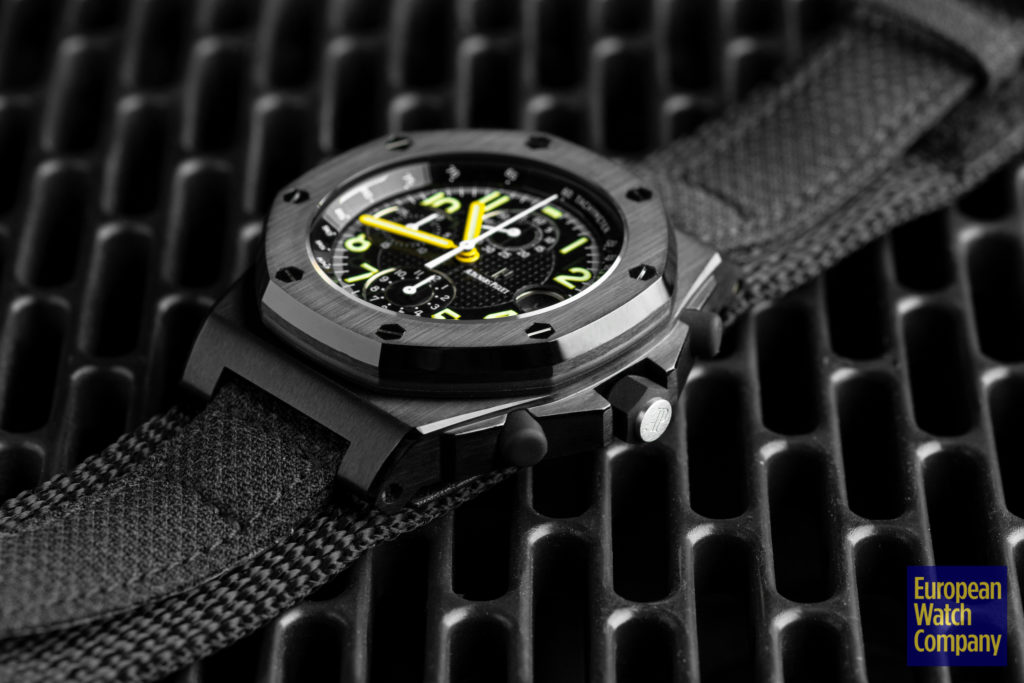 The case is entirely black PVD steel, and while PVD steel is susceptible to scratching, this is the type of watch that looks great with some battle scars. The watch is water-resistant to 100m and has black rubber pushers and rubber surrounding the screw-down crown to help keep it watertight. Being a late 90s model, this Offshore also has the older lug style, which provides a little better articulation and should help with wearability. The kevlar velcro strap affixed to the lugs is exceptionally secure with an internal velcro band and outer buckle. Details like the water-resistance and ultra-secure strap illustrate this is a watch that is meant to go on adventures.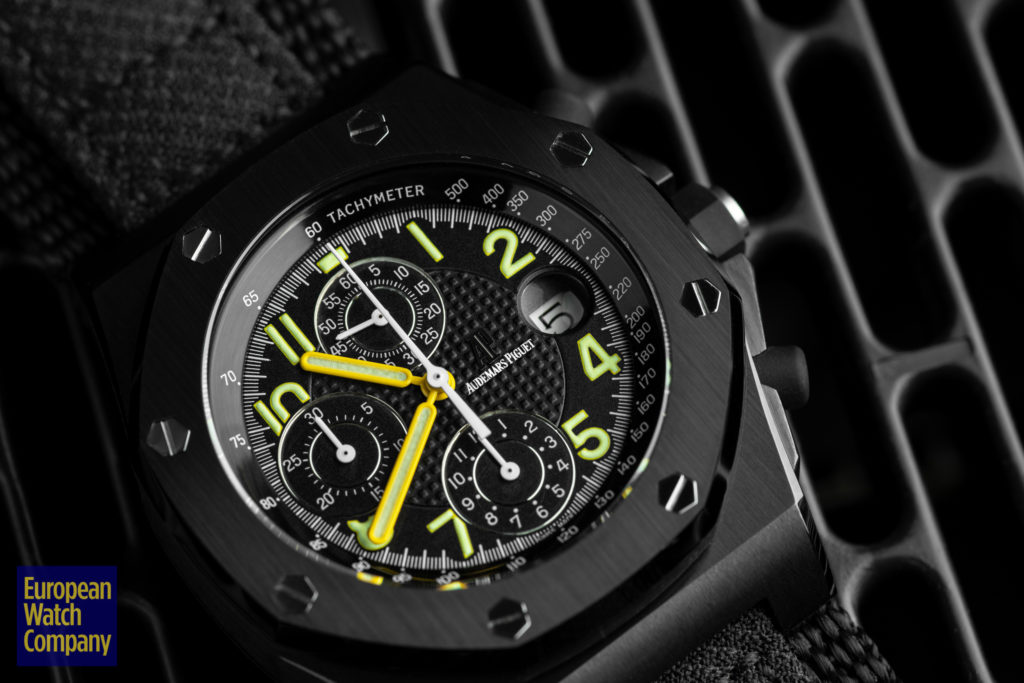 On the dial, we see the only pops of color on this timepiece. The numerals, hour, and minute hands are all fully lumed with bright fluorescent yellow surrounding them. It's a bold look that fits the watch's personality well. Being such a function-focused watch wouldn't make sense to be anything but very legible in all settings. The dial itself is matte black, with the center finished in the traditional Royal Oak tappiserie style. In the sub-dials, as well as with the center chronograph hand and outer tachymeter, you have all white hands and numerals. Running seconds is located at twelve o'clock with a twelve-hour counter at six o'clock, a thirty-minute counter at nine o'clock, and a date with magnifier at three o'clock.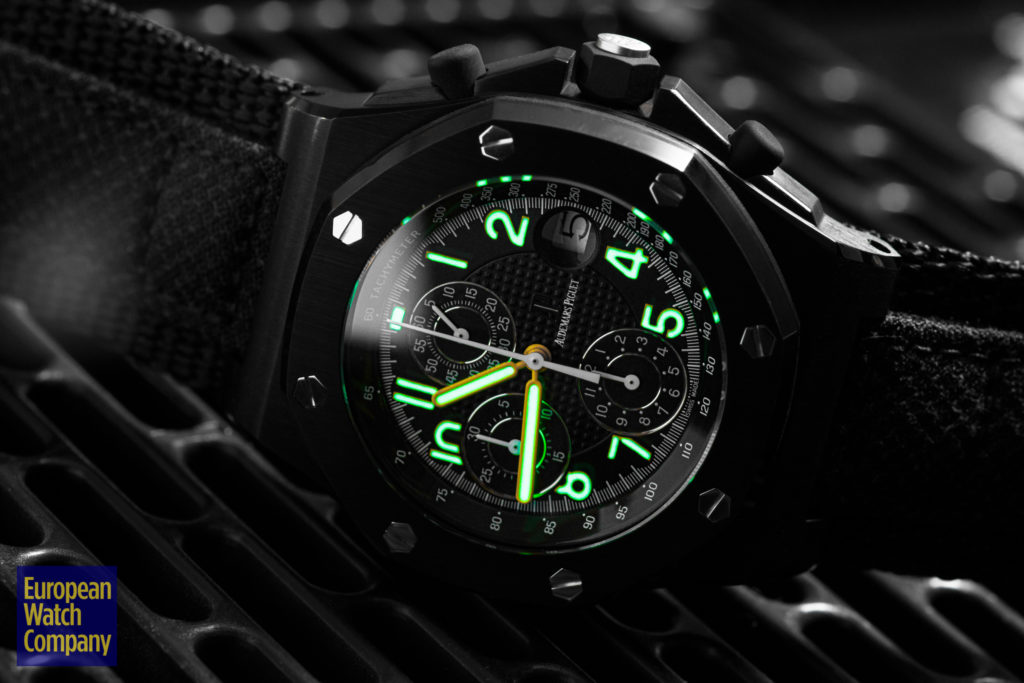 The magnifier is  interesting on this watch as it's a magnifier that diffuses two big arguments against magnifiers. It helps with symmetry rather than hurting it by balancing out the subdials and is also underneath the main sapphire crystal allowing it to have a totally flat profile. The overall layout and use of color fall in line with the watch's utilitarian nature; it's super easy to read. Even though it displays a wealth of information, the dial design is intuitive to the point where—tachymeter aside—you could hand it to someone with no context, and I believe they could easily discern all readouts.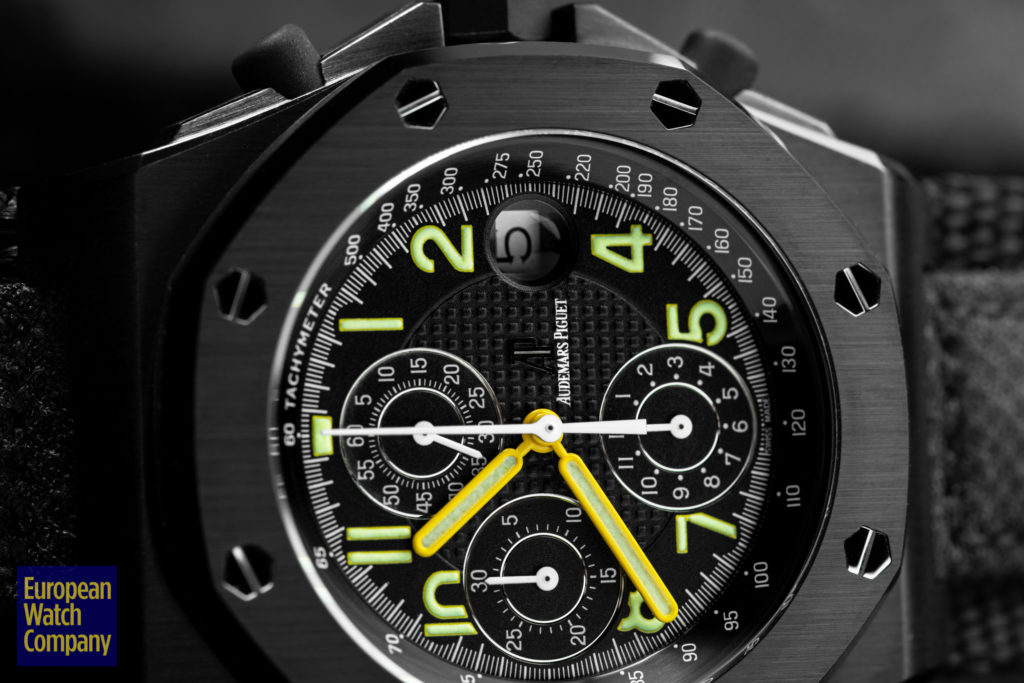 This is a timepiece that has seen its popularity cycle with watch collectors, and I think it's aesthetic can be divisive. Ultimately though, this example has so much going for it that makes it highly desirable. It's a very limited piece, one of five hundred, it has a direct connection to the man who inspired it with its hand-signed papers, and it holds an influential place in watchmaking history. If you love the Royal Oak Offshore, this model is a must-have, and this near mint example, in particular, is easily one of the most desirable of this reference.