These days when you hear about a watch with "rainbow" in the name, you probably imagine a classic sports watch dripping with colorful sapphires and dangling from the wrist of some A-list celebrity. The Breitling Superocean Heritage '57 Limited Edition "Rainbow" (A103701A1B1A1) is not that sort of rainbow watch.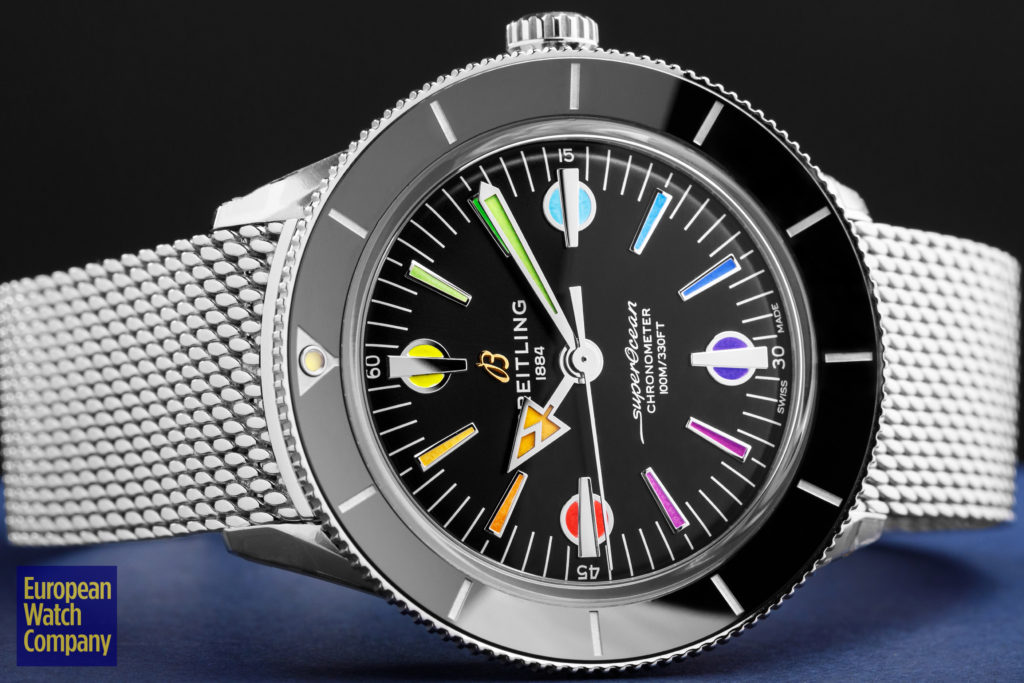 As its name suggests, the Breitling Superocean Heritage '57 Limited Edition harks back to a bygone era. It is a member of the legendary manufacture's Heritage '57 Capsule collection. This piece is built to evoke, as Breitling puts it, the "cool, laid-back surfing lifestyle of the 1960s". The watch is a tribute to their original 1957 Superocean and was released in a limited run of 250.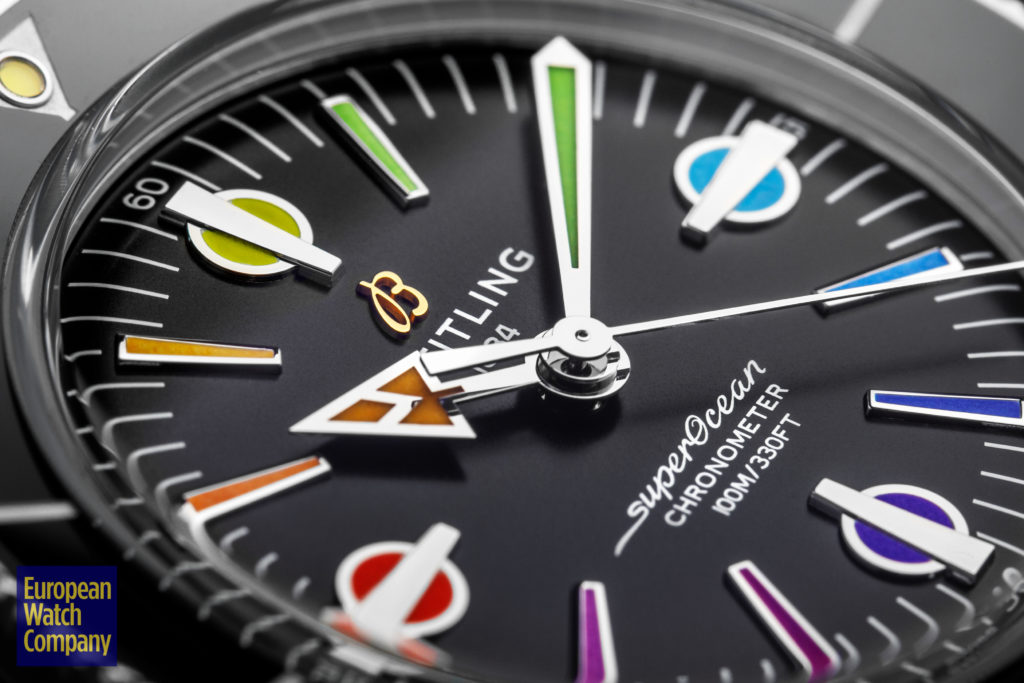 The original Breitling Superocean, which came out well before the famed Navitimer, was launched in 1957 as a dive watch bid to compete with Blancpain's Fifty Fathoms and Rolex's Submariner. Rated for 20 atmospheres (600 feet) the automatic dive watch featured distinctive long, pointy indices and a rotating bezel. The back of the case is engraved "XXX OF 250."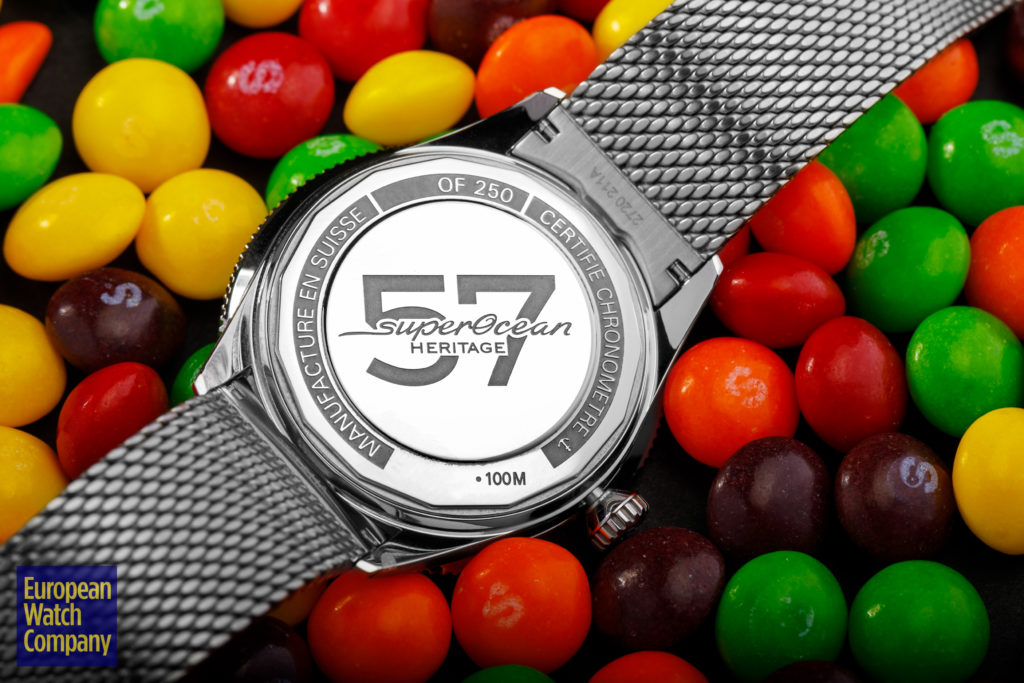 This new watch nods to the old design in a number of ways while offering something unique as well. Perhaps the clearest style cues come from the indices and the hands. The indices are something of a stylized interpretation of the original, bearing some of that long-and-pointy DNA, but also exhibiting a blocky, more-modern feel. Like the original, too, the hands are both highly distinctive from a design perspective and also offer excellent legibility for real life divers. The hour hand is a stout triangle while the minute hand is a hefty baton. Both are easy to distinguish from one another, both above the surface and deep below it.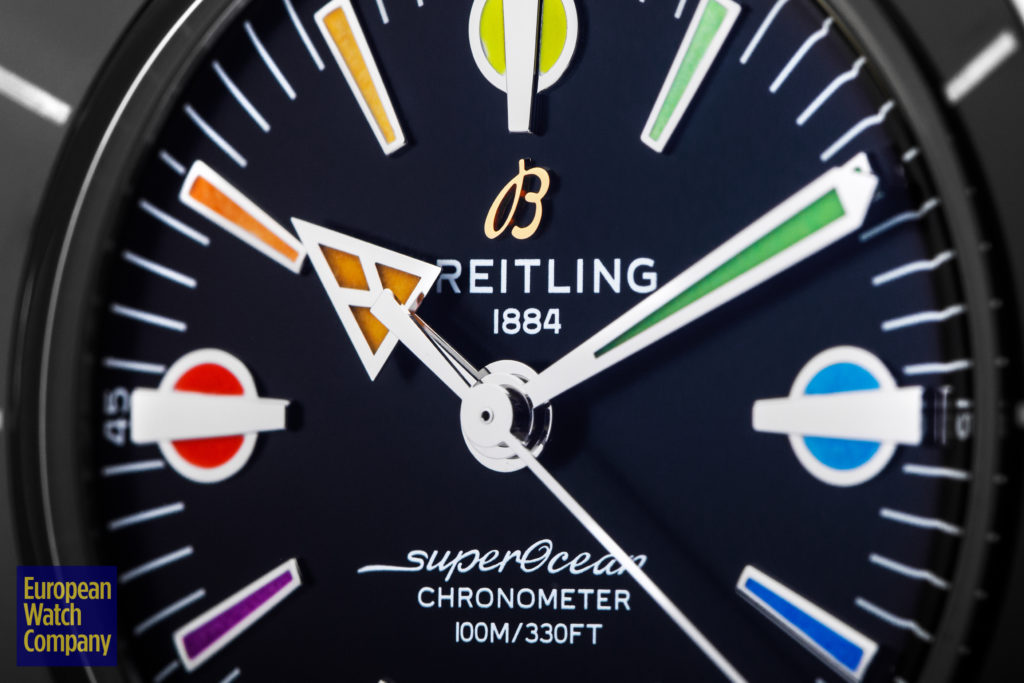 There are other design elements borrowed from the original, as well. The bi-directional rotating bezel is divided into five-minute increments by the same style hash marks—though, the 12 o'clock marker is a tad different. Unlike the original, the modern version features a yellow lume marker within the triangular indicator. This gives it a look more similar to other modern divers and would certainly make that ever-so-important indicator all the more visible underwater.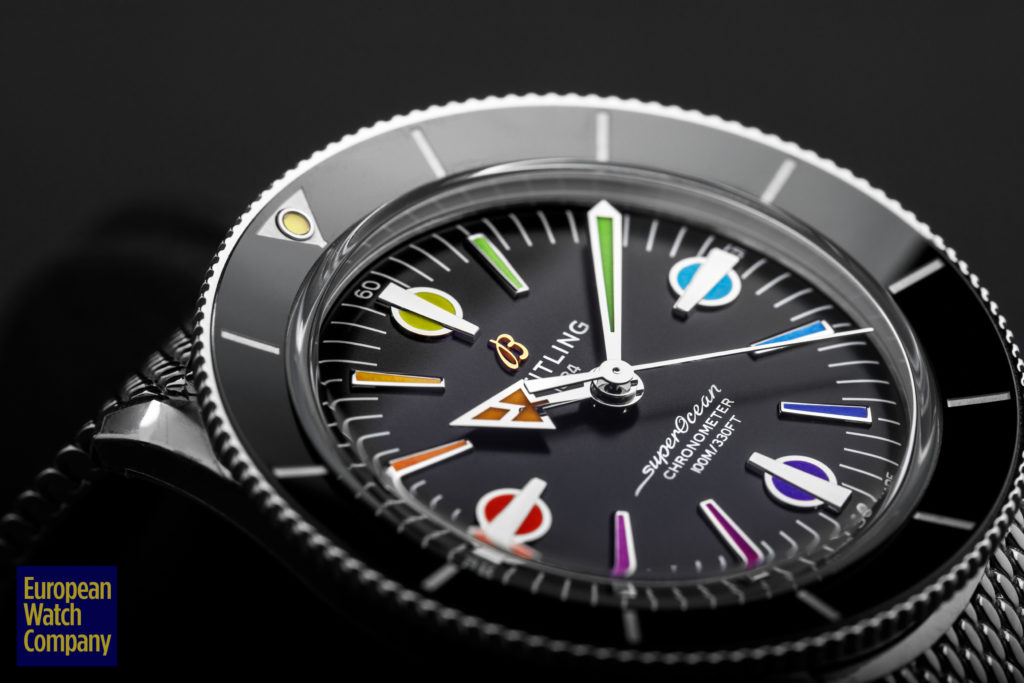 Then of course there is the bracelet: much like the 1957 Superocean, this reimagined version also comes on an adjustable steel mesh bracelet. Despite being one of the more direct design nods to the original, this stainless steel bracelet also offers a modern look to the watch. The new watch is available with a black calfskin leather strap option, but doesn't it just feel like sacrilege to wear a dive watch on a leather strap?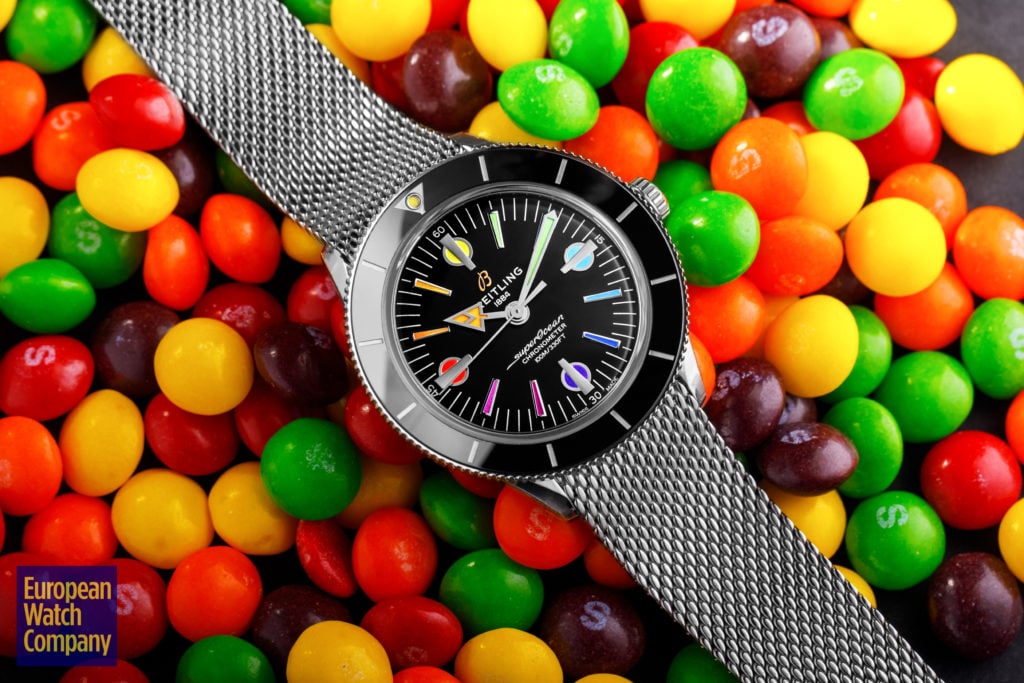 Of course, the feature attraction of this watch from a design perspective is the color scheme of the indices and hands. The indices offer a burst of rainbow color, the hues gracefully spanning the spectrum in five-minute increments. In this way, the watch actually does share something in common with the Rainbow Daytonas of the world: they are supposed to be fun. To a lesser degree, perhaps, than the Daytona, this watch challenges a collector in an important and ultimately philosophical way. Can a watch with this many zeroes in the price tag be fun? Should it be? Maybe you're the buttoned-up type who thinks the whole "rainbow" thing is an affront to horology. Or, maybe you're the sort of person who thinks, my God, if I'm going to pay this much money for a watch, I'd better have the right to have fun with it! Count me in the latter category—this isn't a watch for every occasion, but it'd make a great diver for wearing with shorts and a t-shirt at your next beach BBQ.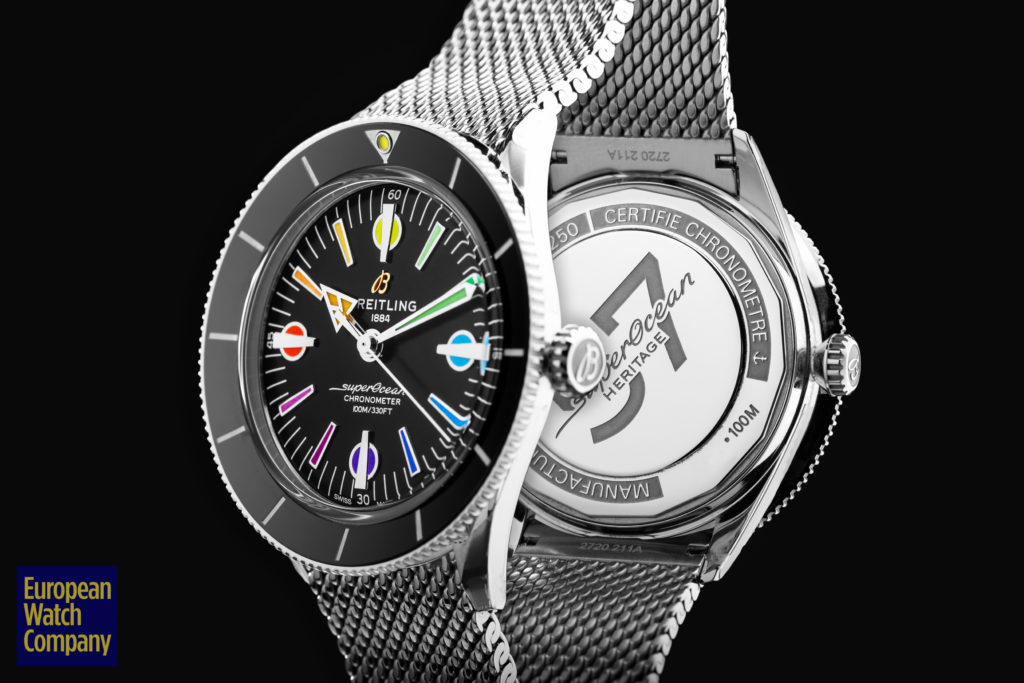 Funky design aside, let's talk about the watch from a performance perspective. Under the hood is Breitling's Caliber 10. It's an automatic movement with a power reserve of about 42 hours. It boasts COSC chronometer certification. It features 25 jewels and beats at 28,800 v.p.h. It also powers some other great Breitling offerings including the Transocean and Chronomat.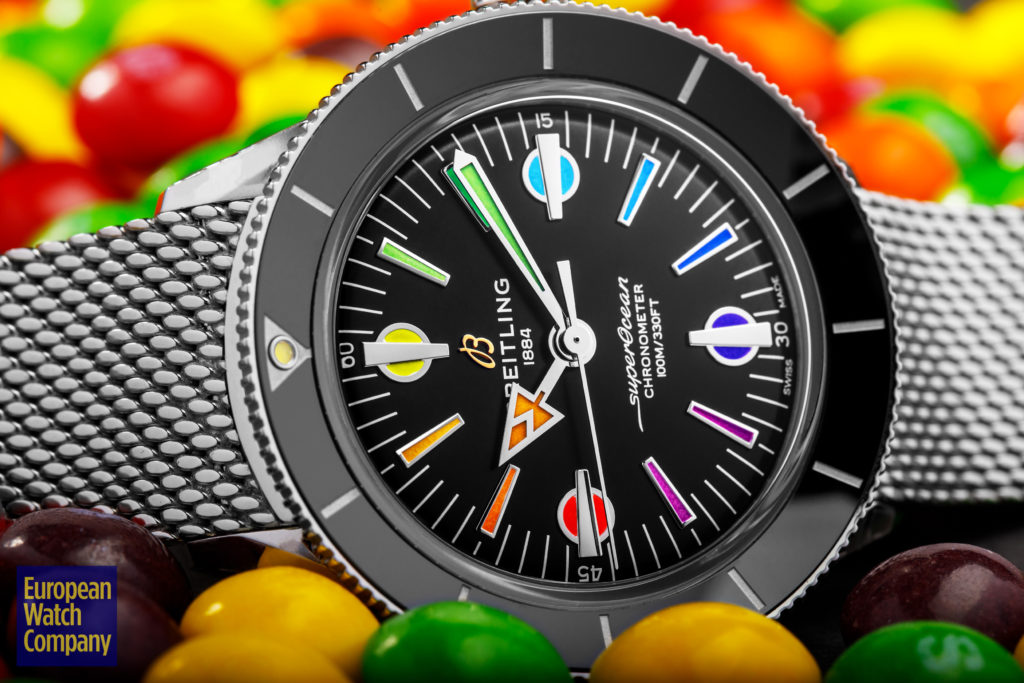 As I mentioned, this limited edition Rainbow Superocean came as part of the Superocean Heritage '57 Capsule Collection. If you love the vintage cred this watch offers but can't quite get behind the rainbow concept, there are some other exciting options to be explored. The stainless steel-bronze version of the watch has a gorgeous chocolate dial and comes on a nylon strap co-designed with Kelly Slater's surf wear company. There's also a sexy black dial, white indices combo, as well as striking blue dial. The 18k red gold two tone version makes a strong statement as well, even if it's a very different statement than the rainbow option does.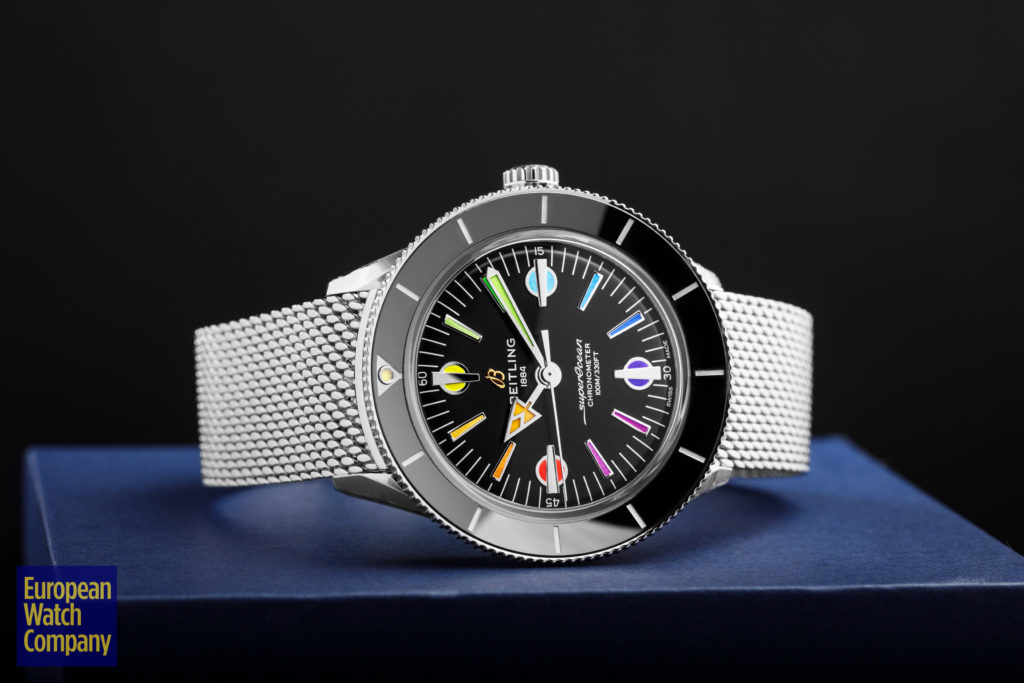 As with all things watch-collecting, only you can decide if this is the right watch for you. Are you the kind of guy or gal who can confidently rock a rainbow watch (and confidently is really the only way to rock such a watch)? That said, as much as I've relied on this comparison, the rainbow Superocean is still a world apart from the Rainbow Daytona and similar pieces. And maybe that's where the opportunity lies with this watch. Because, after all, there is a middle ground; you might be someone who likes to shake things up, who likes to have a little fun, but still ultimately loves all things classic and timeless. You don't want something gaudy, but you do like the idea of a fine watch that doesn't take itself so damn seriously. If you ask me, the Breitling Superocean Heritage '57 Limited Edition "Rainbow" is that watch.