Dive watches from the 1960's hold a special place in many watch enthusiasts' hearts. They have bold designs that were ahead of their time, and because of how they were used—in that they were actually used—there is a romantic quality to them that is hard to replicate. Not as well known as the Submariner or Fifty-Fathoms, the Breitling SuperOcean is, in my opinion, far more interesting, and objectively more rare. This is a 1965 Breitling SuperOcean Chronograph "Slow Counter" reference 2005.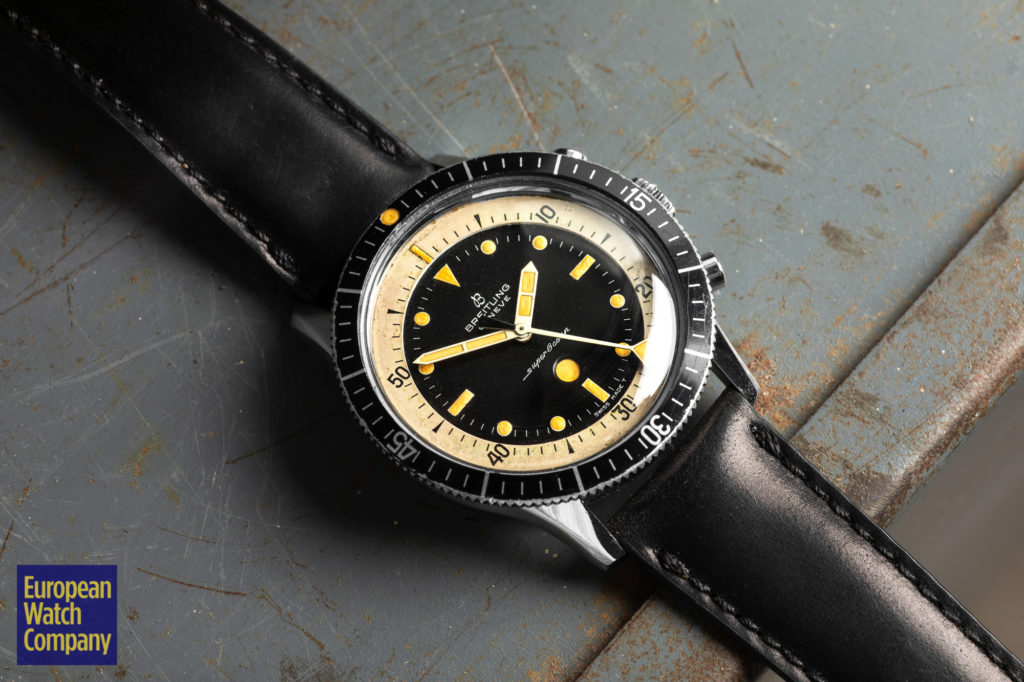 This watch's case proportions must have seemed gigantic in 1965 at 42mm in diameter and 14.5 mm thick, but now they're par for the course for a complicated sports watch. In it's prime, the case was water-resistant to 200 meters/660 feet, though, for a watch this old, it's probably best to avoid submersion entirely. At first glance, the design of the SuperOcean might not stand out, especially in a line up of sports watches from this era, but some key elements set it apart.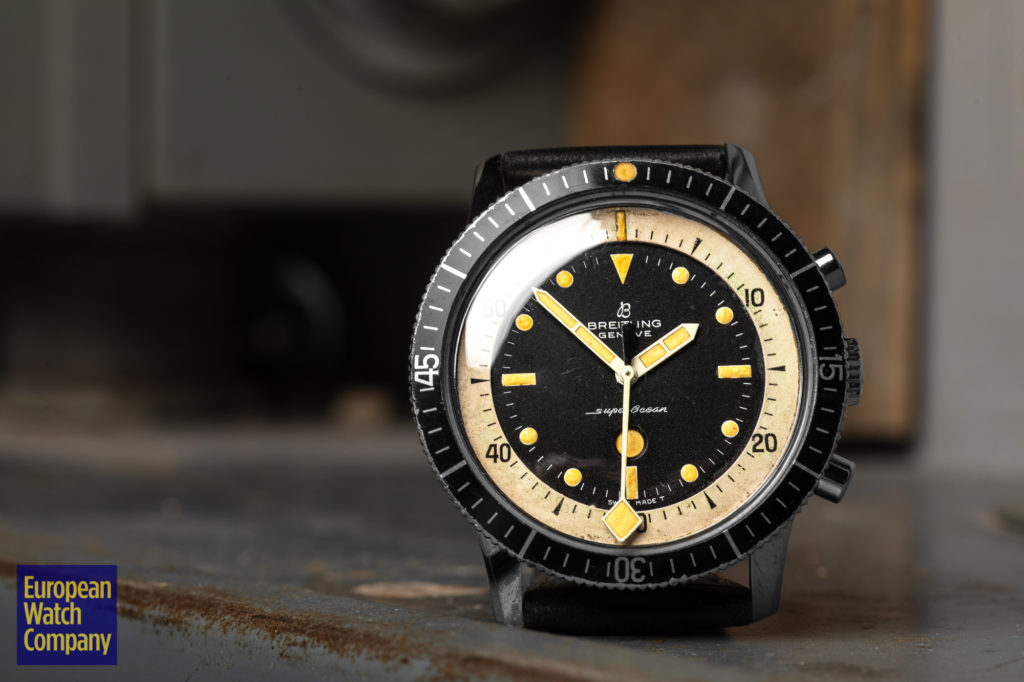 This is a divers watch with a chronograph complication for starters, but the chronograph function has been adjusted specifically for timing dives. Breitling took a Venus 188 chronograph movement—which was later renamed the "Valjoux 7731" post-1966 when Valjoux acquired Venus— and heavily modified it so that the chronograph hand rotates around the dial once every hour, tracking minutes instead of seconds. A practical choice by Breitling as seconds aren't very useful when timing a dive.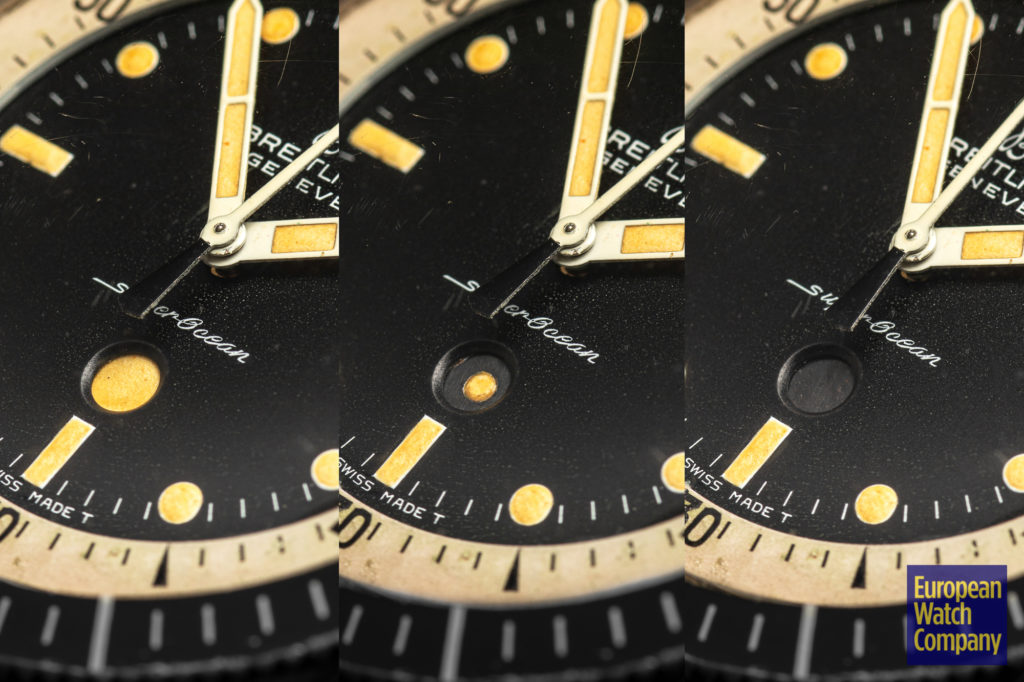 This design choice does have a small downside. With only a minute hand in chronograph operation, it can be quite difficult to tell whether or not the chronograph is engaged. To solve this, Breitling built in a small circular aperture above six o'clock, used to display the complication's status. When the chronograph is dormant, the circle is black; when activated, it's entirely yellow; when paused, the display shows a small yellow dot. The dot window system is intuitive and easy to read, echoing the same practical theme shown throughout the rest of the dial.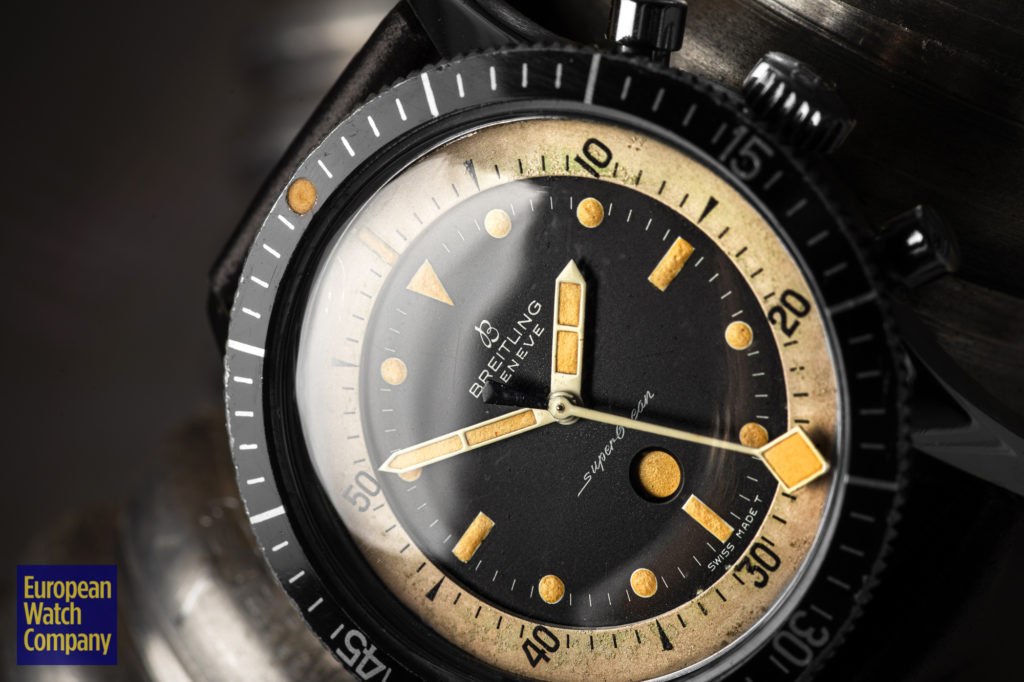 All elements on the dial are laid out with clear purpose. The outer chronograph track is white, with numerals every ten minutes and triangles every five. The large lume filled snowflake style chronograph hand fills up the track allowing you to quickly elapsed time. Also, because the chronograph hand is so long, you can reference it against the internal minute track and the bi-rotating bezel. This also means you can time two things at once, setting the bezel to the regular minute hand while referencing the chronograph against the internal non-rotating minute track. The black center time display is delineated well, and the hour markers have the familiar dive watch format of a triangle at twelve, rectangular markers at 3, 6, 9, and circles for the rest. The lume on this example matches across the board and has aged gracefully to a nice creamy, almost orange color.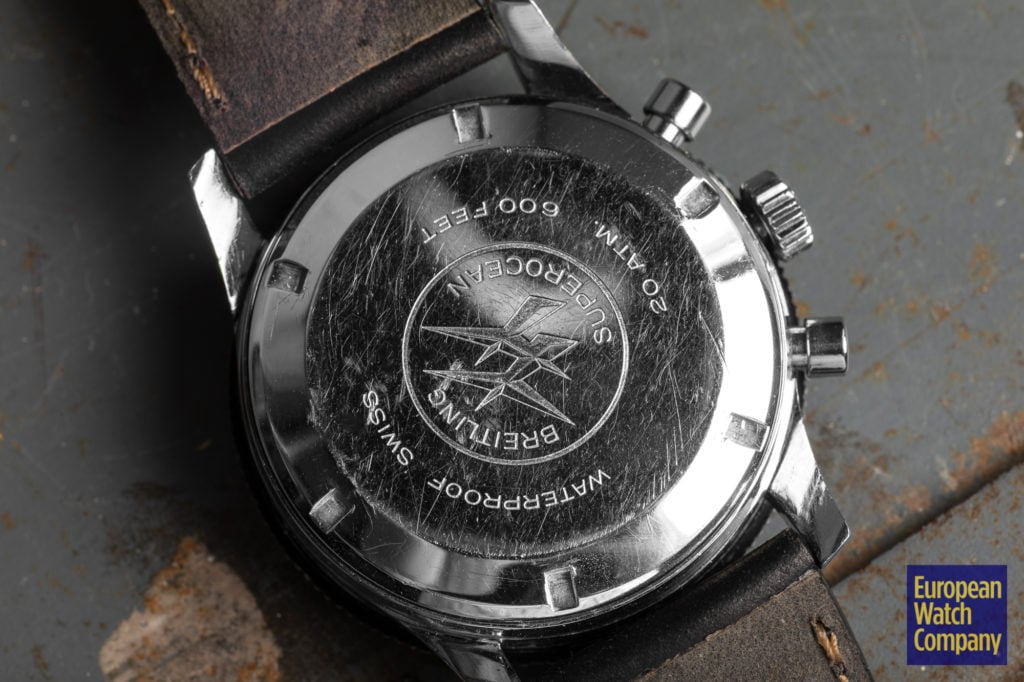 The SuperOcean Chronograph "Slow Counter" is such a quirky and charming watch. Specific complications like the "slow counter" remind us that these watches were tools built to solve particular problems. Breitling knew full well when they made this watch that it would not be a massive commercial success, and that was OK. They created a watch with a virtually unheard of complication that was giant even among other sports watches because that's the kind of watch they thought divers needed. If you walked into a store in 1965 and didn't like this watch, that's because it wasn't built for you. This purpose-driven approach is seen less and less, which might be OK, but it makes vintages watches like this much more special.