The Chronomètre à Résonance is a foundational model for F.P. Journe and has become synonymous with the brand. When it debuted in 2000—prototypes were built a few years earlier—it had been over one hundred years since resonance was utilized in a watch. In a way that only Journe could, this watch brings a left for dead innovation back to life and puts it to use in a practical way. This is the Chronomètre à Résonance in platinum, reference R.T., sometimes known as a "Series Three." To adequately understand why this watch is so important to the Journe brand and horology, we need to do a quick science and history lesson.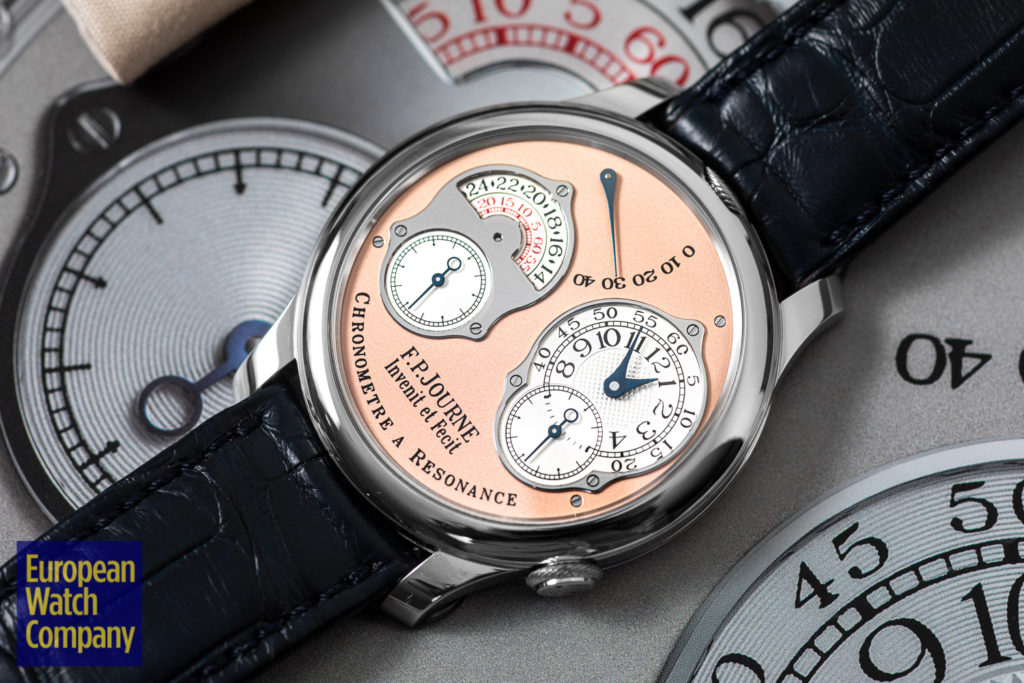 How Resonance Works
Resonance is not specific to horology; it is a scientific term that describes the principle that this watch is using to its advantage. A mechanical watch movement "ticks" when it operates if you put it up to your ear you can hear it. Specifically, you hear the vibrations that come from the oscillations of the balance wheel. In the Chronomètre à Résonance, this same energy that vibrates your eardrum is harnessed to flow back and forth between two separate balance wheels.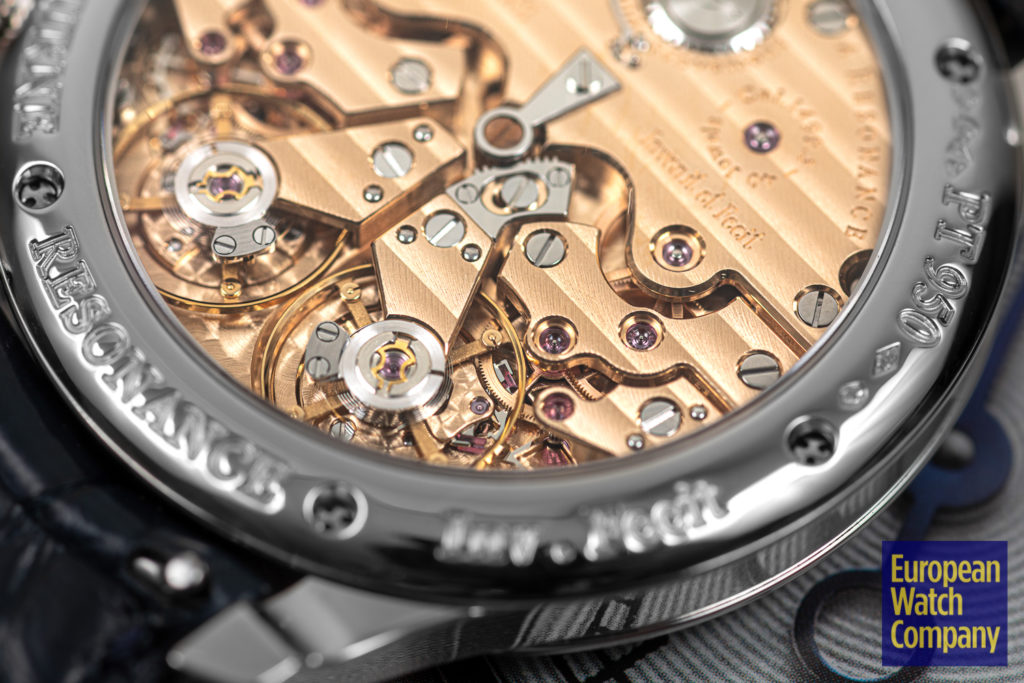 The two balance wheels get tuned to operate at the same frequency and become synchronized, oscillating in opposite directions, transferring energy back and forth via the vibration of sound. This synchronization of frequencies is called resonance. This phenomenon is specifically helpful to a wristwatch as it compensates for rate changes. If the watch is bumped and one balance wheel speeds up, the other slows down in opposition. Once out of sync, they help each other get back to their baseline frequency.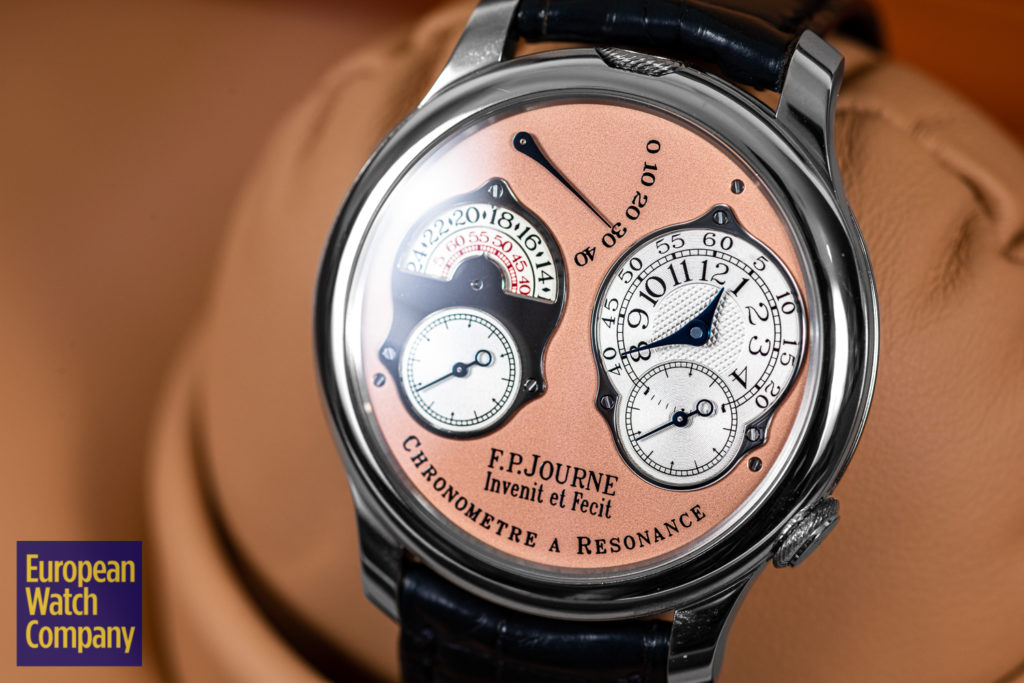 History of Resonance in Horology
Before F.P. Journe introduced the Chronomètre à Résonance to the 21st Century, horologists had been experimenting with its principles for hundreds of years. Christiaan Huygen first observed resonance in the 1600s when he noticed two pendulum clocks near each other eventually synchronized. Following him, Antide Janvier utilized resonance in clocks, and later in the 1800s, Abraham-Louis Breguet used the principle of resonance in a handful of pocket watches. After this, resonance isn't used again in horology until F.P. Journe decides to apply it in one of his watches.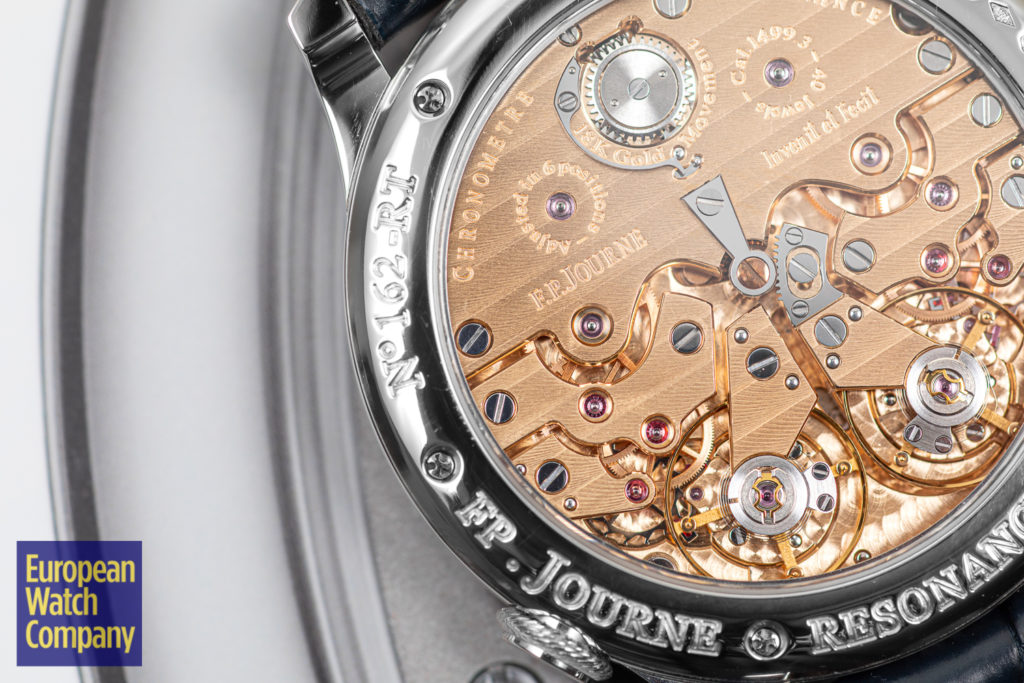 The large gap between Breguet's implementation and Journe's is a testament to how difficult it is. They are also the only two watchmakers to harness the natural phenomenon of resonance synchronization. Meaning the synchronization is caused purely by sound wave energy transfer in close proximity without needing actual mechanical linkage. There have since been a couple of other watchmakers who have made resonance timepieces, but they implement it differently.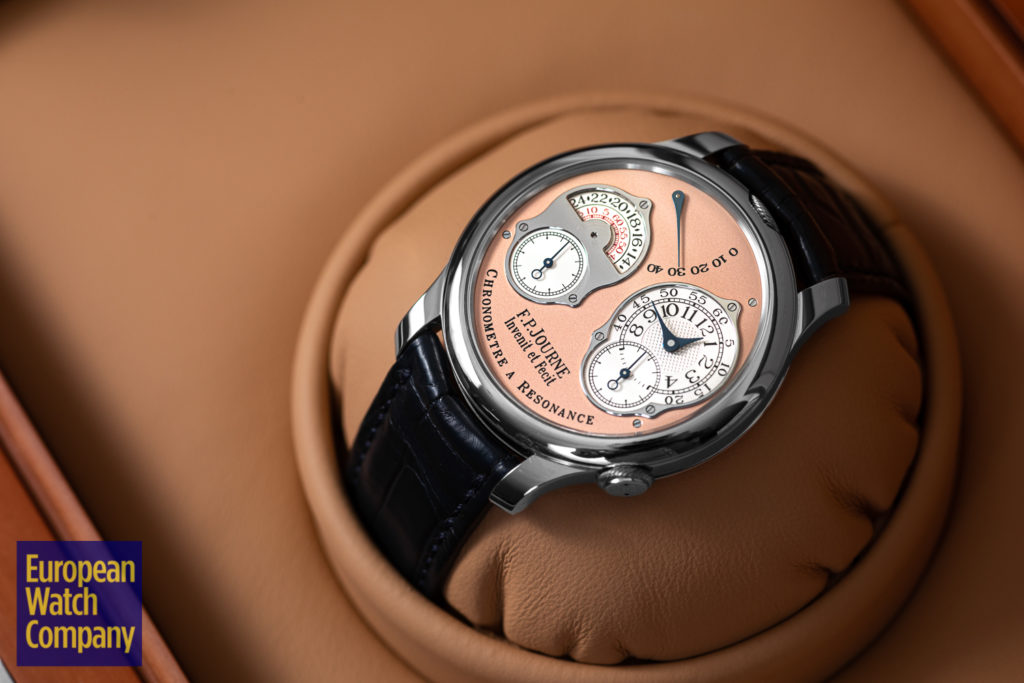 The Chronomètre à Résonance Reference R.T.
To me, all Journe watches have a subtle steampunk vibe, though this reference really leans into that. The exposed screws on the subdial bezels as well as mix-matched traditional and digital scrolling time displays drive this home. It looks more like a steampunk airship instrument than a conventional watch. These features give the watch a lot of character and make the watch stand out among its Résonance siblings.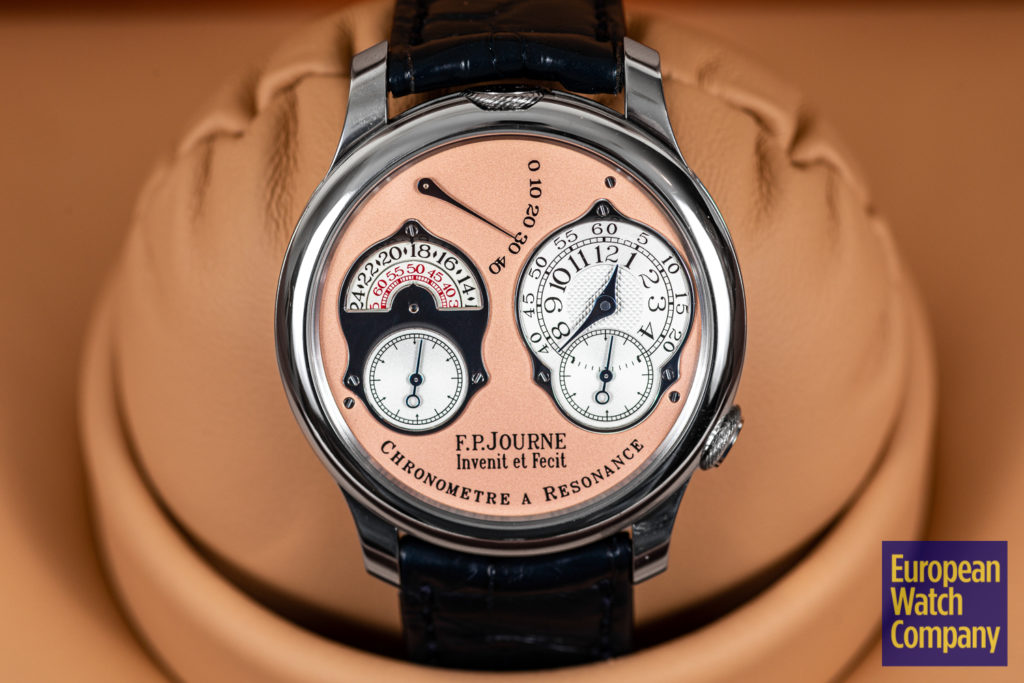 While the dial is unique and will undoubtedly draw some attention, the platinum case— as opposed to gold—help the watch to fly under the radar. The case measures 40mm in diameter by 8.8mm thick—a surprisingly svelte figure considering there are two movements inside. A versatile looking timepiece it has the rare combination—for an R.T. reference— of a platinum case and rose gold salmon-colored dial. I could see it working well with a wide range of straps. Though the stock alligator straps are top-shelf and come equipped with pull tabs for easy and quick removal. You'll also notice the arced spring bars match the curvature of the case allowing for a seamless fit.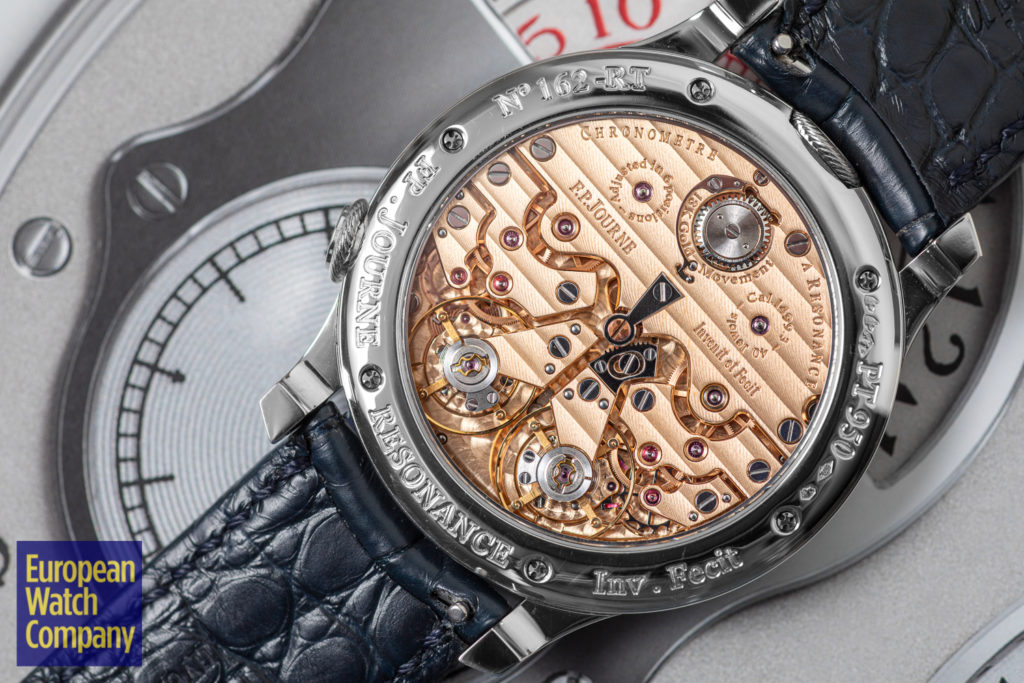 The movement, like most modern Journe movements, is beautifully finished and made of 18k rose gold. The two balance wheels oscillating in harmony add to the beauty and are mesmerizing to look. Inside the watch, the caliber 1499.3 has two separate movements. This allows the timepiece to harness the power of resonance and also display two timezones. The crown at twelve controls both timezones switching based on the direction you turn, and the crown at four syncs the seconds. While the Résonance is an exceptionally luxurious timepiece, it also makes for a practical travel watch.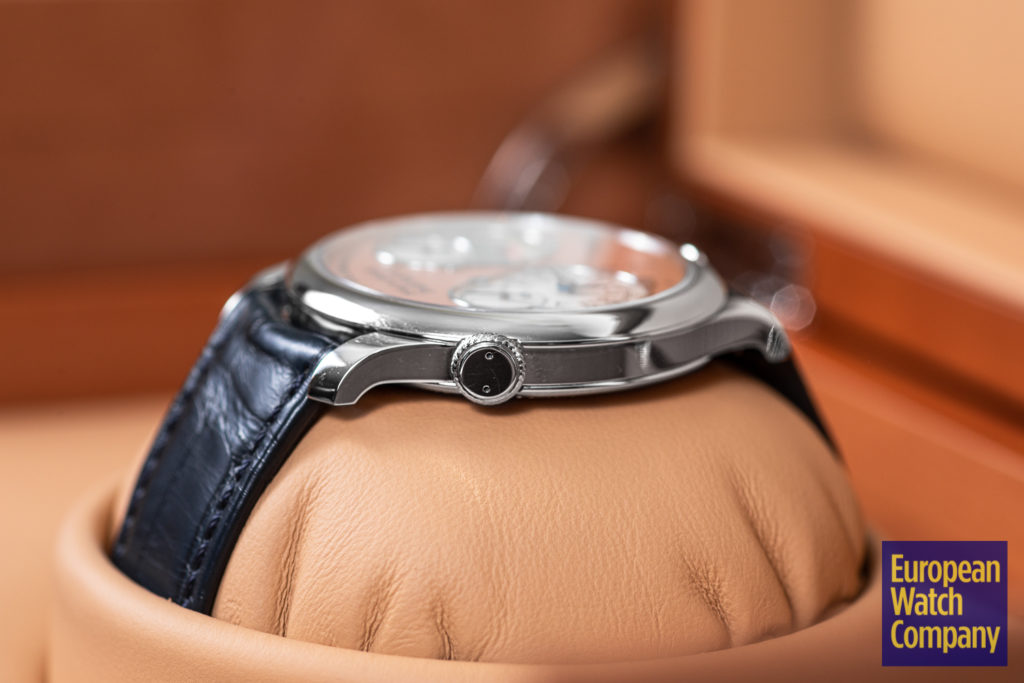 Made as a tribute to renowned 18-Century watchmakers, the Chronomètre à Résonance is a masterpiece of horology. Yet, it could also be a daily wearer, depending on your lifestyle. One of the reasons people love F.P. Journe's watches is that he balances high horology with practicality better than anyone. This timepiece adds to Journe's legacy and helps ensure his name will be mentioned in the company of the watchmakers it salutes.