In these trying times, you could be forgiven for seeking out a little escapism. Maybe that's what brought you here to The Collective in the first place? Regardless of how you got to our little corner of the internet, we're glad you're here. In this entry we check out a piece that's easy to get lost in: the F.P Journe Tourbillon Souverain Remontoir d'Égalité "Dead Beat Seconds" I mean, just look at it…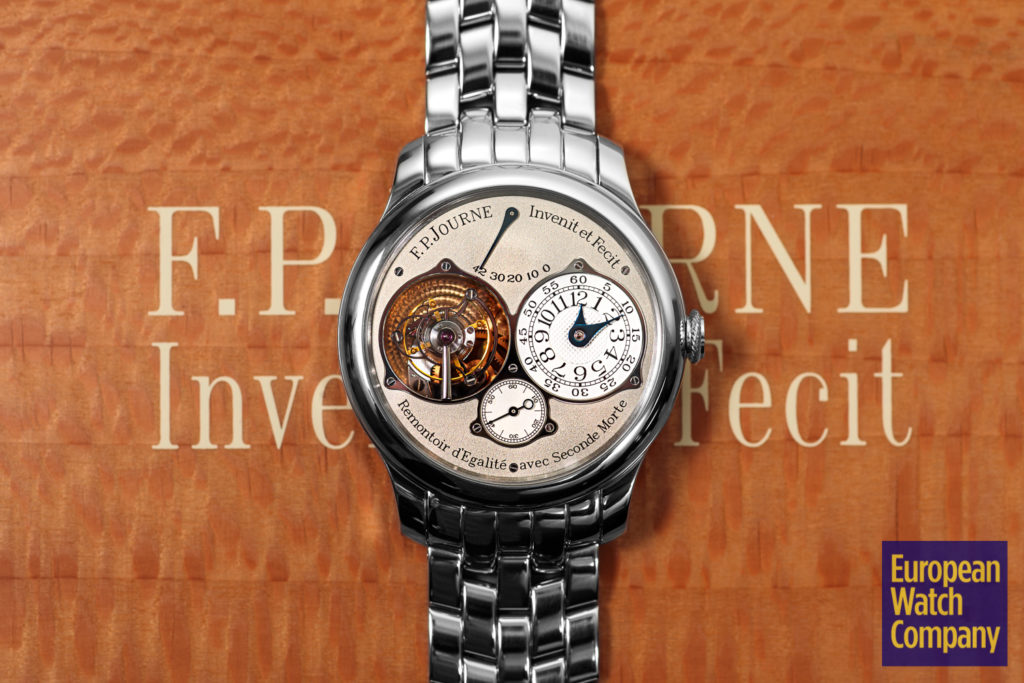 Okay, now for the backstory. From 2006, this exquisite timepiece from F.P. Journe features a 40mm polished platinum case with matching platinum bracelet. This watch is all about the playful little details, like the rope-edge winding crown and blued dart hands.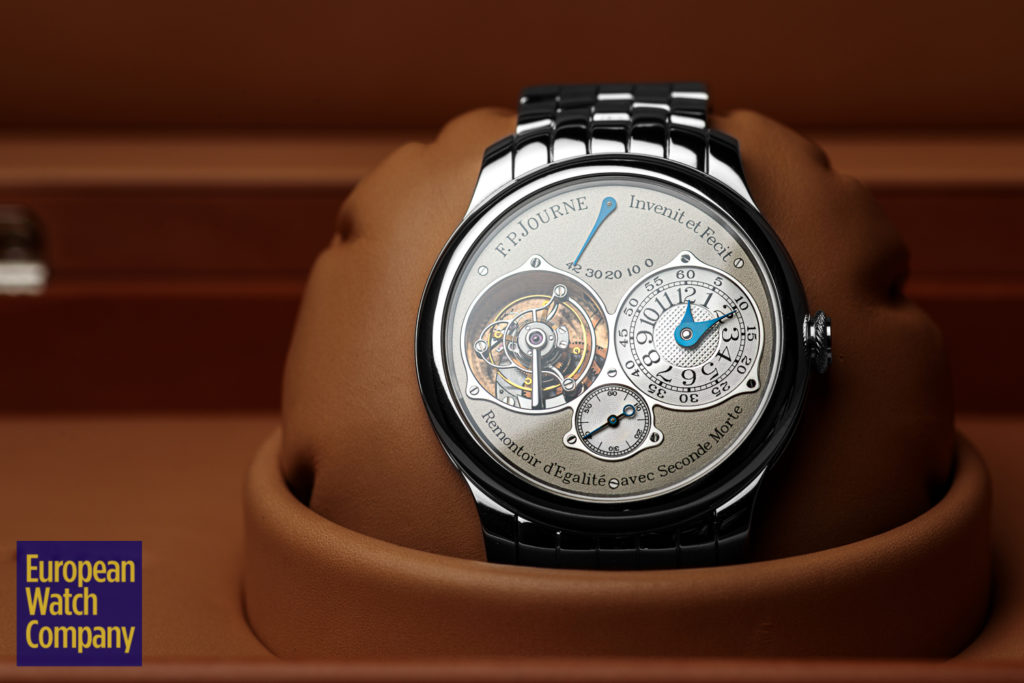 The star of the show, of course, is the exposed gold tourbillon cage at 9 o'clock. It whirs gracefully, canceling out the deleterious effects of gravity on the movement's accuracy. Look deep enough and you've got X-ray vision; the watch is sandwiched between a sapphire crystal and a sapphire exhibition case back, allowing you to look past the tourbillon and see your wrist on the other side.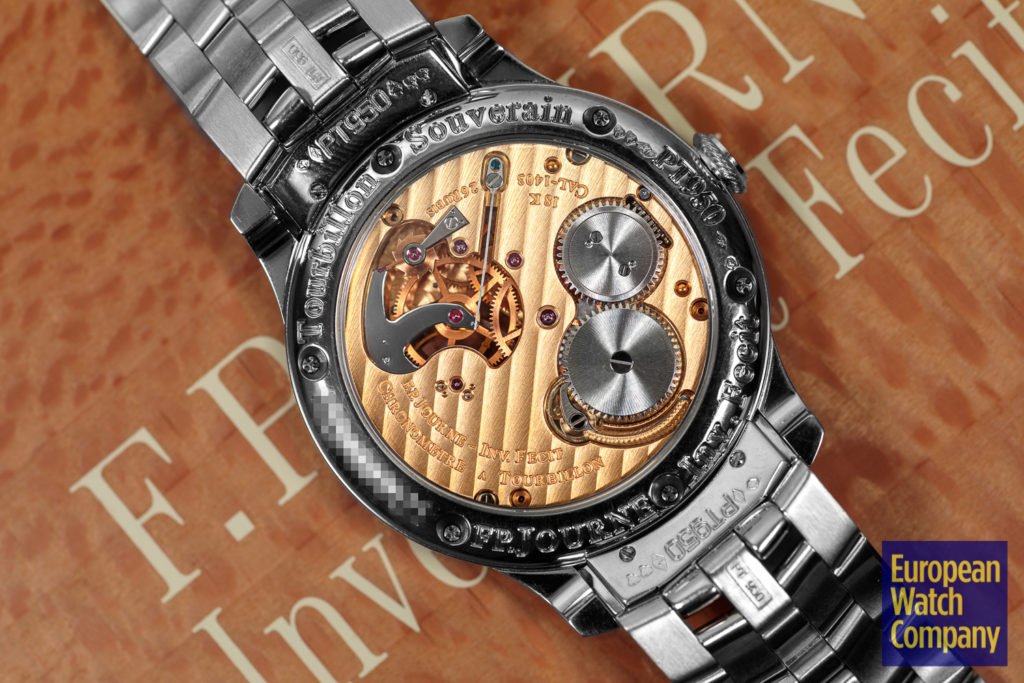 As the name suggests, this watch features a remontoir d'egalite. It's an ingenious little mechanism. Its job is to prevent the watch from becoming less accurate as the mainspring winds down. When the watch is running, this secondary spring is wound up by the mainspring. It helps keep an even flow of energy powering the escapement.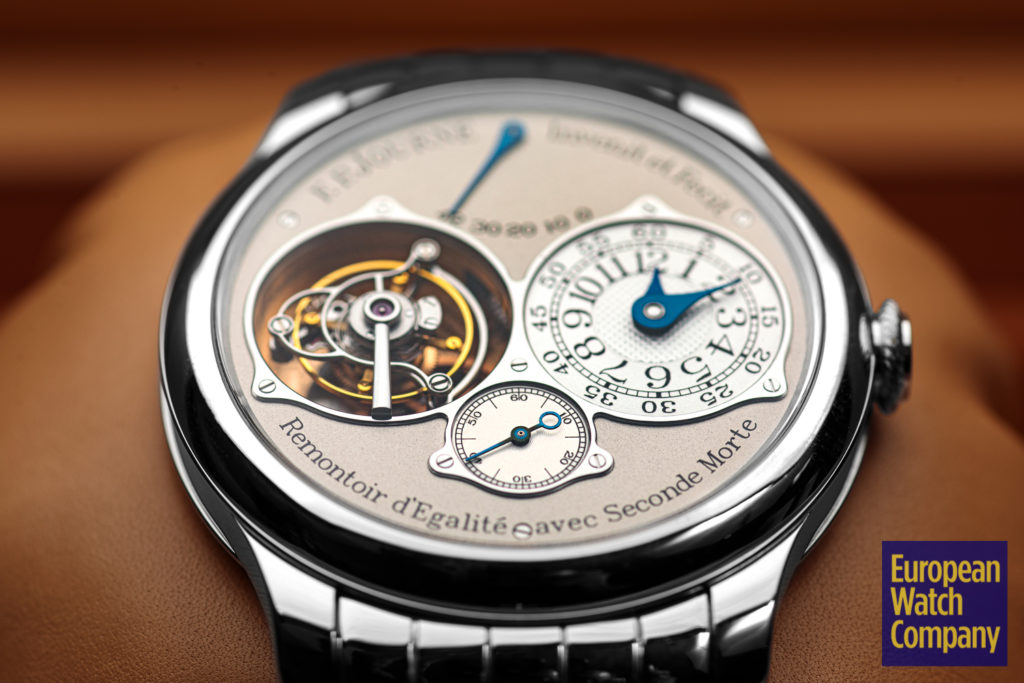 Perhaps by now you're wondering, "Okay, but how do I tell the time?" Over at 3 o'clock, a recessed silver subdial with a beautiful guilloche center displays hours and minutes. The 6 o'clock subdial tells the seconds. This is where seconde morte or dead seconds comes in. When you're first getting to know a watch, you might be in the habit of looking at the sweep of the seconds hand to tell if it's mechanical or quartz.
Normally, a second hand rotating in a single, fluid motion suggests a mechanical caliber while a second hand that ticks at one beat per second has a quartz movement. Here's the exception to the rule. This watch ticks once a second just like a quartz watch, but it does so using a mechanical movement. Why? For one, dead seconds makes certain types of timing more accurate. Why else? Well, because it's F.P. Journe. And that's probably the biggest reason.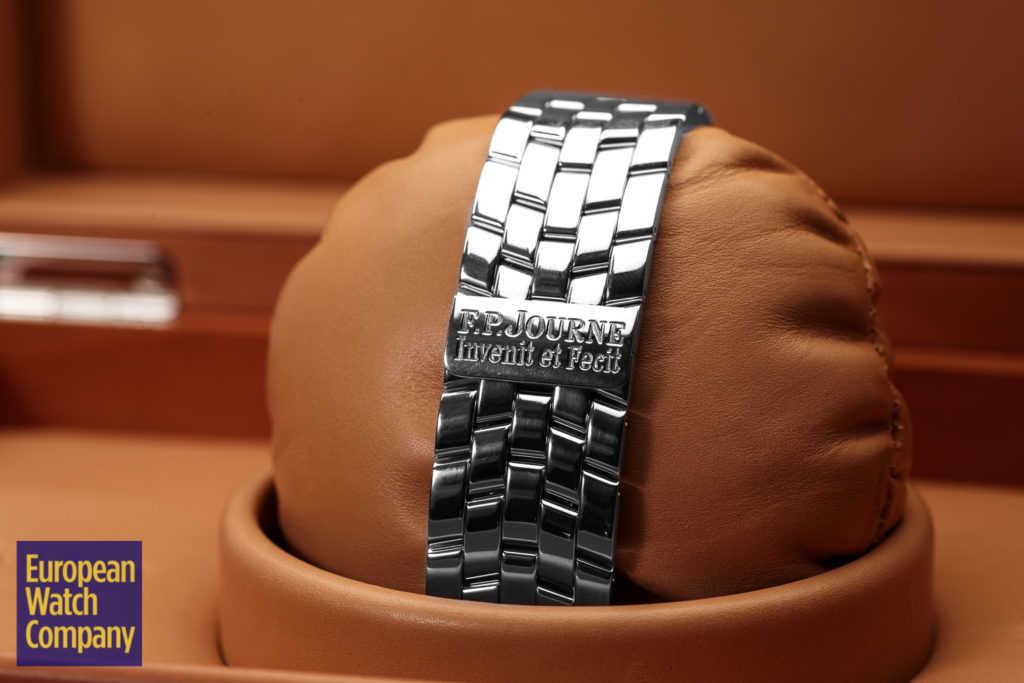 All these elements are suspended above a dusty 18k white gold backdrop, which both subtly compliments the two white subdials and makes them pop. Up at 12 o'clock is the 42 hour power reserve indicator. The case, dial, and movement are all signed. Did I mention it comes with box and papers?
Living up to the legend
The famous Latin motto Invenit et Fecit is scrolled at the top of the dial, and surely, invented and made sums up the spirit of this watch. This haute horology piece balances a wonderfully-eccentric design with a maniacal commitment to improving upon the ancient science of mechanical timekeeping. This Tourbillon Souverain Remontoir d'Egalite, like so many of F.P. Journe's offerings, possesses a sprinkling of whimsy that is, frankly, missing from the old guard watch brands. And, just as exciting, its 26-jewel 18k gold caliber 1403 movement has the specs to back it up. This watch has earned the right to have a little fun. Whether or not the ref. 34515 would feel at home in your collection, I think we can all appreciate what this brand, and this timepiece in particular, stand for.