With a light at the end of the pandemic tunnel and travel across the globe slowly but surely starting to resume, we thought it would be an excellent time to dive into one of the most popular types of travel watch, the GMT. The GMT watch is the everyman's travel watch. It can be found at many price points, in many different styles, and offers an intuitive way to read the time in multiple timezones.
Here we'll explore in more detail what a GMT watch is, how and why you should use one, and review some of the best options on the market today.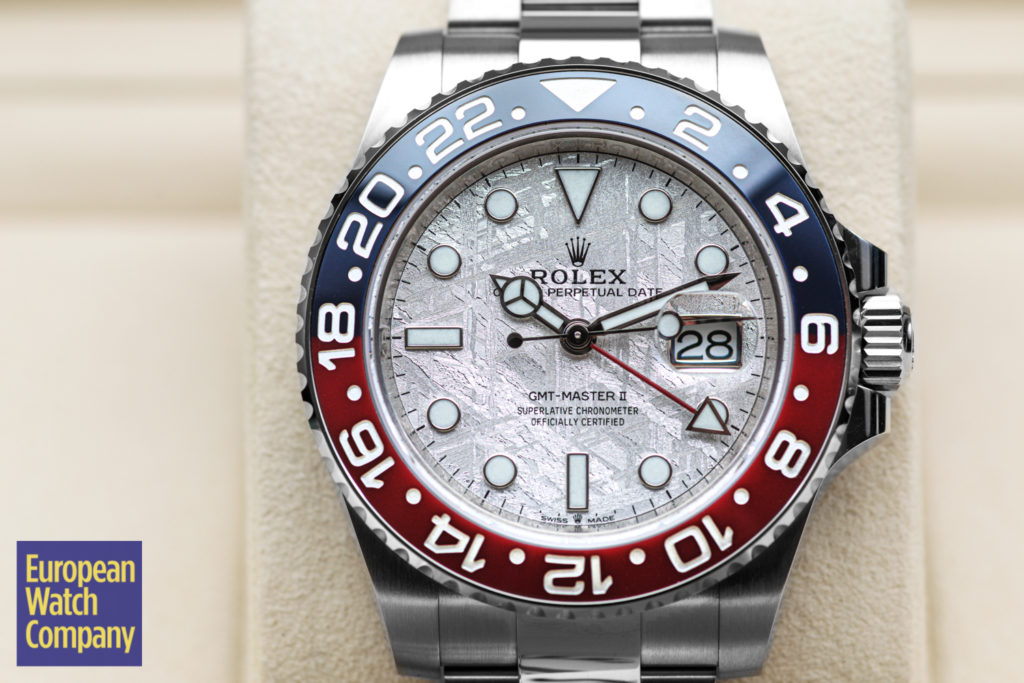 What is a GMT watch?
A GMT watch is a watch that has the GMT complication. There is a little variation in the types of GMT movements that are produced, but in general, a GMT watch is a watch that shows two timezones, with one following the standard 12-hour format and the other geared to follow a 24-hour format.
This means at the center, you'll have the traditional hour, minute, and second hand as well as a GMT hand that rotates the dial once every 24-hours instead of twice; this allows for easy AM/PM delineation. Many GMT watches also come with an external bezel that displays a 24-hour scale to help track the GMT hand, and some with rotating bezels will allow for the tracking of up to three timezones.
The most popular GMT models are generally sporty watches with high water resistance that are made of steel, but there are some exceptional dressier GMT watches as well. The term GMT stands for Greenwich Mean Time which was once used as the "meantime" by which other timezones were referenced. It was frequently used by commercial airline pilots to help orient them as they took off and landed all across the globe.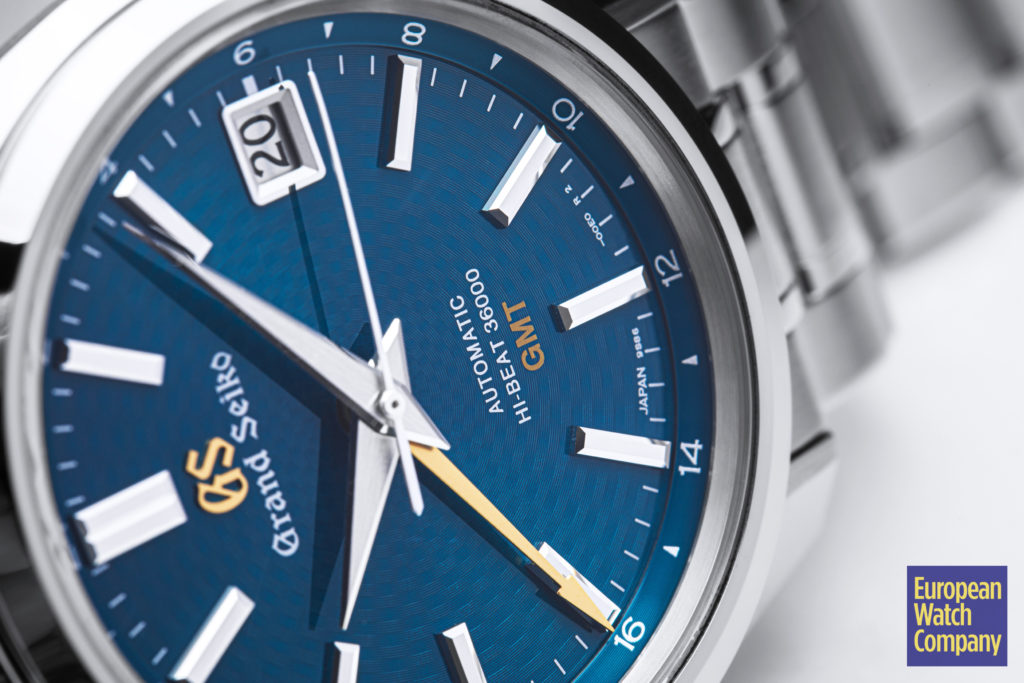 Though the Glycine Airman pioneered the functionality, the term GMT was first applied to a watch on Rolex's GMT-Master, which was built in collaboration with Pan Am for commercial airline pilots in 1954. Now the term has become ubiquitous, with many different brands calling watches with the above-described functionality a GMT.
What's the difference between a GMT watch and a Dual Time watch?
Separating Dual Time and GMT watches can get tricky sometimes because while a GMT displays two timezones and could qualify as a Dual Time watch, there is a separate category of watches with Dual Time complications that aren't GMTs. A GMT watch explicitly utilizes a fourth 24-hour hand to display another timezone.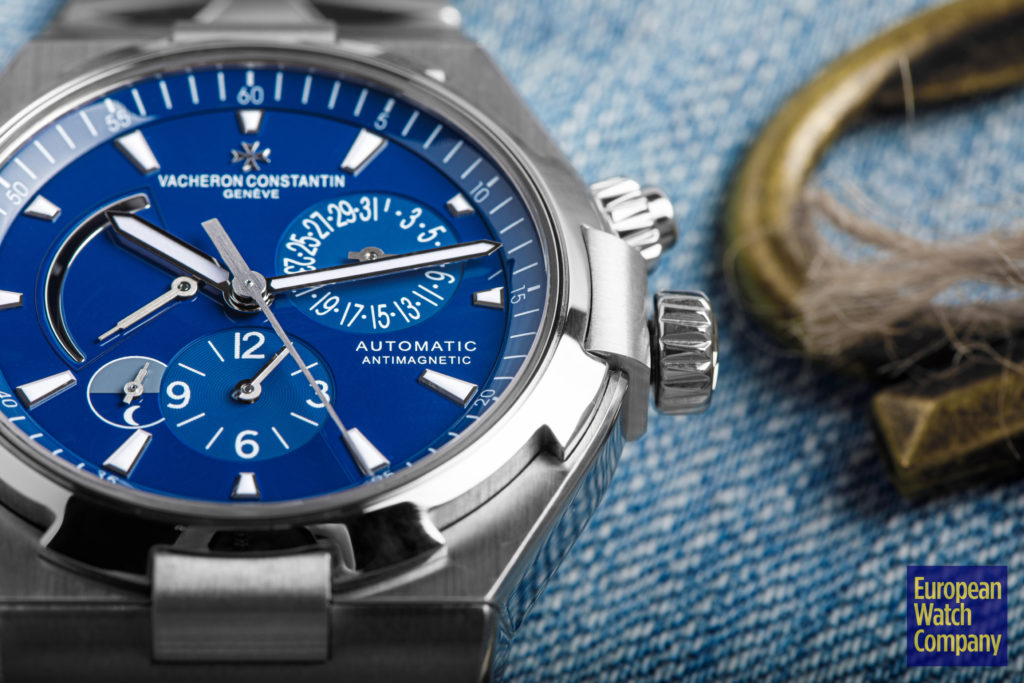 A Dual Time watch follows much less rigid requirements and just needs to display two timezones in any format. This could be two 12-hour sub-dials, a fourth 12-hour hand, or really any number of designs. It just has to show two timezones.
How to read a GMT?
How you read the time on a GMT depends a little on the type of GMT you're using. GMT complications are commonly separated into two camps that have been nicknamed "Caller GMTs" and "True GMTs." These types of GMTs differ in which hand they allow the wearer to adjust independently. GMT watches that allow you to independently adjust the local hour hand are called "True GMTs."
Being able to adjust the local hour makes it easy to adjust the time when you arrive in a different timezone and intuitively read the time while in said timezone. Once you adjust the local time, you can use the 24-hour GMT hand as your reference to your home time. It's called a True GMT because it's the best suited for people who travel frequently.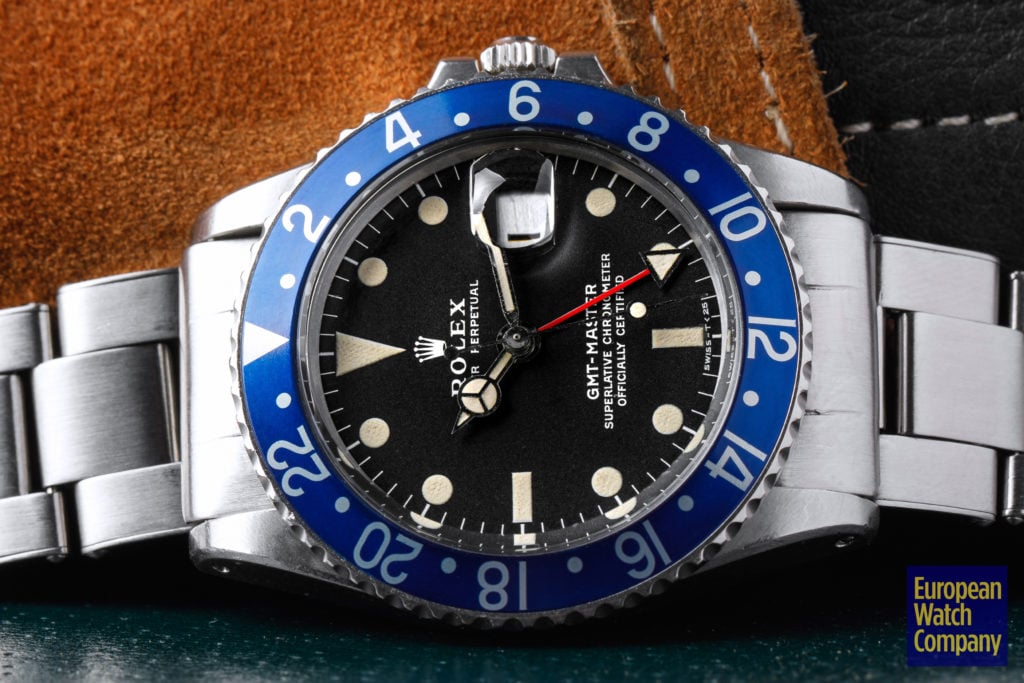 Caller GMTs allow the wearer to independently adjust the 24-hour hand, keeping the standard time intact. Because reading the 24-hour hand is not as intuitive as the 12-hour hand, this format is best suited for those who need to check the second timezone less frequently, for example, when calling someone in a different timezone, hence the name.
If the GMT has a rotating bezel, one can also change the orientation of the 24-hour scale on the bezel to display another timezone. This is the simplest way to display multiple timezones. It just requires a simple turn of the bezel; it's also how many early GMT's functioned before movements allowed for independently settable hands.
Who should buy a GMT watch?
The GMT watch is the go-to adventurers watch. It conjures romantic images of flying off to and exploring exotic places. It lets us get in touch with our inner Lara Croft or Indiana Jones, which is also why most GMT watches are sporty and durable. But even for the less adventurous among us, GMT watches are great for anyone who travels a lot or frequently communicates with people in other timezones.
Even in a pandemic when travel is totally halted, our communication isn't, and while the "Caller GMT" sometimes gets a bad rep, this past year showed just how valuable that functionality can be. The GMT may have started out as a somewhat niche complication for a new occupation, but with travel being less of a luxury and the world being more connected than ever before, it's become a practical timepiece for a wide variety of people, which has also led to a huge increase in the watch's popularity. A better question might be, who shouldn't buy a GMT watch?
What is the best GMT watch?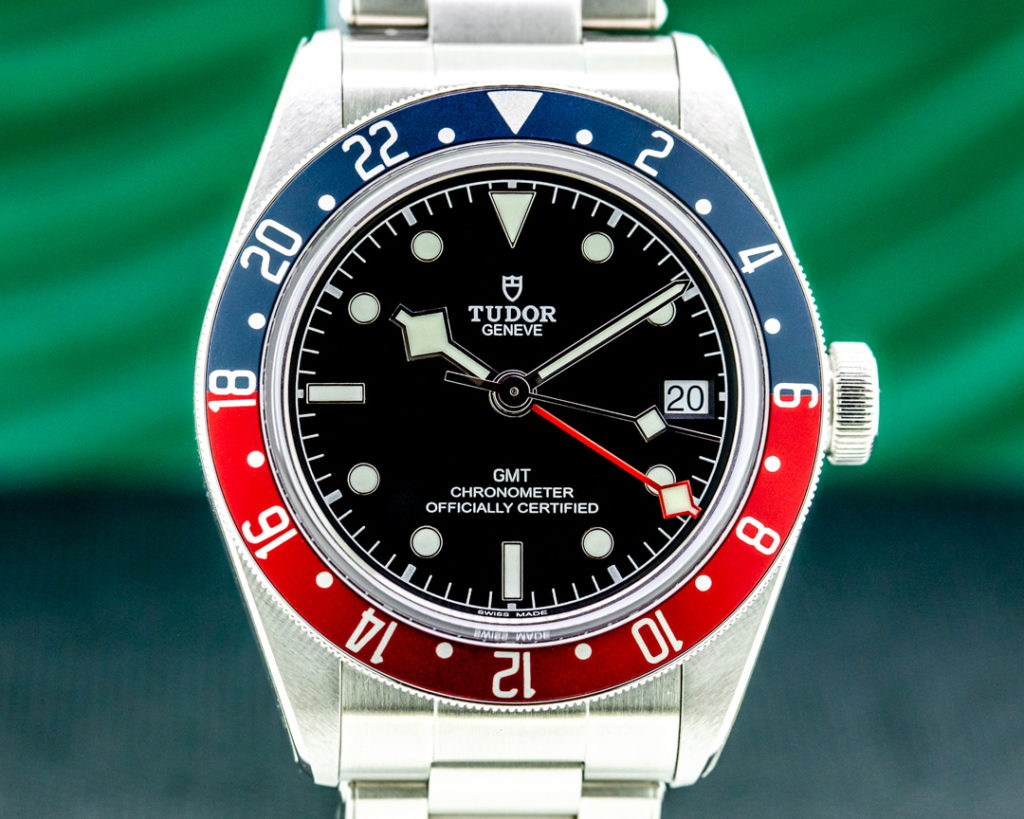 The Tudor Black Bay GMT is, in my opinion, the most toolish and ready for adventure watch on this list. Its mostly brushed finishing, aluminum bezel, and three-link oyster style bracelet are practically begging to go on daring journey's around the globe. It harnesses the spirit of vintage GMT's in a modern, durable package and at a reasonable price. For under five grand, you get a true GMT with an independently set hour hand, rotating bezel, and an in-house COSC certified movement with a 70-hour power reserve.
That's the same functionality as its older brother, the Rolex GMT-Master II, at a fraction of the cost, which is the main reason I have this watch in the top slot on this list. However, it should be noted that this Black Bay GMT is a bit on the larger side, measuring 41mm in diameter and 14.5mm thick. This specific example is a 2019 model with box and papers as well as an additional leather strap.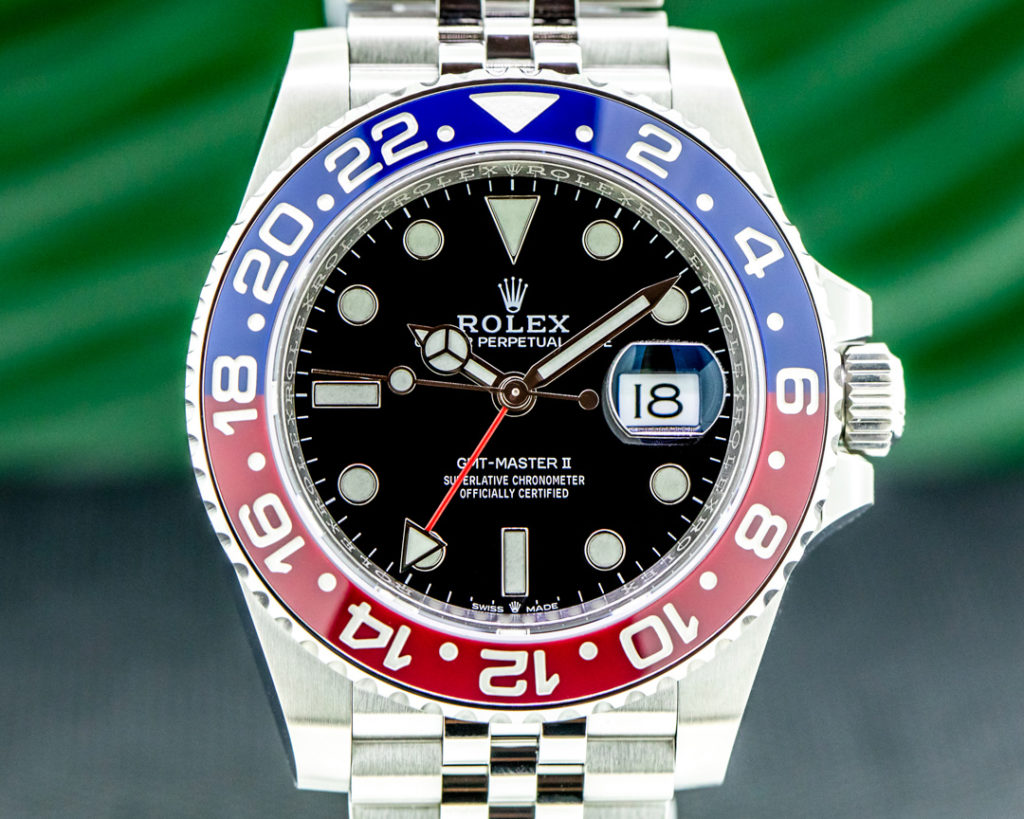 The Rolex GMT-Master II is the archetype of this category, and though it wasn't the first watch to have the GMT complication, it is the most popular and has been for decades. This is a modern reference 126710 BLRO with the iconic and often copied red and blue ceramic bezel. Though it recently has become available on an oyster, this model is on the jubilee bracelet, which adds a touch of class.
Powering the watch is the modern Rolex in-house caliber 3285, which has a 70-hour power reserve, an anti-magnetic blue Parachrom hairspring, and a Chronergy escapement. The GMT-Master II also has an independently adjustable hour hand and a rotating bezel that allows the wearer to track up to three timezones at once. While no list of GMT's could even consider leaving this watch out, it is the subject of some controversy at the moment because of how hard it is to get.
It's easily one of the most desirable watches globally and is nearly impossible to obtain at retail. If you want it, you will have to pay a premium, and for this reason, I couldn't give it the top slot on this list.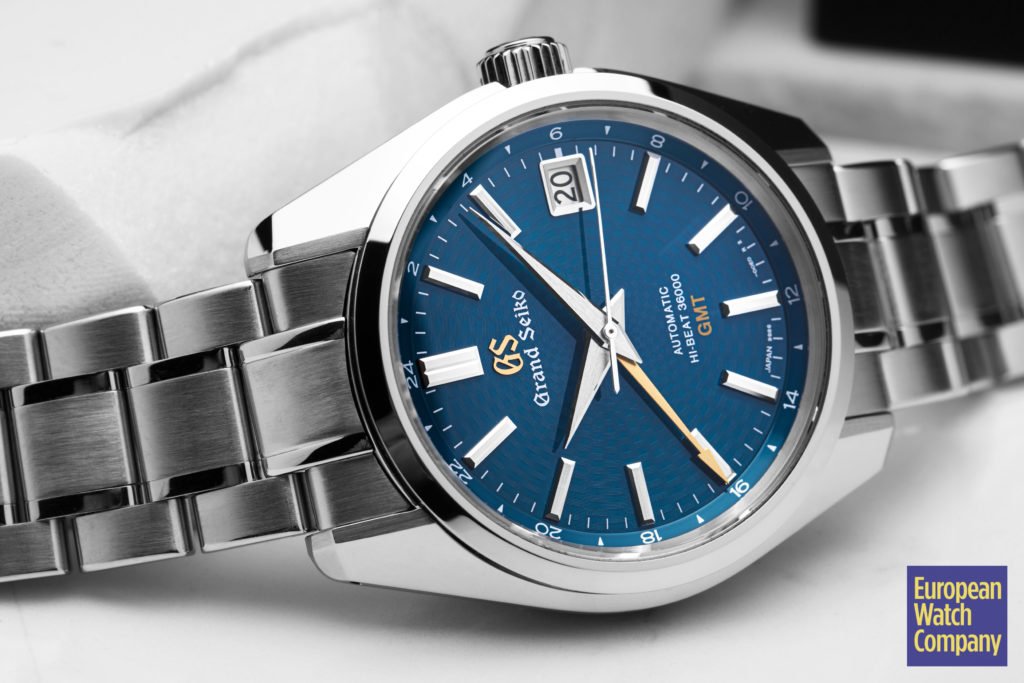 This is the connoisseurs GMT. The Grand Seiko Hi-Beat 3600 GMT, also called the "Peacock" is a highly sought-after limited edition of just 700 pieces. It has a truly beautiful stamp-finished green lacquer peacock-inspired dial with crisp hand-finished indices and hands.
Additionally, the case is hand Zaratsu polished and has multiple light-catching distortion-free angles. This GMT does not have a rotating bezel, but because of that, it has a bit of a more formal look. Powering the watch is the caliber 9S86 which, as the name of the watch states, beats at 36,000 vph. It also has true GMT functionality with an independently set hour hand that can be adjusted without stopping the movement.
For a more in-depth look at this piece here is our full review of the Peacock. If this was a standard production piece, It would probably be at the top of this list. However, because it's limited, rare, and expensive, I imagine any owner would tend to baby the watch, limiting the enjoyment one can get from it. Thus it's third on the list.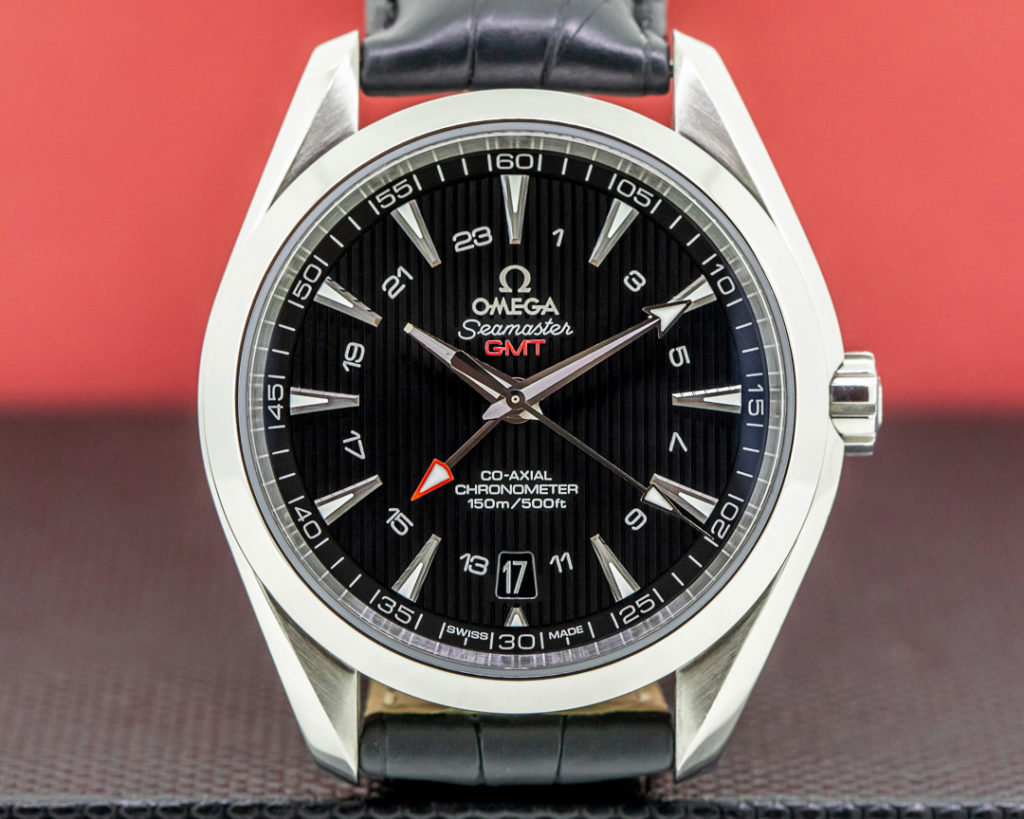 This is my sleeper pick. Not many people think of Omega when discussing the top GMT's but this Seamaster Aqua Terra GMT can compete with the best of them. Not only is it an extremely handsome watch, but it's also exceptionally versatile. This 2015 example comes on a leather strap, and while it has sports watch durability with 150m of water resistance, its design is ideally suited for formal occasions as well.
With a quick strap change, you can go from the board room to the beach. Inside the watch is the famously accurate and durable Co-Axial caliber 8605, which allows you to independently operate the local hour time for True GMT functionality and has an impressive 60-hour power reserve. The caveat here and the reason it's ranked number four is that it's a pretty large timepiece and could be unwieldy for most, measuring 43mm in diameter and 14mm thick.
This is by far the biggest watch on this list, and the large sizing gets exaggerated by the lack of bezel, but if you've got the wrist for it, it's a fantastic GMT watch.