IWC is known for its no-nonsense pilots' tool watches. It's a category they've been dominating for close to a century. I'd wager that when I say "pilots watch," it's very likely that an  IWC Big Pilot with its instrument panel inspired dial and large onion crown come to mind. But what about when I say perpetual calendar? You probably think of Patek Philippe, Breguet, or Audemars Piguet, right? Perpetual calendars are incredibly complicated and are usually reserved for luxurious pieces in luxurious materials, usually. This is the IWC Big Pilot Perpetual Calendar Rodeo Drive Edition, and while combining a perpetual calendar with a Big Pilot might come off as odd at first, IWC's thoroughly thought out implementation makes it a perfect match.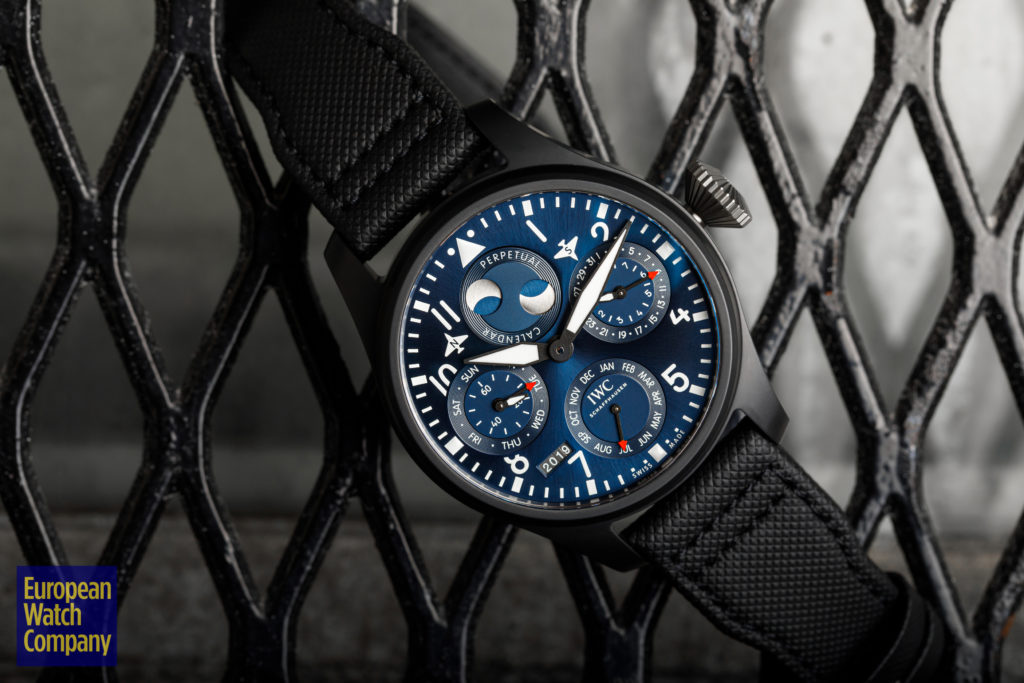 Released in 2019, this watch expands both the Top Gun and Rodeo Drive collections of IWC. The Top Gun collection is a line of ceramic pilot watches made as a tribute to the U.S. Navy Fighter Weapons School depicted in the Tom Cruise film. The Rodeo Drive line consists of special edition watches to commemorate the premier IWC boutique located on the famed Rodeo Drive in Beverly Hills, California. Unlike the previous Rodeo Drive Big Pilot, this watch is thankfully not a limited edition, and even more, thankfully, it shares its black ceramic and deep blue dial color combination. It's a watch that seems contradictory on paper but works beautifully when seen in its entirety.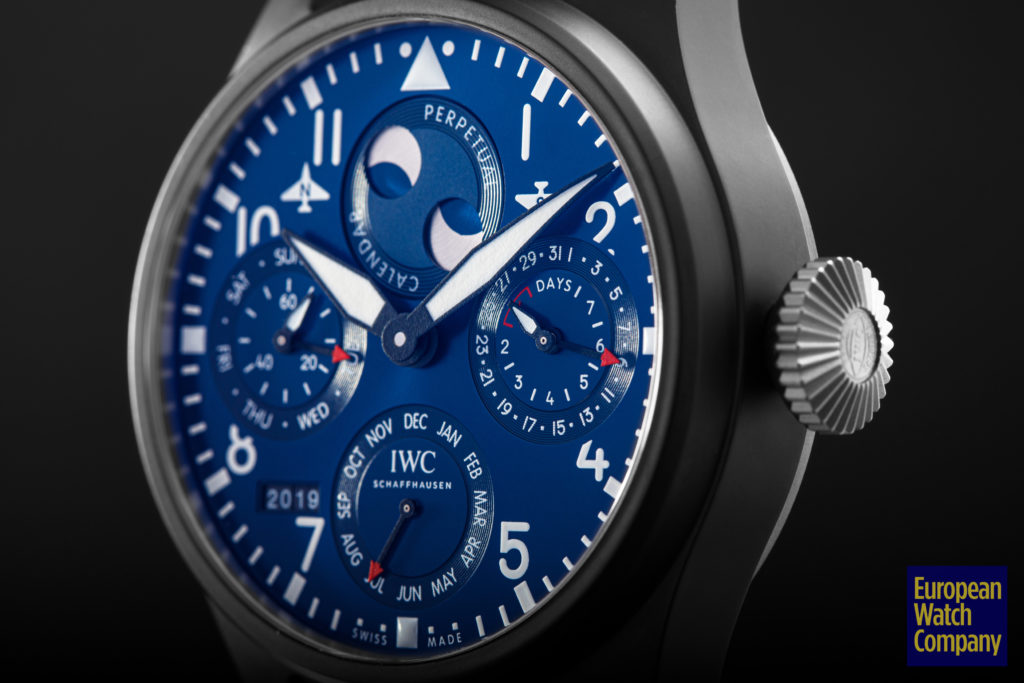 Measuring 48mm in diameter, this is a substantial watch, but that is as it should be if it's to be considered a proper pilot's watch. After all, pilot watches were designed to be strapped on over top of a bomber jacket, so size was less of a concern. IWC has perfected the instrument inspired design, and this might be the easiest and quick to read perpetual calendar watch on the market. This is good because if one will be trying to tell the time while maneuvering a plane in a stressful situation, legibility needs to be exceptionally good. The large lume filled hands are prominent, and the numerals—despite being cut off to make room for the calendar read-outs—are bold as well. Telling the time is at the top of the visual hierarchy.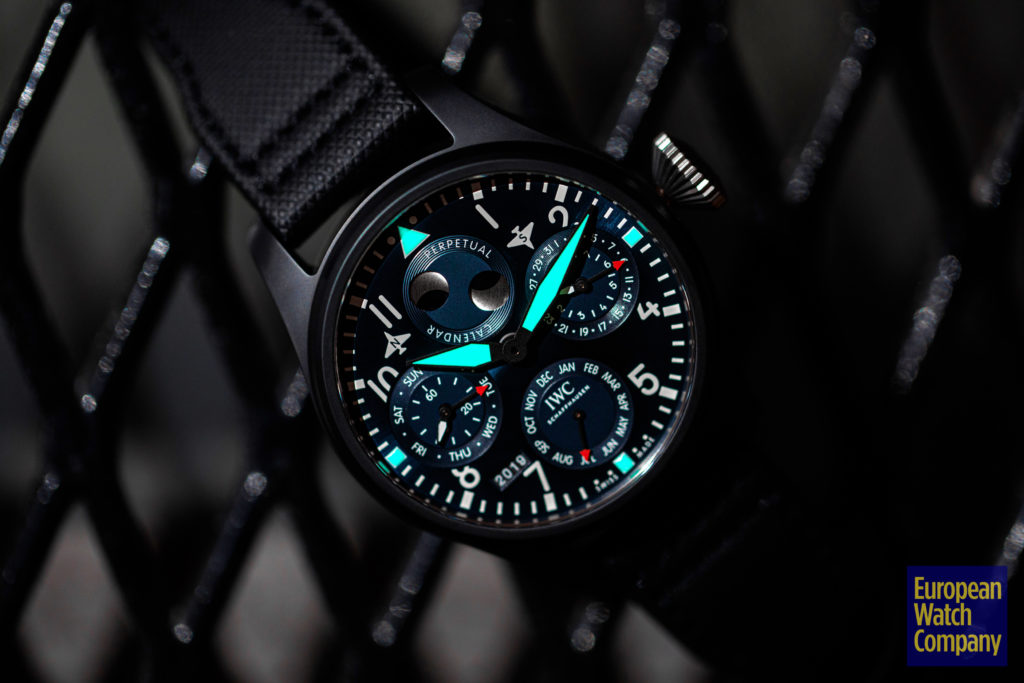 While the large dial design comes from much simpler time-only pieces, it's even better suited to display a complicated watch such as this. The sub-dials are all well balanced with the month at six o'clock, power reserve and date at three, dual southern and northern hemisphere moon phase at twelve, and the day of the week and running seconds at nine. Above seven, you have the four-digit year, and below eleven and one are North/South emblems. The only area that throws off what would otherwise be perfect balance is some open space above five o'clock, but this doesn't affect the overall design in any meaningful way.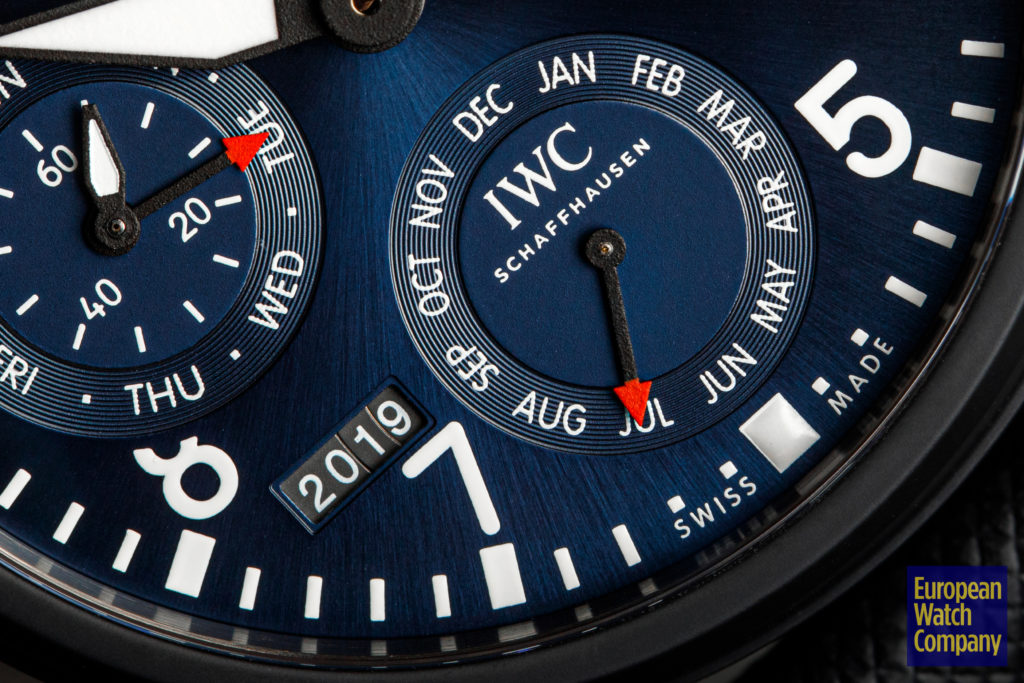 Ceramic has been gaining popularity, but it's still a material usually reserved for less toolish watches. The choice to use it here works exceptionally well, and it connects this watch even more to IWC's heritage. The brand was the first in watchmaking to produce a watch using pure ceramic. Measuring 16mm thick, this will not slip under a dress cuff but will look amazing with a bomber jacket. The caseback and crown are the only parts of the case not made of ceramic to increase durability and are instead made of titanium. This combination of titanium and ceramic is perfect for a watch like this as they'll make it much lighter on the wrist than steel, making for a more comfortable experience.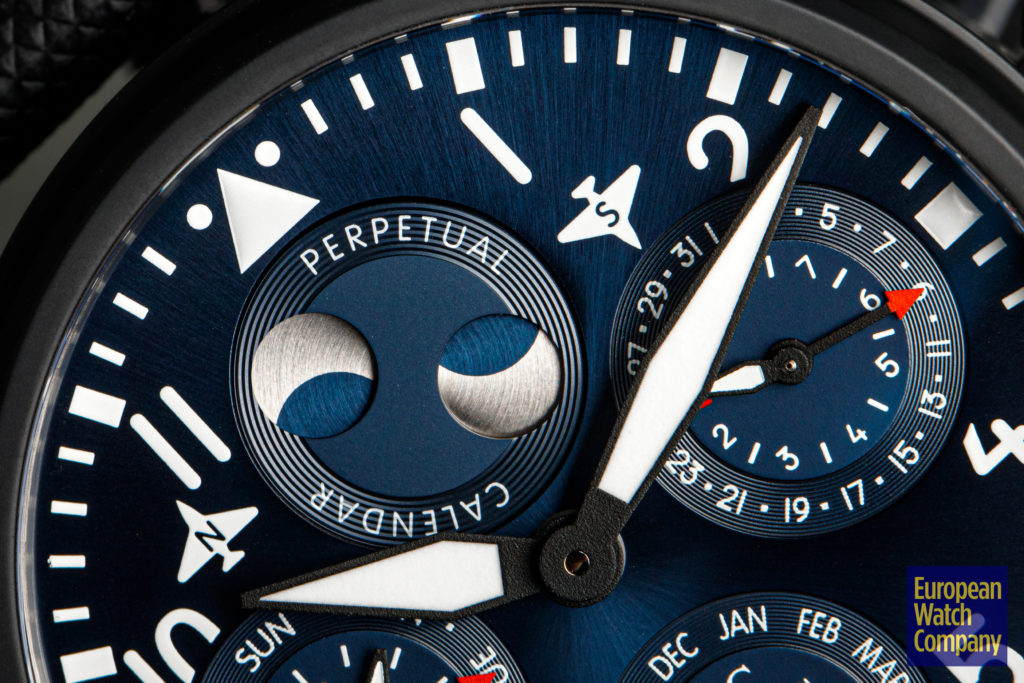 Design-wise this is a bold watch with all the confidence and bravado of an F-18 pilot, so the inner workings may fly a bit under the radar—no pun intended. But that would be a mistake. The caliber 52615 is an automatic winding in house movement with a very impressive seven-day power reserve. This is mostly due to its utilization of a twin-barrel architecture, which offers better torque management. The movement also uses multiple ceramic wheels, and ceramic winding pawls, all of which are much more resistant to wear and tear than standard alloys.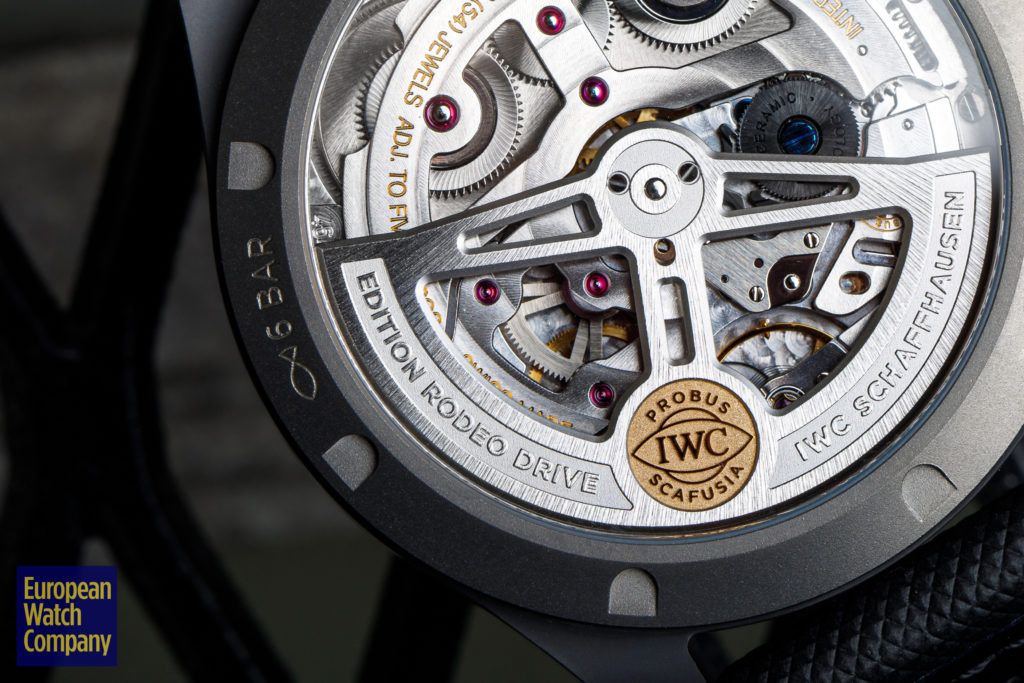 This is a very efficient and very durable caliber. But it's also probably the easiest to set perpetual calendar on the market. All calendar read-outs are set with the crown in one position, no pusher pin and case indents, no fretting over when you can, and can't set the watch. Just pull the large onion crown to the date setting position and set it to the current day of the year; everything will advance in sync with each other. This watch is so intuitive it's embarrassing to most other perpetual calendars.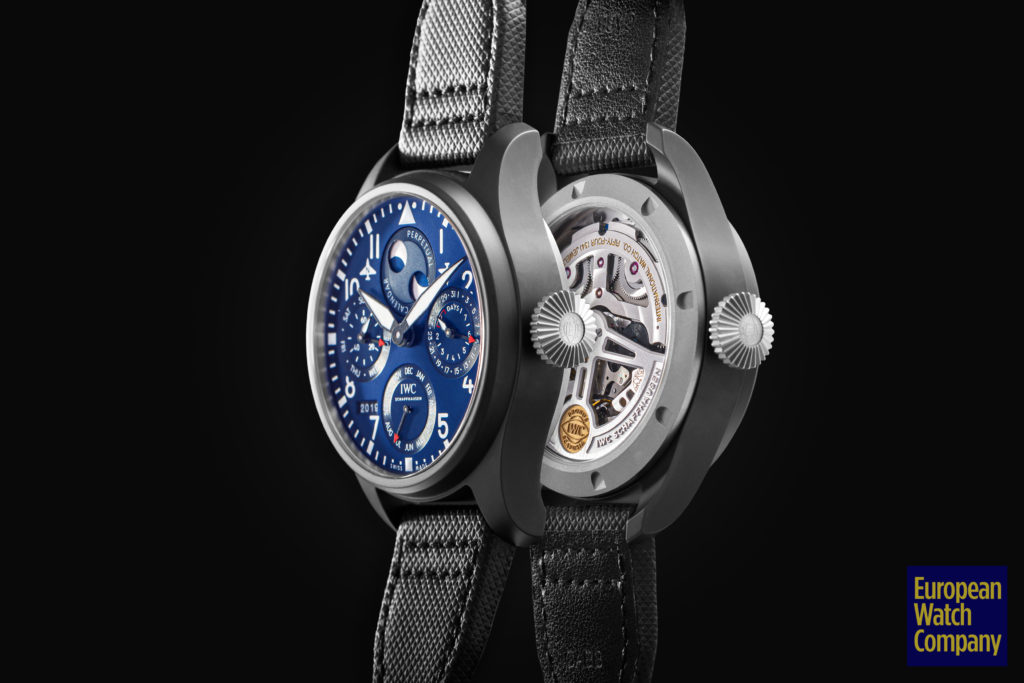 IWC absolutely nailed this watch. They took what is usually conflicting ideas about precious materials, movements, and tool watches and combined them in a way that just works. Yes, this is a ceramic cased perpetual calendar, but it's also a legitimate tool watch ready to be strapped to the outside of a flight jacket. It's a complicated watch, but the wearer's interaction with it is anything but. It proves that other watch brands have a ways to go in making their timepieces more user friendly. Honestly, I could summarize my review of this watch in one line. This is the only perpetual calendar I would buy my Dad.