Jaeger LeCoultre—AKA "the watchmaker's, watchmaker"—is primarily known for more formal timepieces. Design icons like the Reverso, and high horology masterpieces like the Duomètre showcase their ability to produce sophisticated and stylish wristwatches. But that doesn't mean that's all they know how to do. While Jaeger's current offerings almost exclusively lean formal(ish), the brand also has a history of making tool watches for some of the toughest people on earth. In fact, the brand worked in partnership with US Navy SEALs to create some insanely rugged and purpose-built watches. This Jaeger-LeCoultre Master Compressor Diving Pro Geographic Navy SEAL Q1852670 is one such watch. Despite being made primarily of rose gold, this is a highly capable tool watch that celebrates the brand's collaboration with the iconic US special forces group.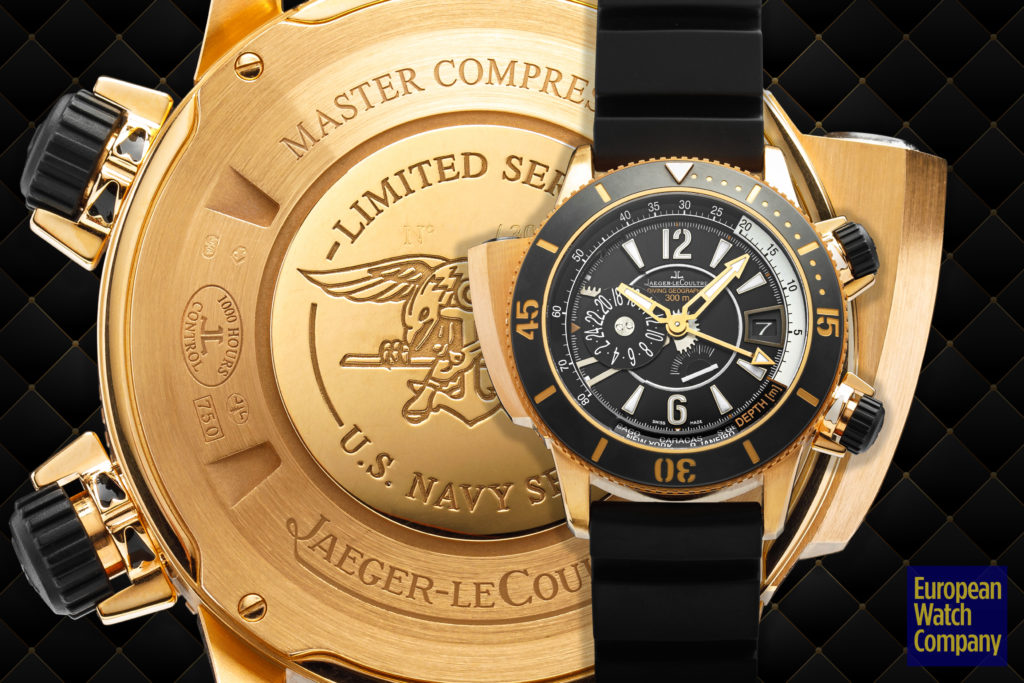 Released in 2009, this is very much a product of the '00s and is a far cry away from the petite vintage-inspired watches we often see today. This is not a subtle, "slips easily under the cuff," or "but look closer," kind of watch. The case is 18k rose gold measuring 46mm in diameter and a whopping 20mm thick. This is a downright cocky wristwatch. But that size is there for a reason. Everything besides the case material has a functional purpose. With 1000 feet of water resistance, a mechanical depth gauge, and dual time zone functionality, the Diving Pro Geographic has everything one needs to partake in aquatic missions around the world.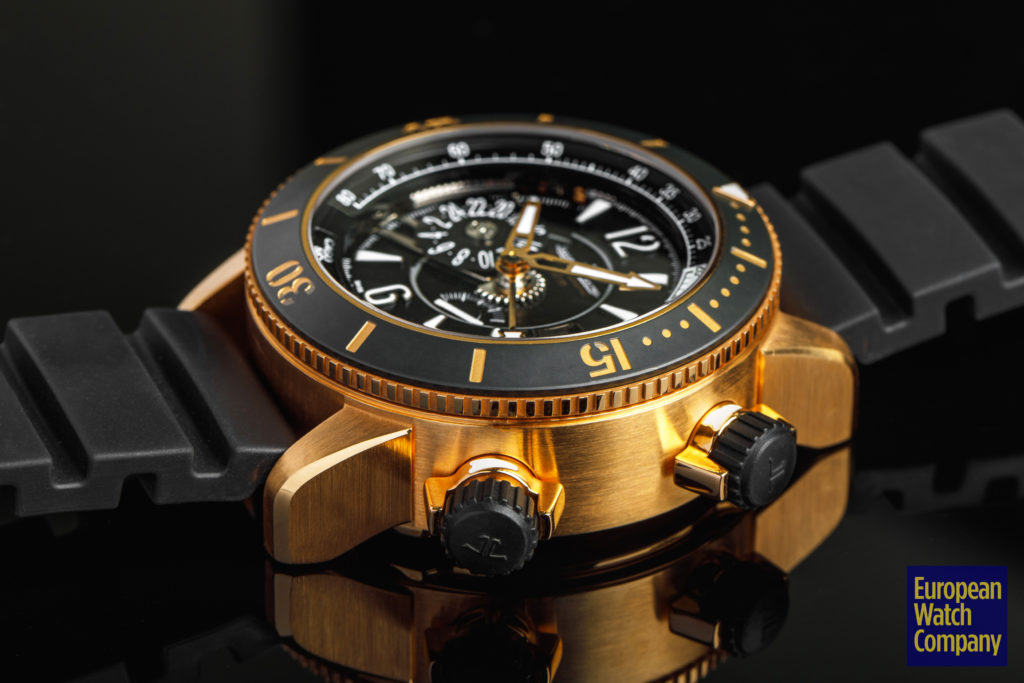 From a design standpoint, this watch is very contradictory. On the one hand, it's got a very lux-casual vibe with its rose gold case, black ceramic bezel, and rubber strap. The inclusion of the second time zone also speaks to casual wear rather than deep diving. On the other hand, I don't think I've seen another watch this over-engineered for a specific purpose. There is very little polish aside from some lug beveling, and even the rotating ceramic bezel is matte. The numerals have a stencil standard-issue look to them, and the broad arrow hands and indices all have plenty of lume. But the features that most stand out, literally, and advertise that this is a tool watch are the two large crowns on the right side of the case and a mechanical depth gauge mechanism on the left.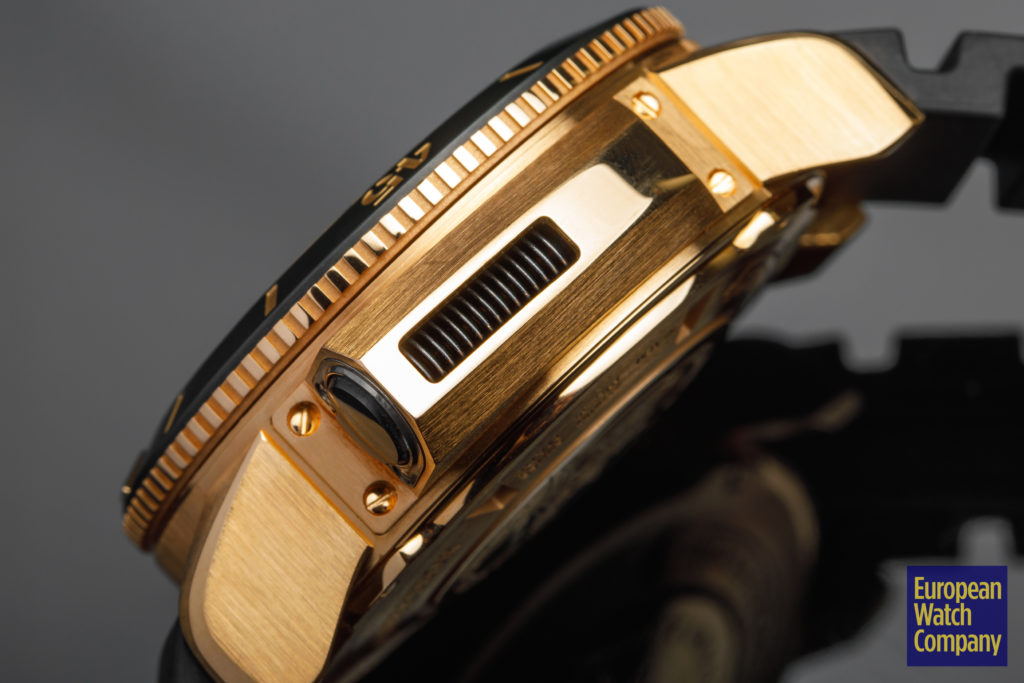 The dual crowns operate different functions of the watch. With the top pulled out in the first position, you can set both time zones in unison; the second position allows for the independent setting of the main hour hand and date. The bottom crown advances the dual time subdial on the left of the dial and the reference city disk located at six o'clock. Having two crowns might not be everyone's cup of tea, but Jaeger has implemented it well here, and they've made them intuitive to operate. Additionally, both crowns have an unusual but clever locking mechanism.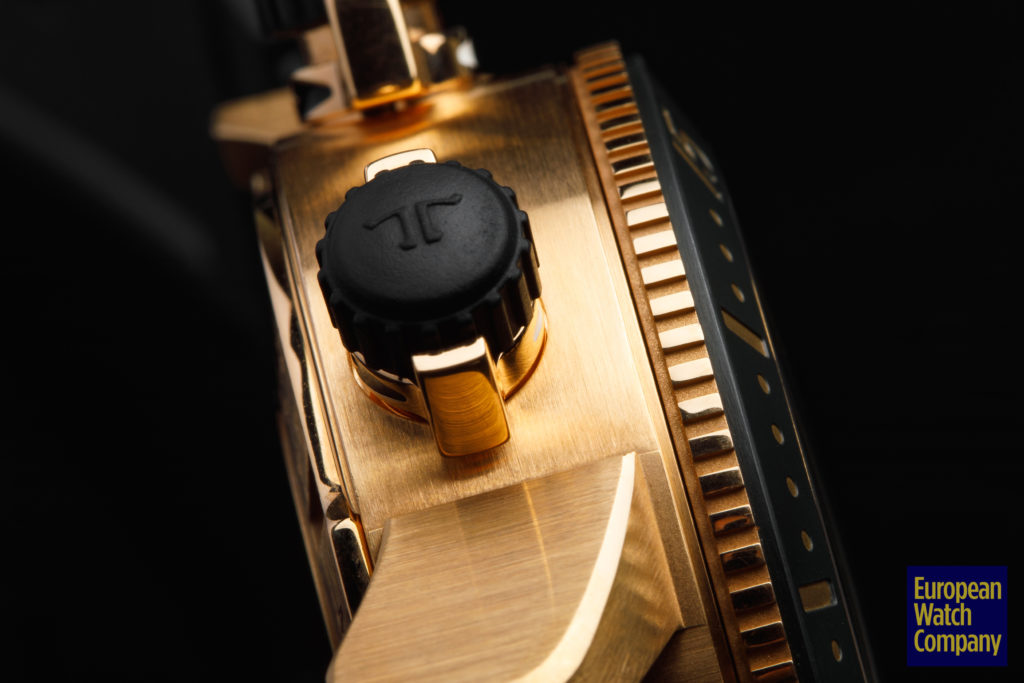 Instead of screwing into the case, the crowns have winged locking clips at their base. One-half turn unlocks and then relocks the crown removing the hassle of having to fully screw and unscrew when needing to set the time or date. This mechanism also provides the added benefit of acting as crown guards. It's a shame I haven't seen this functionality outside of the Master Compressor collection, even if it's for no other reason than it reminds me of securing a hatch on a ship, conjuring up yet more aquatic images.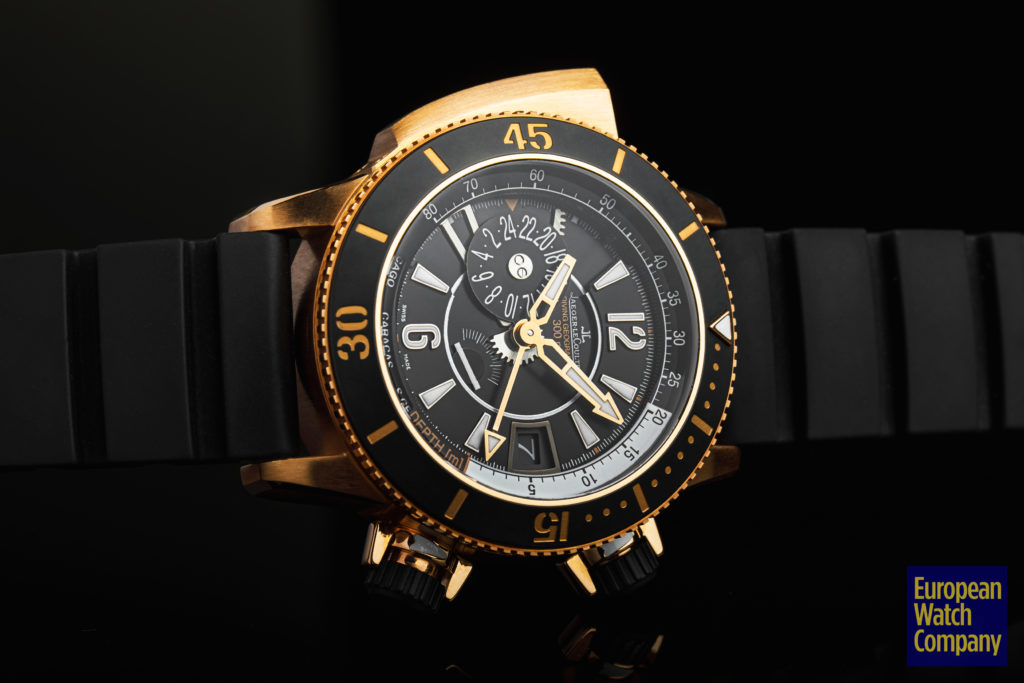 The mechanical depth gauge, while not a complication in the usual sense, adds some additional functionality for the few who will actually dive with this watch. You can test it pre-dive by simply pushing the black button atop the depth gauge. Apply some pressure here, and you'll see the designated depth hand move along the outermost scale measuring up to 80 meters—approximately 260 feet—of depth. More than any other feature on this watch, this detail lets you know it means business and was built to perform.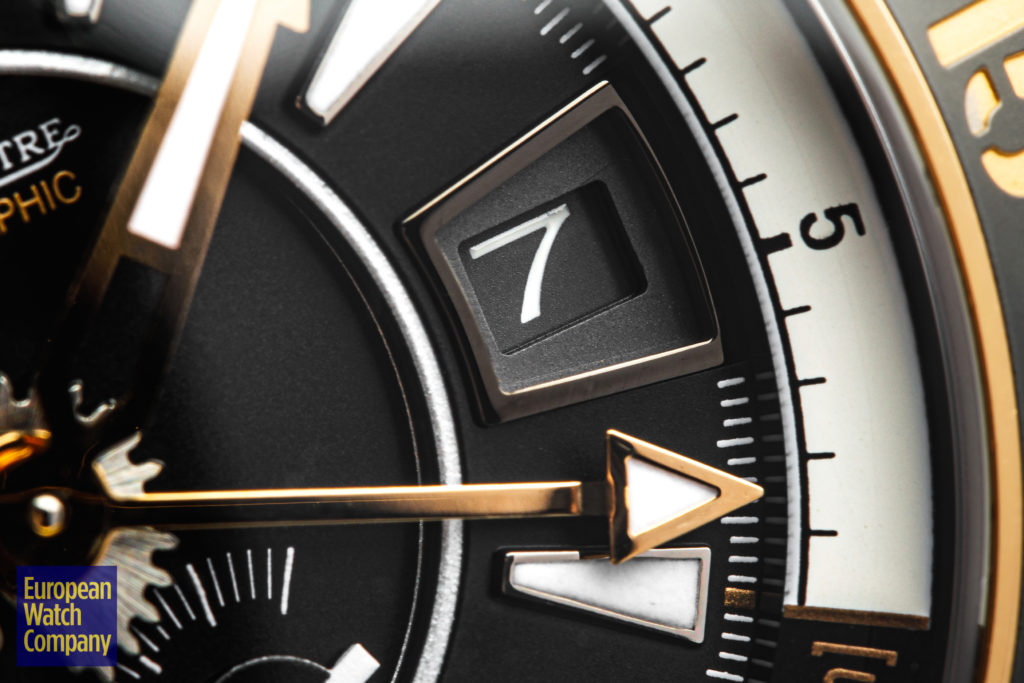 Powering the watch is the Jaeger LeCoultre in-house caliber 979. This is an automatic winding movement with a 48-hour power reserve. It has a free-sprung balance adding some shock protection and utilizes unlubricated high-efficiency ceramic rotor bearings. While you can't see the movement through the caseback, you'll notice engraved on it is "1000 hours control" with the JLC logo. This indicates that this watch has gone through some of the most stringent testing available. Jaeger tests the movement uncased first, then cased and puts the watch through a variety of tests pertaining to accuracy, resistance to temperature changes and atmospheric pressure, durability against shocks and magnetism, as well as waterproofing. Their standards exceed chronometry ones, and you can be sure with that little "1000 hours" engraving that this movement is exceptionally accurate and durable.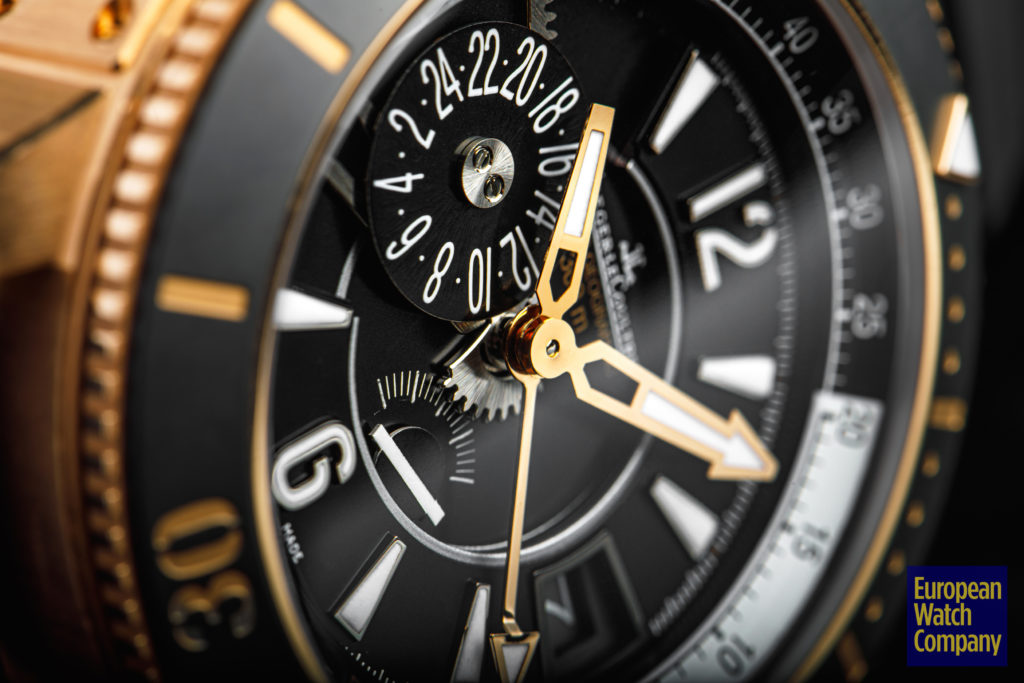 Jaeger-LeCoultre Master Compressor Diving Pro Geographic Navy SEAL is a limited edition of 300 examples, and while 300 might be enough as this thing requires some serious self-confidence to pull off, I wish Jaeger made more watches like this. This is a "why not" sort of watch that we used to see more often. Instead of focusing grouping what vintage design should be reissued, Jaeger just said to hell with it, we can make a solid gold tool watch specifically built for Navy SEALs, so let's do it. Don't get me wrong, I love vintage watches and agree some of the best watch designs can be found in the past. But I'm also excited for brands to move on from the vintage-inspired trend to make way for more cocky "why not" watches like this one.