Though he's only been in business since 2002, Kari Voutilainen has made a profound impression on the watch world. His unconventional aesthetic, dedication to quality, and now famous hand-finishing, have led to him being regarded as one of the greatest contemporary watchmakers. He is heavily involved in every watch and attempts to strike a balance between perfection and production. Because of this, Voutilainen usually creates less than 50 watches a year across all product lines.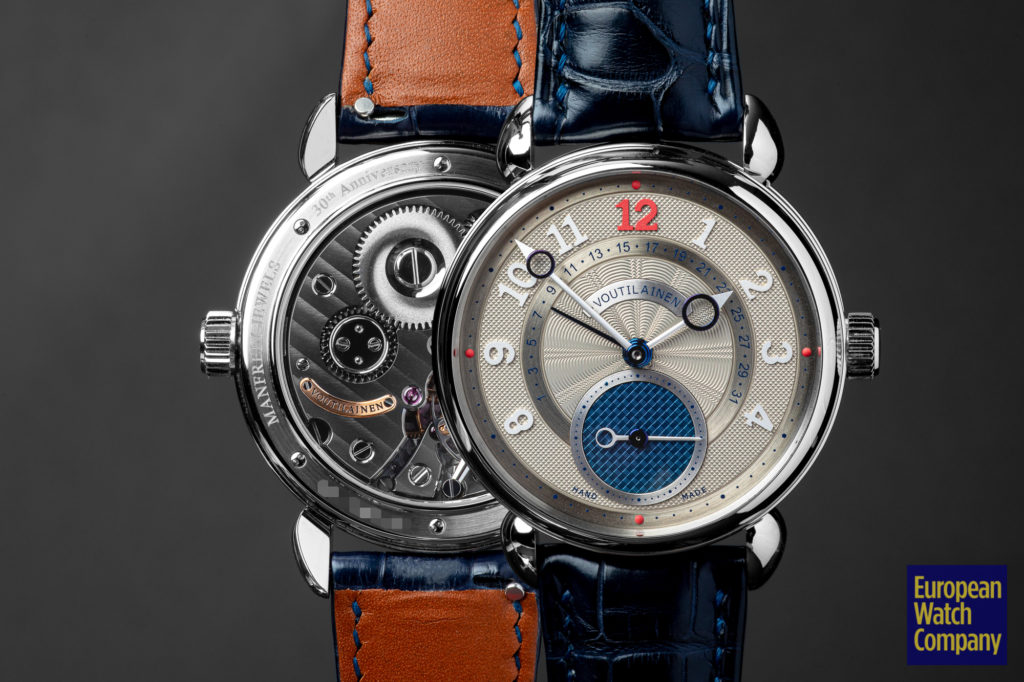 The Voutilainen Retrograde Date reference 217QRS, released in 2018, is an excellent example of what Voutilainen watchmaking is all about. The standard model is an exceptional timepiece and was produced in a limited run of ten examples per metal in platinum, rose gold, and white gold. The watch here, however, is not the standard model. This particular example was made in collaboration with Manfredi Jewels of Greenwich, Connecticut, to celebrate Manfredi's 30th anniversary. This special edition in steel was limited to just eight customizable examples. Not only are these models the only version of the 217QRS in steel, but also due to customization, each piece is essentially a piece unique.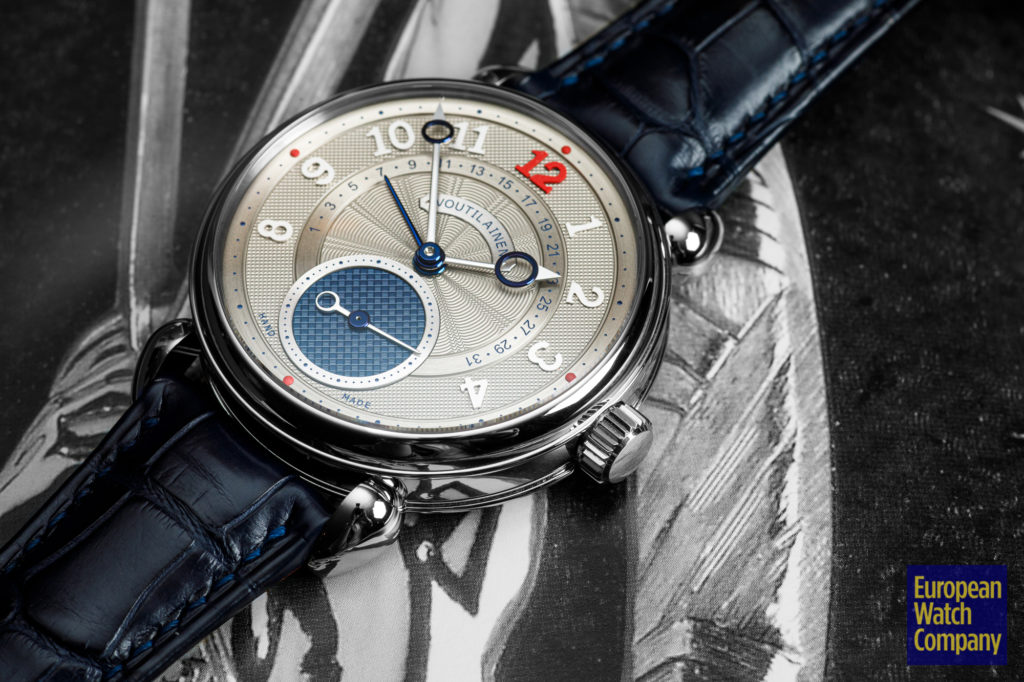 The anniversary model has some key differences from the standard variants, but first, let's dive into what hasn't changed. The 217QRS features an innovative in house manual winding movement with a 65-hour power reserve. The caliber has a direct impulse escapement which utilizes two escape wheels and optimizes the movement for minimal friction and maximum precision. It also contains a retrograde date complication that is fully integrated into the main plate. This is operated by simply pushing the crown to advance the date hand across the date track.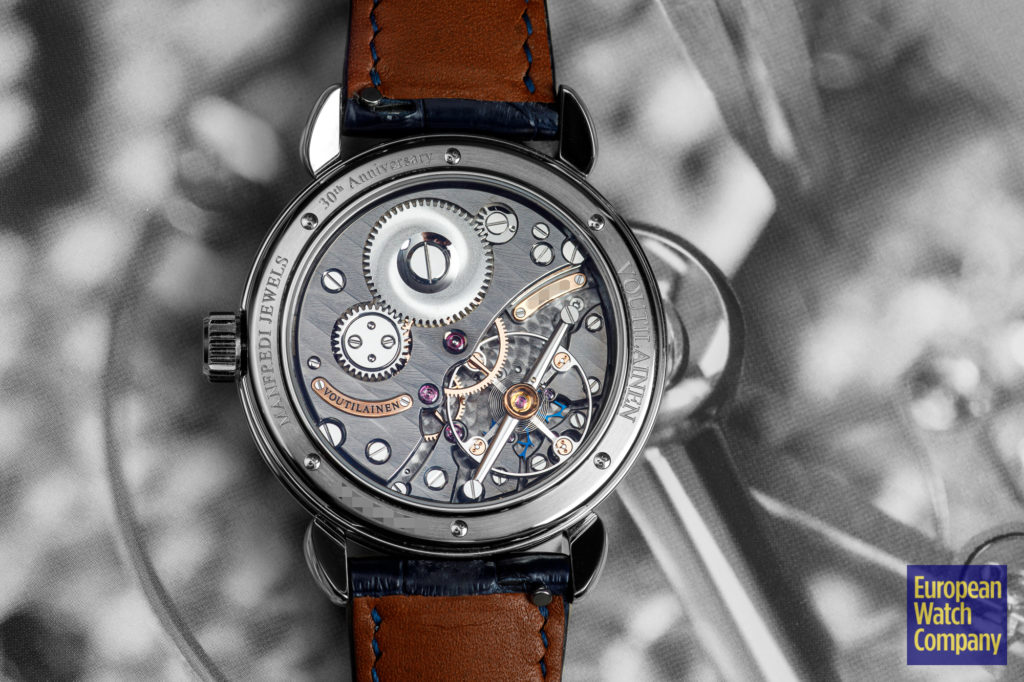 The complication contains a mechanism that is activated when the date resets at the beginning of a new month. This mechanism slows the date hands reset and allows it to gently flow back from 31 to 1 instead of snapping back instantly. A feature that is both entertaining and elegant to watch. Honestly, it makes date complications that flyback seem aggressive and unrefined.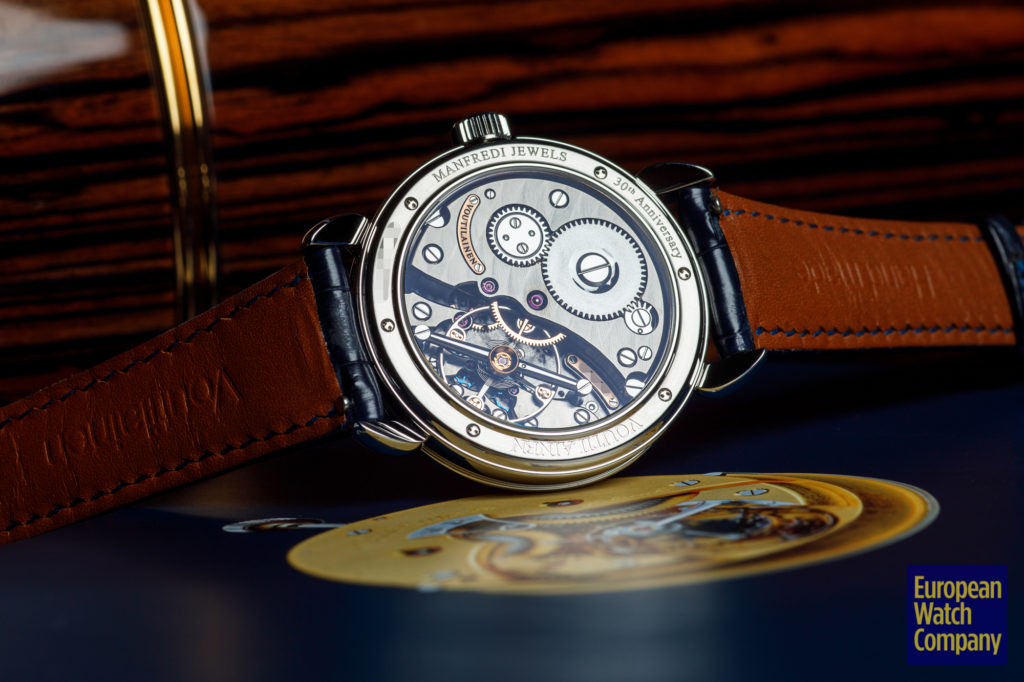 Mechanically ingenious, this caliber is also beautifully hand finished. As this is the anniversary model, its movement is dark rhodium treated. This darker treatment adds emphasis on the Côtes de Genève, polished screws, and sharp angelage finishing. Finishing aside favorite detail on the movement is the two badges labeled "217-QRSxx-" and "Voutilainen." They serve as an indicator that the display caseback is not an afterthought; this movement is meant to be seen. The same level of detail seen in the movement finishing can also be found on the dial.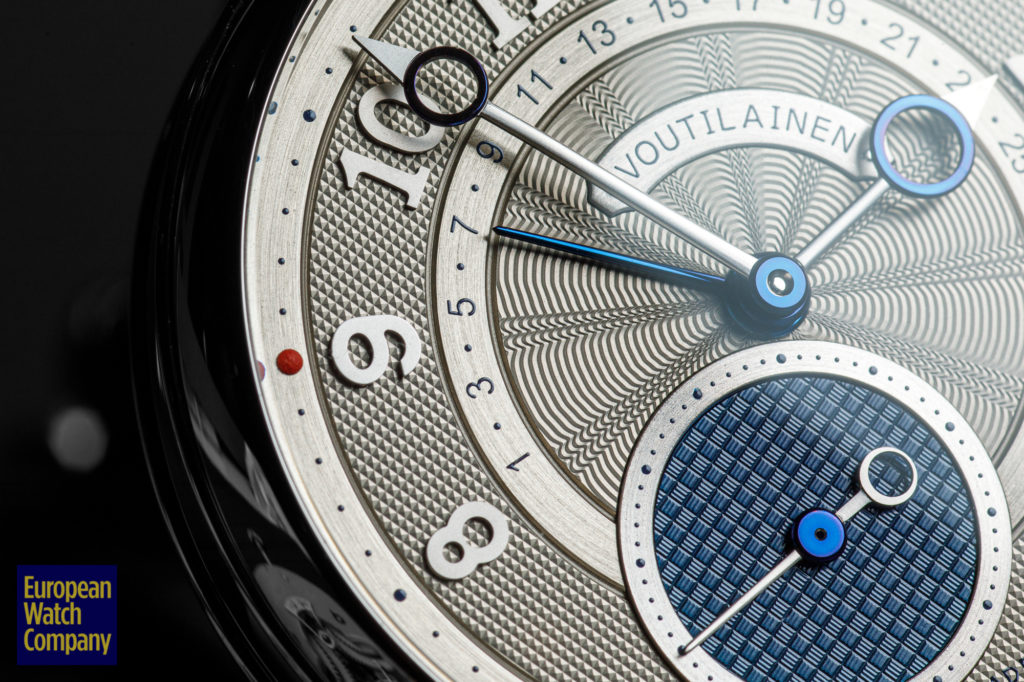 The dial on this watch—and most Voutilainen watches—is very distinct. It's also where the anniversary edition most separates itself visually from the standard model. Voutilainen masterfully utilizes multiple finishing techniques without making the dial too busy. The blue sub-seconds dial is crosshatched, with a wave pattern in the center, and hobnail finishing on the hour track. The different finishes and Breguet hands ordinarily make for a classic looking watch, but something about the design here is hard to pin down.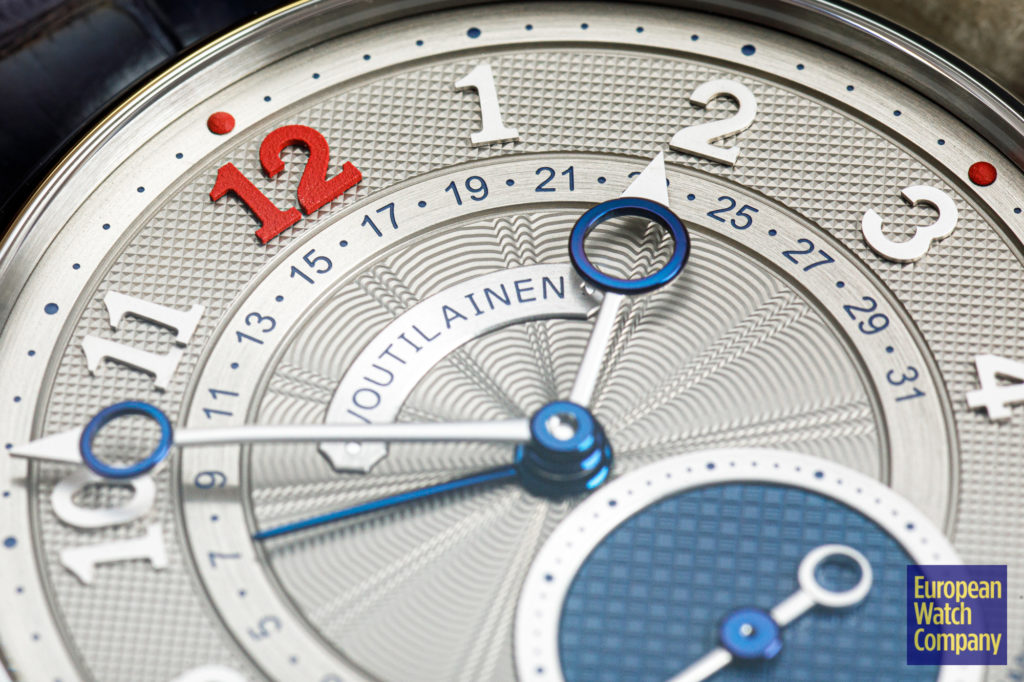 One quality playing a role in this conundrum is a matter of color choice. Both shades of red and blue are playful and add a level of whimsy as well as legibility that contrasts well against the silver dial. The colors also go a long way in keeping this watch from being too stuffy. Combined, the colors and various finishes help delineate the watch's functions and give it an original aesthetic. It looks both modern and traditional at the same time.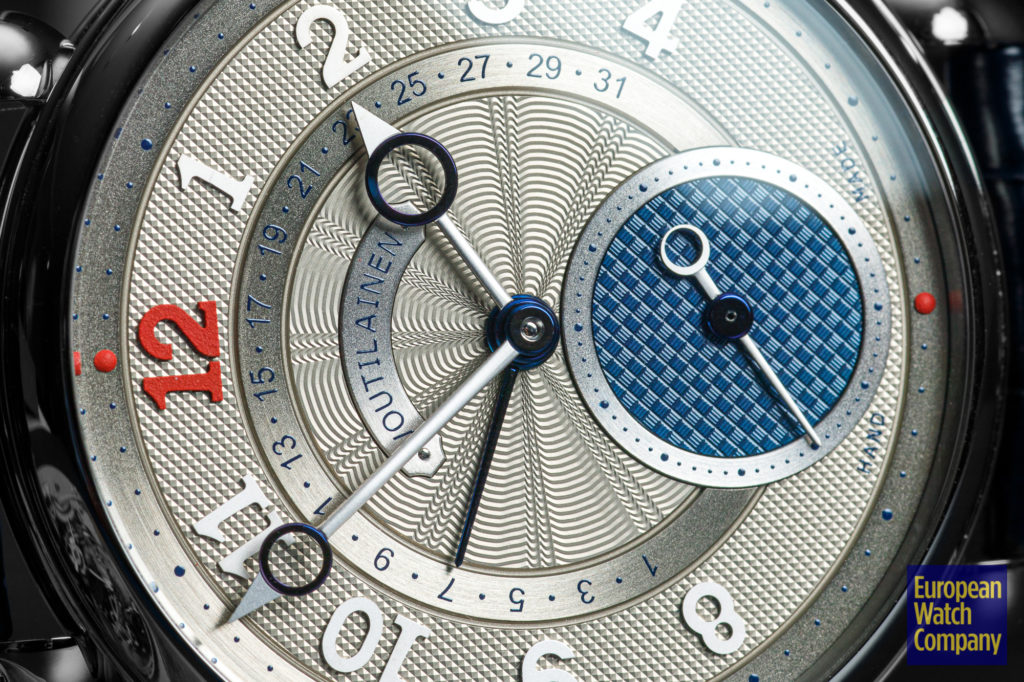 With such a stunning dial and movement, it can be easy to overlook the case and lugs, but that would be a mistake. While the teardrop lugs stand out, it's a more discreet detail that I love most. The bezel and caseband are both concaved rather than convexed. This causes the case to reflect light differently and further adds to the unusual aesthetic of the timepiece. Overall the general design is the same here as the standard production 217QRS, but the anniversary model is a steel watch allowing it to be potentially enjoyed as a daily wearer.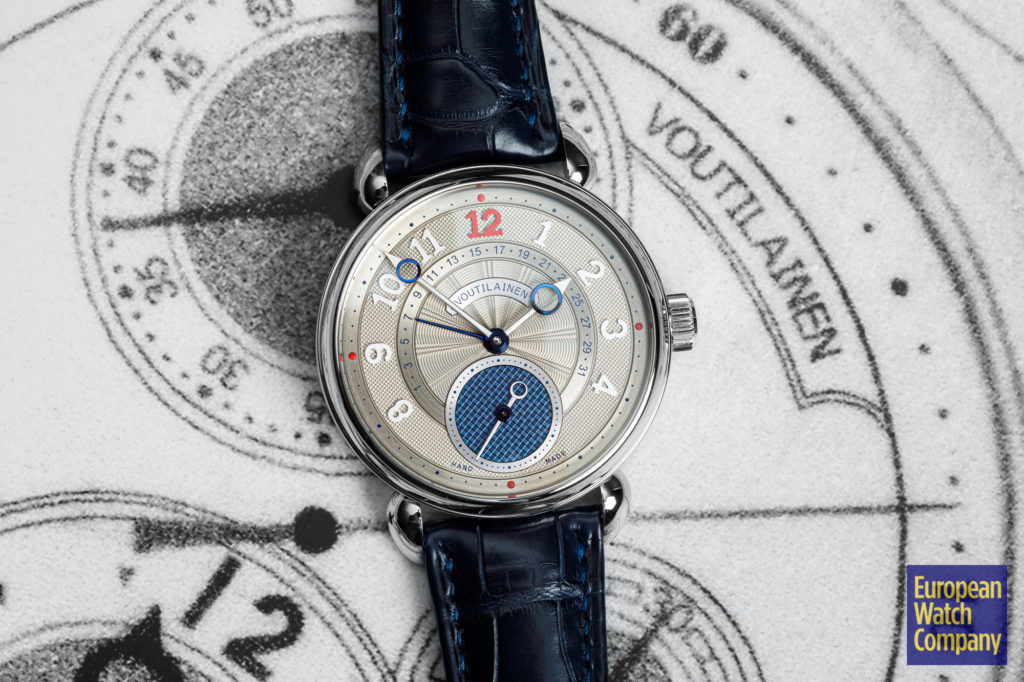 Don't get me wrong, I love this watch, but I also understand that this watch is not for everyone—this a confident but peculiar watch for an equally confident and peculiar person. Voutilainen and Manfredi took a strong design and made it even bolder. Every single design element and choice is it's own, and this watch makes no apologies. With this fearless design, you also get an exceptional watch. With each piece being customizable, it's not hyperbolic to say there is no other watch like this one. This 217QRS has so much personality and depth that you continually find out more about this piece as you visually study it, you also learn more about Voutilainen as a watchmaker and a man. That right there is the value add that a watch from Voutilainen can provide over a big-box manufacturer, this watch has a soul.