My first memory of Montblanc as a brand is seeing a pen with its logo on my uncle's desk as a kid. I picked it up, looked at it from multiple angles, noticed the weight, and opened it to see the gold nib's intricate design. I immediately knew this was a high-quality object and that I should probably grab another pen to borrow. Still, it burned the brand into my brain as a purveyor of nice things. I bring this up because I'm sure that when many of you think about Montblanc, you think "nice pen," and while they've only been making watches for the last twenty or so years, their dedication to craftsmanship and strategic alignment with the legendary watchmaker Minerva make them a brand worth paying attention to.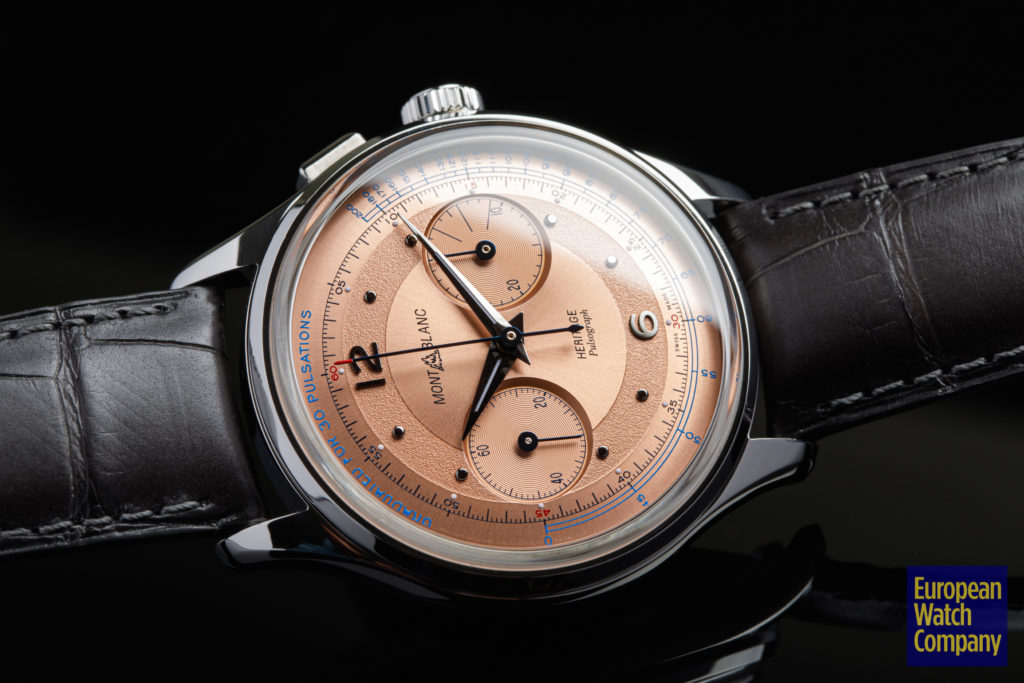 Case in point, this limited edition Montblanc Heritage Spirit Pulsograph reference 119914. This stainless steel monopusher chronograph was introduced in 2019 in a limited run of just 100 pieces. This is what you get when you combine Minerva's 160-years of watchmaking expertise with Montblanc's dedication to great design and high build quality. The watch pulls a bit of inspiration from some great mid 20th century Minerva designs, but it's not a replica of any particular watch. Visually, Montblanc does a great job of chocking this full of nostalgic touches without being too heavy-handed or including any faux features. Instead, what you have is a careful combination of subtle details like the box-shaped crystal or the old school Montblanc logo that whisper vintage rather than scream it.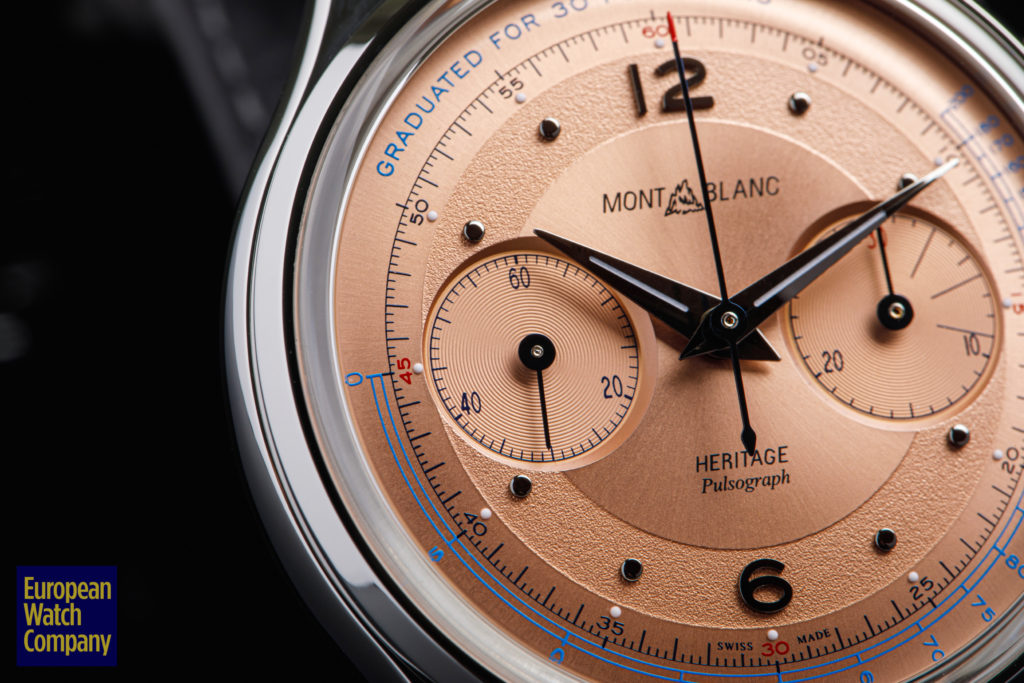 The salmon dial is rich with texture, with guilloché finishing in the two recessed subdials and a rough grené sandpaper-like finishing separating the subtle sunburst finished inner and outer dial. The stark contrast between the areas of the dial makes it infinitely interesting to look at. Adding some more vintage charm and a bit of an instrument-like vibe are the small pops of color. There are some touches of red on the chronograph seconds hand and at fifteen-minute intervals on the seconds' track as well as the thirty-minute mark in the right subdial.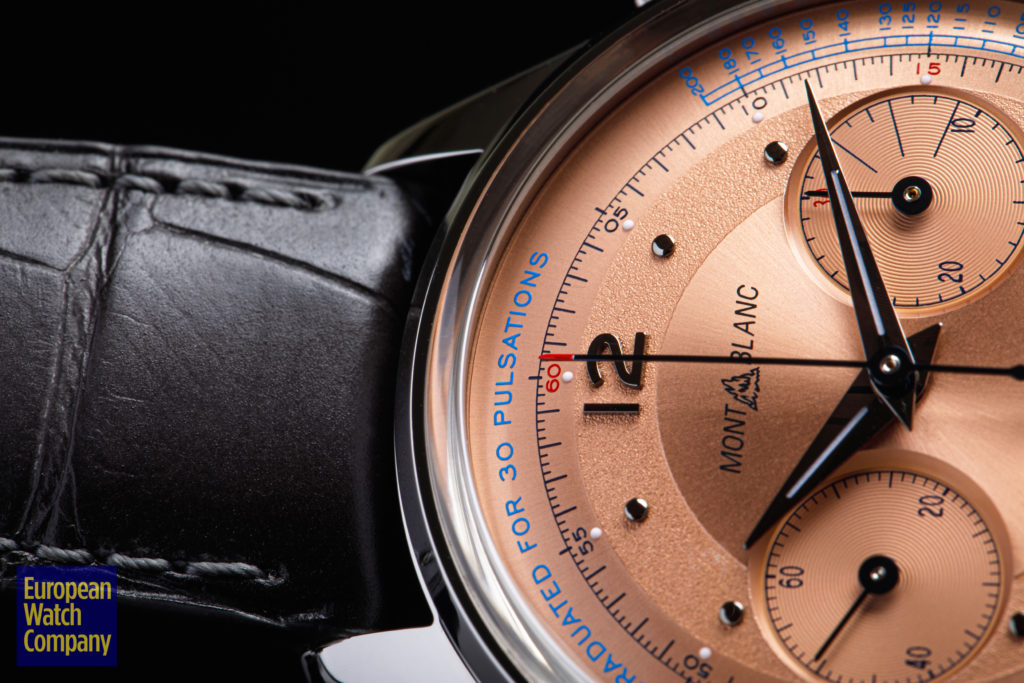 You'll also notice that while the seconds' track looks black at first glance, it's actually Navy blue. However, the most liberal use of color is reserved for the watch's namesake pulsometer scale, which is a playful baby blue. Normally, I wouldn't think baby blue and salmon belong together, and I also wouldn't believe all these colors would work on one dial, but Montblanc has nailed it. The use of color helps to delineate the watch's functions but also gives this "Dr.'s watch" watch a vintage utilitarian look.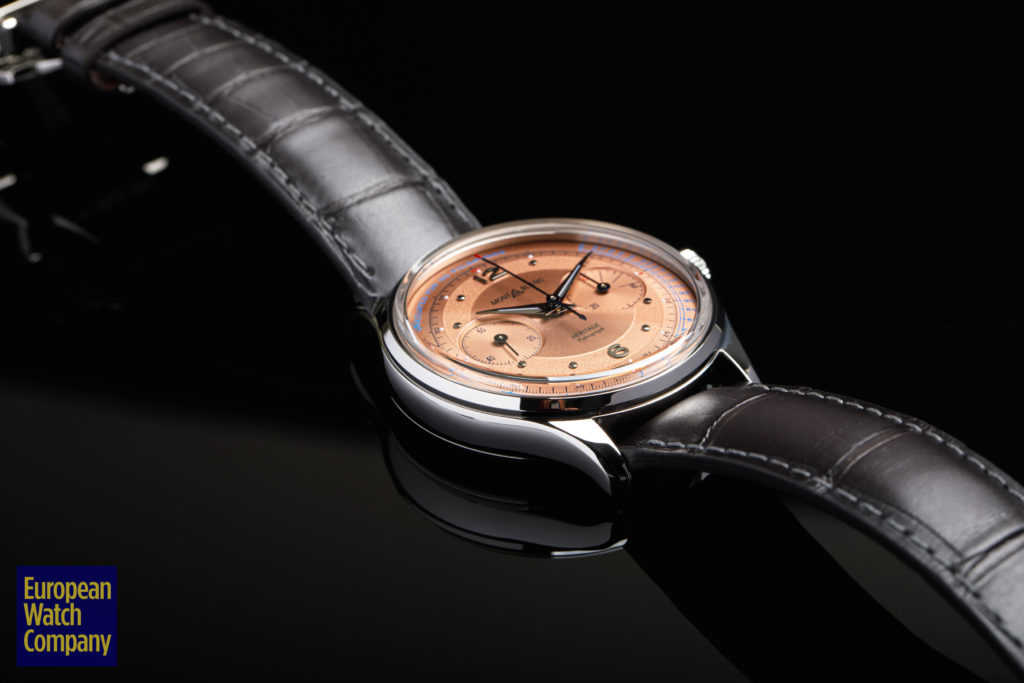 Not every detail of the watch is a blast from the past, however. Where Montblanc strays from this is in the proportions, the case is 40mm in diameter and 12.65mm thick. I'm sure some vintage enthusiasts would have preferred this be a 36mm watch, but I think the dial has so much going on that 40mm is perfect. The modern size ensures all elements have enough room to remain legible. The Heritage Spirit Pulsograph is more formal than casual, but the lines of the case and lugs, clean monopusher look, and the fact that it's made of steel make this a watch that can easily be dressed up or down. This would make a fantastic daily wearer for anyone whose dress code leans business casual or for those who want to accessorize with their stethoscope.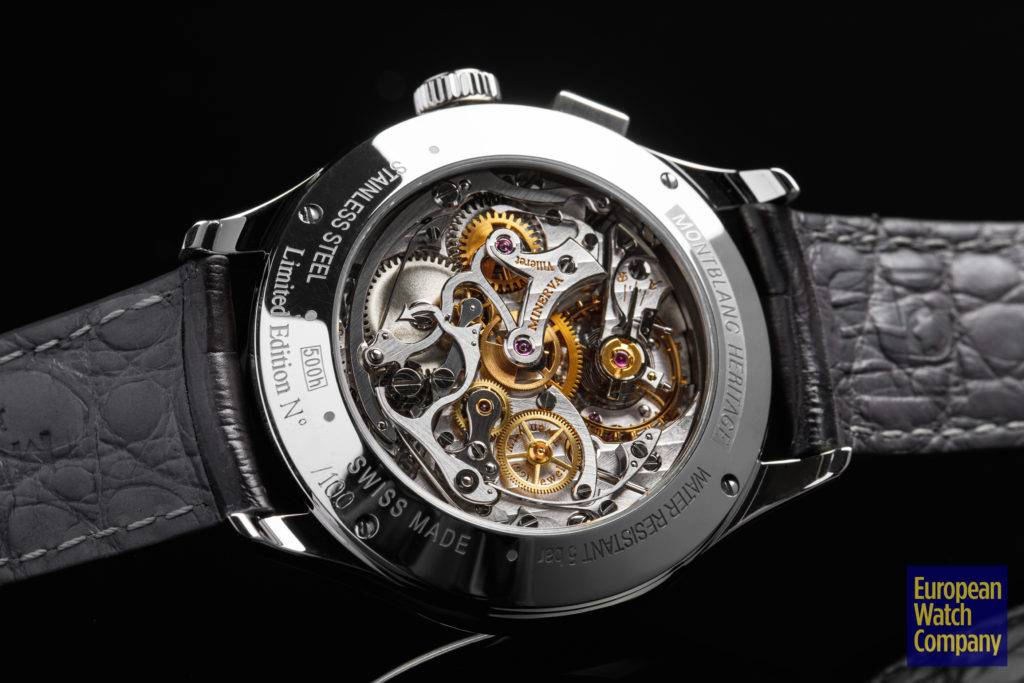 This timepiece's design is charming and fun, but it's what powers the watch that sets it apart. Inside the Heritage Spirit Pulsograph is the caliber MB M13.21 which is based on one of the first chronograph wristwatch movements ever. This movement's architecture comes from the Minerva caliber 13.20, which dates back to the 1920's predating even the dual pusher chronograph design. It's a hand-wound rhodium-plated movement with German silver plates and bridges and, get this, hand-chamfered edges. Minerva watchmakers still employ a lot of traditional artisanal watchmaking techniques when manufacturing their movements, and it shows. You could stare at this movement through the display caseback for hours; it's gorgeous. The details and finishing on this Minerva signed movement are very good and rival some of Germany and Switzerland's best work right now.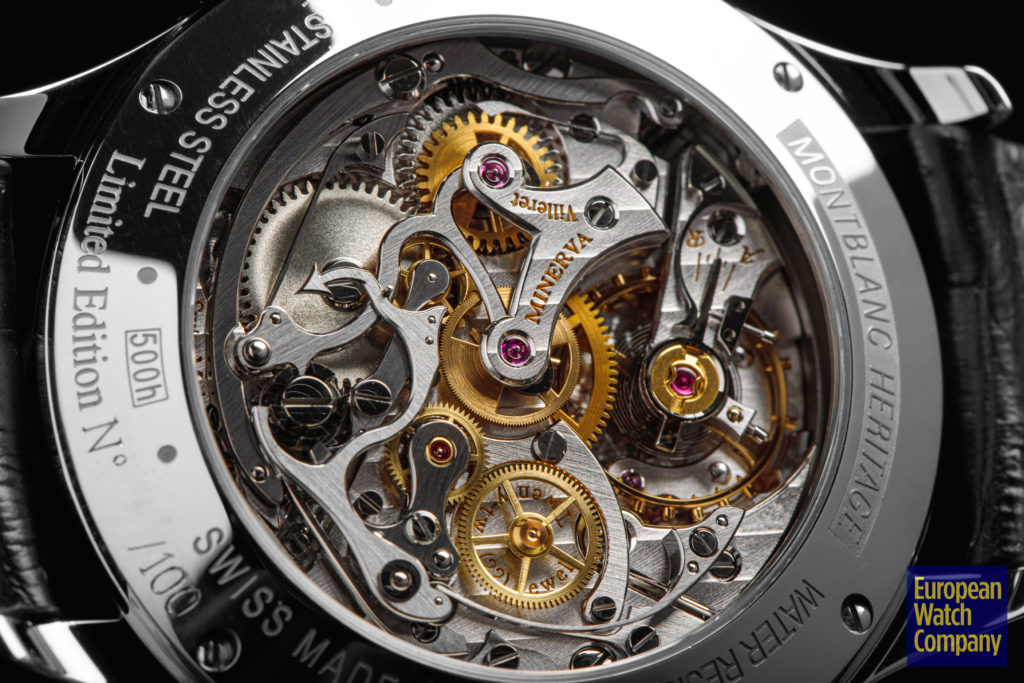 This timepiece shows that the Richemont group knew exactly what they were doing when they acquired Minerva and partnered them with Montblanc. The Heritage Spirit Pulsograph somehow has the purpose-built spirit of a tool watch with the elegance and refinement of a dress watch and an exceptional movement. This watch has done what so many others have tried and failed at. It has managed to capture the charm and romanticism of the most beloved watches from the middle of the 20th century and put it into a durable and modern package. If this is what Montblanc & Minerva are capable of after only fifteen years of working together, the rest of the watch world should very much be on notice.