No fictional character has had as much influence on the watch world as James Bond. Many timepieces have adorned the MI-6 agent's wrist in text and film, but due to a combination of marketing genius and happenstance, Omega has been Bond's choice since 1995. This Omega Seamaster Diver 300M 007 Edition (ref. 210.92.42.20.01.001) harkens back to Brosnan's Diver 300m roots and is the newest iteration of the "Bond watch." It will also be the last Bond watch of the Daniel Craig era.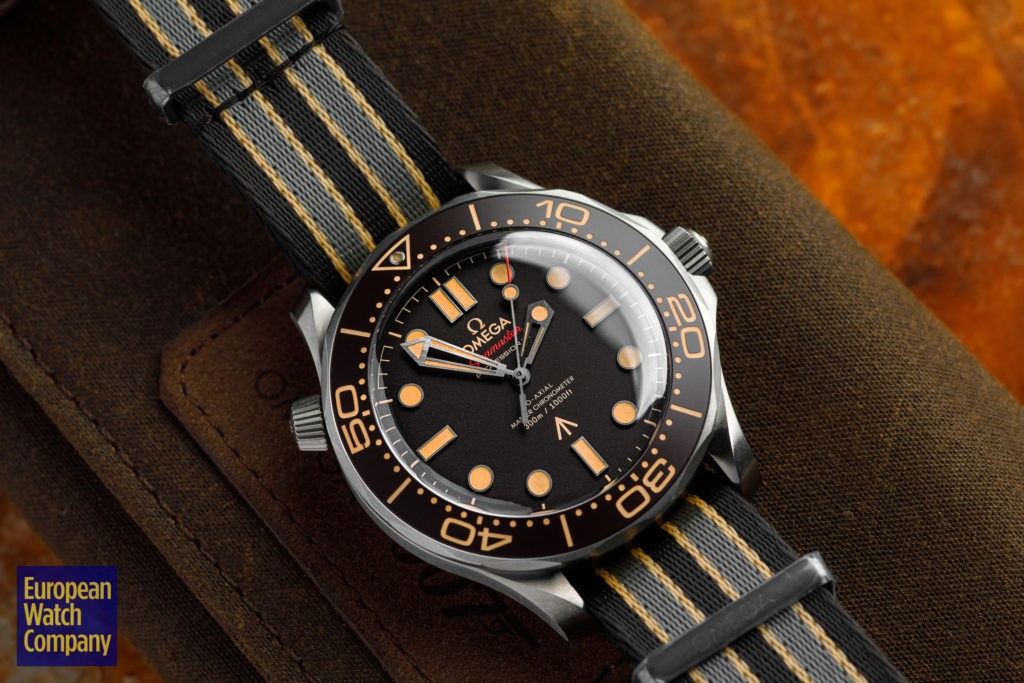 This is a special edition but not a limited one and unlike other commemorative Bond watches from Omega, this watch will indeed be seen on Bond's wrist in No Time to Die and has already been seen on Craig's wrist off film. While that alone may sell you on this timepiece, this watch is more than a marketing gimmick. Designed in collaboration with Daniel Craig and the No Time to Die filmmakers, all parties kept authenticity at the forefront of design decisions. Even without the Bond provenance, this watch would stand on its own as one of the best modern divers' watches on the market.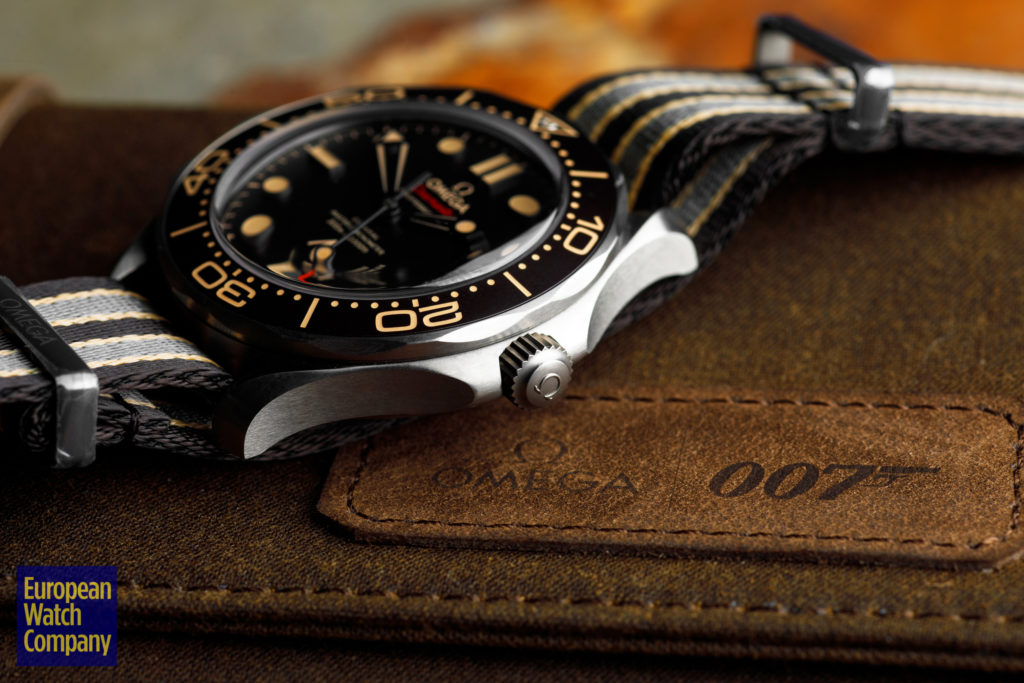 The case is 42mm in diameter by 14mm thick in fully brushed grade two titanium. The lack of polished surfaces gives the watch an appropriately more rugged look than the standard Diver 300m. The case's titanium also imbues a different grey hue than the stainless steel variant and likely results in the watch wearing better due to the reduced weight—perfect for a man on the go. Upon further examination of the case, you'll find lots of well thought out details. Flip the watch over, and you'll see British military-inspired insignia and markers, including the broad arrow—also seen on the dial—and what looks like serial numbers that mimic how military equipment is marked.
You'll notice A/007/62 is actually a nod to the year the first Bond film came out in 1962 and, of course, the classic pistol 007 logo. The military authenticity is driven home with an exceptionally high-quality Omega Nato strap—which looks very similar to the Nato attached to Sean Connery's Rolex in the first Bond film—securing the light but durable watch to one's wrist.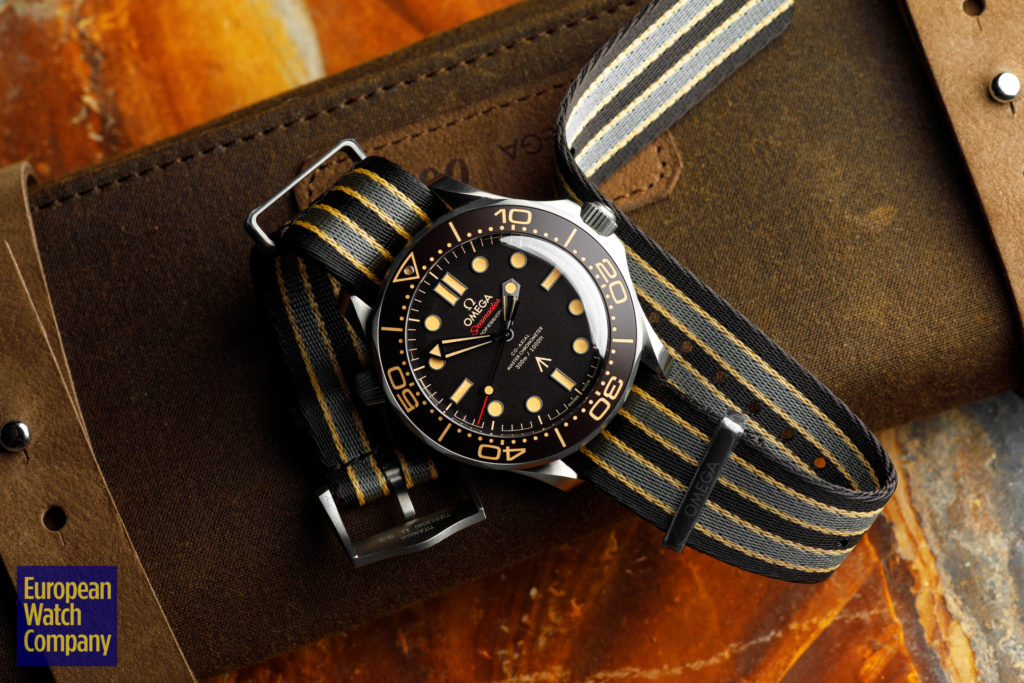 The attention to detail continues on the dial, where we see more deviation from your average Diver 300m. Gone is the shiny ceramic bezel and ceramic wave dial, and its place is all matte everything. The bezel on this watch is made of aluminum, which Omega has confirmed will fade with age allowing you to add your own patina along with the already healthy dose of fauxtina. You'll also notice the awesome vintage-inspired domed sapphire akin to divers watches of the '50s and '60s.
The combination of the all matte look and fauxtina adds a lot of character, and while I'm not usually a fauxtina fan, I don't think this watch would work without it. The dial and bezel are also fully lumed, ensuring this timepiece is dive ready. Omega even delineates the minute's hand and 12 o'clock lume pip with lume that glows green to stand out versus the blue used everywhere else to ensure nothing gets confused when submerged.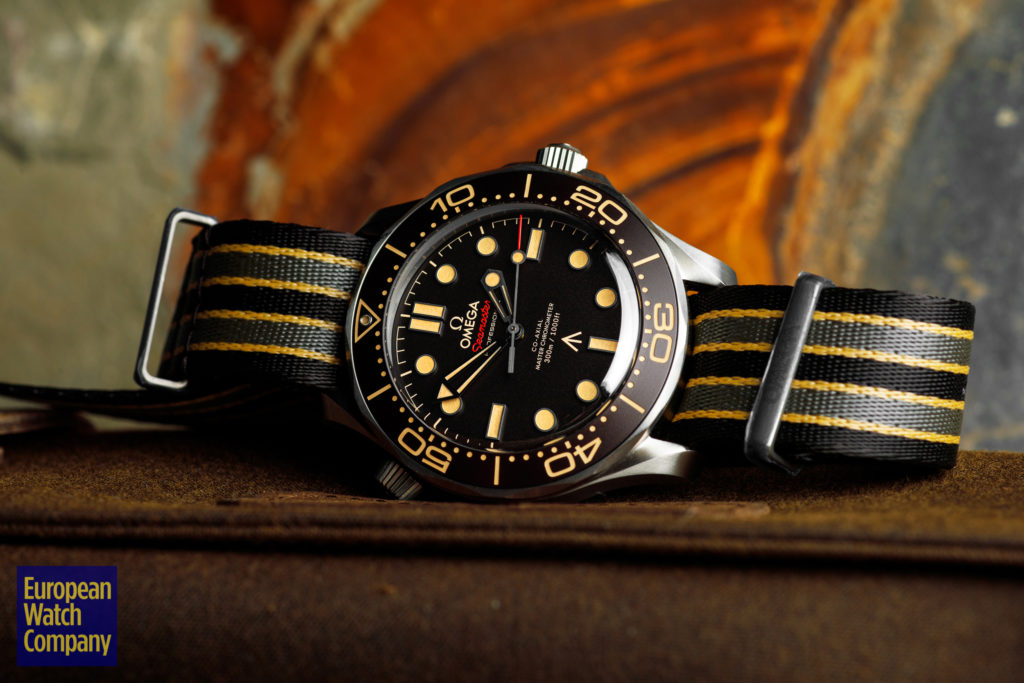 Powered by the Omega Co-axial Master Chronometer caliber 8806, this watch utilizes no less than one of the most reliable and accurate movements on the market. The METAS certification process that Omega puts their movements through to become certified Master Chronometers means this durable, action-ready watch has a bulletproof—no pun intended—interior to go with its tough exterior. A lot goes into a watch becoming a Master Chronometer, so I'll give you the cliff notes. All movements are first COSC certified to ensure the watch is within the average daily rate of −4/+6 seconds in varying temperatures and positions.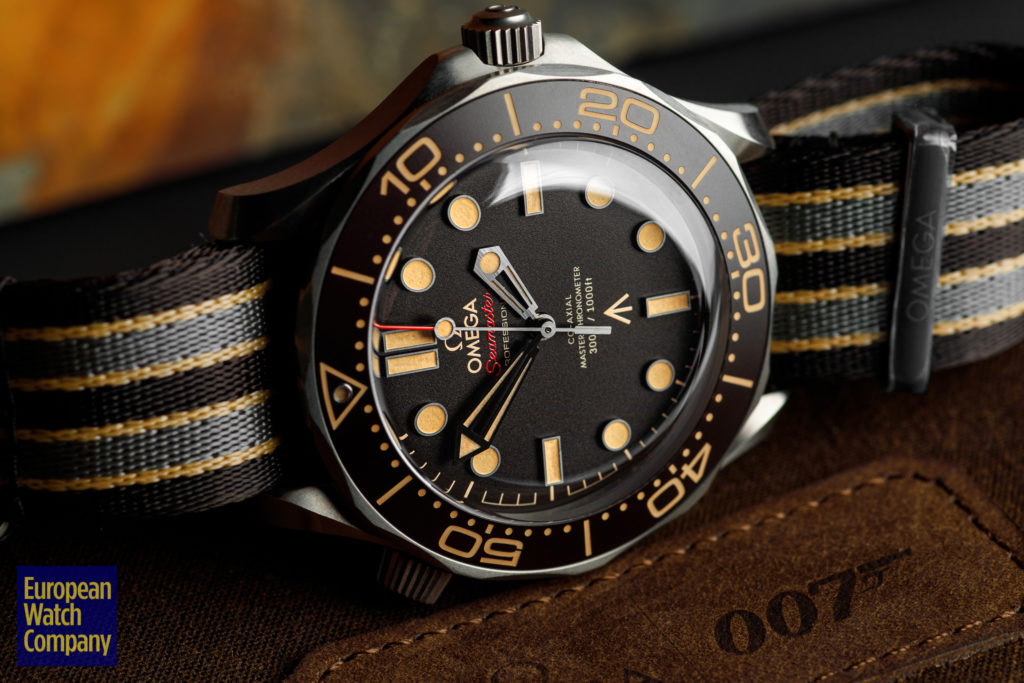 Once COSC certified, the METAS certification can begin. The movement is encased, and the entire watch goes through a battering ram of tests. After exposure to extreme magnetism, shock tests, and water resistance tests, the watch must meet a standard deviation of 0/+5 seconds per day, twice as accurate as COSC. Ultimately giving you, in the case of this specific watch, a timepiece that can resist 300m of water, 15,000 gauss of magnetism, and whatever bumps and bruises may be inflicted upon it by rival secret agents, all while still being more accurate than a standard COSC certified watch. Also, because the caliber is so durable and efficient, the service intervals are longer than your usual 3-5 years, meaning more wrist time. Oh, and by the way, Omega is the only brand that currently offers METAS certified timepieces.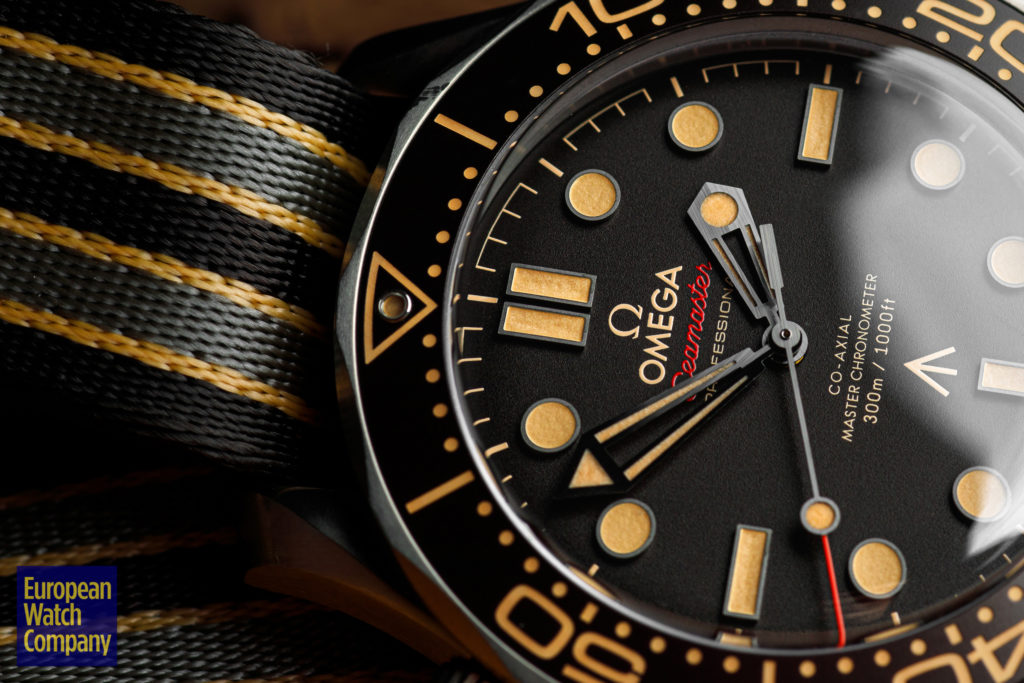 This timepiece is much more than just movie memorabilia. It doesn't just look like a watch James Bond would wear it's actually built to meet the demands that James Bond would require. The Seamaster Diver 300M 007 Edition combines cool aesthetics that both Bond and watch enthusiast love while living up to the name.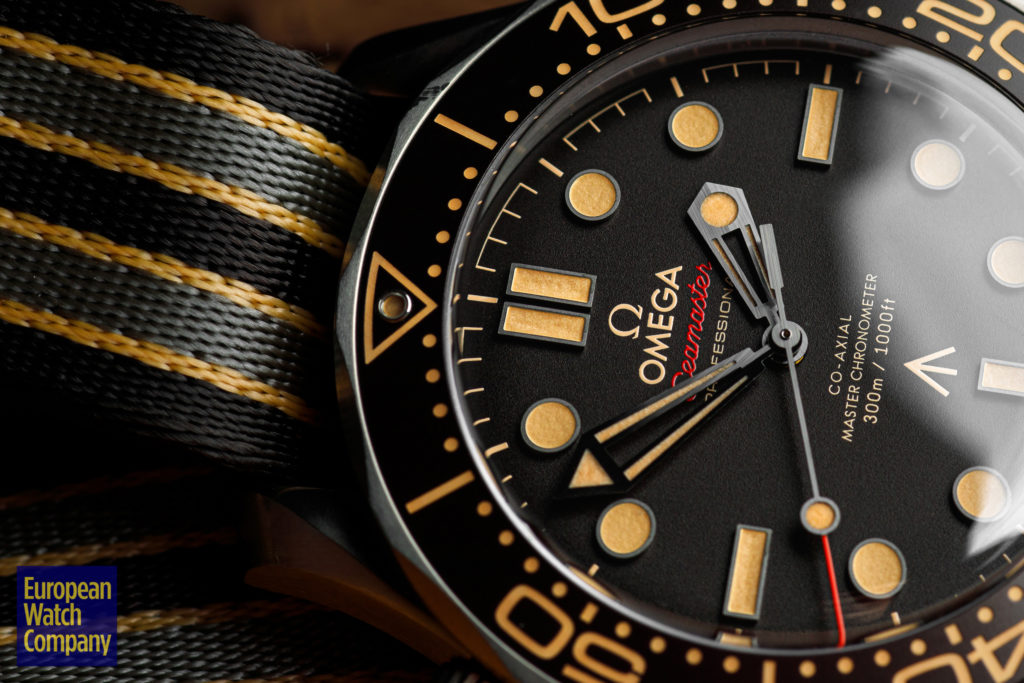 In the "Desk Diver" era we currently find ourselves, it's nice to see Omega go above and beyond here to make a truly capable and handsome timepiece. The Diver 300m 007 edition feels like if James Bond, specifically, Daniel Craig's version of Bond was put into a watch. A fitting timepiece to mark the last time he'll fill the role, and a must-have for any Bond or dive watch enthusiast.