In 2019 the Omega Apollo XI 50th Anniversary Speedmaster was released in a limited run of 6,969 pieces for an MSRP of $9,650.  This fine timepiece commemorated one of the greatest achievements of human science and engineering–the first Moon landing.  On July 20, 1969, after travelling roughly 230,000 miles through outer space, astronaut Neil Armstrong stepped out of the lunar module and transmitted words which would go down in history; "That's one small step for a man, one giant leap for mankind."  On the caseback of the 50th anniversary Speedmaster (ref. 310.20.42.50.01.001) these words are presented in an arch surrounding a laser engraved reproduction of Armstrong's footprint on the Moon.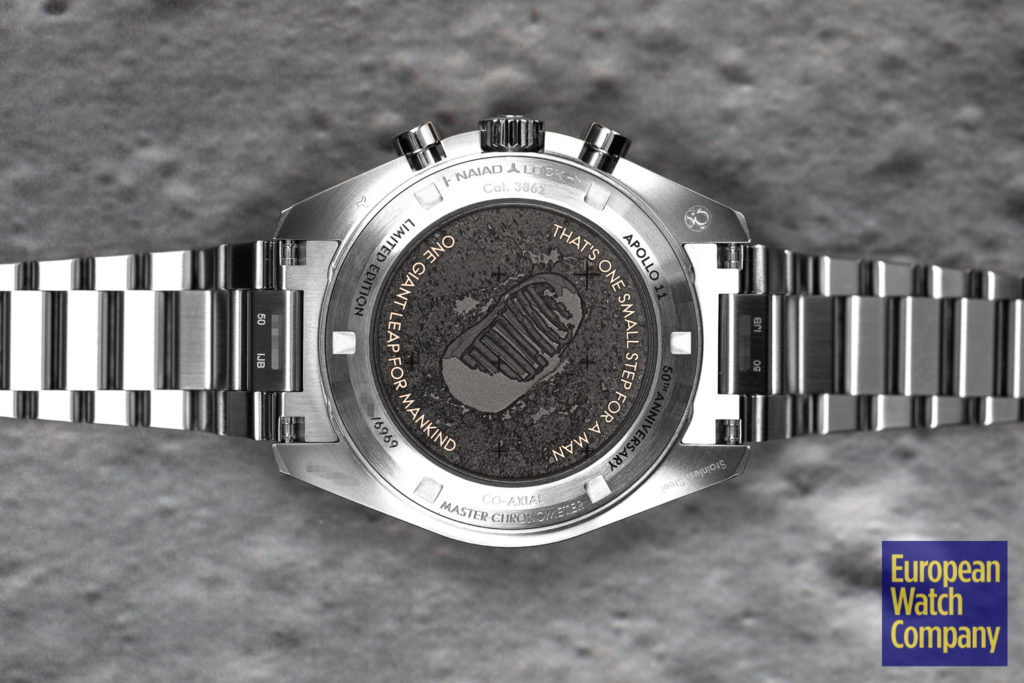 On the dial side, the seconds register of this manually wound chronograph, located at 9 o'clock, contains a laser engraving of astronaut Buzz Aldrin climbing down the ladder of the lunar module. The engraving is inlaid with 18K Moonshine gold–an exclusive alloy of gold, silver and palladium–which Omega notes is more resistant to fading. The indices and hands are also composed of 18K Moonshine gold while the center seconds chronograph hand is PVD coated with the alloy. Its tachymeter bezel is ceramic, and its crystal is a scratch-resistant sapphire treated with an anti-reflective coating on both sides. The dial is varnished black and grey, which evokes memories of the lunar soil pockmarked by the dark shadows of craters.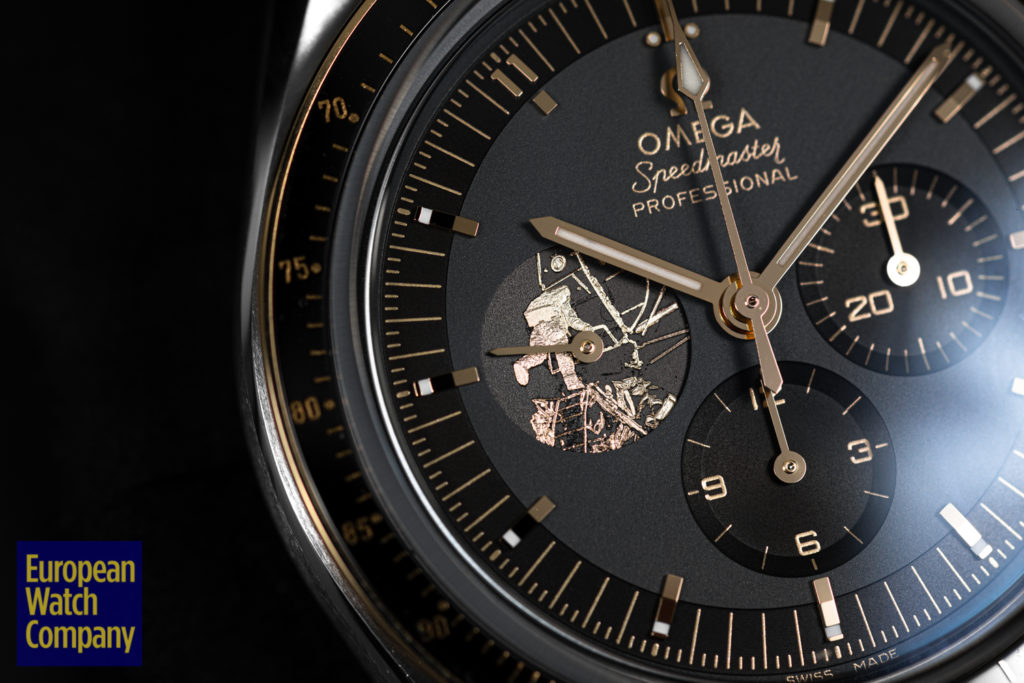 In addition to this already heightened level of detail, you'll note a subtle nod to the Apollo mission number in the form of a unique "11″ marker in place of the usual applied baton indices indicating the other remaining hours. It's clear that Omega really wanted to go the extra mile when developing this latest anniversary edition.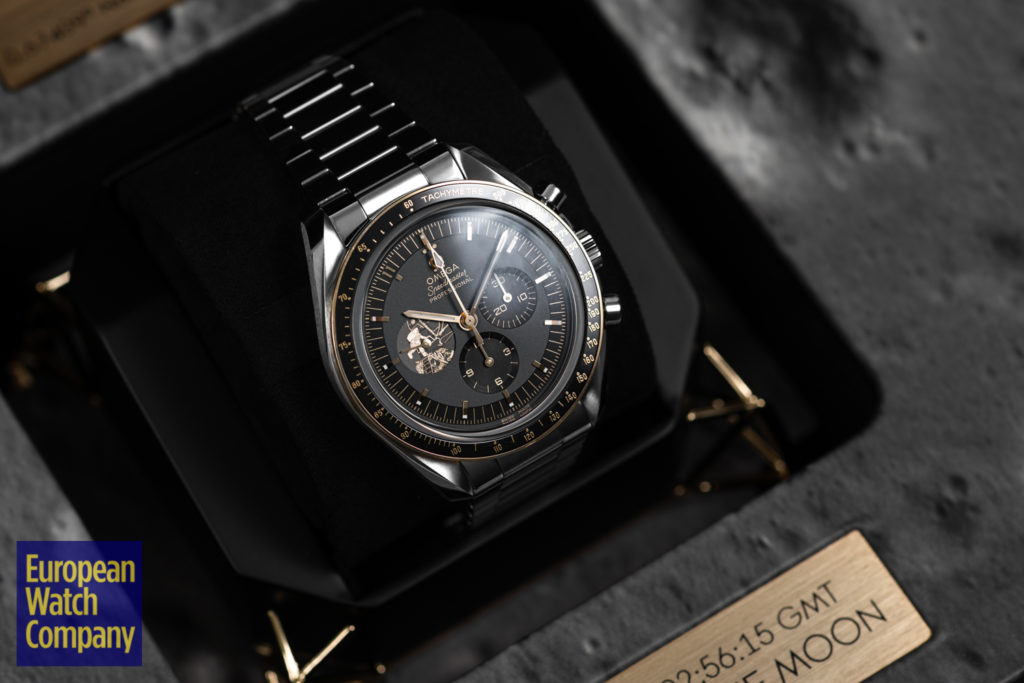 The Omega Speedmaster itself is woven into the fabric of American spaceflight. In 1964, astronaut Wally Schirra brought his own personal Speedmaster to orbit as part of the Mercury-Atlas 8, Sigma 7 mission. Two additional astronauts followed suit with their personal Speedmasters, prompting NASA to eventually invite watch companies to submit candidate timepieces for testing. If a watch passed testing it would be certified for spaceflight. The Speedmaster was the only watch to survive NASA's intense regimen; Rolex failed on the first temperature test, as extreme heat caused the hands of their submitted watch to curve upward and collide with one another. In one stage of testing a timepiece was exposed to 40G shocks from six different directions.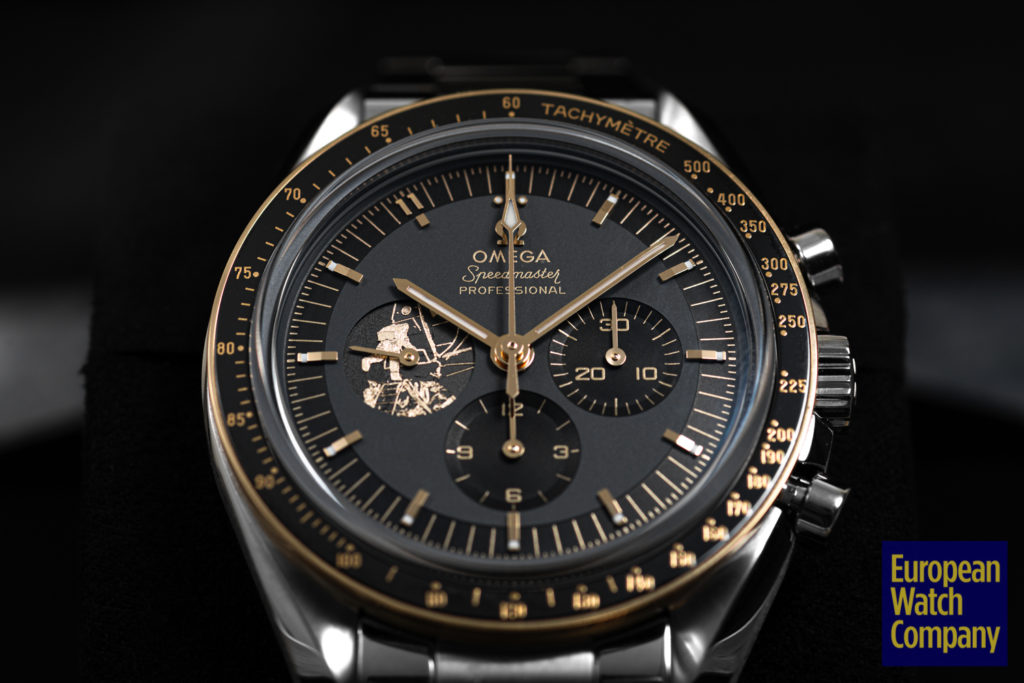 That the Speedmaster managed to continue to function within specifications became a testament to Omega's unique accomplishments in designing reliable and durable mechanical watches for extreme circumstances. Omega recently expanded upon this legacy, when one of their non-Speedmaster models survived a 6.78 mile dive to the deepest part of the ocean while strapped to the exterior of a submersible.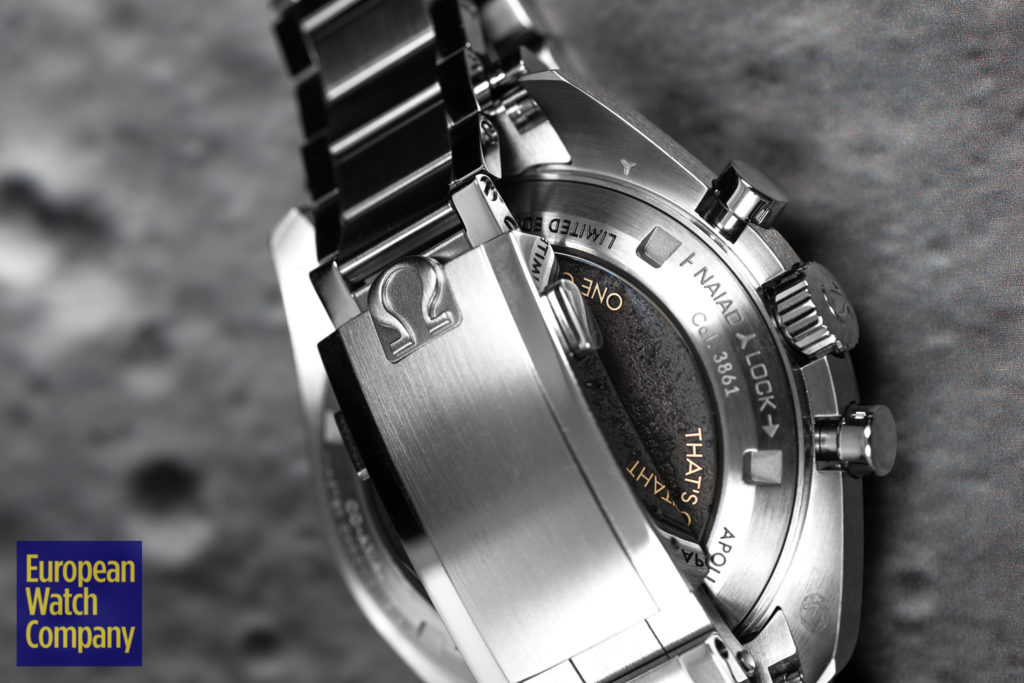 The Omega Apollo XI 50th Anniversary Speedmaster descends from and expands upon this legacy. Early versions of the Speedmaster featured a column wheel in order to control the "stopwatch" functions. According to watchmaker Bernhard Stroeber (who serviced numerous Speedmasters for NASA during the Space Shuttle era), a great deal of watchmaker skill was required to ensure that those functions would operate properly.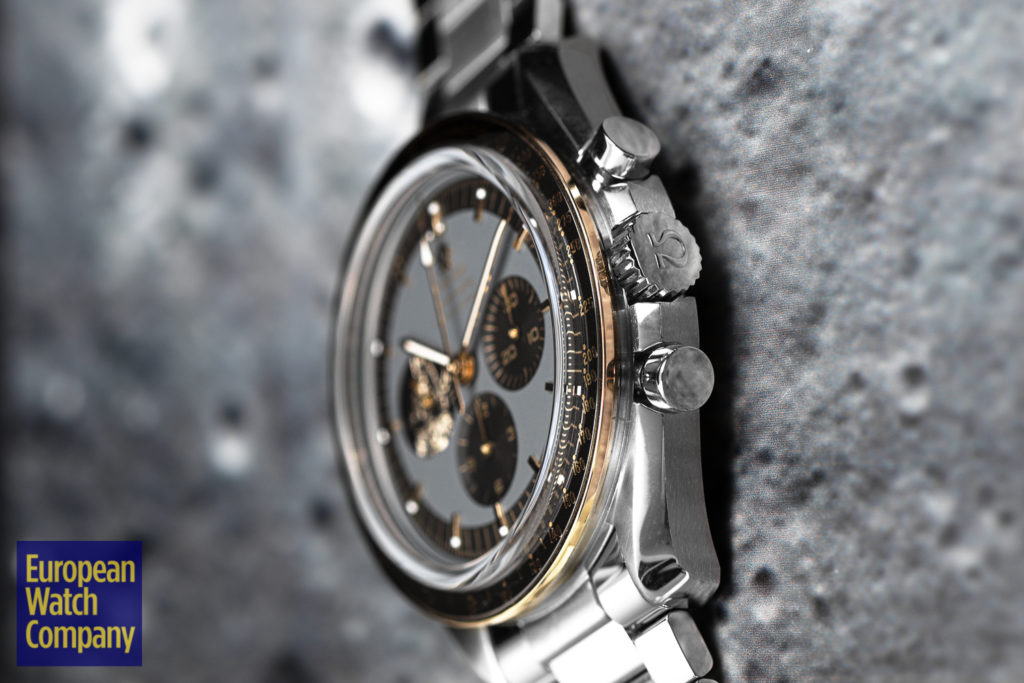 The 50th anniversary Speedmaster (ref 310.20.42.50.01.001) employs a cam system which can be more efficiently regulated and adjusted. It has also been upgraded to include the co-axial escapement mechanism of famed British master watchmaker George Daniels. An escapement is the part of the movement which creates the iconic "tic toc" sound and the co-axial version couples greater accuracy with less of a need for maintenance.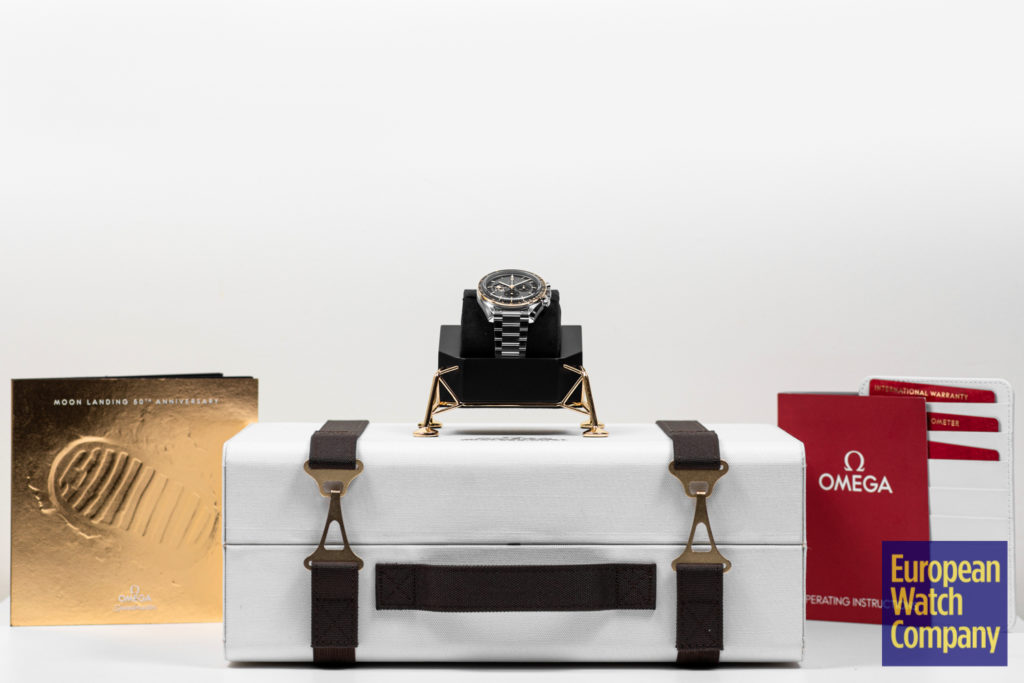 The Omega Apollo XI 50th Anniversary Speedmaster is so accurate that it has earned the rating of "Certified Master Chronometer" from METAS (the Swiss national metrology institute). Speedmaster has gained a reputation as a must-have in any collector's portfolio. The Omega Apollo XI 50th Anniversary Speedmaster is an outstanding timepiece that fits squarely within a long and enduring legacy of outstanding accuracy, durability, functionality and styling.