Panerai might seem like a newer watch brand having gained a lot of popularity in the 1990s, thanks mainly to it being a favorite brand of Sylvester Stallone. But, despite only becoming widely known in the last 25 years, the brand has existed since 1860 and has more meaningful accolades than just being Rocky's favorite watch. Panerai has a long history of making purpose-built tool watches for the Italian NAVY going back to 1938. Panerai's military connection runs so deep that their watches only became available to the general public in 1993. This purpose-built legacy continues today, as does the brand's distinct design language.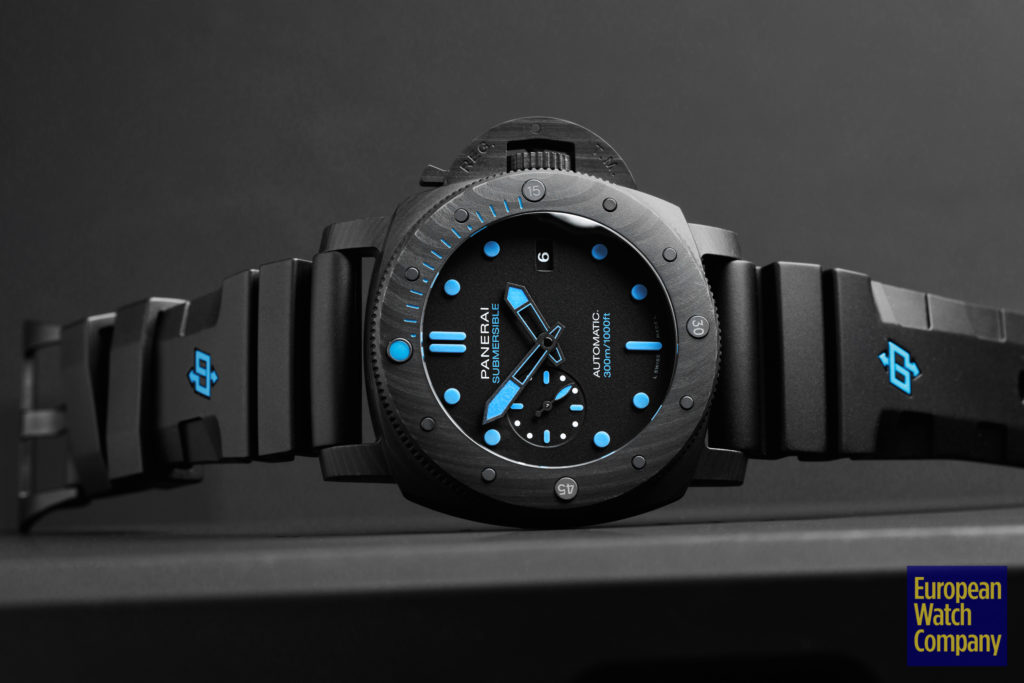 This Panerai Submersible Carbotech reference PAM01616 is a very modern but no-nonsense dive watch that carries those early military models' torch. The Submersible line—which was initially a part of the Luminor watch family but separated in 2019— is where Panerai most flexes its innovation and tool watch muscles. This example is made of a material called "Carbotech," a proprietary carbon fiber-based material meant to enhance both the watch's looks and performance. It's very lightweight but still durable, and because of how these cases and components are made, each Submersible Carbotech has a unique pattern and finish. There is a grain to the watches, much like wood, giving the watch an organic but technical vibe all at once. While this Submersible is very function-focused and uses a unique material, it's still very much a Panerai and design-wise looks familiar to anyone who knows the brand.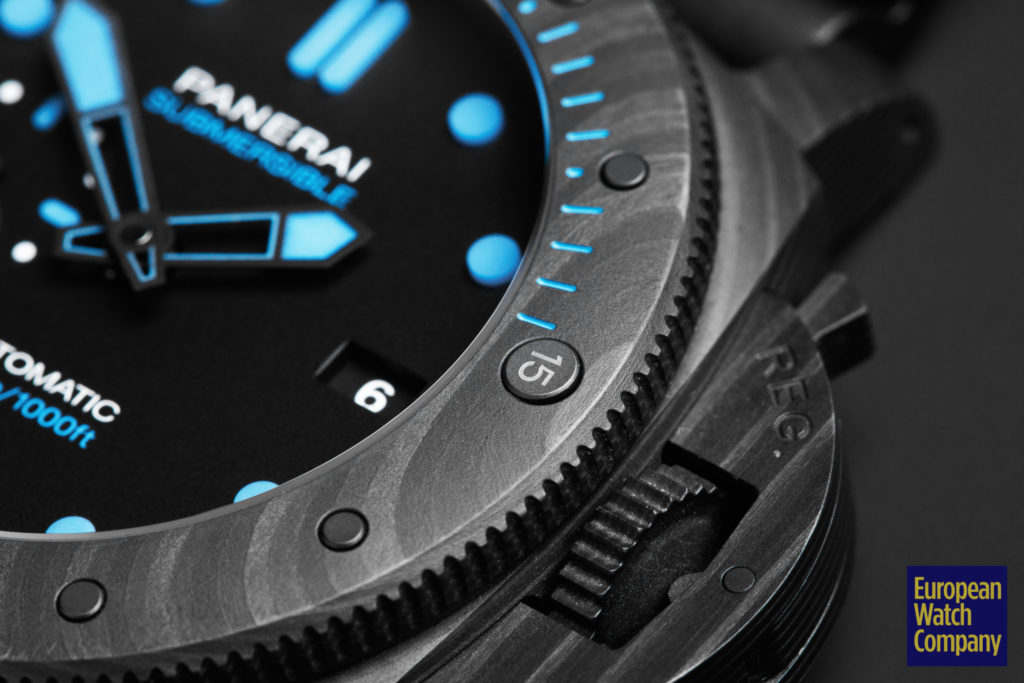 Measuring 47mm in diameter, the classic Panerai cushion case is large; hell, it's giant. But this isn't—as some might think—a remnant from the early 00's big watch trend. Larger case sizes go back to the very beginning with Panerai. Even the Radiomir prototypes in the 1930s were 47mm. This watch is not an air quotes "tool watch" that has become so common today. This watch was built with the sole focus of being utilitarian. Sure 36-39mm watches are comfy and versatile, but this watch doesn't give a damn if you want it to match your dinner jacket. It cares about being a great dive watch, and when one is diving, a more oversized watch means a bigger dial and better legibility.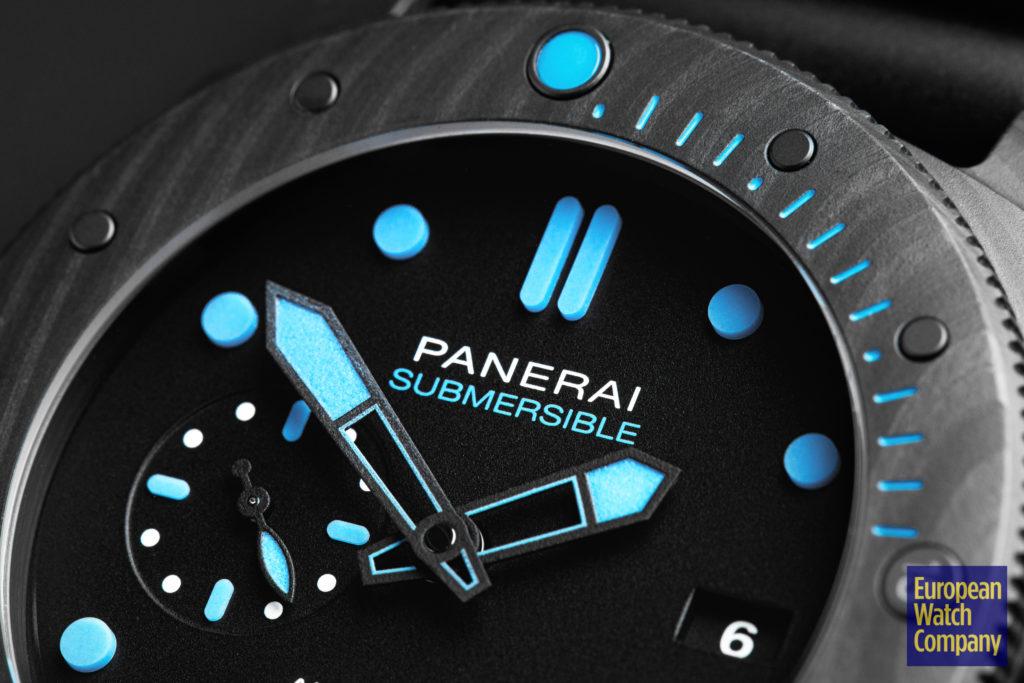 This function first attitude is applied all across the watch. Take the prominent baby blue lume on the hour indices, bezel, and hands, for example. In the daytime or above water, their color pops off the black background and is very legible, at night or deep underwater; however, this legibility is taken a step further. The lume pip at twelve o'clock on the bezel, and the lume in the minute hand glow green to stand out from the blue used everywhere else. This makes it very easy to instantly see how much time one has remaining even in total darkness. It's a small detail, but it makes a big difference when quickly reading the minute and bezel hand in conjunction.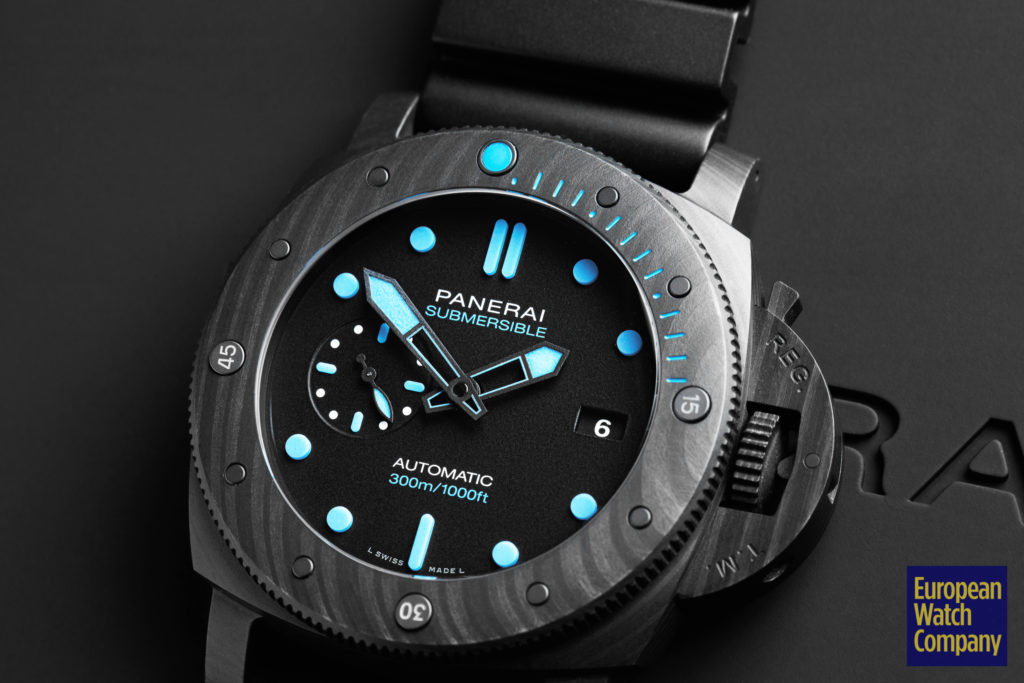 Another feature that prioritizes function over form is the locking crown mechanism—this is the half-circle you see over the crown on the right side of the case. This ensures the crown is sealed and the watch ready for submersion. When it's not closed, the arm that you clamp down protrudes from the case in a very obvious and cumbersome way. Unlike a simple screw-down crown, this makes it way less likely that one would forget to ensure the watch is sealed before diving.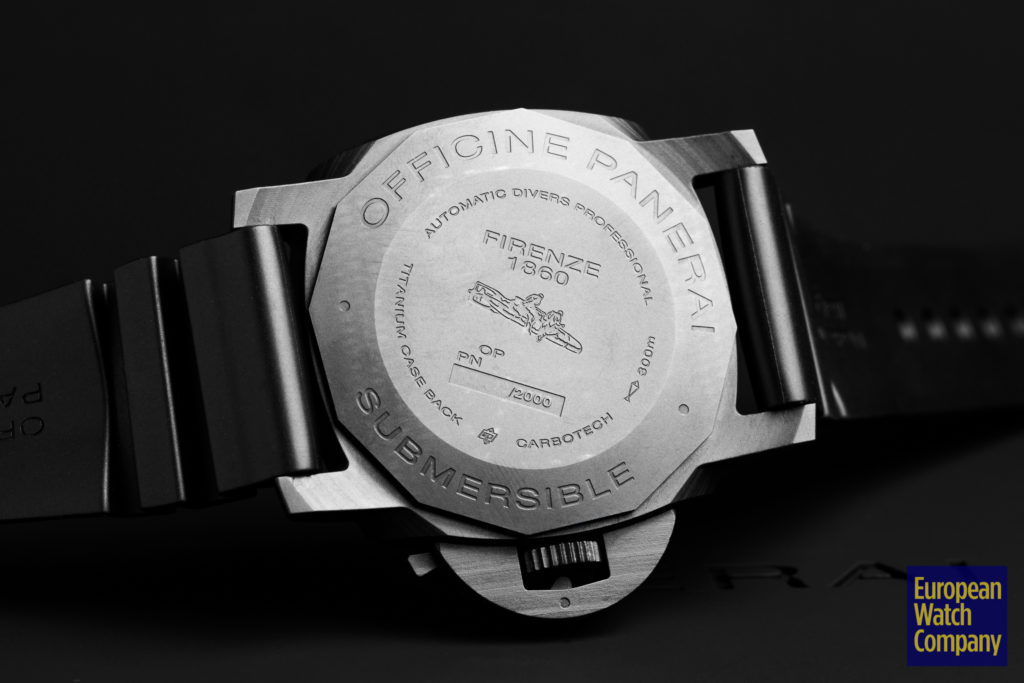 Because this is the 47mm variant, this watch comes with an in house movement—the 42mm example contains a ValFleurier based ébauche. The caliber P.9010 is an automatic winding movement with a 70-hour power reserve with a durable Glucydure balance and Incabloc anti-shock device. Hidden behind the titanium caseback—which has an engraving of an SLC Manned torpedo used by Italian NAVY combat swimmers during WWII— is a very tough and capably time and date movement.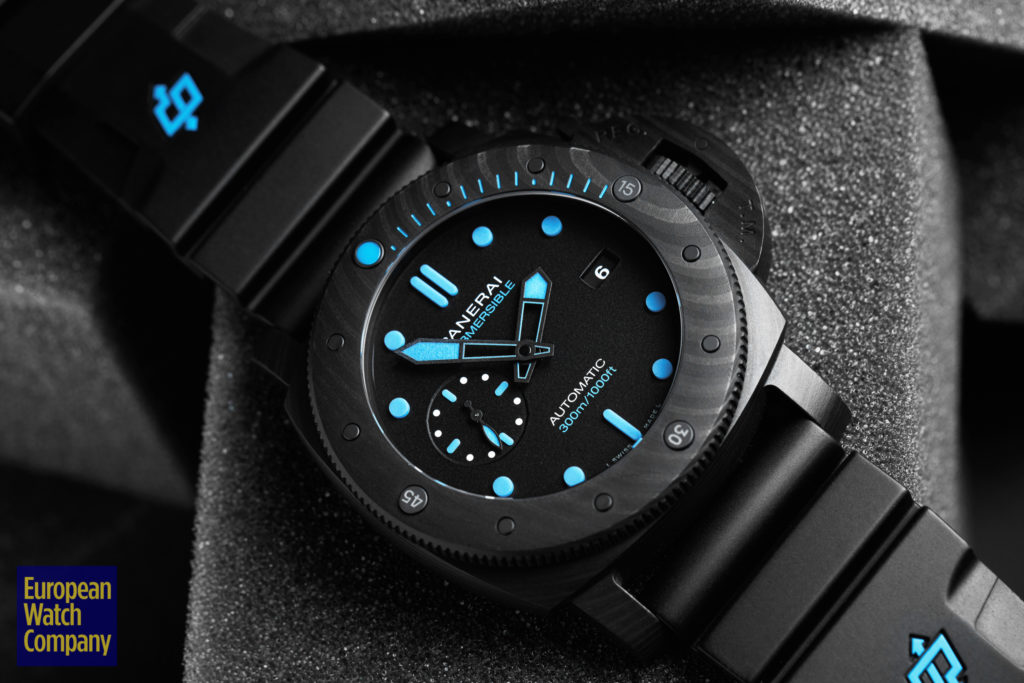 In an era when we see historic tool watches now firmly considered luxury watches, a timepiece like this Submersible is a breath of fresh air. One of the main reasons vintage tool watches are so popular is because they were purpose-built and used to get a job done. This worn hard and put away wet attitude towards tool watches of the past has imbued them with a romanticism we watch nerds love. The issue is that a lot of the brands who made these watches have moved away from their roots. Panerai has not. They've stuck to what they know, and in making this Submersible, they continue to provide the market with one of the few high-quality modern tool watches.