It's certainly not every day that a watch like the Roger Dubuis Much More Perpetual Calendar comes through our doors, so there's little surprise we needed to take a deeper dive on this one. Having been around for 25 years, Roger Dubuis—named after its late co-founder—is a relatively young watch brand. Still, I can't think of any other brand who's timepieces have changed so much in so little time.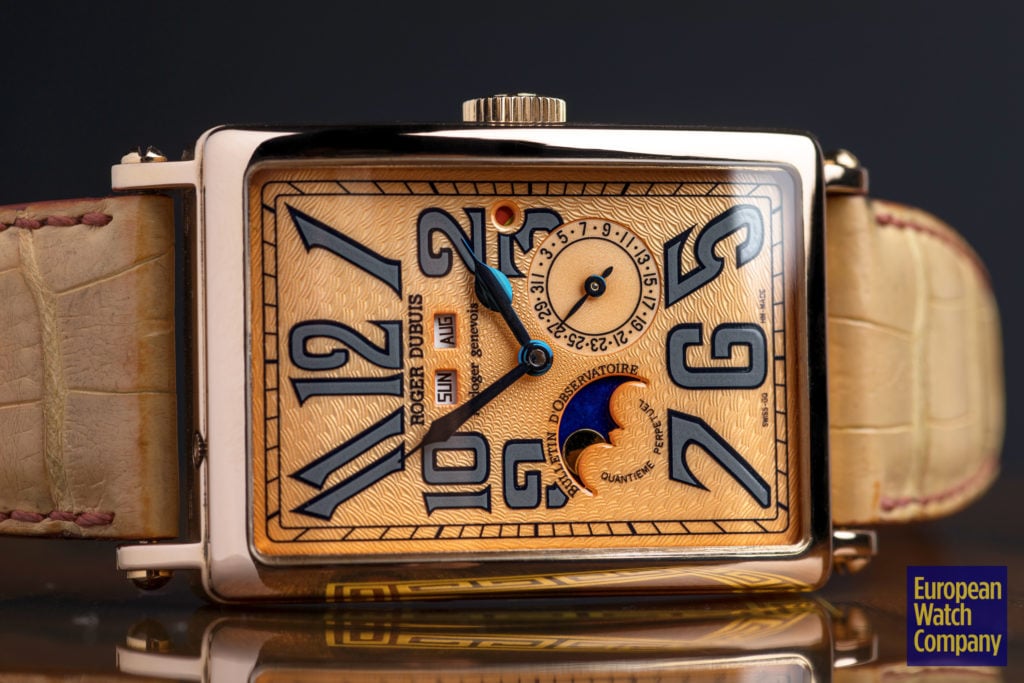 Dubuis's modern pieces have a totally different style compared to the Maisons' early watches. These days it's the Excalibur collection that dominates the line, focusing on edgy design paired with cutting edge technical innovation in a modern form. There's good reason the brand is now building watches with Lamborghini.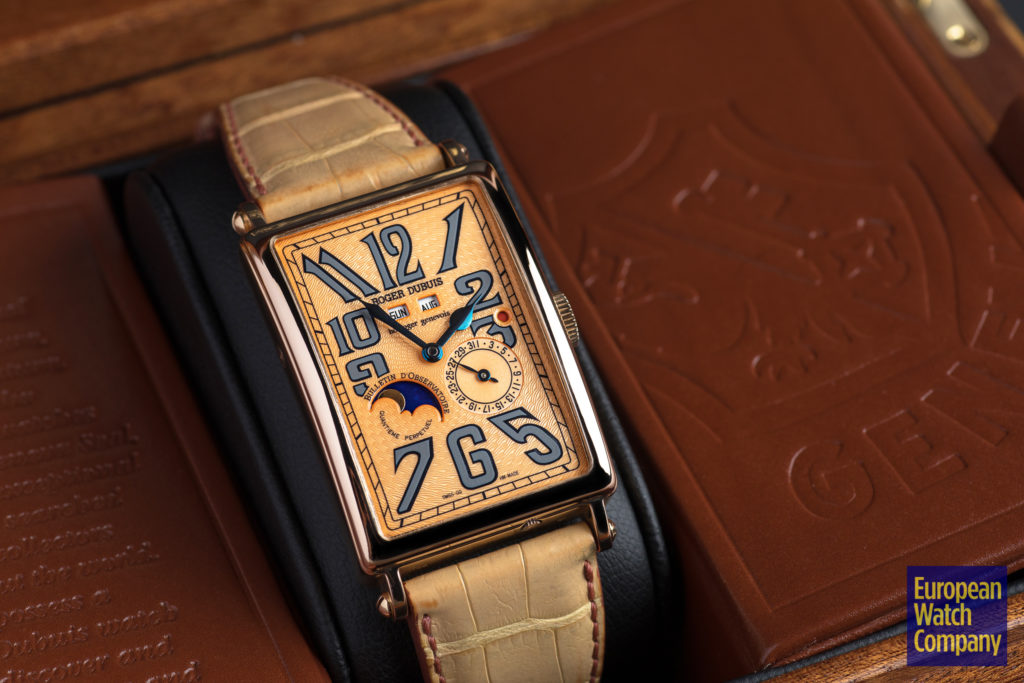 In contrast, earlier watches from Roger Dubuis are much more traditional, though no less technical or complex in their execution. From day one through present, one thing remains the same; all of them are overflowing with confident quirkiness. Those more familiar with the modern version of the brand will do a double-take when they read the dial, but that's all part of the fun of the collecting hobby, isn't it?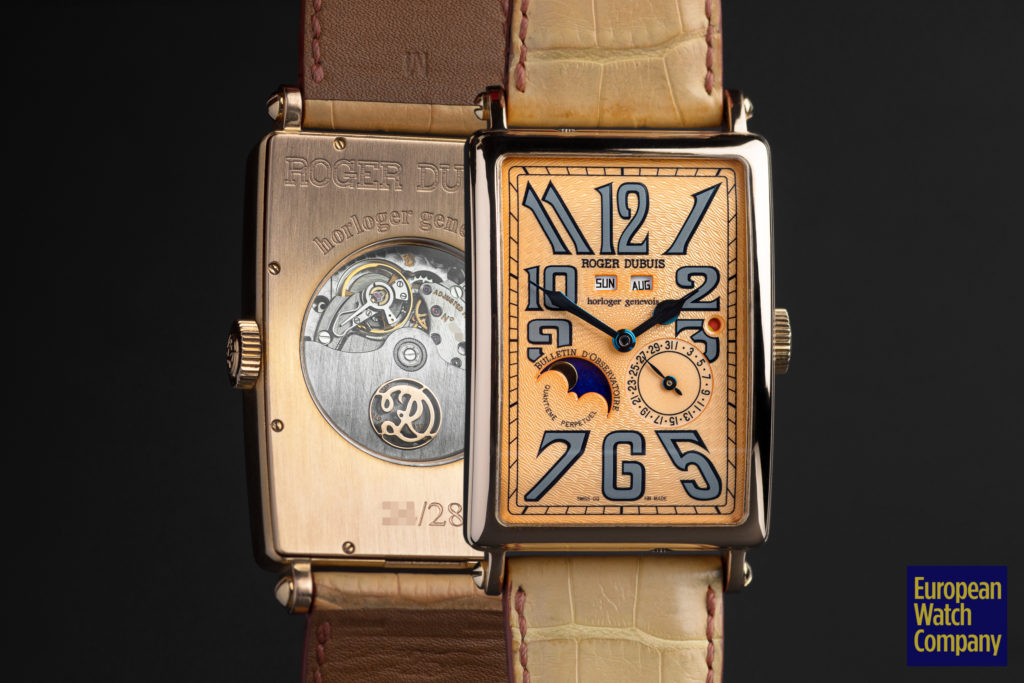 Here we have a watch representing the early Dubuis design language, the Roger Dubuis Much More Perpetual Calendar Reference M34 5739 5. Full disclosure, I much prefer early Dubuis timepieces to contemporary ones. The  "left of center" design of this watch is right up my alley. It's a dressy timepiece that oozes personality in a way many formal watches don't.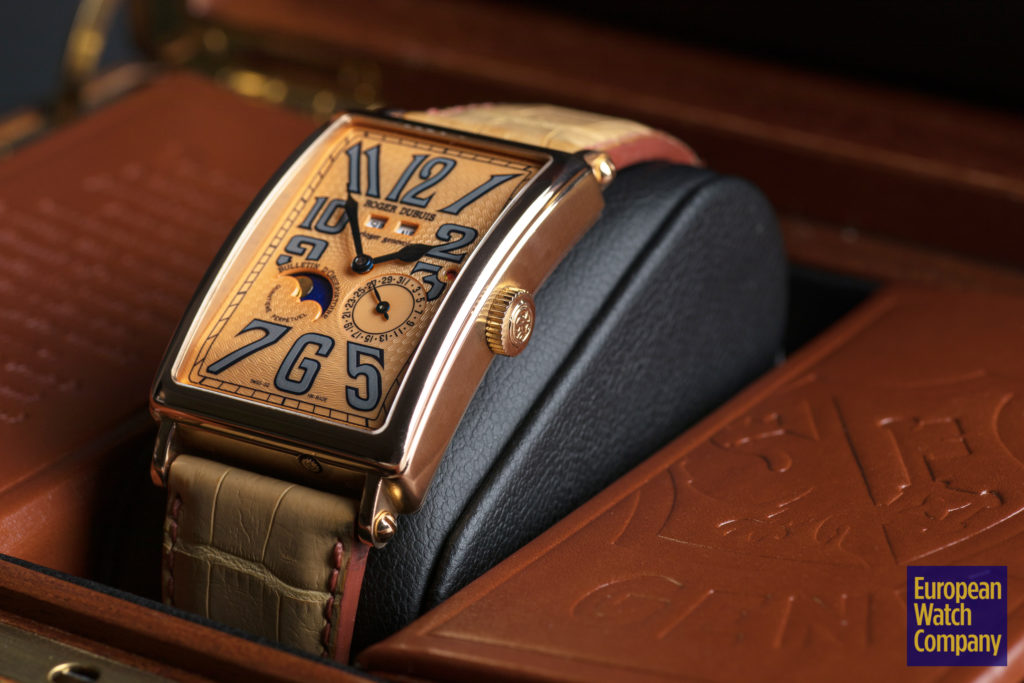 The 34mm by 47mm 18k rose gold case looks a little bulky in photographs but considering it's just 11.5mm thick it should be very wearable on a medium to large-sized wrist. Also, adding to the wearability is the fully curved watch case, including the caseback and sapphire. There are many watches with cases that look curved, but in reality, it's only the case flanks leaving the sapphire and caseback flat. Dubuis has gone the extra mile here to curve the entire watch despite how difficult this can be. Dubuis taking the hard road on this small but impactful detail is a little window into the brand, and the man's focus on quality and attention to detail.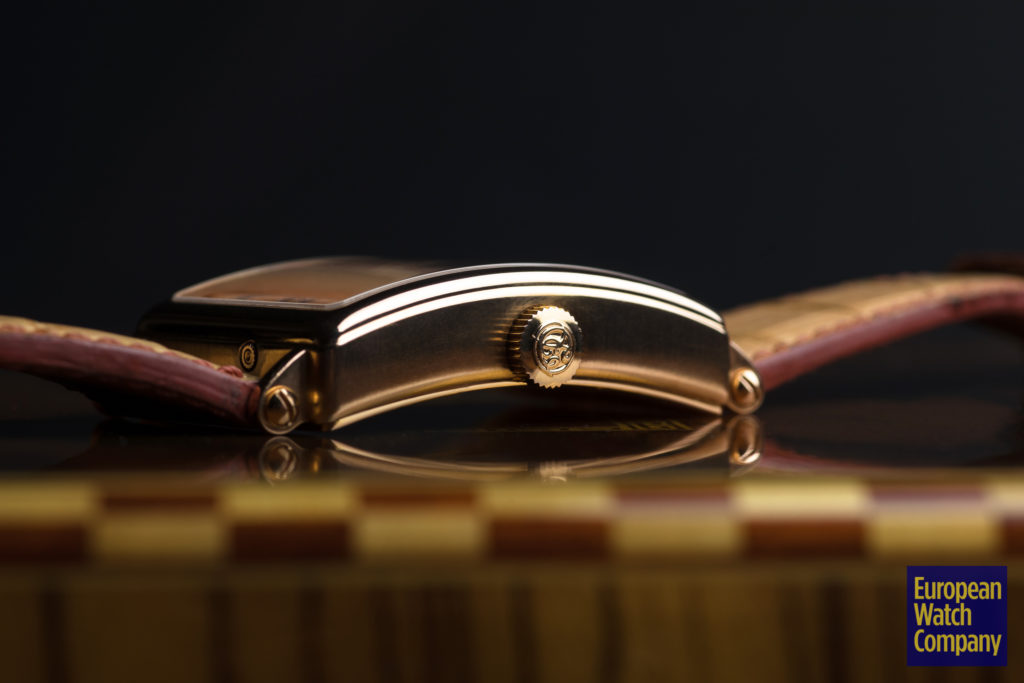 High standards for design as well as engineering—no doubt attributable to the fourteen years Dubuis spent as a complicated watch specialist at Patek Philippe—means that while Dubuis timepieces may be known for their looks, they are legitimate examples of high watchmaking. The caliber RD5739 that powers this watch is a modified Lemania 8815 automatic winding perpetual calendar. The movement utilizes a 22k gold rotor with an "RD" medallion and is rhodium plated with Cotes de Geneve finishing. Like all Roger Dubuis timepieces, this movement is stamped with the Geneva seal of quality, indicating it is up to some of the most stringent standards for watch a movement.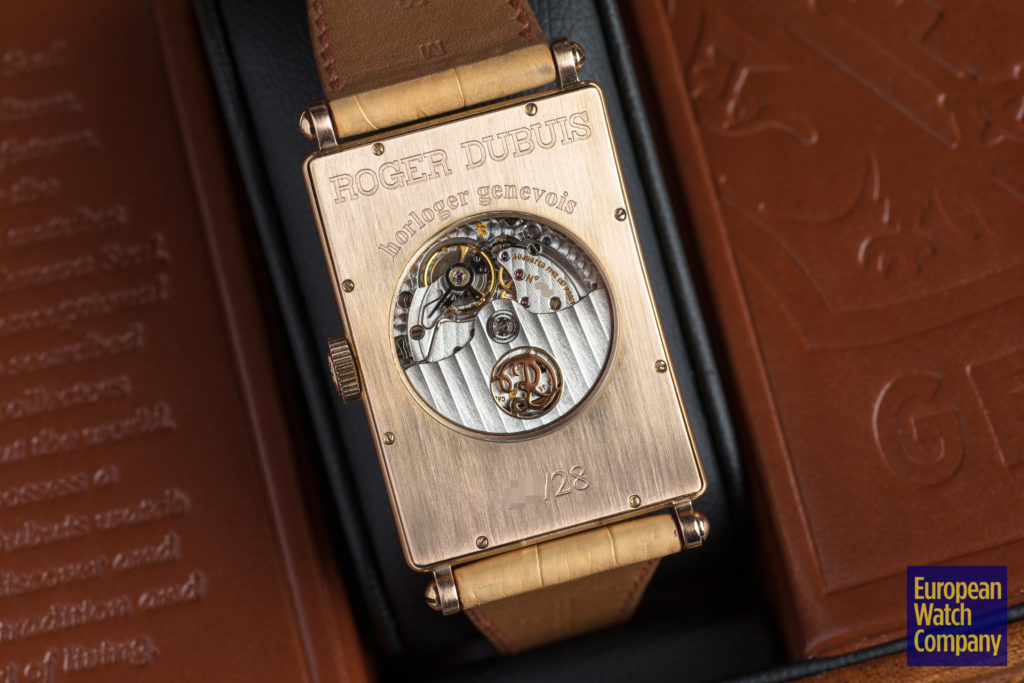 Now for the main attraction, the dial. The color is reminiscent of fauxtina, but as this watch came out in 2004, fauxtina wasn't really a thing yet. Still, the sunburst salmon that leans more towards orange than pink has a vintage vibe to it. Note that the coloring is sunburst, fading from light to dark as you get further from the center, but the finishing a matte scallop pattern. Well balanced, the dial shows a wealth of information.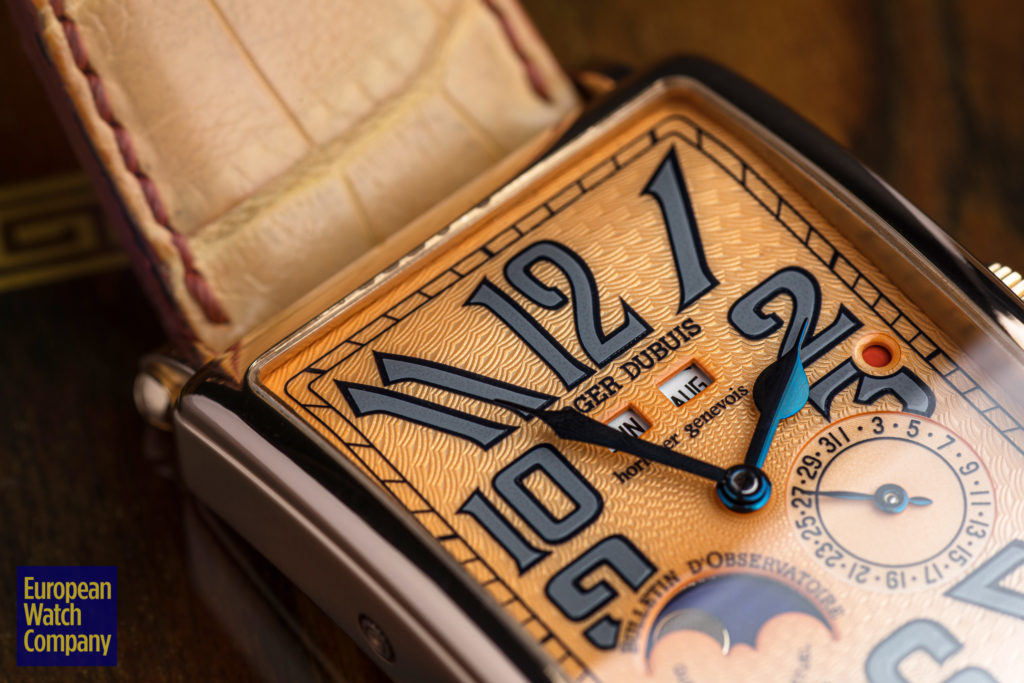 Displayed are the hours, minutes, day, month, date, moon phase, and leap year indicator. I usually love blued steel hands, but I'm conflicted about their use here; ultimately, I think they work because of the blue on the moon phase, but otherwise, they seem a bit out of place. The numerals' are my favorite feature of the watch. Their exaggerated style is really fun and makes the dial look like a traditional watch reflected in a funhouse mirror. The railroad track on the perimeter adds to the watch's classic vibe and helps it stay balanced so as not to fall too far into wacky territory.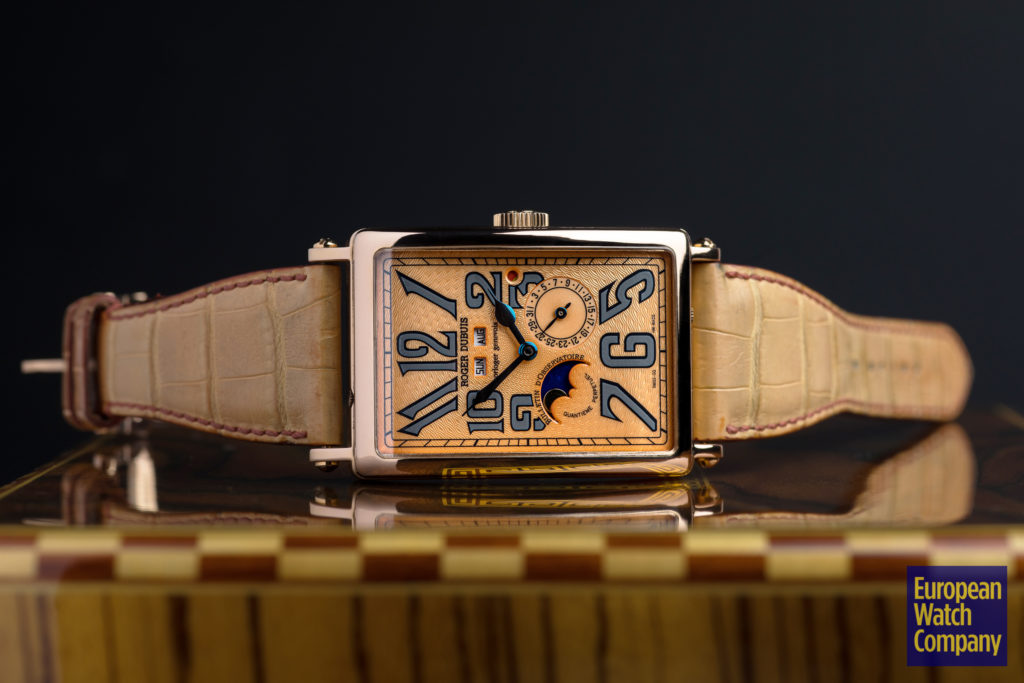 The best way I could describe the Much More Perpetual Calendar is that it's a timepiece that would pair perfectly with an eccentric bow tie. It dresses up nicely without being the least bit stuffy. Most importantly, I think is that the Much More is a watch that exemplifies the classic Roger Dubuis aesthetic. The kicker here is that this example is one of just twenty-eight, making an already special watch even more precious.