This is an early series Roger Dubuis Sympathie Perpetual Calendar Bi-Retrograde Chronograph. It is a masterclass in fun but serious watchmaking. Early Sympathie examples like this are highly coveted because they're extremely limited—this is one of twenty-eight. In addition, they still have a crystal that conforms to the lines of the case (later versions do not, and Dubuis himself was very closely involved in their creation. While the Sympathie has always been a flagship model for the brand, this example more than most really exemplifies Roger Dubuis—both the man, and the brand.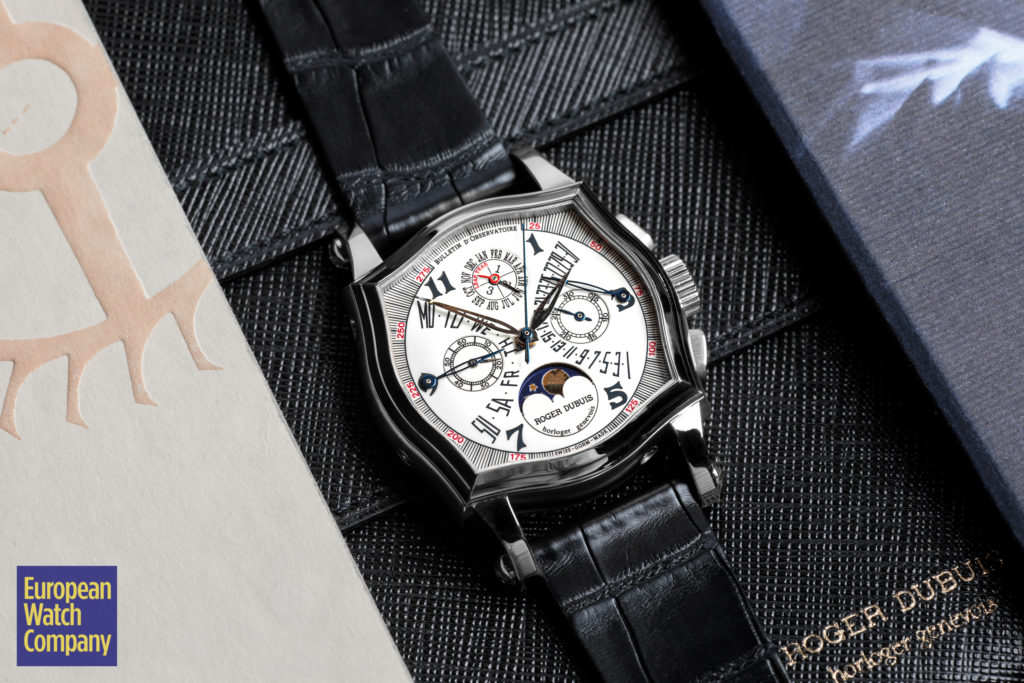 Properly referred to as a carre cambre or "square cambered", the case shape is instantly recognizable. It's curvy but also has very defined steps and character lines that become more prominent with the alternating brushed and polished finishing. There is a warped quality to this watch that makes it hard to describe and very different from any other case style. On the sides of the case, you have the pill-shaped chronograph pushers as well as the indented perpetual calendar pushers to help operate this very complicated timepiece. The caseback has a round see-through display, but this example also has a numbered solid caseback that comes with it. You'll also note the prominent shapely lugs that use screws to affix the strap. This is a rarely used but premium addition that I really appreciate. Like any excellent watch brand, Roger Dubuis cares a lot about the details.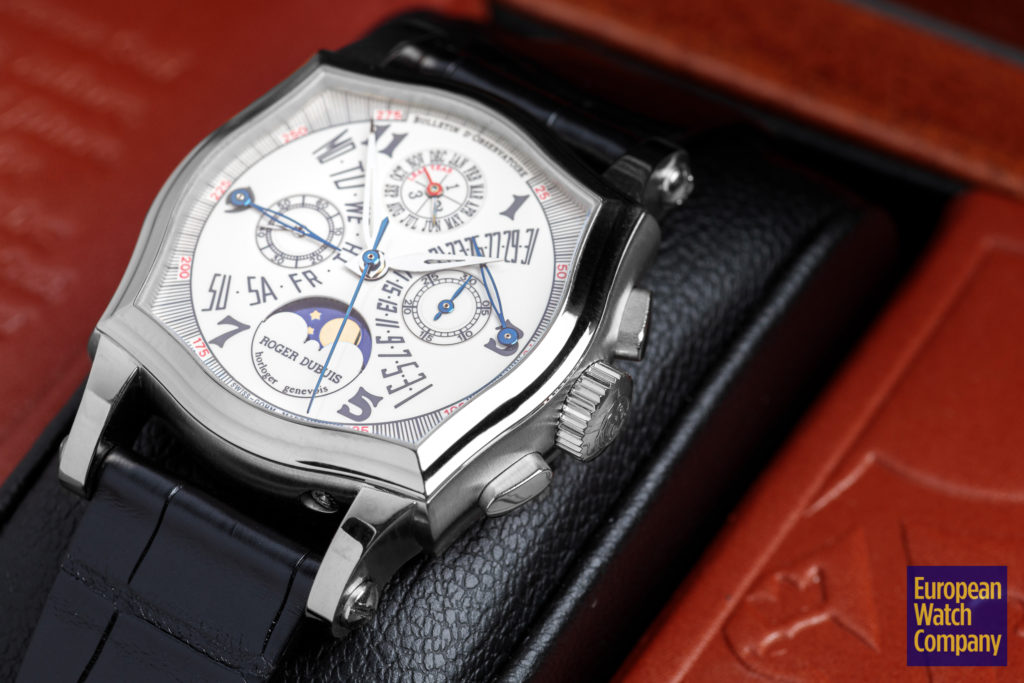 Inside the case is the manual-winding Caliber RD5632, which is based on the Lemania 2310. What makes this movement—and watch—even more special, though, is that Roger Dubuis developed the perpetual calendar module with Jean-Marc Wiederrecht in the 1980s for Harry Winston. Winston would later go on to introduce their version of a bi-retrograde perpetual calendar at Baselworld in 1989, becoming the first watch brand to put this complication into a wristwatch.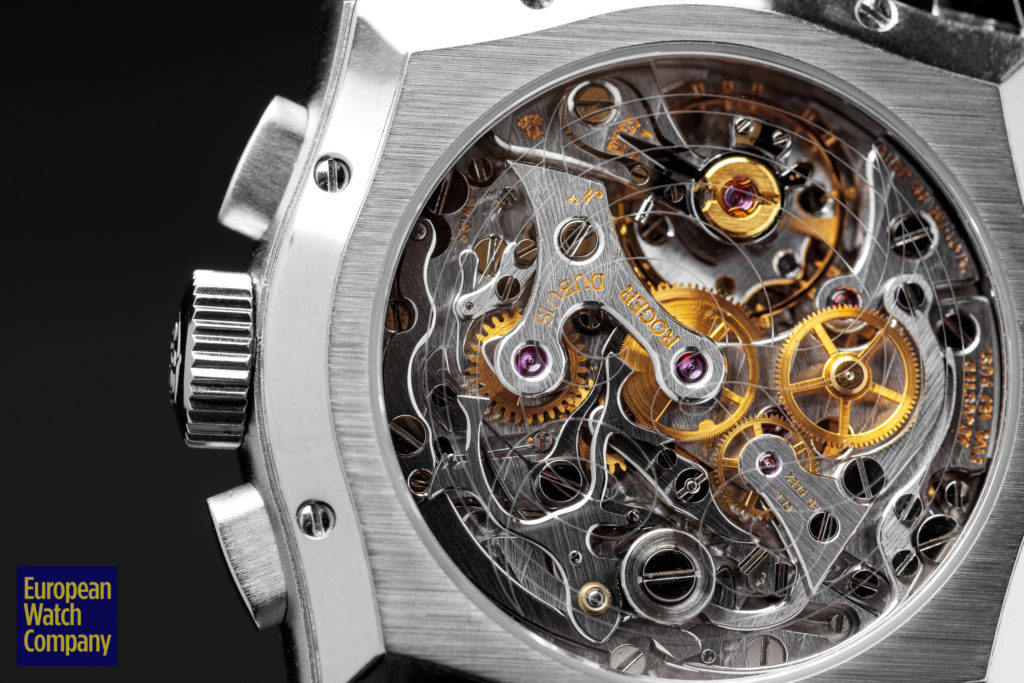 This watch has a chronograph complication, so it's not exactly the same and is, in fact, more complicated. Still, it remains connected to Dubuis's long history with the bi-retrograde perpetual calendar. The RD5632 is dually certified and comes with a Geneva seal of quality as well as a French chronometer certification. This dual certification is something I've only seen on Dubuis timepieces, and while it's a testament to the watch's quality, it also just makes for an interesting differentiator.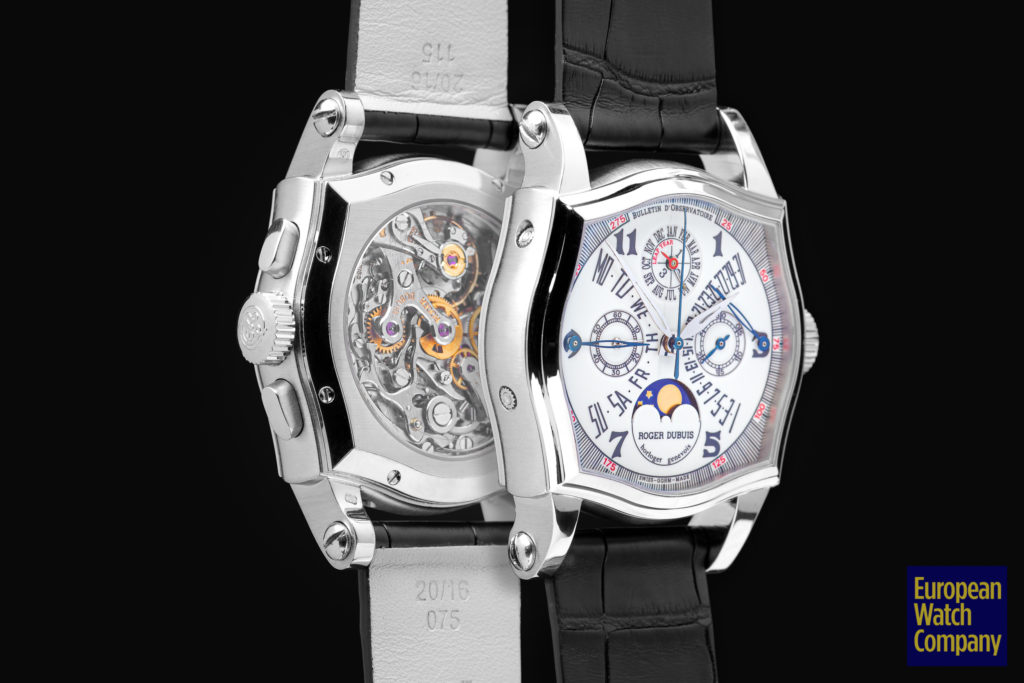 Looking at the dial, there's no denying it's on the busy side, but that's also part of its charm. Painted with white lacquer, it has a topsy-turvy vibe like it's something that would be worn by the Mad Hatter. All the letters and numerals have so much color and personality to them. But while there is a lot going on, everything has a purpose.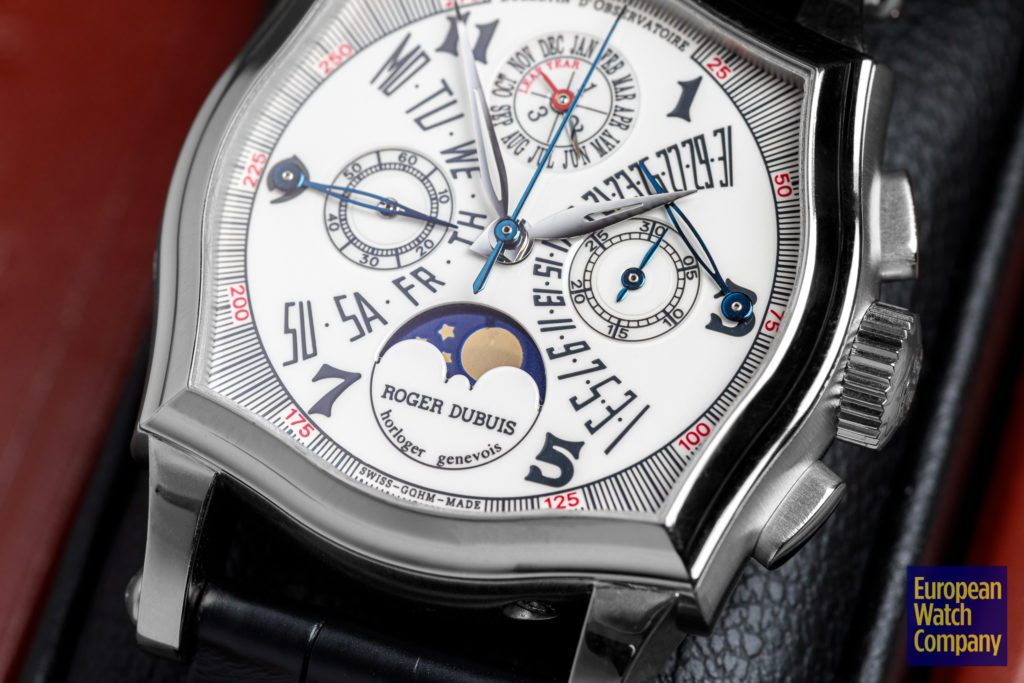 The bi-retrograde perpetual calendar displays of day and date are represented by scales that wrap halfway around the chronograph subdials. The numbers and letters alternate in size, and the contrasting half circles are an excellent example of balance and space utilization on a watch dial. At twelve, you have your leap year and month indicator with the moon phase at six to even things out. You'll also notice all the complication hands are blued while standard hours, minutes, and seconds are polished white gold, making the legibility of the multiple functions much easier.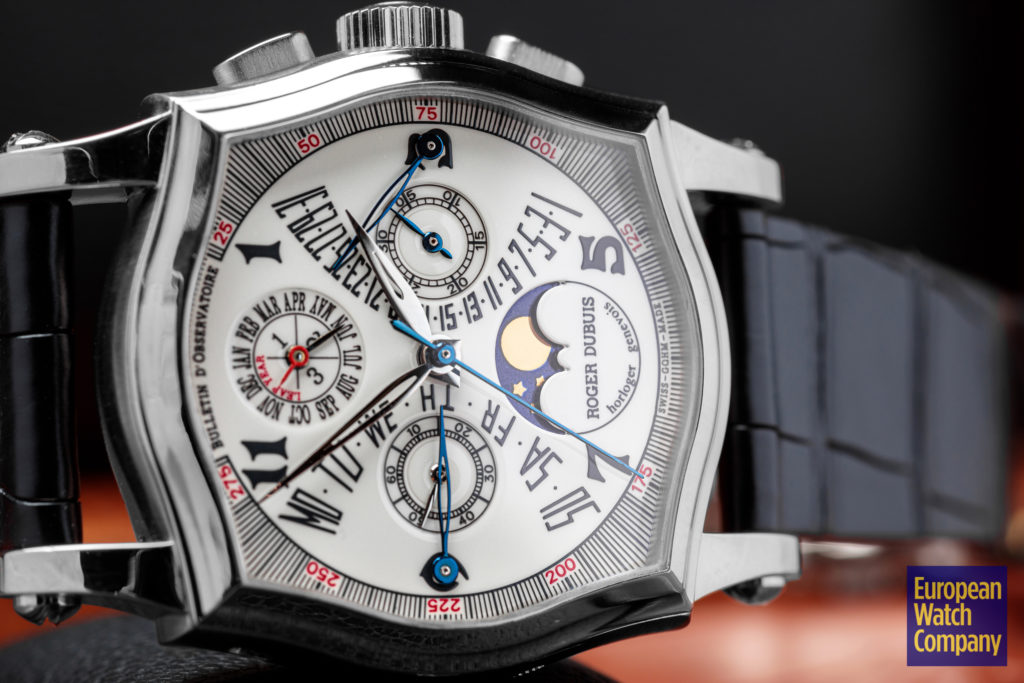 This timepiece's chronograph function—which almost fades into the background with the nearly cartoonish perpetual calendar readouts—is actually very precise. The chronograph center seconds hand reaches all the way to the outer track, which is marked for fifths of a second, allowing you to see exactly when you stopped timing. This isn't a sports chronograph, so this use case is niche at best, but this is yet another example of Roger Dubuis adding thoughtful touches that exceed expectations.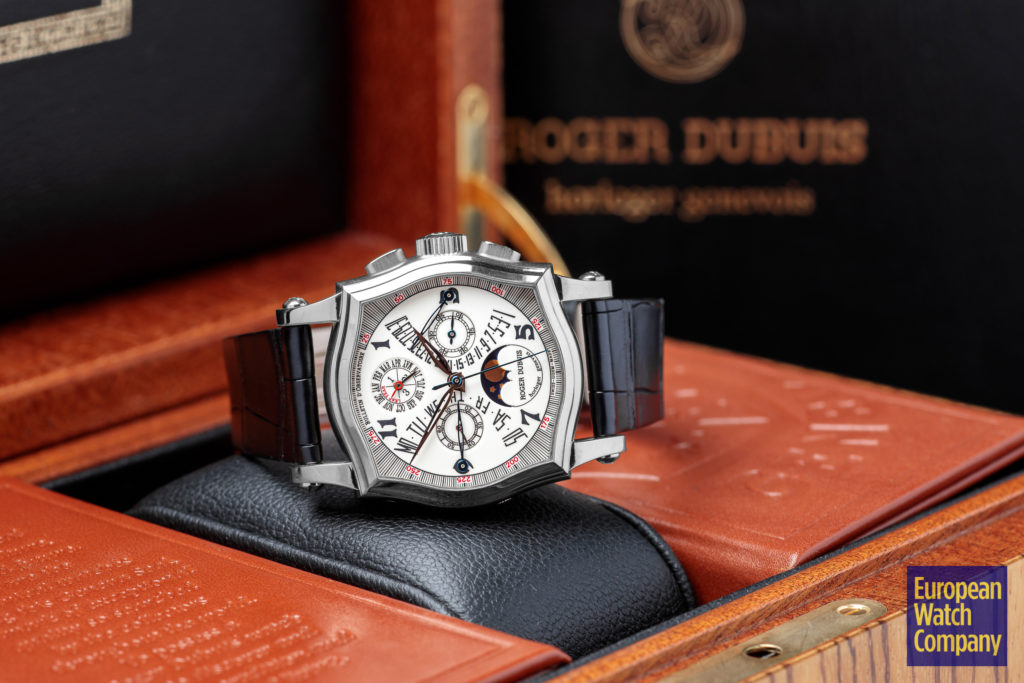 This early Sympathie Perpetual Calendar Bi-Retrograde Chronograph, with this movement and design, represents Roger Dubuis watchmaking's best. Not just the best yet, but maybe the best ever. It's a pure rendition of how he envisioned his watches, both inside and out. Eccentric, original, and exceptional, there are just no other watches like this. Well, I guess there are technically 27 others, but who's counting.