The 1950s were the golden decade for Rolex tool watches. The Explorer, Submariner, GMT-Master, and Milgauss were all released in this decade, marking a new era for the crown that would go on to solidify the brand into the juggernaut it is today. The GMT-Master, however, has always been a little different from its siblings in that it was always the most buttoned-up of the group. The steel version of the GMT was always for the hard-working everyman, but the GMT-Master was the first Rolex tool watch offered in solid gold or on a jubilee bracelet. While it was still a tool watch that helped get a job done, it just so happens that being a pilot or jet-setting businessman is a more luxurious profession than exploring or diving. This theme has continued and the GMT-Master—and subsequently the GMT-Master ii—has been a model where Rolex can flex its luxury sports muscles.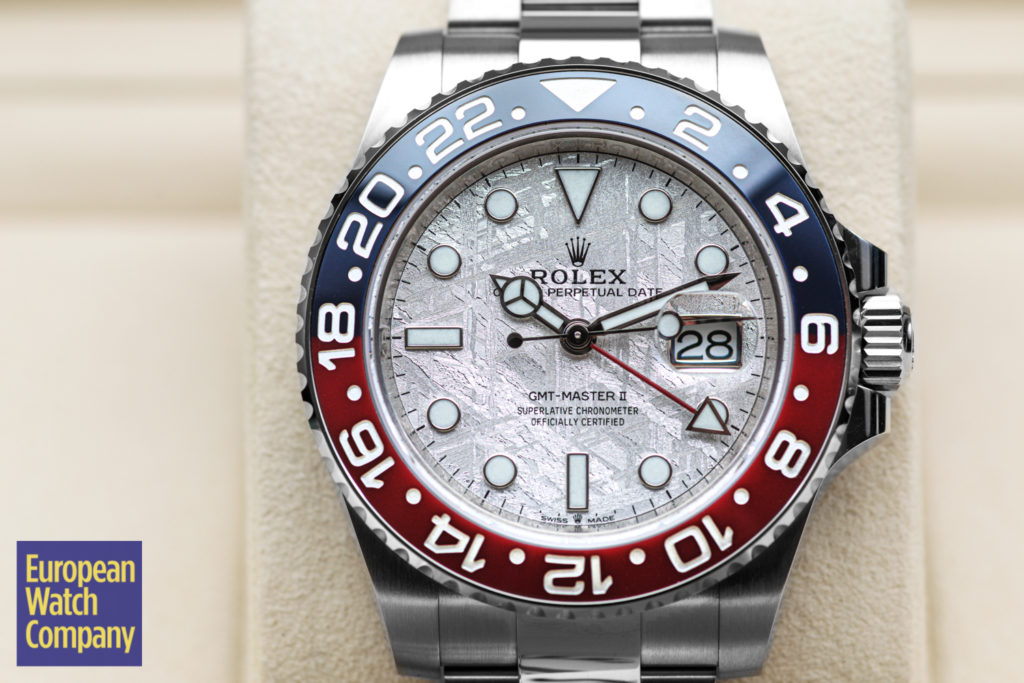 This GMT-Master ii reference 126719BLRO is just as functional and purpose-built as it is precious and polished. Two things immediately jumped out at me when I first saw this watch. First was (obviously) the dramatic and eye catching texture of its meteorite dial, which is unlike any other material you'll find in the watchmaking industry. The second was a bit of history, as this modern reference reminded me of the legendary and exceptionally rare albino ref. 6542 GMT-Master. Rolex doesn't do anything by accident, and I'm sure the resemblance of this watch to one of the rarest watches in their catalog was not a coincidence. While Rolex is never going to jump on the "new-vintage" train, they have been known to give subtle nods to their history with their modern models, and this is one of them. A plain white dial would have been too 'on the nose', but making the dial out of meteorite keeps this watch forward-looking, all while Rolex winks in its rearview at the "Albino GMT."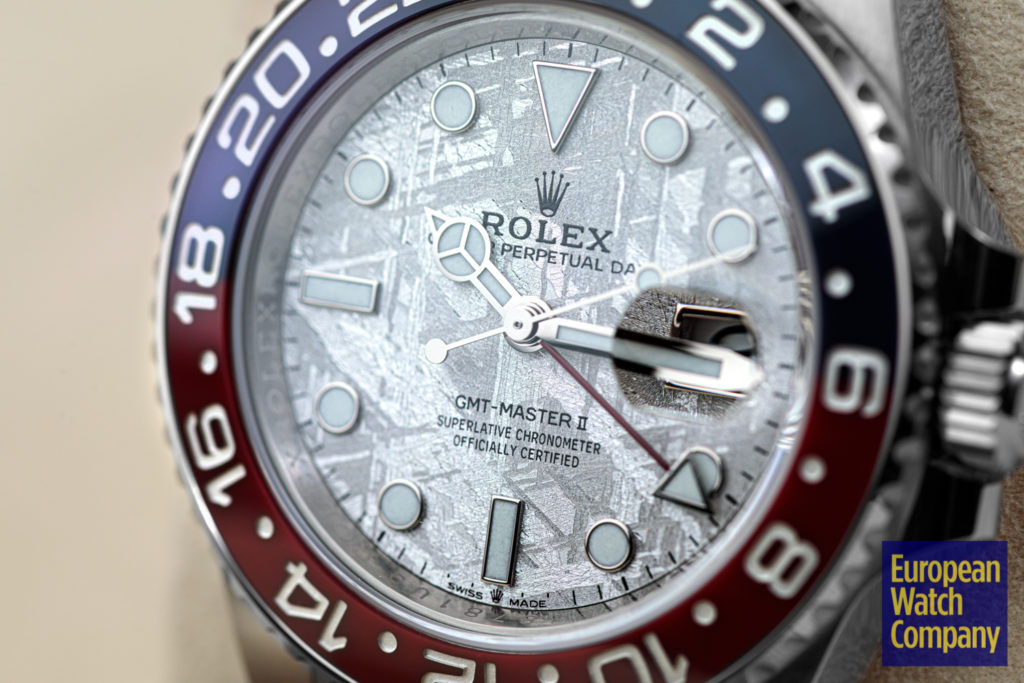 So much of what sets this watch apart is in the dial, so let's dig into it. This watch dial is a carefully cut and treated piece of meteorite. Pretty fitting for a travel watch, that the dial traveled light years through space to get here. The pattern is mesmerizing to look at, but it's also unique. Each watch dial has a different metallic pattern known as a Widmanstätten pattern. This organic design emerges as a part of the preparation process that the meteorite goes through to go from a hunk of space rock to a stunning watch dial.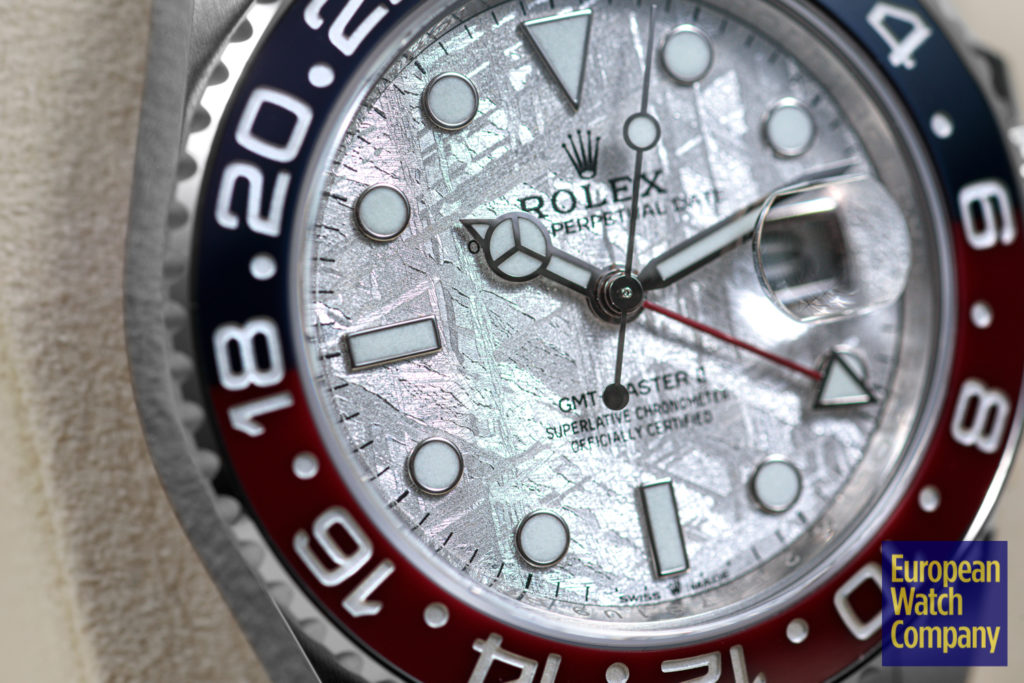 Along with cleaning and cutting the dial to size, acid is applied to the meteorite which causes a chemical reaction between the different elements—mostly iron and nickel—creating a uniquely organic pattern. It's difficult to replicate this pattern artificially because it is a result of the very slow cooling of the molten asteroid core that happens as it flies through space for millions of years. I've seen a lot of great looking watch dials in my day both as a result of patina and craftsmanship, and I can't think of any I find more attractive than this light silver meteorite dial.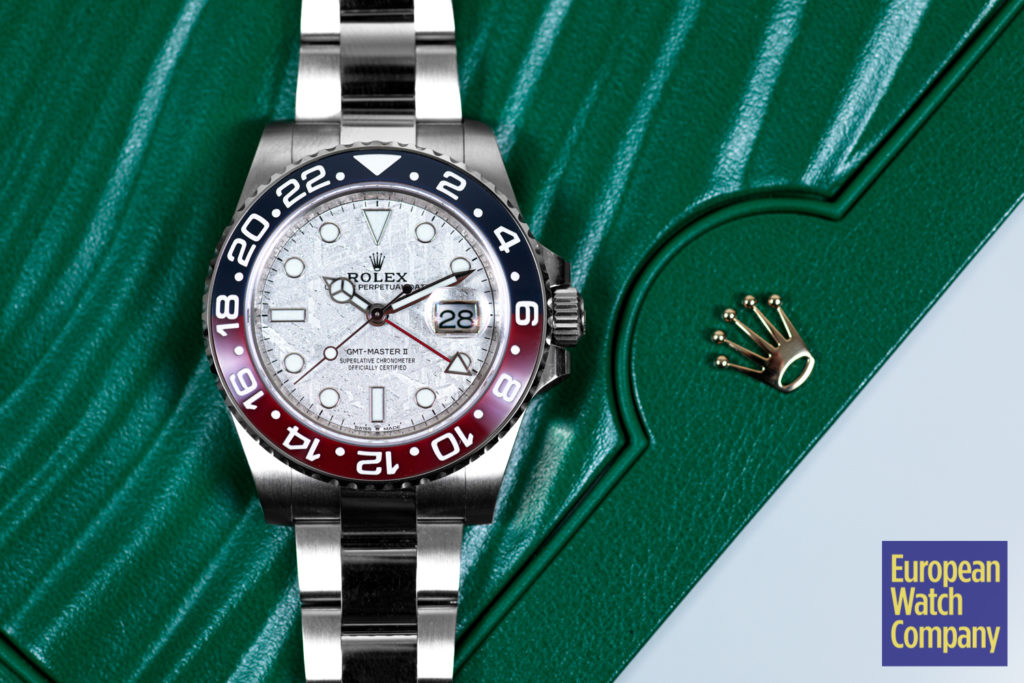 Take a beautiful unique dial with a hell of a story behind it and slap it into a solid 18k white gold GMT-Master ii and you get a seriously great watch. With an MSRP of $39,900, this watch is much more geared to the jet-setting businessman than the Pan Am pilot, but it will get the job done just the same. This GMT utilizes the newest generation of the Rolex GMT movement the 3825, introduced in 2018. The updated movement is fitted with a Chronergy escapement that allows the watch to operate 15% more efficiently, and helps give it a 70-hour power reserve. It is also responsible for 10 patents being filed during its creation. This is a cutting edge Rolex movement that will operate at the highest level under the most extreme conditions.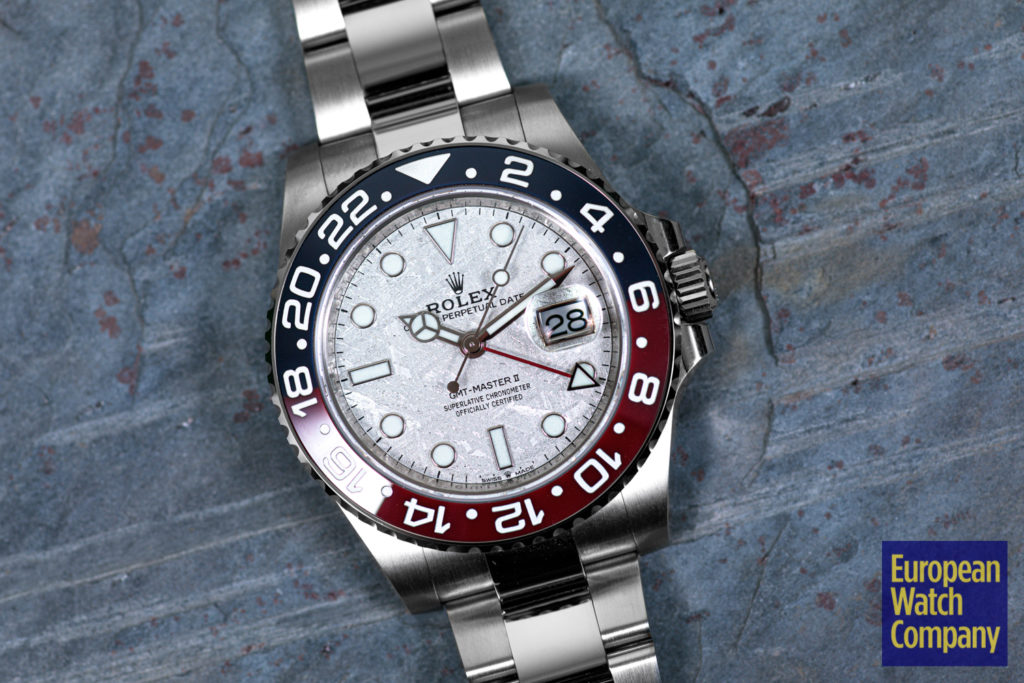 In sticking to its roots this is a true luxury tool watch that will impress in any situation. The dial and white gold will keep this watch from slipping under the radar as they advertise its obvious preciousness. It will serve you well while flying to board meetings in different time zones, but you won't have to pack an extra watch if you decide to travel to more tropical meeting areas. Both brand new and millions of years old, this watch has as much metaphoric heft as literal. Its ties to Rolex history as well as elemental history give it a romantic vibe that modern watches often lack. This watch comes with so much history in its bones that all it needs now is a wrist. No additional backstory required.