It's an aggressive-looking and technologically innovative take on a classic: the Audemars Piguet Royal Oak Double Balance Wheel Openworked ref. 15407ST. Despite its familiar silhouette, this watch's exposed skeleton is able to effortlessly draw the attention of connoisseurs and passersby alike. But as much as this radical—even controversial—design may cause a stir, the magic of this timepiece is as much about what its openwork dial reveals as it is the novel design concept, itself.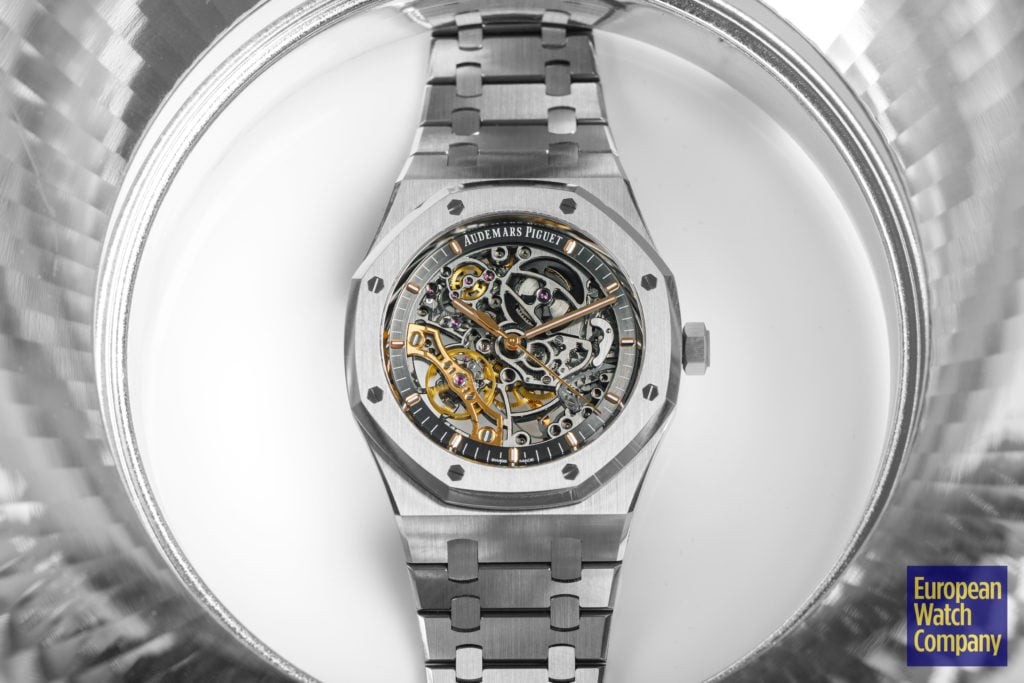 Released in 2016, the Royal Oak Double Balance Wheel Openworked ref. 15407ST is a 41mm take on the famous Royal Oak design. In case it's not obvious by looking at it, the term "openworked" here refers to the fact that the movement—the caliber 3132—is visible beneath the hands of the watch. While the watch looks defiantly modern, this open design isn't new for AP; the last two decades have seen openworked Royal Oak watches like the reference 15305 from 2010, followed in subsequent years by platinum and rose gold versions of the "Jumbo" Royal Oak.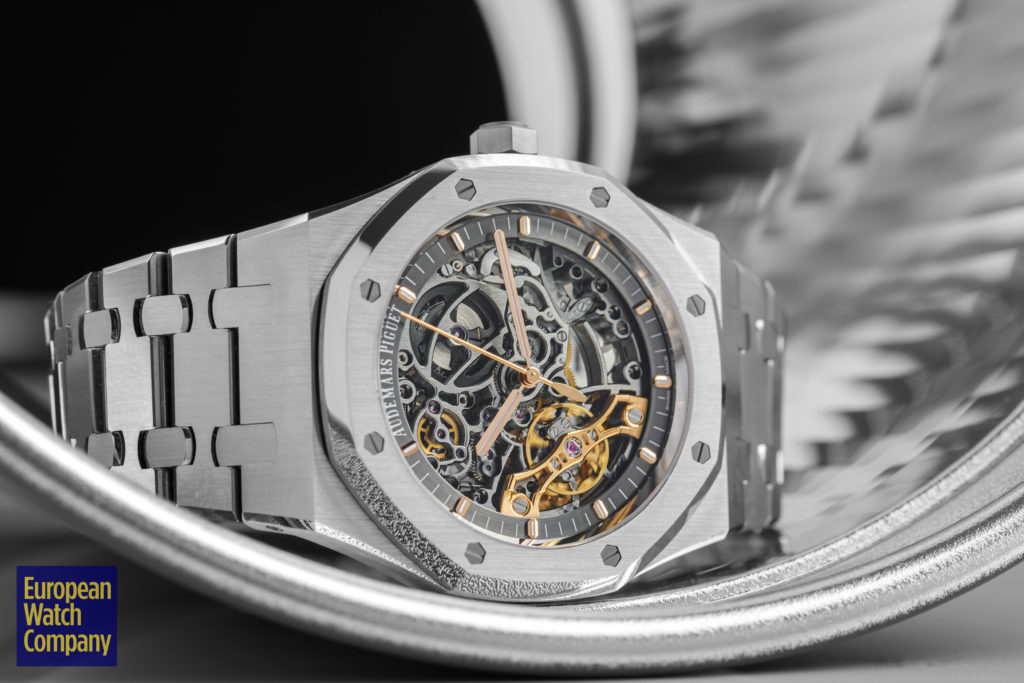 What was new about this watch, though, was the double balance wheel escapement. And when I say new, I don't just mean new for Audemars Piguet. I mean, never been done before new. To clarify, there have obviously been watches released prior to 2016 that use more than one balance wheel—Greubel Forsey, Philippe Dufour, F.P. Journe, to name a few—but how AP executes their take on it is quite different when you look at the details.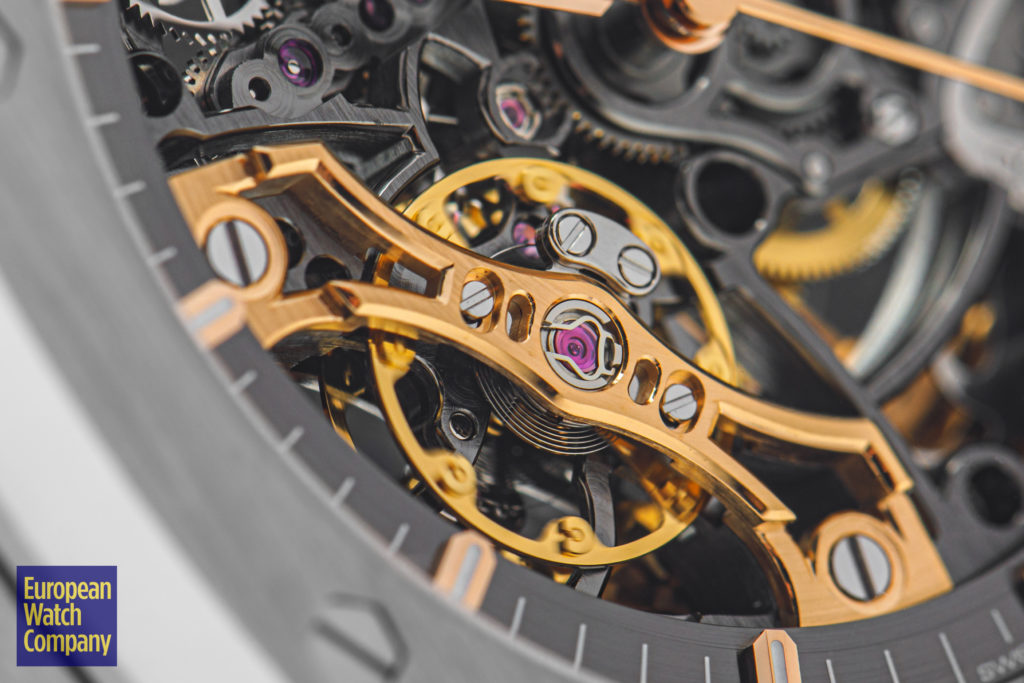 So, what's so special about this double balance wheel escapement design? In short, it helps tackle an age-old horological problem in a pretty ingenious way, allowing for even more precise timekeeping. Ultimately, the key to a precise oscillator is stability. It's hard to achieve absolute stability in the tiny workings of a watch movement, especially when it's being swung around on a wrist all day. The presence of two balance wheels adds more mass to the equation, helping to counter the negative effects of gravity. In most executions, the gains in accuracy become a burden on power reserve, as additional geartrain and differential components are needed to draw the pulses from two separate balance wheels. With the two balances running on the same axis and balance staff, overall efficiency is maintained in the AP.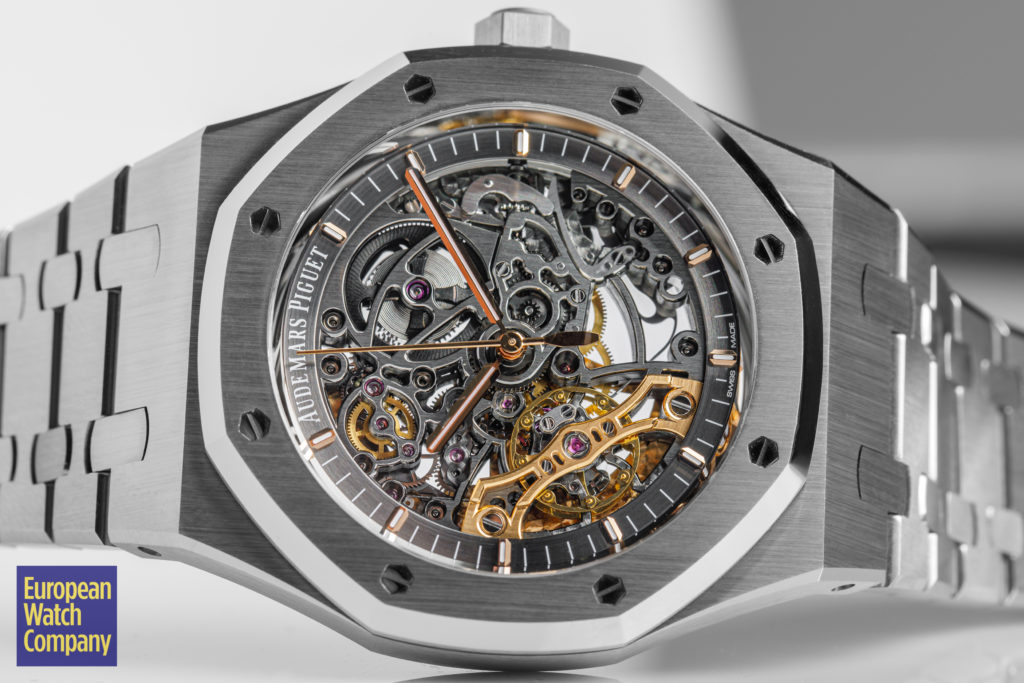 The idea builds off of a previous innovation: double balance springs. Audemars Piguet has produced some watches that employ double balance springs, such as the Millenary Quadriennium and the Millenary Minute Repeater with AP Escapement. The idea is to use two springs—rather than one—to cancel out the effect of internal friction, which can impact the precision of the watch to varying degrees depending on the angle at which the watch is held. The concept of not only having two balance springs but two separate balance wheels just takes the whole idea to a new level. Each of these superimposed balance wheels each has its own hairspring. The resulting self-regulation helps reduce rate errors and makes for an extremely precise timepiece.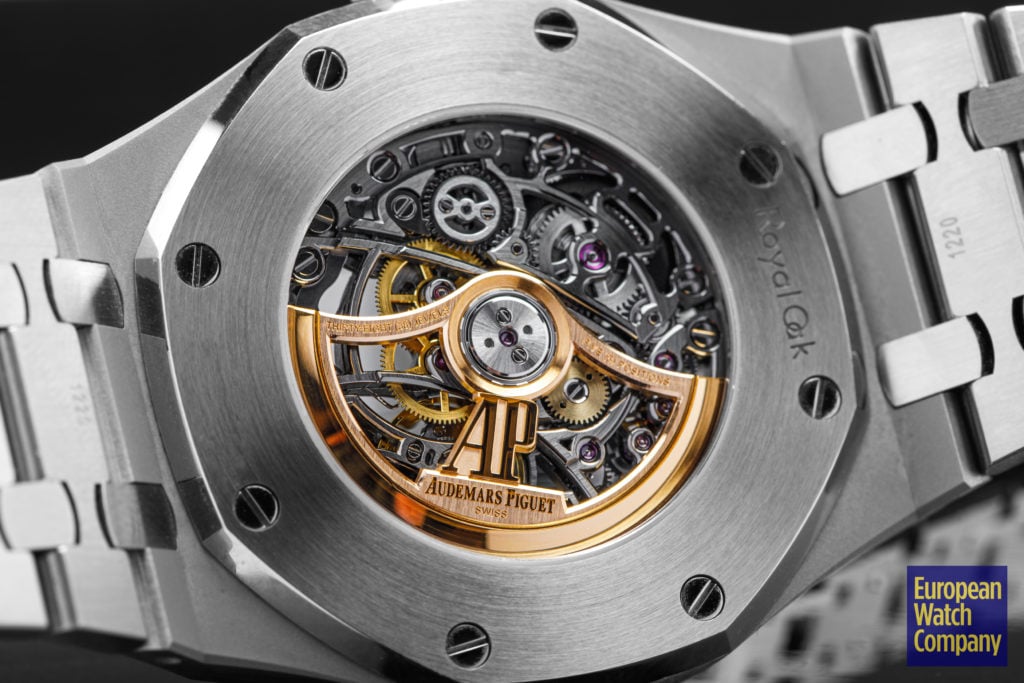 Aside from this cutting edge feature, the calibre 3132 is impressive in a number of other ways. The 38-jewel movement boasts a 45 hour power reserve and beats at a frequency of 3 Hz (21,600 vph). At just 5.57mm, its svelte form factor allows the watch to easily slip under a shirt cuff. Are you starting to see why AP wanted to show this movement off?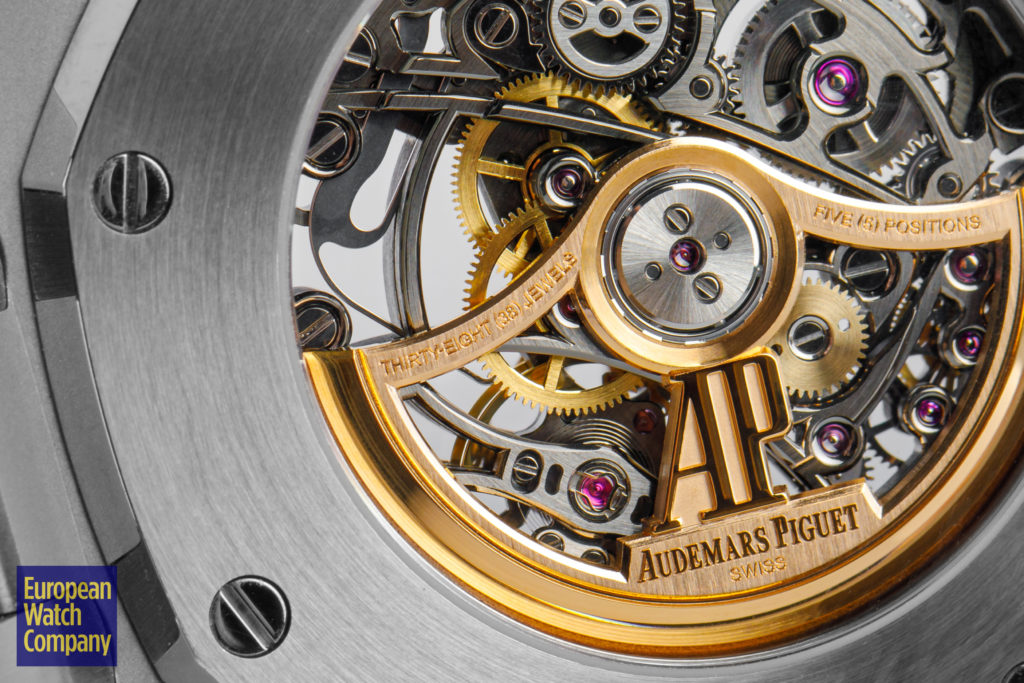 Of course, technological innovation is a big part of the story of this watch, but it isn't the whole story. While the general look of the AP Royal Oak is legendary—and even the idea of a skeletonized Royal Oak isn't unheard of—there is a lot about the design of this timepiece that feels distinctly modern. Its case is 41mm in diameter and 9.9mm thick, wearing comfortably on the wrist. It is water resistant to 50m. The integrated stainless steel bracelet with its AP folding clasp, the glareproofed sapphire crustal and exhibition caseback: these are all things we've come to expect from a contemporary Royal Oak.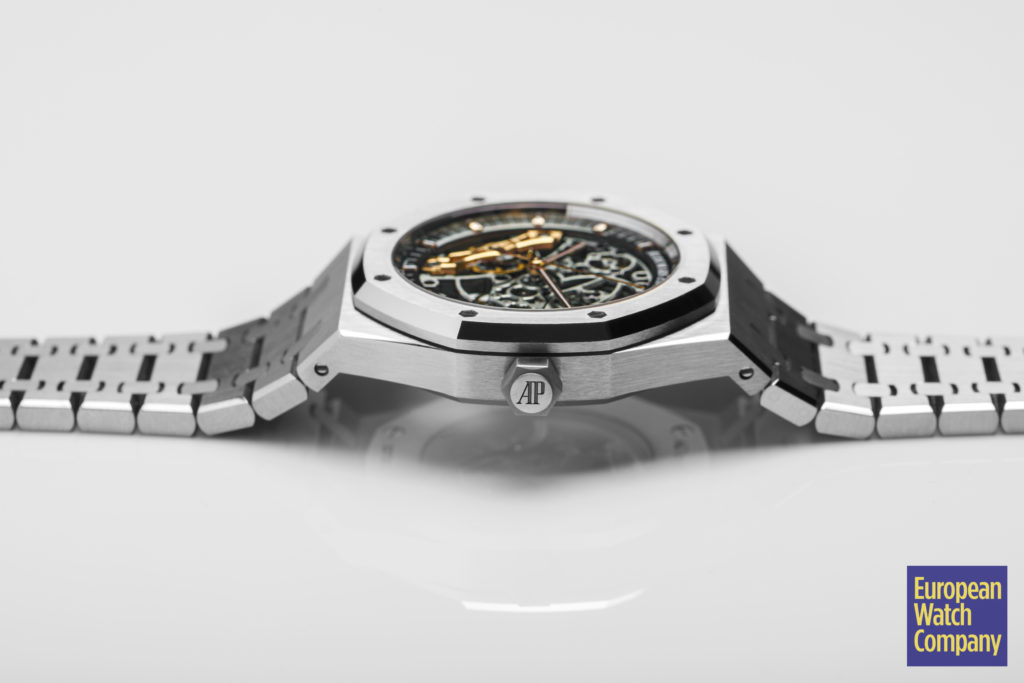 The magic of this piece, from a design perspective, is also found by looking at the movement. Take a close look at these photos. Much of the movement's works are a sexy slate grey. For a watch that, even back in the 70s, has always looked like it was plucked from the future, the Royal Oak still manages to stay ahead of the present. The pink gold applied hour markers and classic Royal Oak hands offer a delicate counterbalance to this otherwise aggressive styling.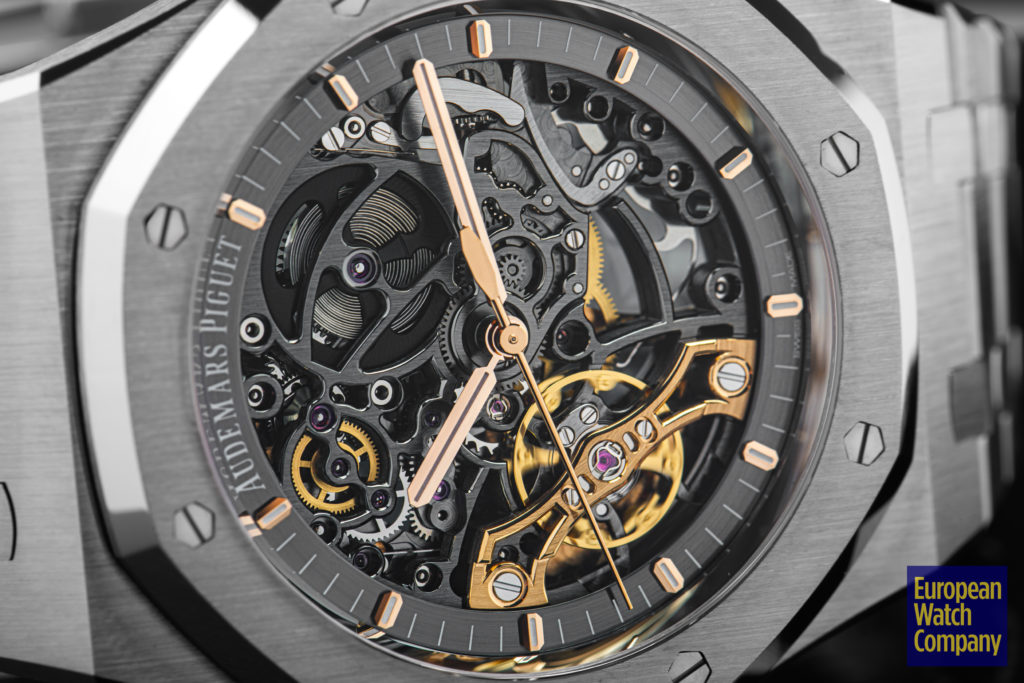 From out this dark storm cloud of gunmetal gears and springs comes the brilliant gold balance bridge. This color is echoed on the back of the watch; gazing through the exhibition caseback offers a great view of the signed gold rotor.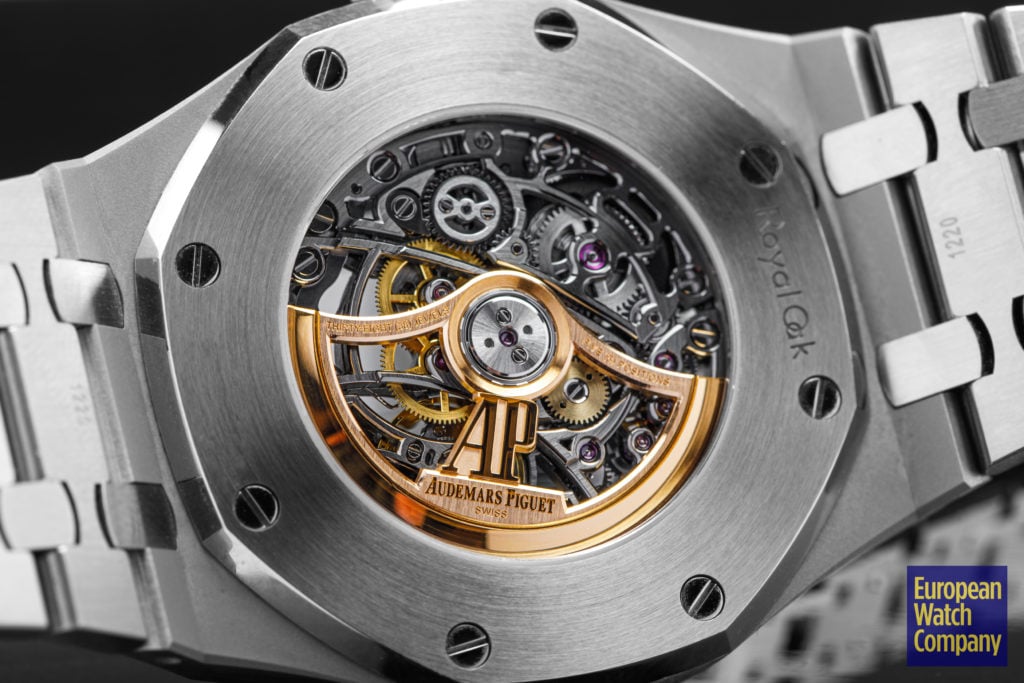 What is perhaps most impressive about this movement, from a craftsmanship perspective, is that every bit of it is hand-finished. While the movement does not have the overwrought finishing of most haute horology timepieces, there is no questioning the attention to detail that went into the creation of this very, very cool looking watch.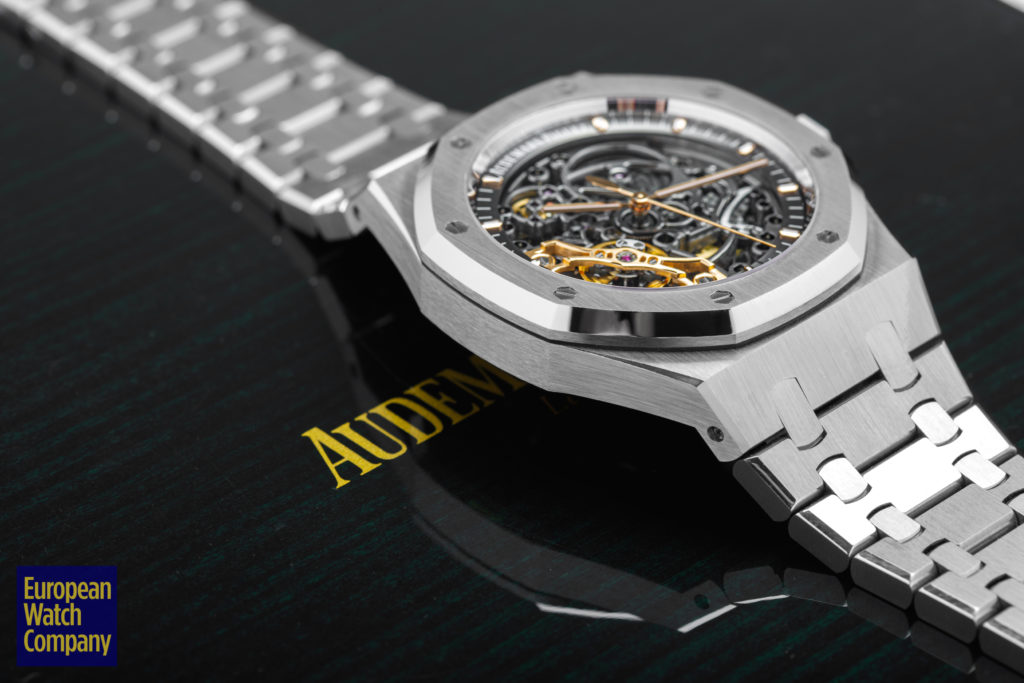 Make no mistake, even decades after the AP Royal Oak first exploded onto the world stage, it still brings a certain measure of controversy with it wherever it goes. That's not to say there's any denying that it has earned its place in the pantheon of great watches—it obviously has. Still, even in 2021, there is something so iconoclastic about the look of this watch that some collectors can't quite wrap their heads around it. If you're one of those people, this openworked take on the Royal Oak will definitely ruffle your feathers. And that's okay—watch collecting is fun because we all get to hold strong opinions, and this watch has always been a lightning rod in that regard. However, if you're drawn to the Royal Oak because of the way it looks, because of the inherent iconoclasm, then by extension, there's a good chance this watch belongs on your wrist. And, even if you're an old cantankerous traditionalist, there's just no denying the craftsmanship and horological ingenuity of the ref. 15407.