Cartier is a well-known but often underappreciated brand in the watch collecting community. Because they're not solely focused on watchmaking and aren't known for innovative movements, they often get left out of the conversation when it comes to top watch brands. However, slowly but surely, serious collectors are starting to pay more attention to the brand. If you take the time to study Cartier's timeless watch designs and their storied horological history, it becomes apparent that they're one of the great watch manufacturers of all time. Case and point, this gorgeous vintage Cartier Tank Cintrée Dual Time.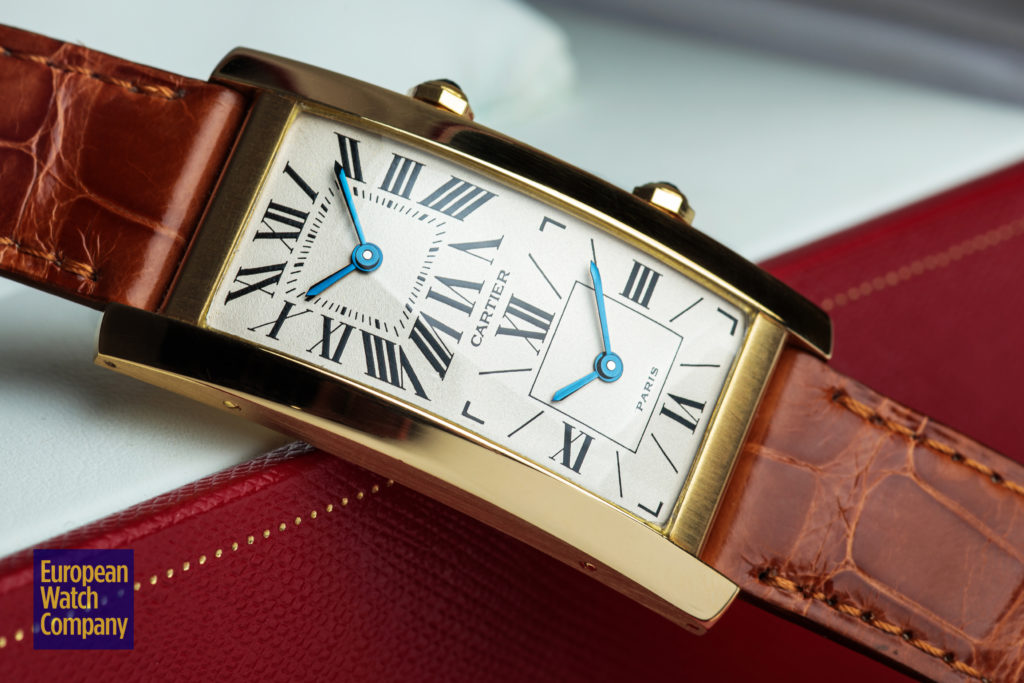 History
Cartier the brand goes all the way back to 1847, but their best horological creations start popping up in the early 1900s. They're famously responsible for creating the first true men's wristwatch and tool watch in the Santo Dumont in 1904 and, in 1917, they created the legendary Cartier Tank. This Cartier Tank Cintrée Dual Time is a descendant of that Cartier Tank, with the original Tank Cintrée variation being released in 1921.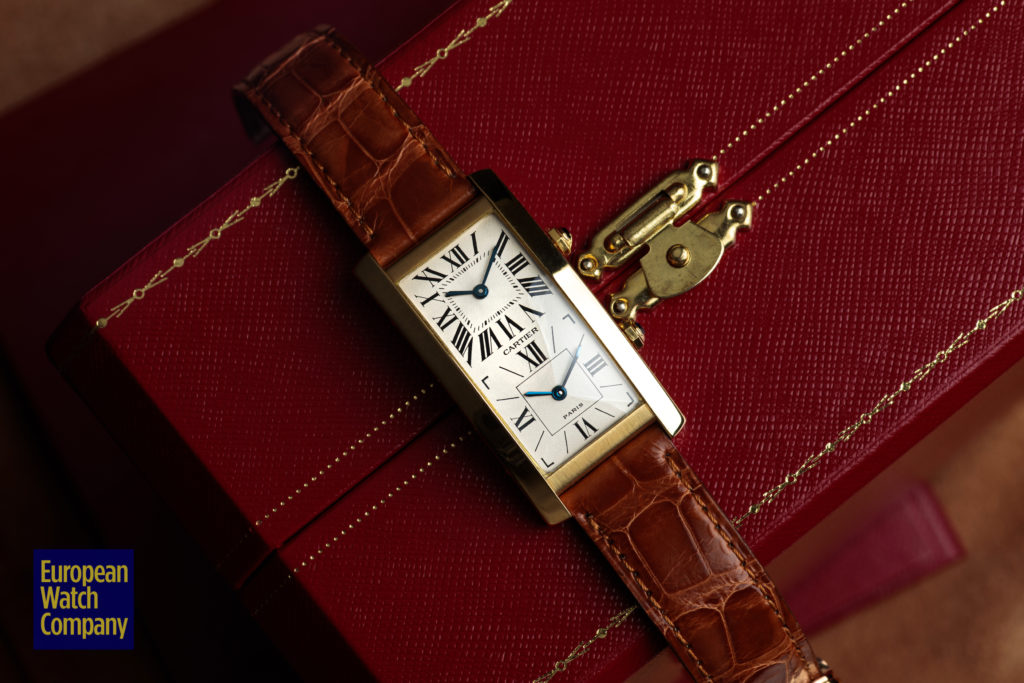 The Tank Cintrée—in my opinion, the most elegant of the Tanks—personified the roaring 20s with its refined art deco design and became the go-to trendsetters' watch choice. Its long graceful curved rectangular shape was revolutionary for its time and vastly different from its many pocket watch inspired peers. The Tank Cintrée has been notably worn by legends such as Steve McQueen and Ralph Lauren, who mounted his Cintrée to a gold cuff once worn by Andy Warhol. The Tank Cintrée design has stood the test of time, as has its chic reputation. This Dual Time version—released in 1990—will like all the variations before and after it continue to be a devastatingly handsome and hip wristwatch for the foreseeable future.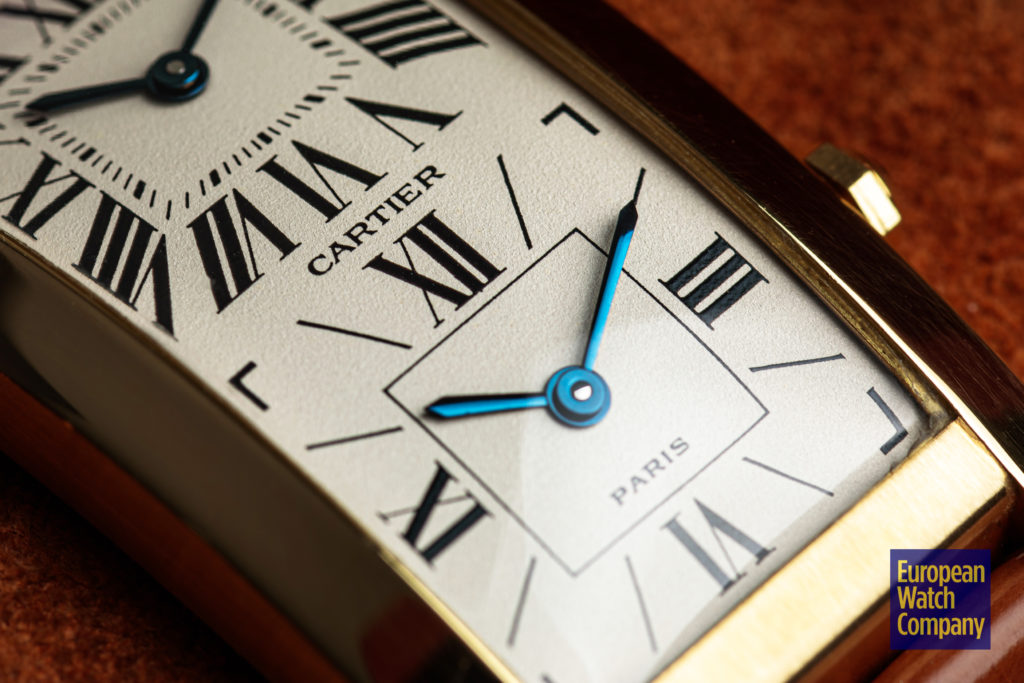 Design Details
This Tank Cintrée Dual Time is an Art Deco masterpiece. The long curved rectangular yellow gold case reminds me of the Chrysler building at night, and even 100 years later, the Cintrée's design is still a stylish outlier. Sure the curve of the case helps to fit one's wrist better ergonomically, but it also gives the watch an unmatched look of sophistication. It appears to mold right onto the wrist like it's a part of it. Being the Dual Time model, this Cintrée has two dials, each with slightly different layouts. The top dial has twelve roman numerals that bend to match the square dial shape. It's as if they've been pulled tight to the corners like carpet.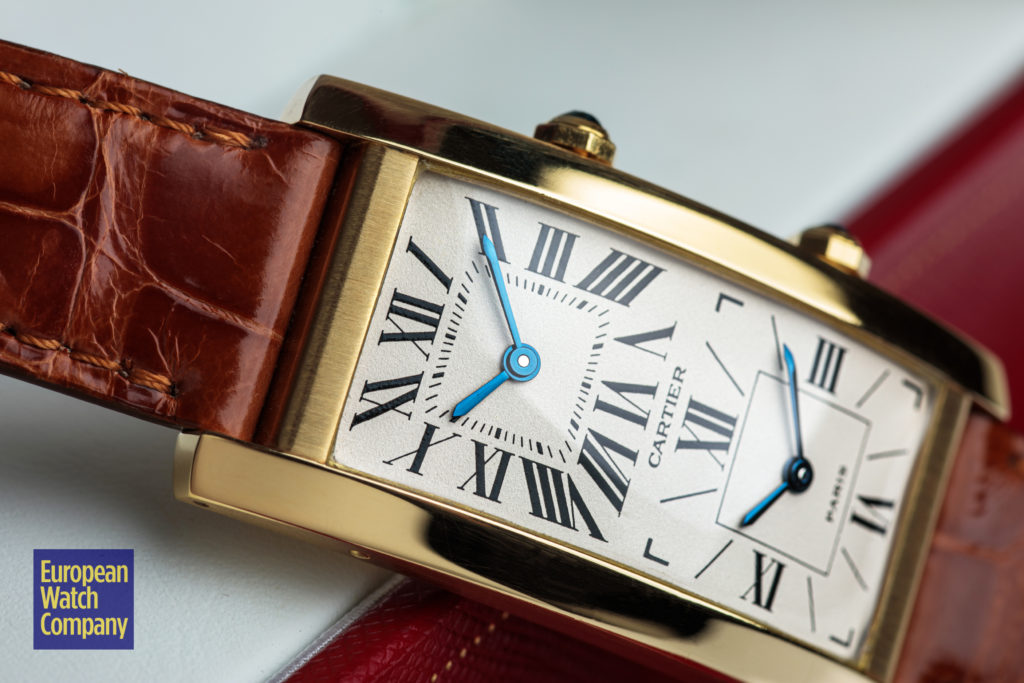 The bottom dial has identical 12,3,6 and 9 roman numerals with lines to indicate the other hours, creating a lot more negative space and ultimately helping the entire dial feel less crowded. The different-looking dials also help to visually delineate the purpose of each dial. It's easier to remember which is set to home time vs. travel time when the dials look so different. Both have the trademark Cartier blued hands, and each display is set independently with their own blue cabochon tipped octagonal crowns—another Cartier calling card. One detail I love on this piece which you won't find on any modern Cartier is the "Paris" on the dial. This small detail indicates where the watch was produced, but more than that, there is just something about "Paris" dial Cartier watches that is more elegant than the rest.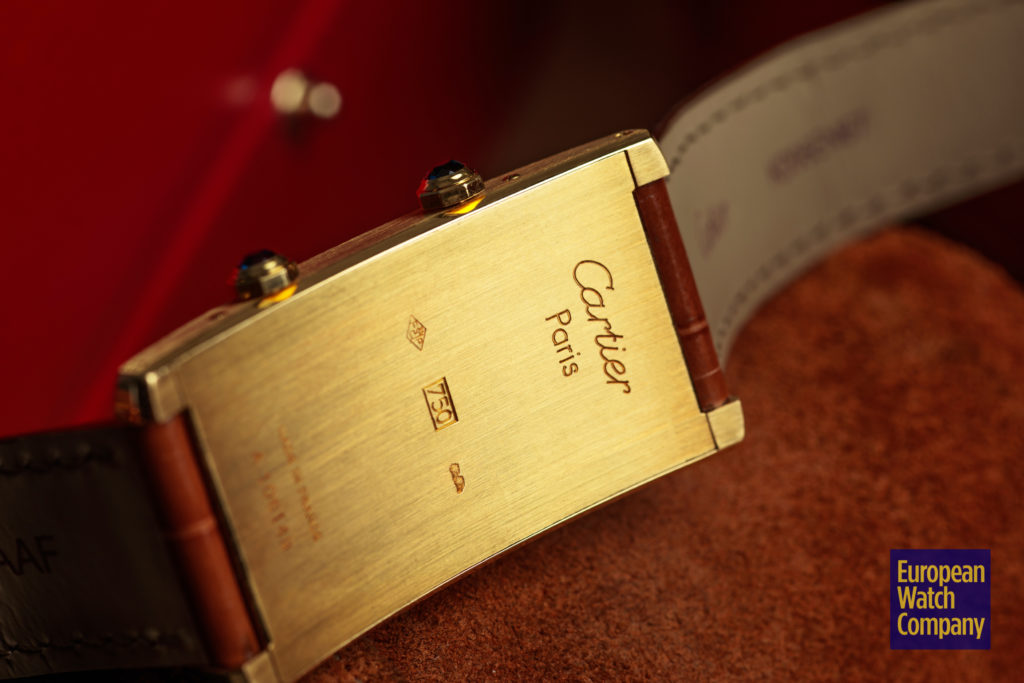 Inner Workings
Inside the Cintrée Dual Time is two individual movements based on the ETA Caliber 2412. It's a small but robust movement with an Incabloc shock absorber system and a monometallic balance. Because each time display is powered individually, one must also wind and set them individually with their own corresponding crown. To some, this might seem inconvenient; to others charming, you be the judge. However, there is an advantage to using two independent movements as it means this watch is exceptionally well suited to help track timezones with half-hour or 45-minute differences that many other travel watches can not.
For example, a standard GMT or World Timer can only track deviations measured in full hours, only accounting for the 24 major timezones. This leaves out 13 timezones, which are separated by 30 or 45 minutes. With this simple two-movement solution, the Cintrée Dual Time—which I would guess will spend most of its life as a dress watch—completely out travel watch's some of the most famous travel watches.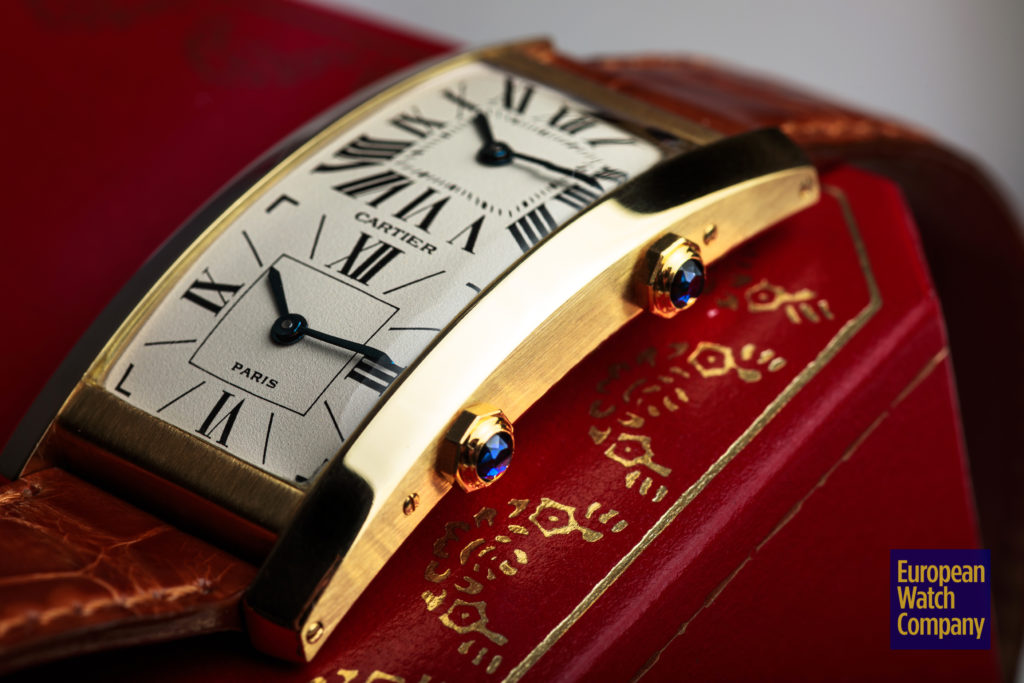 The Cartier Tank Cintrée Dual Time Vs. The Competition
This Cintrée Dual Time is going to be attractive to different people for different reasons, and because of that multifaceted allure and its $36,500 price tag, it also has a lot of competition. The first comparison that comes to my mind with this watch is the Jaeger Le Coultre Reverso. This rose gold Jaeger Le Coultre Grande Reverso Ultra Thin Tribute to 1931 lacks the dual time functionality of the Cintrée but offers all the same effortless grace. It also has a legendary art deco design and comes in a modern package with an in-house movement at half the cost. That's a serious value proposition if you're looking for a classic square dress watch. However, the Reverso falls short in a couple of areas as it doesn't have the rare or vintage element of the Cartier and lacks the dual time functionality, so if those are important features for you, this Reverso won't do.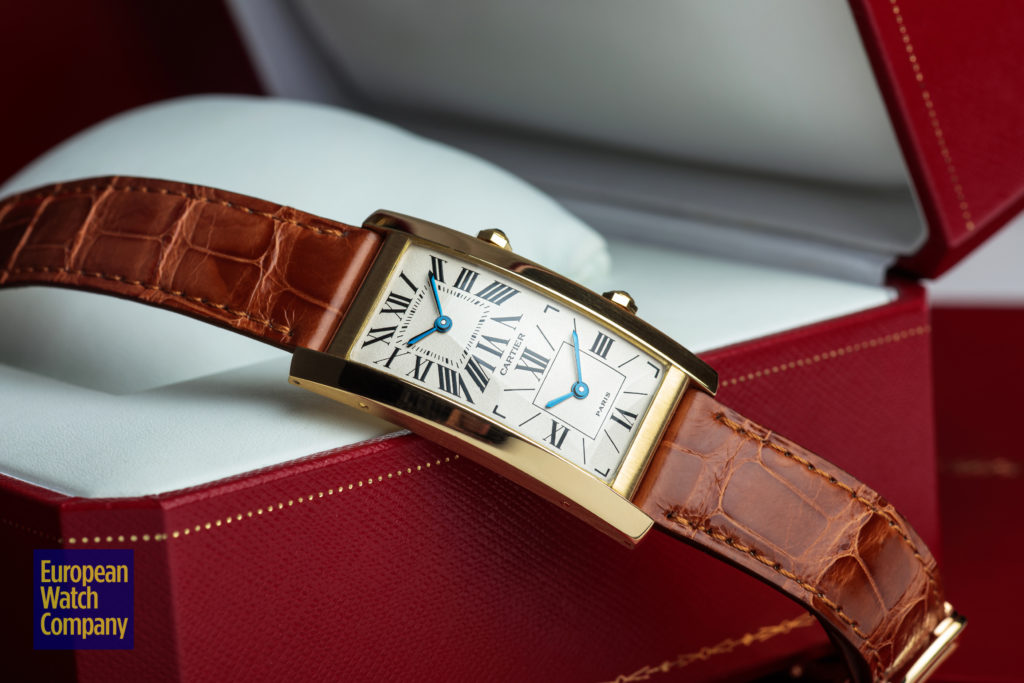 With that, a Rolex GMT 1675 offers GMT functionality, and though sporty, its vintage proportions work well in formal settings. Like the Cintrée Dual Time, it's a vintage timepiece and has the same je ne sais quoi that comes with that. However, it's not as rare—the 1675 is one of the longest-running Rolex references—and the GMT's hype may be at its peak while Cartier's stock, I believe, is still undervalued. Another formal friendly travel watch to consider is this rose gold A. Lange & Söhne Lange 1 Time Zone reference 116.032. The Lange 1 Time Zone is a stunning piece of horological art that offers dual time functionality and truly artisanal watchmaking at the highest level. From a design standpoint, though, the big date, time zone, am/pm, and power reserve displays, make this a much busier-looking watch. With the price of the Lange and Cartier separated by just $1,500—in Lange's favor—the decision between the two will be decided on whether or not you want a simple vintage watch or a modern mechanically advanced one.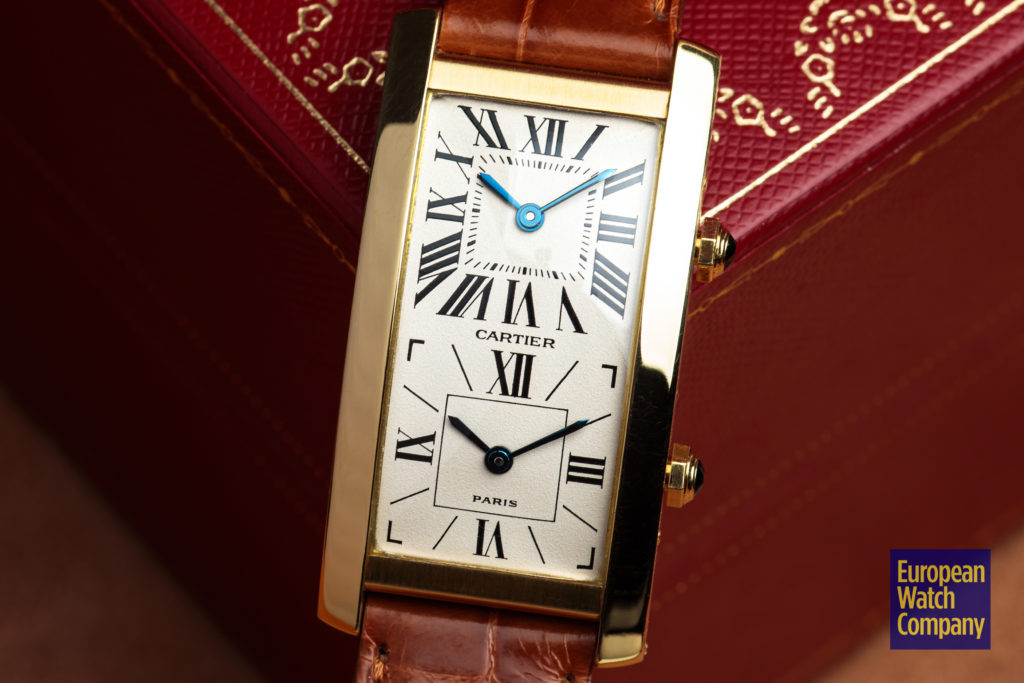 Personality
This Tank Cintrée Dual Time is a beautiful and refined dress watch with dual time functionality, making it an excellent timepiece for someone who travels a lot but takes fashion seriously. Choosing to wear this watch in our increasingly casual society is a choice to not wear a "go anywhere do anything" watch but to elevate whatever you're wearing with a sophisticated timepiece. If you're someone who wears a suit frequently, it would be a very chic daily option or could serve nicely in a two-watch collection where there is already something more rugged or casual filling the "beater" role.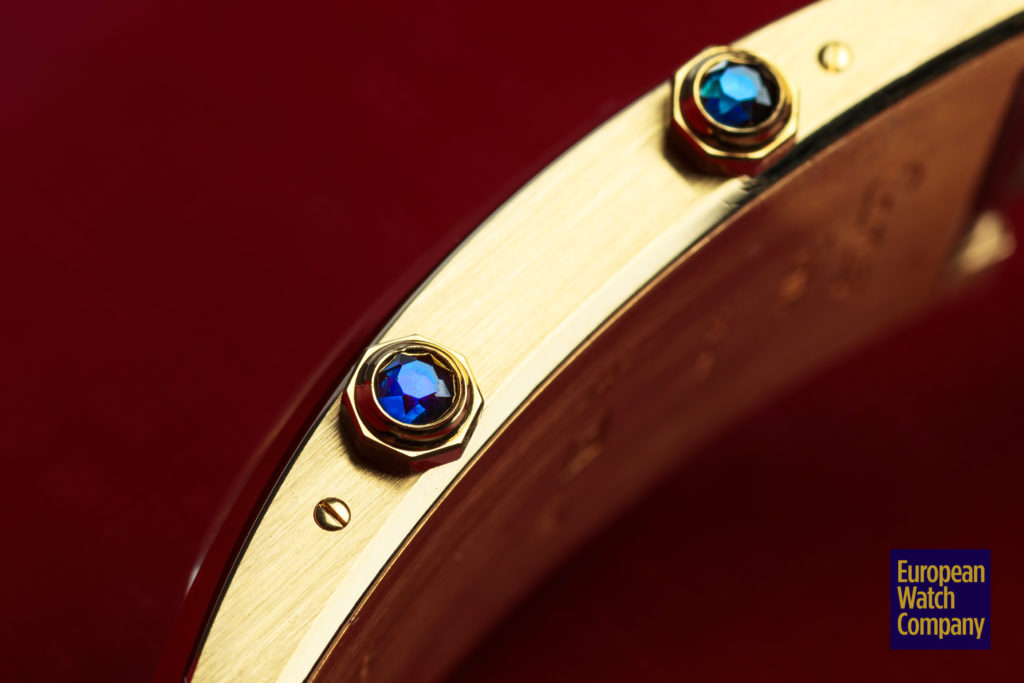 Final Thoughts
Watches like this Cartier Tank Cintrée Dual Time illustrate why many serious collectors see vintage Cartier as the next "it" genre in watch collecting. This Tank Cintrée epitomizes timeless design, and purchasing it puts one in the company of stylish icons like Jackie Kennedy, Ralph Lauren, Steve Mcqueen, and more. If it's good enough for them, it should serve you just fine.