The perpetual calendar complication is one of the most complex complications there is. Perpetual calendar watches display the date while keeping track of the month, the year, and whether that specific year is a leap year, automatically adjusting based on the number of days in each month, even February, even during a leap year. Not only are they mechanically complex, but they're also typically visually busy, as they need to display a lot of information. But that doesn't have to be the case. Consider this H. Moser & Cie. Endeavour Perpetual Calendar. Moser proves with this timepiece that while perpetual calendars are complex mechanically, they can still be simple aesthetically.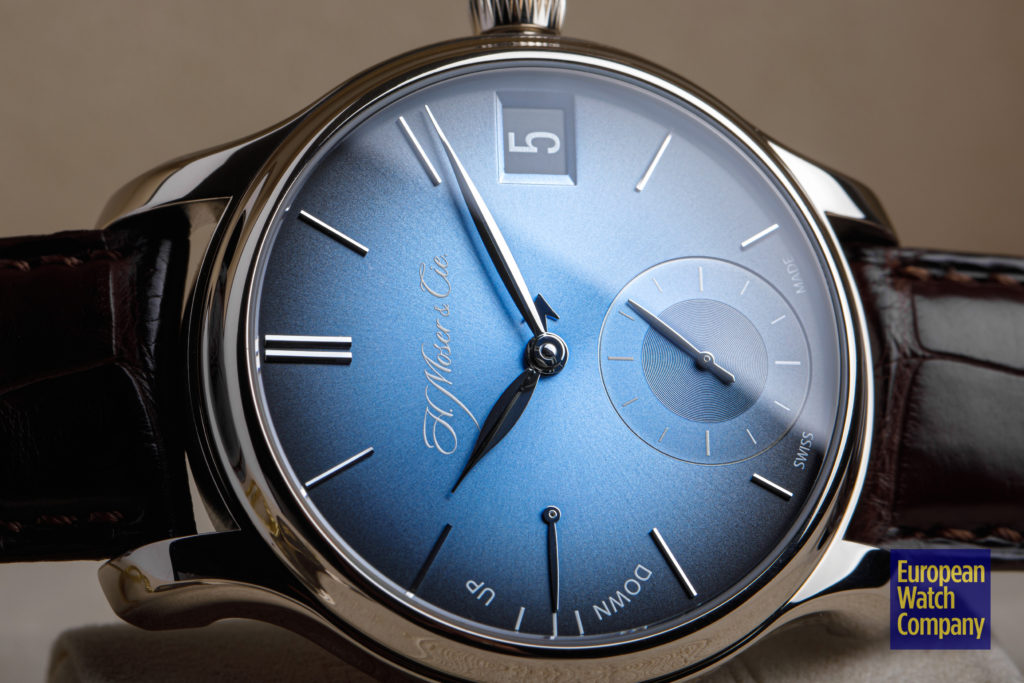 H. Moser & Cie. Endeavour Perpetual Calendar History
Not many people are familiar with H. Moser & Cie, or they might only know them for their headline-grabbing Swiss Alps timepiece—which bears an uncanny likeness to a certain smartwatch—but they deserve your consideration. H. Moser & Cie is a very high-level independent watch manufacture making some of the best-designed watches to come out of Switzerland. They're also doing a lot more in-house than countless other swiss brands. Their movements are all produced in-house, and their sister company Preciflex manufactures hairsprings for Moser, as well as for quite a few other luxury brands we all know and love.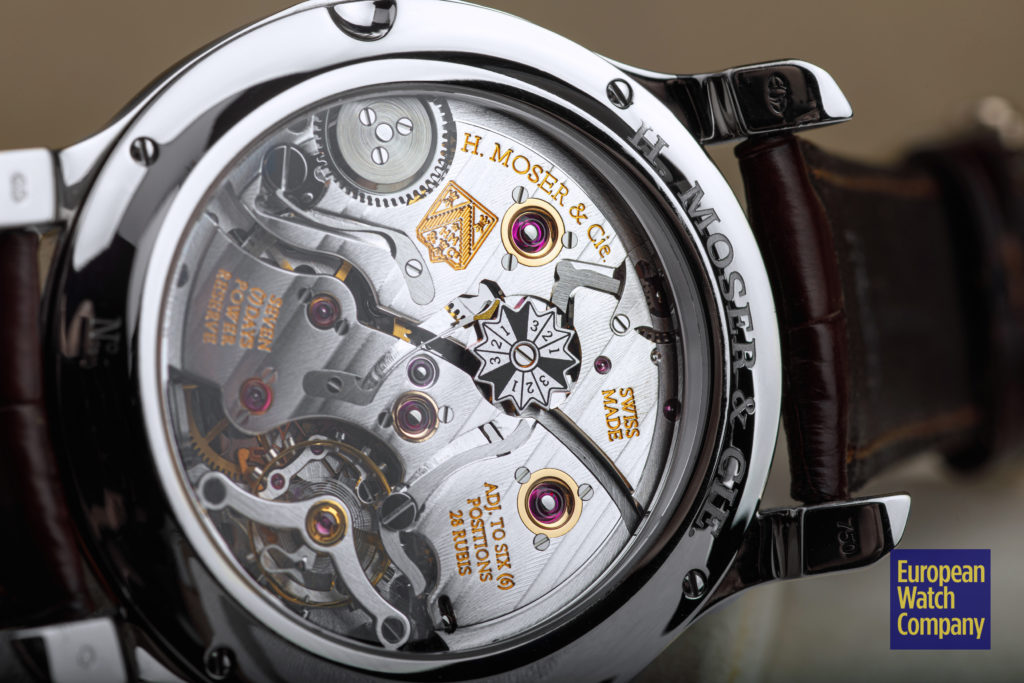 This H. Moser & Cie. Endeavour Perpetual Calendar is actually the direct descendent of Moser's first watch post relaunch in 2005. The Perpetual 1 introduced the world to Moser and their unique minimalist take on the perpetual calendar timepiece. It was such a groundbreaking watch that it won the Grand Prix d'Horlogerie de Genève in the complication category. This Endeavour perpetual calendar carries the torch for that foundational timepiece and continues to show why Moser is a brand worth paying more attention to.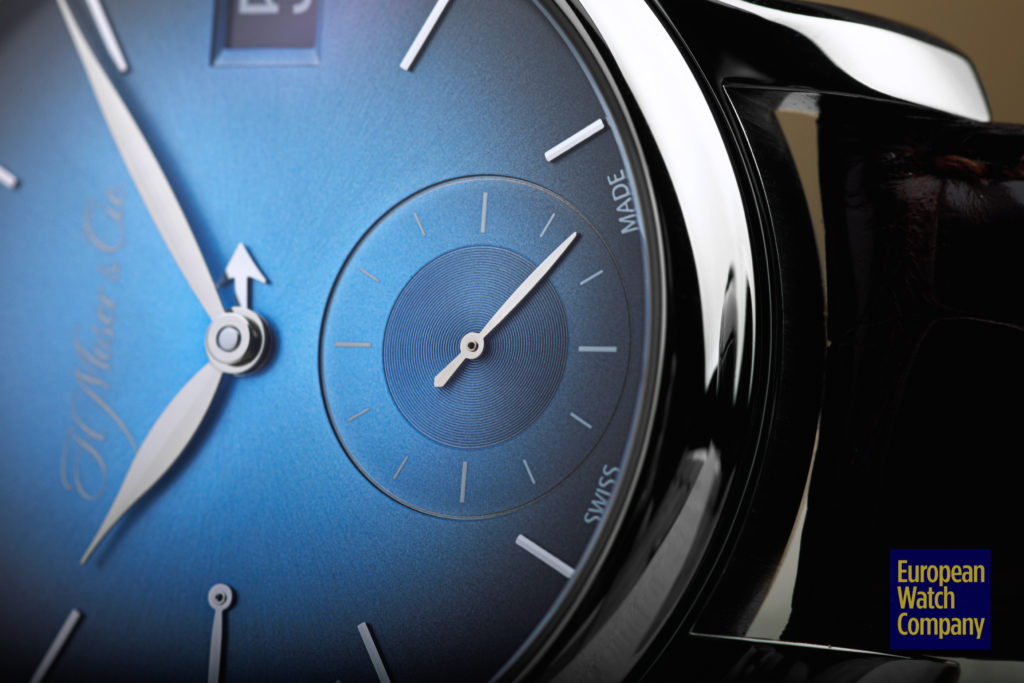 Design Details
The Endeavour Perpetual is one of the most well-designed watches on the market, full stop. Hell, it might be one of the most well-designed watches ever. The white gold case is primarily polished with some strategically placed brushed finishing on the case flank that highlights the watch's curvaceous profile. With its concave bezel, steeply downturned lugs, and scalloped case flank all polished, the Endeavour appears fluid and almost in motion. It's gorgeous. Not only is this H. Moser & Cie. Endeavour Perpetual Calendar beautiful to look at it with its flowing 18k white gold case and mysterious sky-blue fumé dial—Moser calls it "Funky Blue." But it also takes into consideration ergonomics and usability in a way few other watches do. The case measures 40.8mm by 11.5mm and has a plethora of wearer-focused details. For example, there is a small indent under the conical crow that makes it easier to pull the crown out, and the back of the case has a curved sapphire display back, ensuring this watch as comfortable to wear and interact with as possible.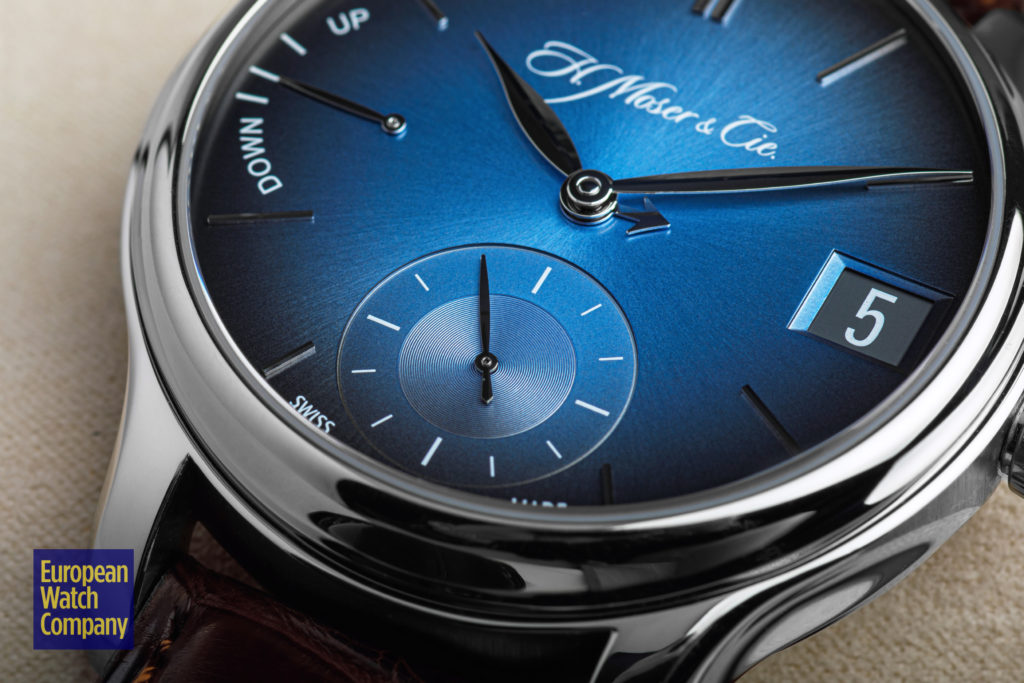 However, the most impressive design feat is in the implementation of the perpetual calendar complication. This might be the simplest and most intuitive perpetual calendar ever made. Instead of cluttering the dial with various windows displaying the month, date, and leap year, Moser decided to use the already existing 12-hour markers to represent the 12 months of the year. It's a solution so simple that it is insane it's not on more watches. It works like this, instead of reading a window or indicator on the dial Moser uses a short arrow tipped hand located at the center to indicate the month, with 1 o'clock representing January progressing to December at 12. So if the short arrow hand is pointed at four o'clock and the date window says "26," you know it's April 26th. Easy peasy. For the rest of the dial you have your hour and minutes at center with a sub-seconds hand at six, a power reserve at nine, and a date at three. As a cherry on top, this simple display is also simple to set with the month and date, both able to be set bi-directionally with the crown, which is not common on perpetual calendars.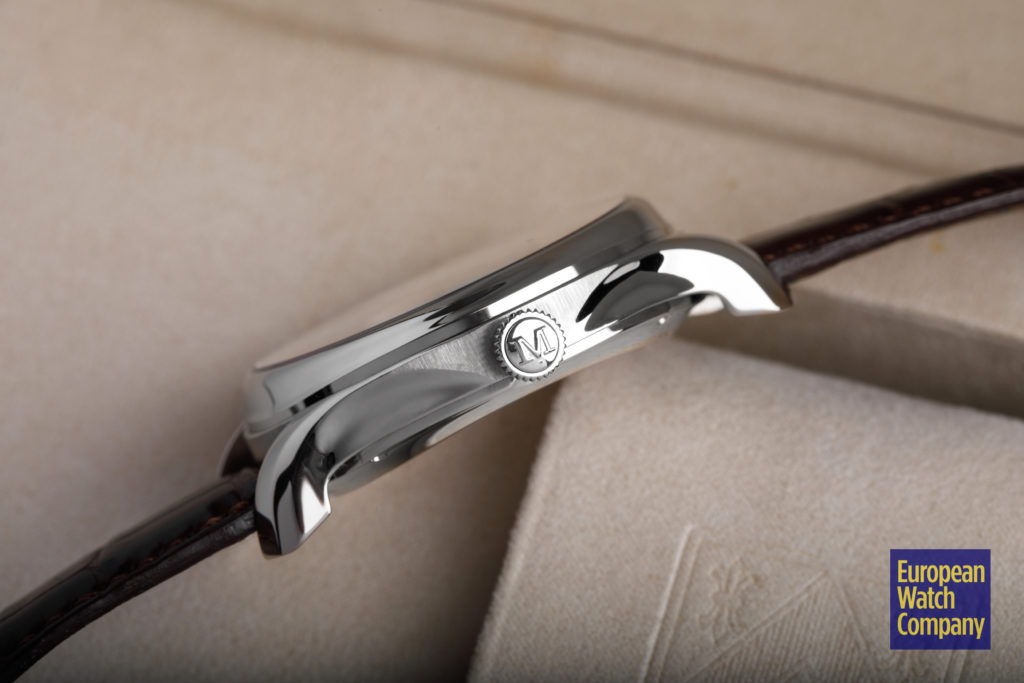 Additionally, in an effort to keep the dial as minimal as possible, the leap year indicator has been ingeniously moved to the back of the watch displayed as part of the movement. Considering the infrequency with which one needs to know if it's a leap year, this is a great place for this indicator. It also gives you an excuse to appreciate the well-finished movement.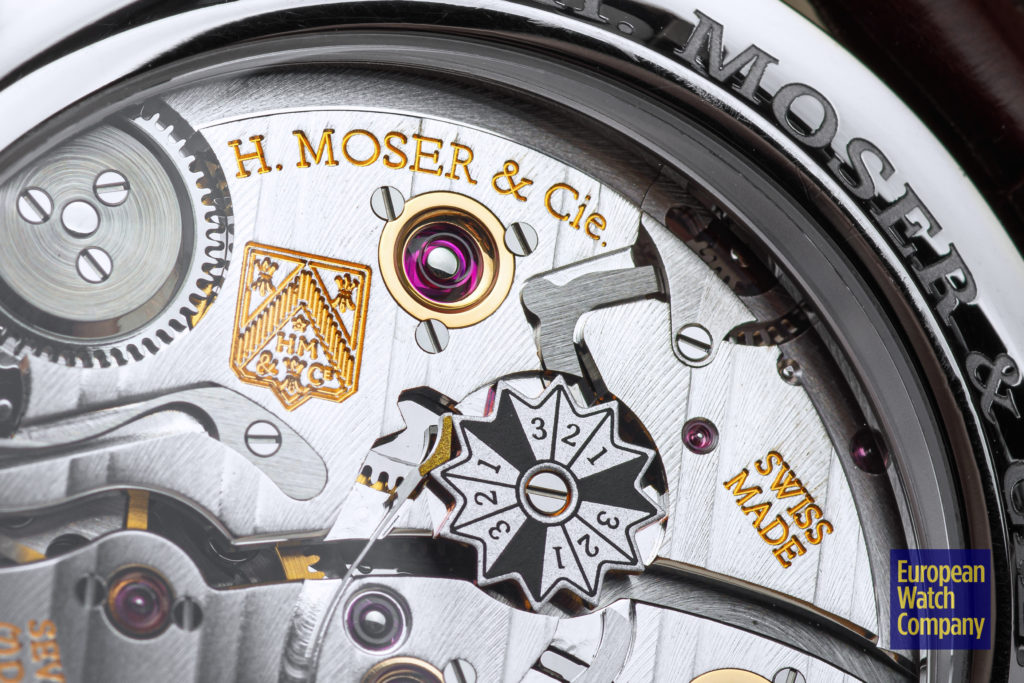 Inner Workings
Powering this innovative timepiece is the manual wound in-house caliber HMC341. The movement has chronometric precision throughout its seven-day power reserve, which is made possible by its twin mainspring barrels. Additionally, the movement possesses a stabilized Breguet overcoil and houses Moser's unique modular escapement, which is designed to be replaced during service. This ability to completely swap out an escapement that needs servicing with an already calibrated escapement is such an elegant way to speed up servicing, and it illustrates Moser's unique way of thinking.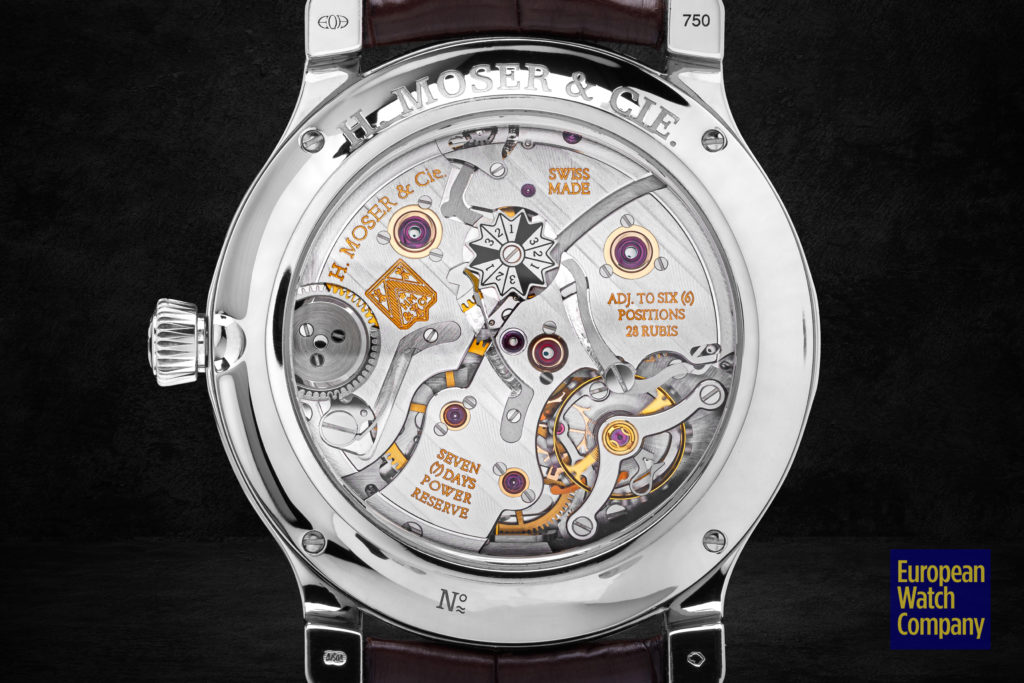 As we noted above, H. Moser & Cie is much more "in-house" than most manufacturers. A large majority of other "in-house" manufactures wouldn't even dream of making their own hairsprings, let alone supply them to other manufacturers. The movement's finishing is very well done with black polished screws, chamfered bridges, and Côtes de Genève embellishments. Overall it's a nice-looking caliber, but admittedly, it's not quite to the level of some other more famous independents like Philippe Dufour or F.P. Journe.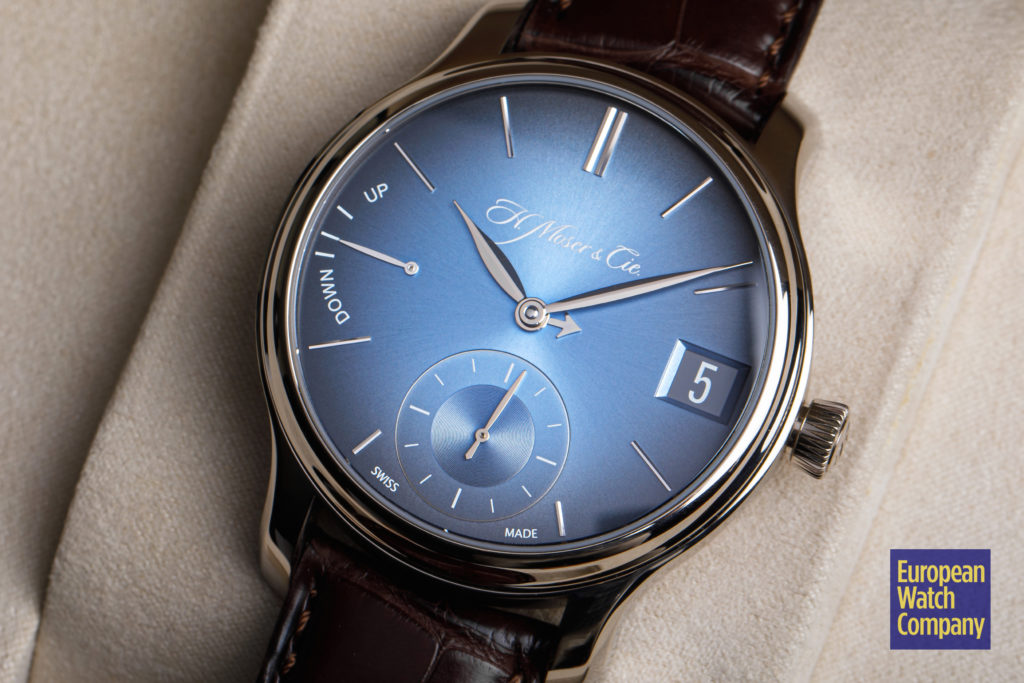 Endeavour Perpetual Calendar Vs. The Competition
Competition wise there are very few, if any, other perpetual calendars that look like the Endeavour. It's an almost totally unique offering in the watch world. But if you're in the market for a high-quality perpetual calendar, here are some options that are priced within a reasonable range of the Endeavour's retail list price of CHF 54,000. If you're in the market for a perpetual calendar, it's basically required that you cross-shop Patek Philippe. This Retrograde 5496P has an avant-garde design and is much simpler than most perpetual calendars (like the Endeavour) but with a lot more R&D behind it. It also has the added quirkiness of being a retrograde perpetual calendar, which is hard not to love.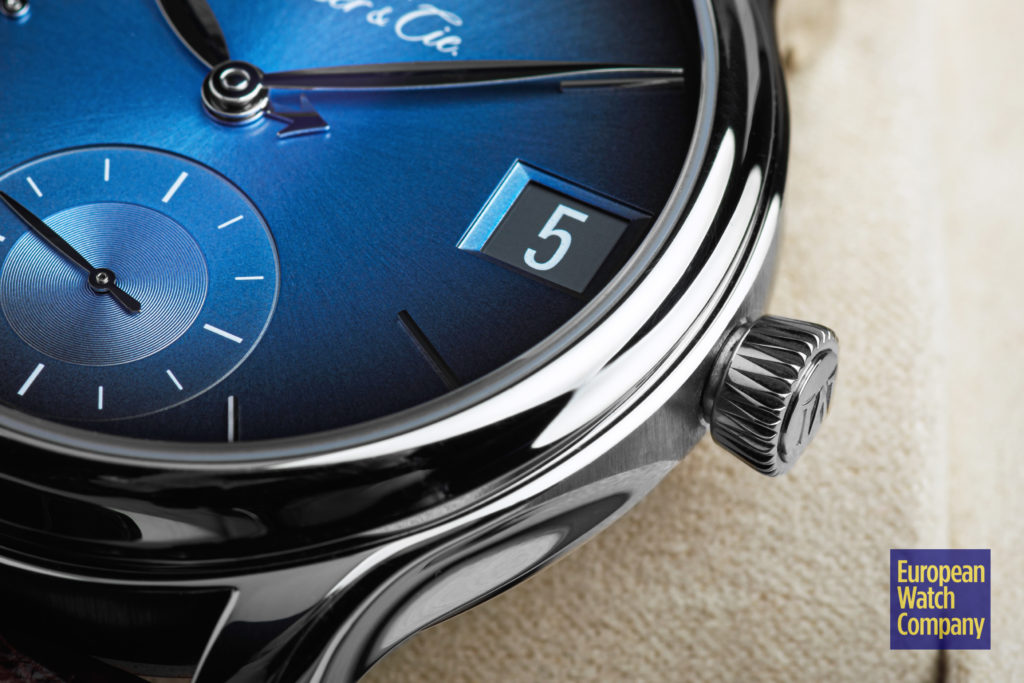 Now, if the independence of Moser is a key factor, then this F.P. Journe F.P. Journe Octa Quantieme Perpetual Calendar is worth a look. The Octa Quantieme also comes from a small boat-rocking watch manufacture that takes innovation and watchmaking very seriously. This perpetual calendar has a leg up on the Endeavour in a couple of ways. It displays the day of the week, its movement is better finished, and Journe is a touch more well-known brand if that matters to you. That said, the Journe will cost you a fair bit more if you can find a good example up for sale. For something on the more budget conscious side of things, the IWC Portugieser Perpetual Calendar was literally made walking distance from the Endeavour Perpetual calendar in Schaffhausen, Switzerland. This is a much more typical and classic perpetual calendar timepiece, and despite the amount of information on the dial, IWC has done a great job giving the watch a very clean and simple design. It has an in-house movement, and its price when new was a touch more than half that of the Moser. That said, if clean design and an innovative approach are what you desire, the Endeavour is hard to beat.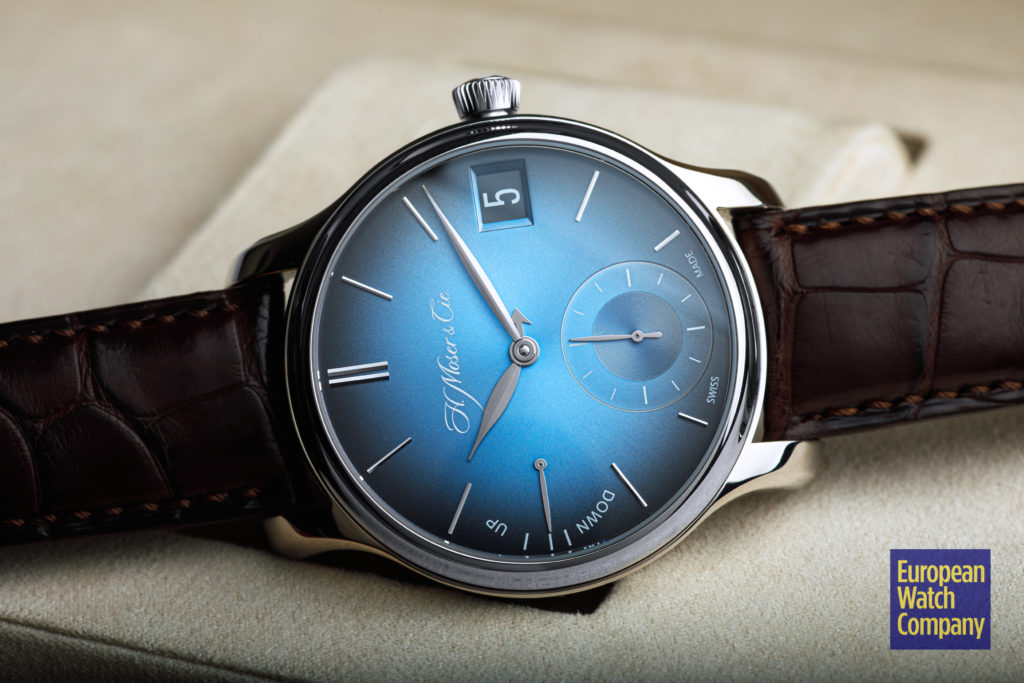 Personality
The Endeavour Perpetual Calendar is meant for someone who isn't looking for a flashy statement watch but rather deeply appreciates ingenuity and the evolution of watchmaking. It's a great watch for an entrenched watch enthusiast who has moved past all the household names and is now developing their own unique taste. It could also be very appealing to a successful designer or engineer who simply appreciates the uncomplicated and user-focused design of the Endeavour. Either way, it's a watch for those in the know.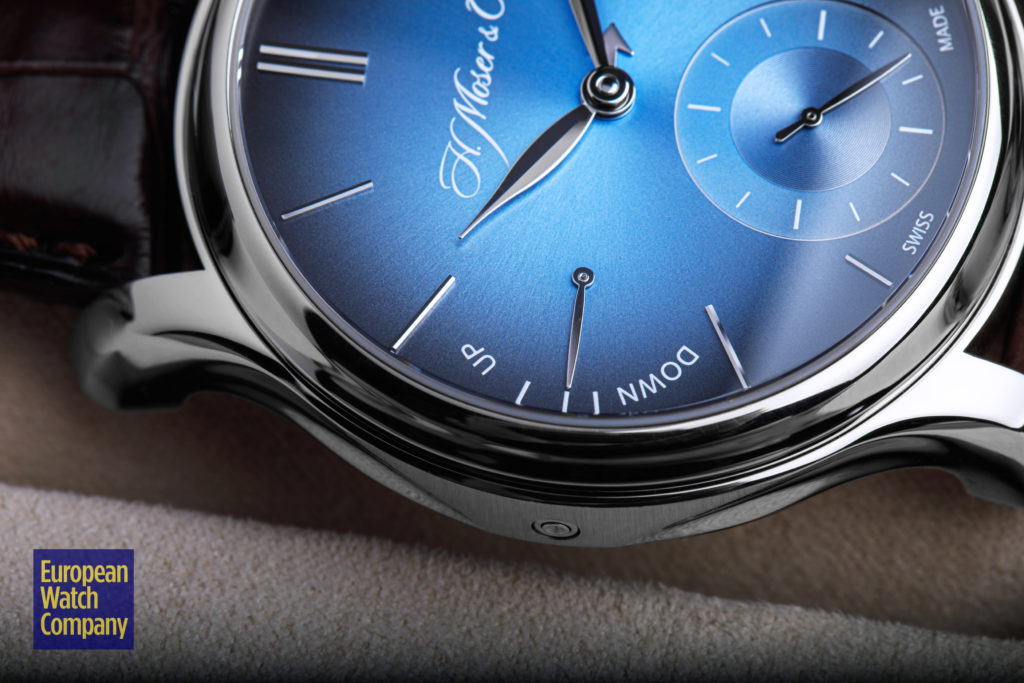 Final Thoughts
The H. Moser & Cie Endeavour Perpetual Calendar is a beautiful and elegant timepiece that deserves a lot more recognition than it gets. Still, its anonymity makes it that much more special. This is the type of watch that will fly under the radar around most people. But because of that, when someone does recognize or call attention to it, you'll instantly know that you have some shared values with them, and that ability to create an instant connection is one of the greatest traits of any watch.