Speedmaster limited editions have gotten a bit of a bad rap lately. They're something Omega has done often, and the frequency has made them special and limited editions feel less special and limited. That being said, some special edition Speedmasters are genuinely worthy of the moniker. The Omega Speedmaster "Dark Side of The Moon" Apollo 8 which was introduced at Baselworld 2018 to mark the 50th anniversary of the Apollo 8 NASA Mission, is one of those watches.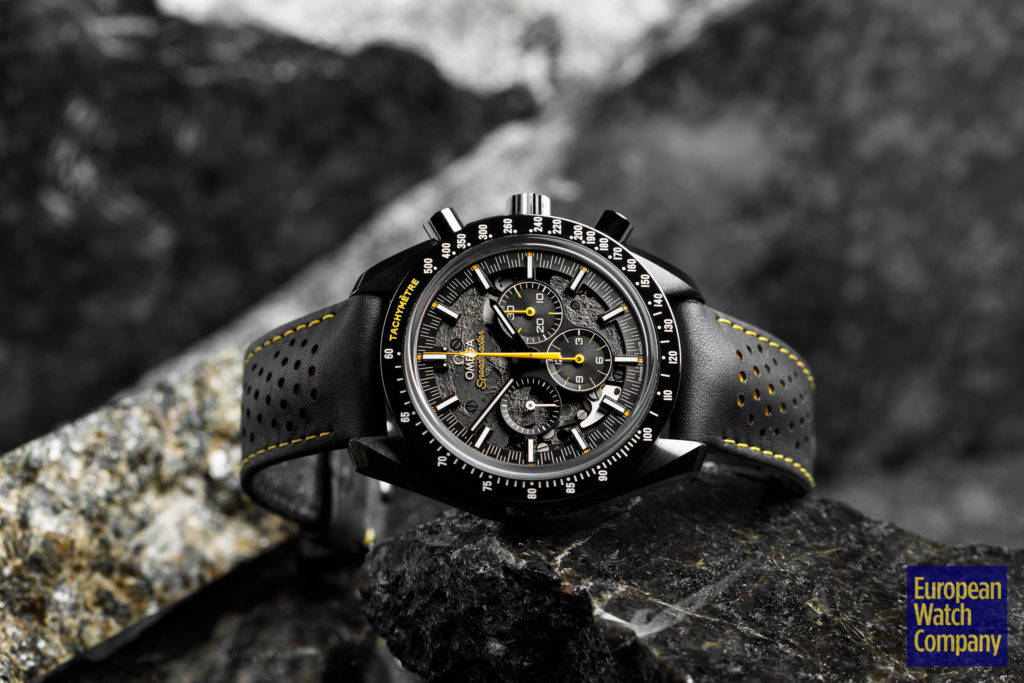 But first, to understand the watch, you need to know a little bit about the event it honors. Apollo 8 was a critical stepping stone to putting a man on the moon and consisted of some monumental space exploration achievements. The flight launched on December 21st, 1968, spent Christmas orbiting the moon, and returned safely to earth on December 27th. It was the first human-crewed spacecraft that left low earth orbit as well as the first human-crewed spaceflight to reach another astronomical object—in this case, the moon. The astronauts on board Apollo 8—Frank Borman, James Lovell, and William Anders—were the first humans to see the dark side of the moon as well as earth rise, which William Anders photographed, producing nothing short of one of the most iconic photos of all time. It only fits that such a historic occasion is celebrated with such a badass watch.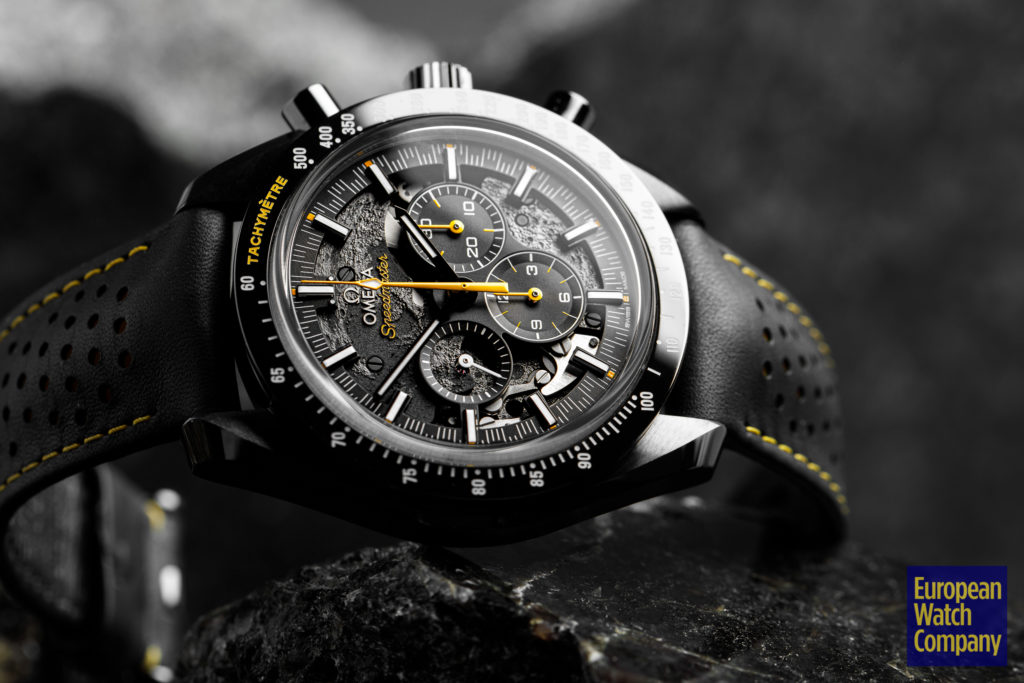 To mark the 50th anniversary of this moment in space exploration history, Omega released this uniquely finished black ceramic Speedmaster "Dark Side of the Moon Apollo 8." While it's a part of what has become an entire collection of "Dark Side of the Moon" ceramic Speedmasters, this one is the only model that specifically tributes the time humankind first saw the mysterious dark side of the moon. Mostly black with some thoughtful pops of yellow, the watch looks very modern and technical but still has a connection to the past. Usually, I'm not too fond of black watches, but I make an exception for those made of ceramic.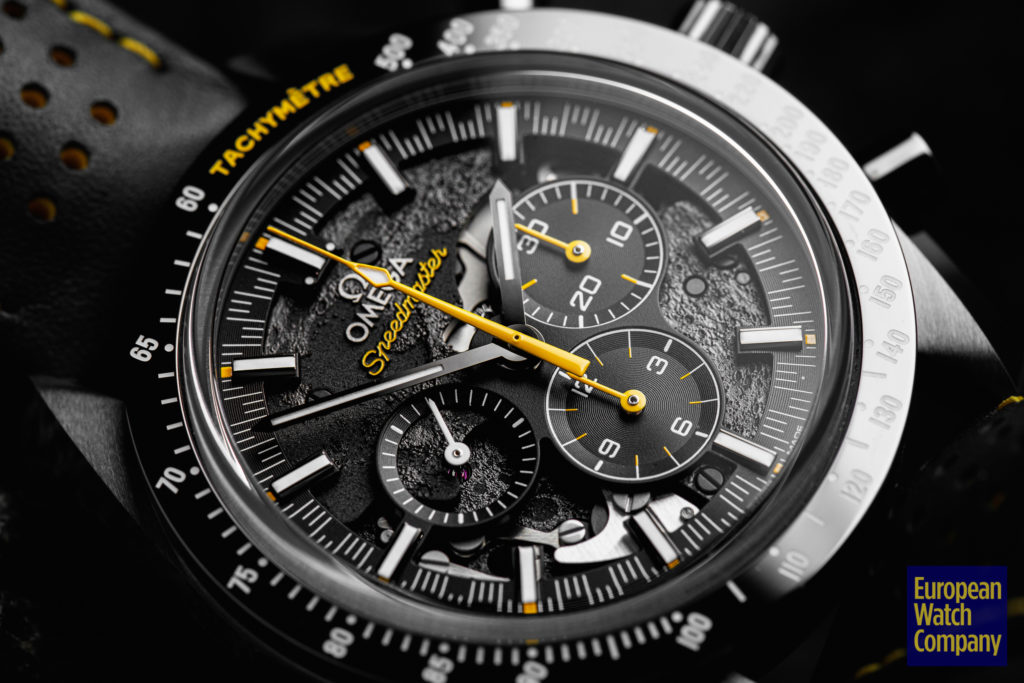 Ceramic is a fantastic material when finished right, and this Speedmaster really puts that on display. The wide twisted lugs with alternating brushed and polished finishing look gorgeous on the rich black ceramic. What's cooler is that this stunning finishing will stay virtually perfect as ceramic is extremely hard to scratch. Measuring 44.25mm in diameter by 16.3mm thick, this is certainly a larger watch, but with the tachymèter scale and amount of depth in the dial, it doesn't appear as large as it is. It's one of the more visually balanced watches I've seen, which was necessary considering its size.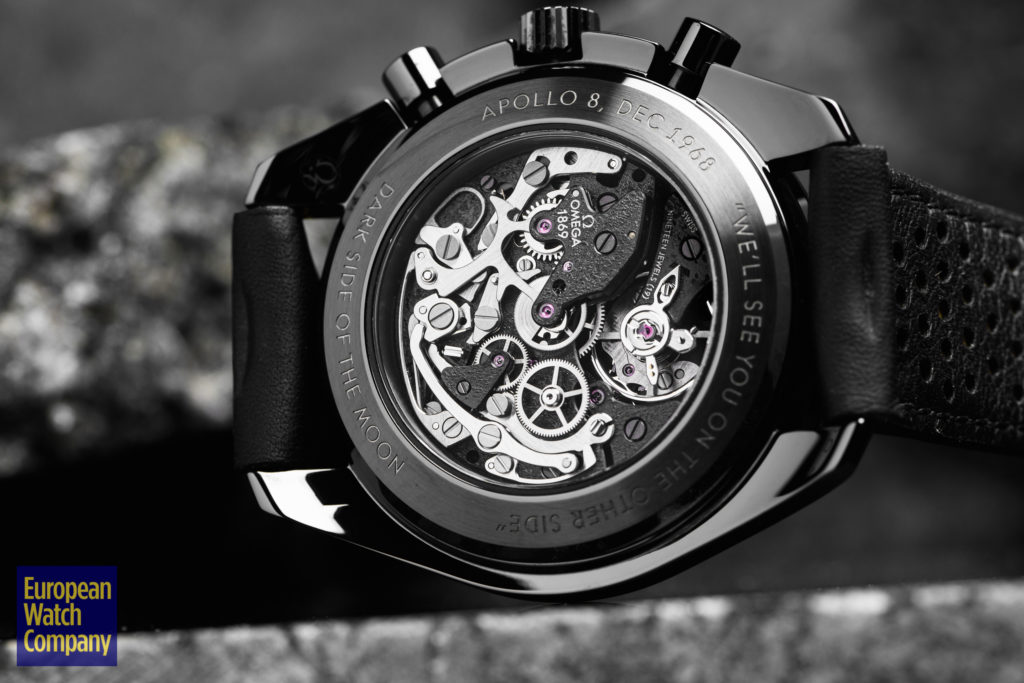 The timepiece utilizes a semi-skeletonized dial, but you still get optimal legibility on all readouts with small thoughtful cutouts where you can see the movement. Most notably, however, is the large portion of laser-etched lunar surface finishing. On paper, that might not sound great, but the execution is impeccable. The level of detail is next level and comes close to photo-realistic. This gives the dial such a unique and gorgeous texture without coming off cartoonish. After you're done drooling over the dial, you'll notice that the finishing thankfully carries over to the back of the watch on parts of the caliber 1869.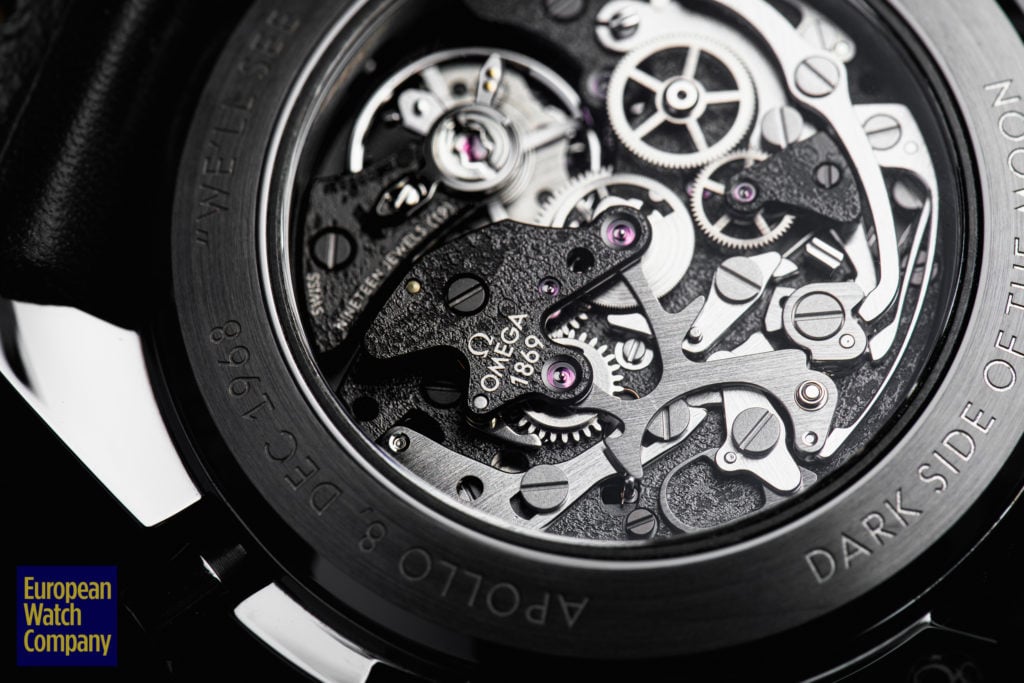 Visible through the display caseback, which is surrounded by the words "Apollo 8, Dec 1968 ", we'll see you on the other side," Dark Side of the Moon." The Caliber 1869 is a modified—due to its special finishing—1861. Aside from some small changes—mostly due to finishing—this is essentially the same movement that's inside the modern and still certified by NASA for spaceflight Speedmaster Professional. It's a durable and reliable chronograph movement that descends directly from the caliber 861, which was worn on the moon. This one just also happens to look like the lunar surface.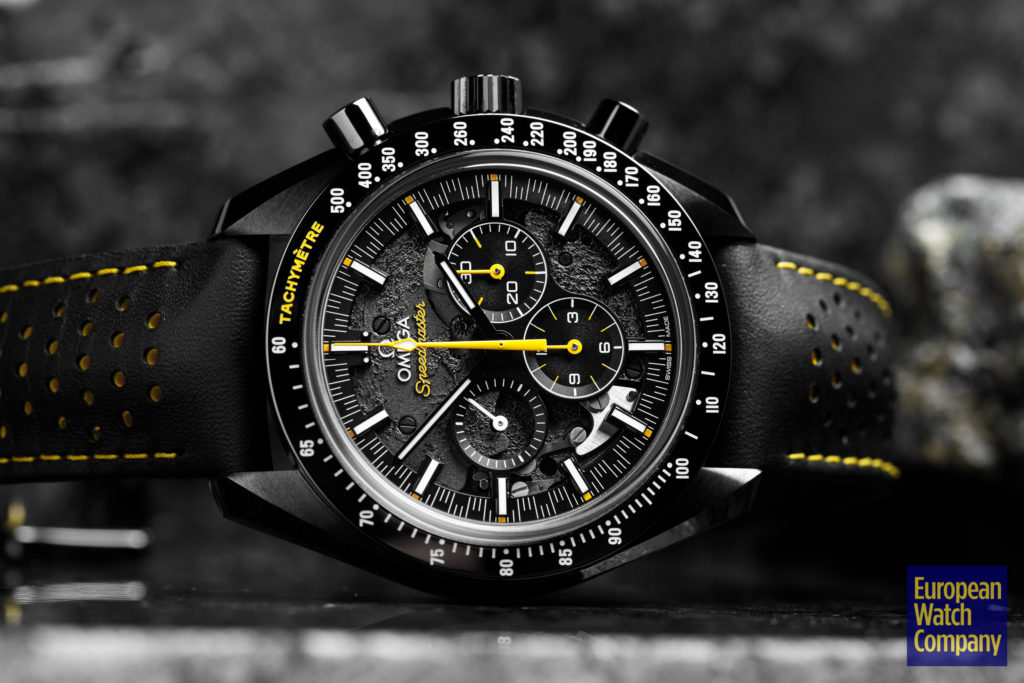 Omega went all out to tribute Apollo 8 and deservedly so. I'm not one to get excited over special Speedmaster editions and could do without most, but I would keep this one. It showcases Omega's excellent and distinctly modern finishing capabilities in a familiar form factor while using a movement that connects the watch properly to its heritage. However, the key piece that puts this watch above most other Speedmaster special editions is that it visually connects to the mission it's honoring without being too over the top or cheesy. It's a special edition that doesn't scream "I'm a special edition," but when you really examine it, you can't help but notice how extraordinary it is. Yes, a watch is a small tip of the hat to the men of Apollo 8 who changed history, but it helps keep their story alive, and they deserve that.