It's something of a cliché in the watch collecting world that the Omega Speedmaster is a one-watch collection. It's a tool watch at heart, but it can be dressed up nicely on a leather strap and worn with a sharp suit. And then there's its legendary history with the space program that makes everyone who wears one—whether they admit it out loud or not—feel like an astronaut when they strap one on. In sum, if you're in the market for the watch, a one-time buy that is guaranteed to hold up as tastes and fads come and go, a Speedy is always a safe bet. This is precisely why it can make some, more experienced collectors yawn. The Omega Speedmaster Moon Phase Platinum / Skeleton 3688.30.32 is, in many ways, a direct retort to the scoffing of such aficionados.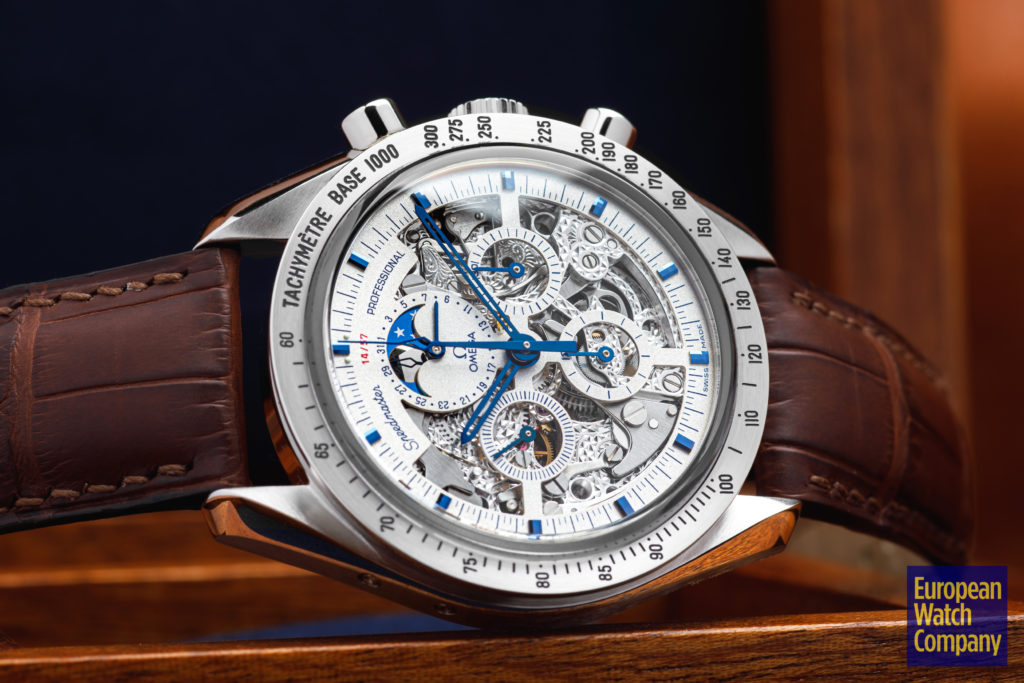 At a glance, you know you're not dealing with your grandfather's classic Speedmaster Professional. This piece is as startling and evocative as it is rare—and that's saying something. The watch we're looking at today is one of just 57 pieces released back in 2003. Even if the skeletonized look isn't really you're thing—and it isn't, for a lot of folks—a close look at this watch, it's caliber, and the extraordinary workmanship visible beneath the dial reveals undeniable artistry.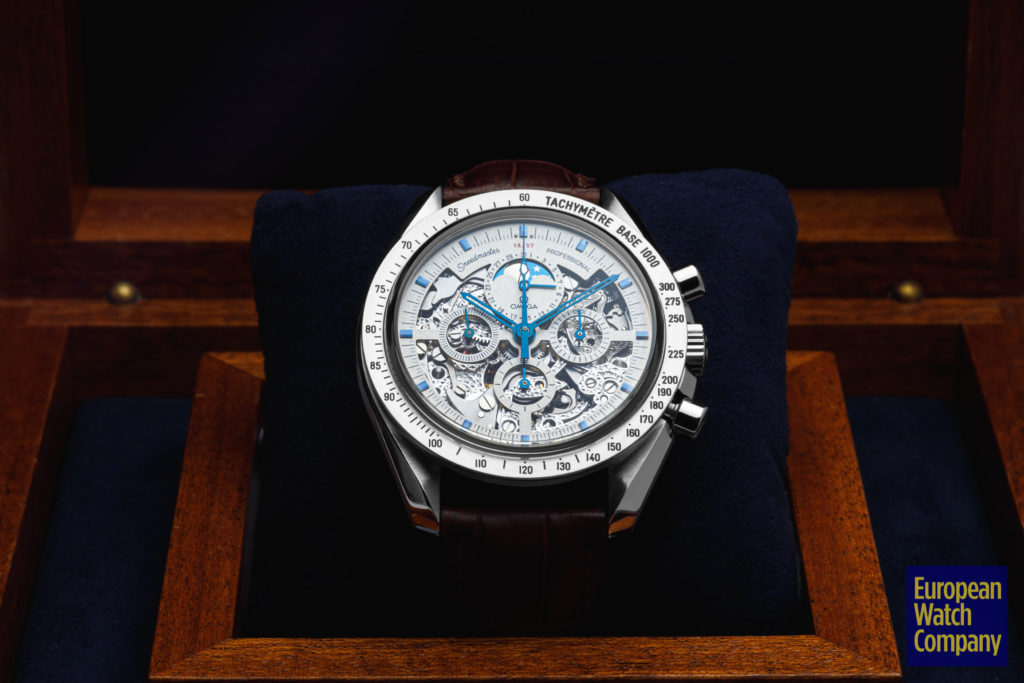 The Omega Speedmaster Moon Phase Platinum / Skeleton boasts beautiful blue details that stand in delicate contrast to the metal bezel and ornate exposed works. These include blued hour and minute hands (which are, themselves, skeletonized), a blued chronograph seconds hand, blue indices, blue Omega Speedmaster Professional signature, and blue date complication combined with the moonphase. All of these share the same hue as the night sky of the moonphase disc. The detail that leaps out from the dial is the red XX/57 at 12 o'clock, which is a bold reminder of just how rare this watch is. This odd number is no accident, of course; 57 is meant to represent the year 1957, in which the first Speedmaster was created.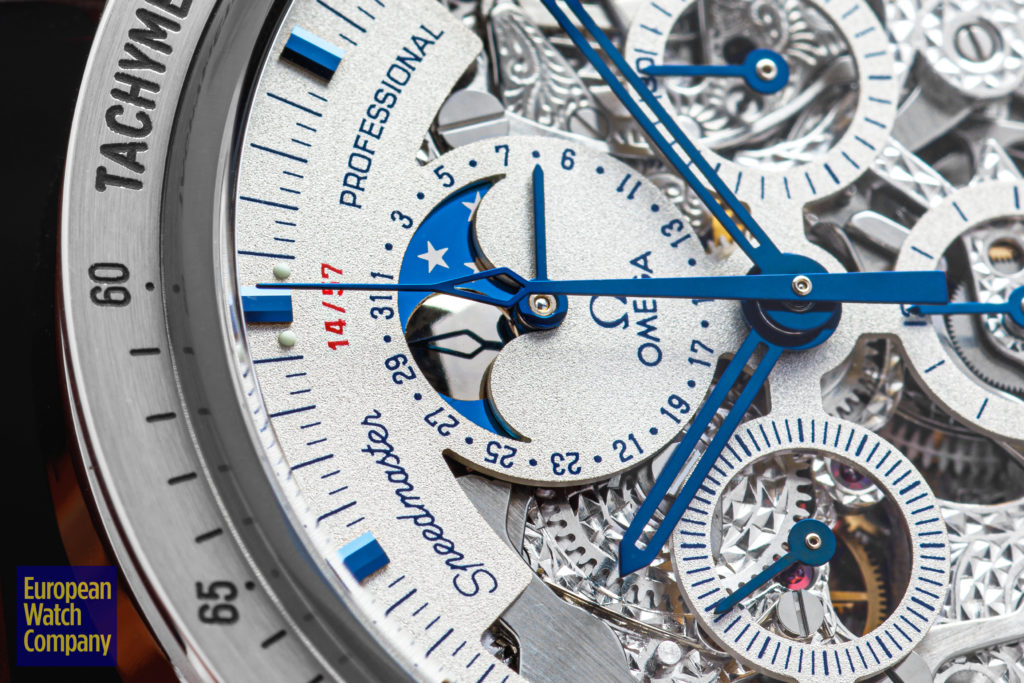 Gazing through to the movement itself, we see the caliber 3604A. The skeletonized movement is the work of the legendary watchmaker Armin Strom, who is also responsible for the brand's previous skeletonized Speedies. The expert hand finishing allows the dazzling platinum to seemingly dance in the light. You're given the option of gazing at it through the openworked dial or by flipping the watch over to peer through the exhibition case back. If you began the article wondering "what makes this watch so rare?" you're surely wondering by now, "how did one man manage to pull off this feat 57 times?"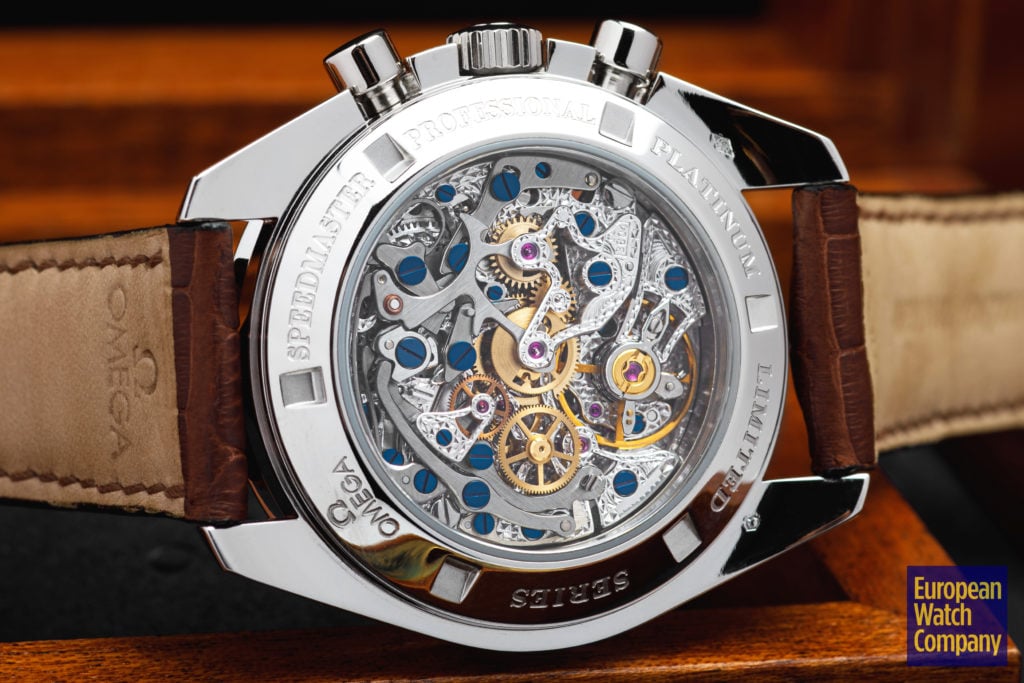 The movement is based on the Lemania 1884, which is the skeletonized take on the Lemania 1874. Its direct ancestor in the Omega family is the caliber 1866, which powers the Speedmaster Professional Moon Phase watches. The caliber 3604A is a handwound chronograph movement with 18 jewels and a power reserve of 45 hours. It beats a frequency of 21,600 vph.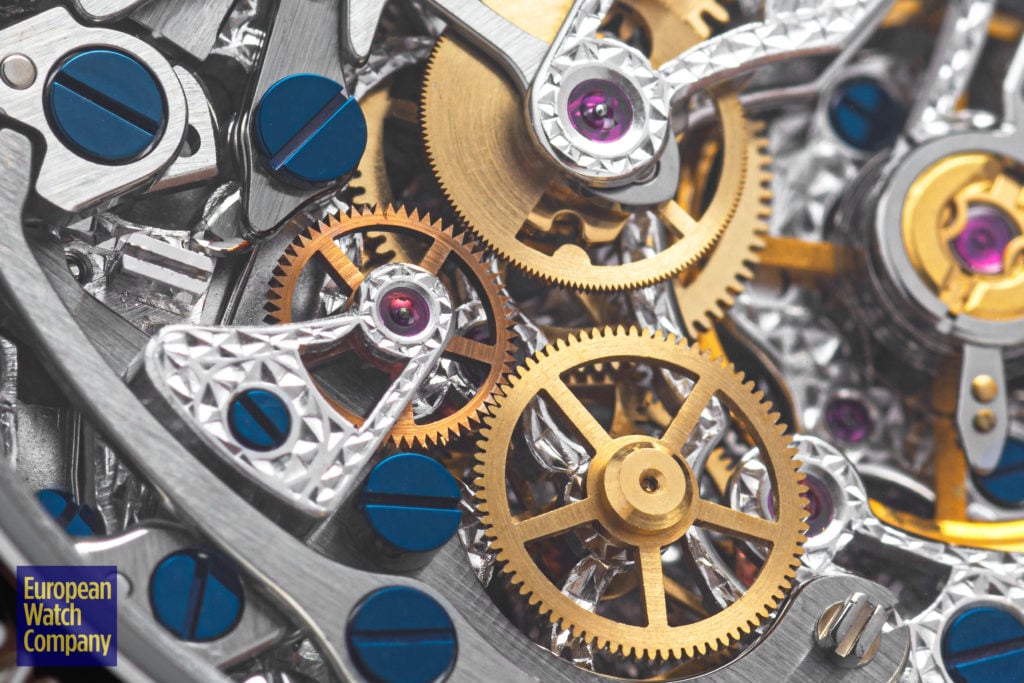 As mentioned, this watch was not Omega's first crack at a skeletonized Speedmaster and it wouldn't be its last. The first Speedy to make a foray into this genre was the Jubilee 27 Chro C 12—Skeleton in 1992. The yellow gold watch was released in a 50-piece run. The 90s saw a handful of other skeletonized Speedmasters. All of them, up through this 2003 edition, were handcrafted by Armin Strom. Of course, many of us also probably remember 2018's Dark Side of the Moon—Apollo 13 Speedmaster, whose blacked out look sets it apart from those made by Strom.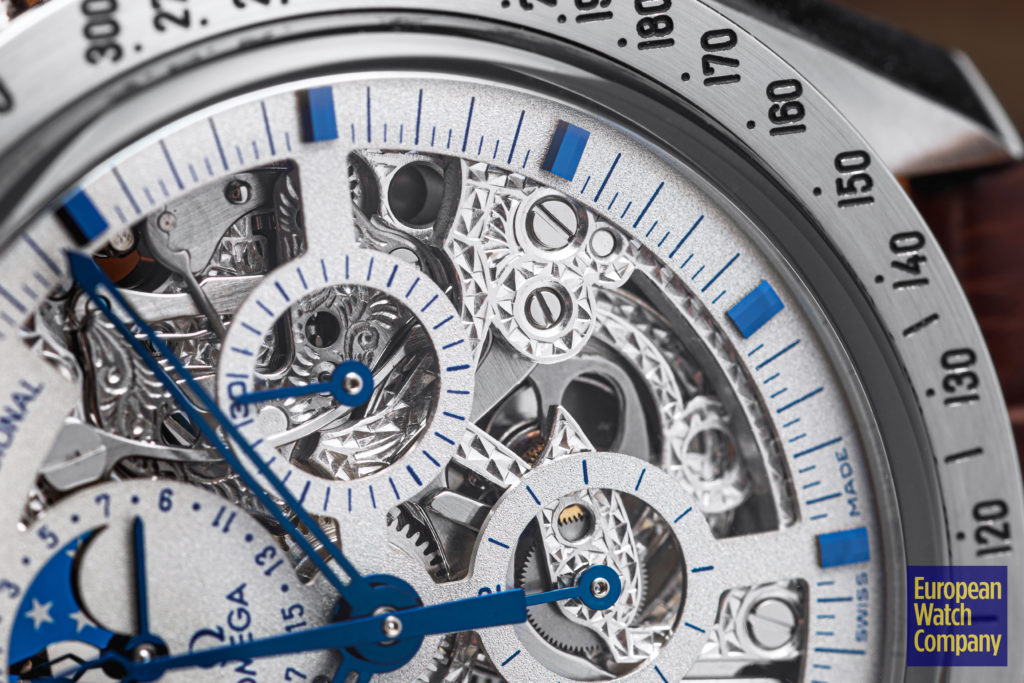 Strom started out as an independent watchmaker. He set up his first workshop and retail store in 1967 in Burgdorf, Switzerland. He soon garnered a reputation for his mastery of the art of hand-skeletonization. Strom even set an unlikely Guinness Book World Record in 1990 for creating the world's smallest hand-skeletonized watch. He eventually retired in 2006 and left his weighty legacy to his two sons, Serge Michel and Claude Greisler. In other words, the watch we're looking at today represents the height of this master's career.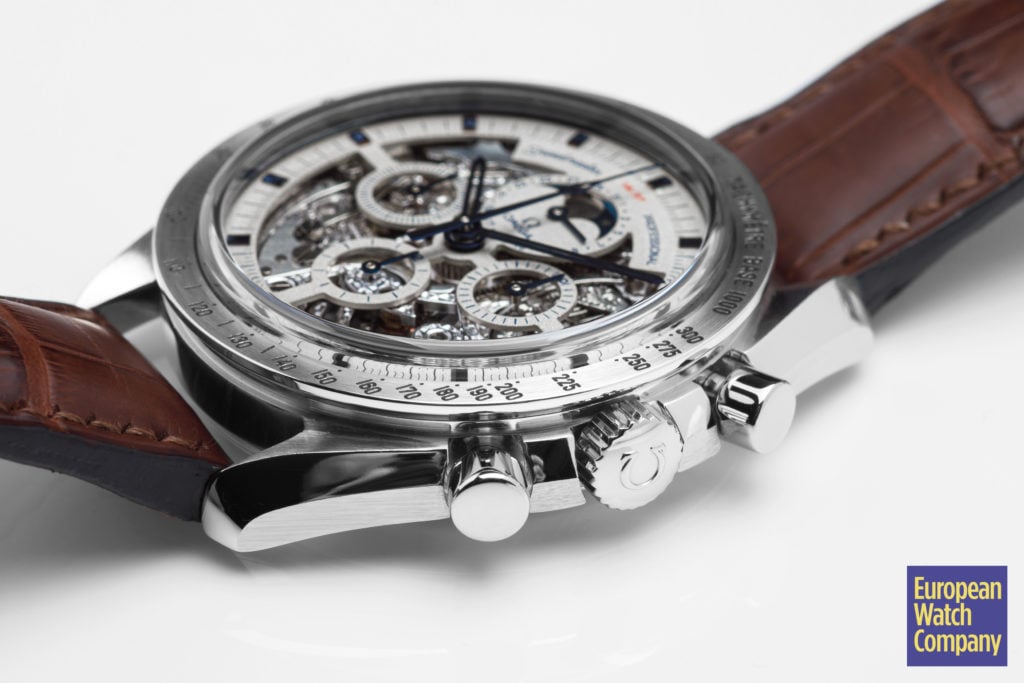 It's easy to mistake skeletonized watches as being a fad that won't seem to go away; they can seem downright gaudy when improperly executed. Still, gazing at Armin Strom's handcrafted Omega Speedmaster Moon Phase Platinum / Skeleton, there's no doubt you're looking at a masterpiece. Whether or not a Speedmaster is truly the "one-watch collection" so many claim it is, this watch in particular claims not only the title of a sport watch and a dress watch, it even ticks off the haute horology box. If you're looking for a watch to really blow people away this Speedy Tuesday, look no further.