Some say it's shaped like an old television set, but even that can't rob the Patek Philippe Perpetual Calendar Chronograph 5020G of its charm. Though not a success when it was first released, this watch has won a second look from collectors in recent years. The reason is simple; far beyond the idiosyncratic look of this watch, it is an impressive bit of horology that deserves our attention. Let's take a closer look at the 5020G, shall we?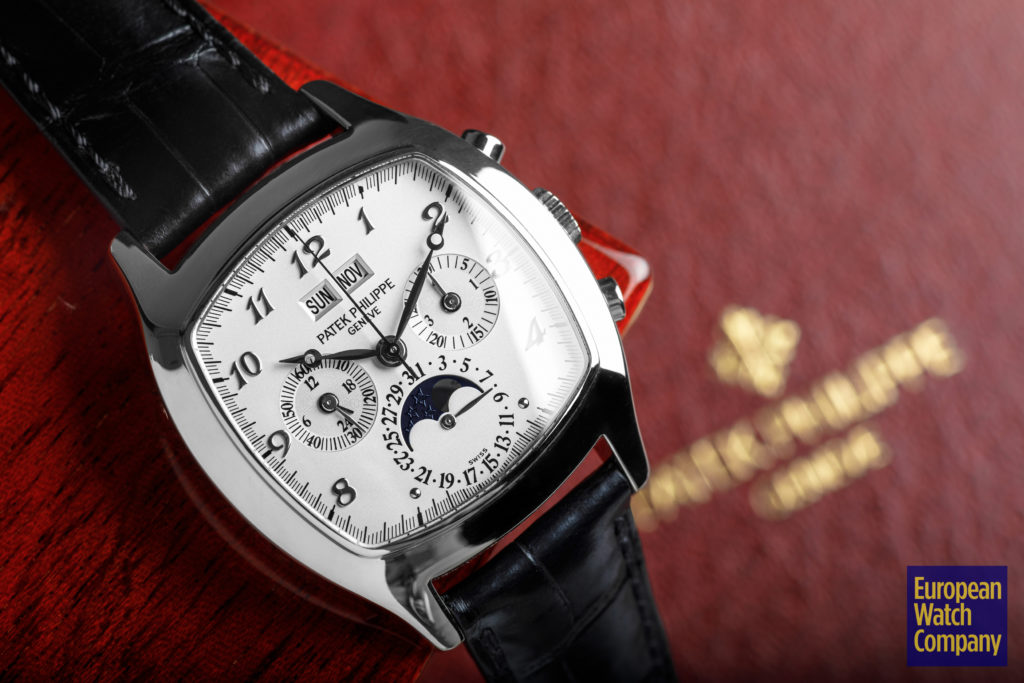 The model we have under the loupe today was originally sold in March of 2000. If you need to be gently reminded that March of 2000 was 21 freaking years ago, don't worry, it doesn't feel possible to me either. Still, like it or not, this watch is over two decades old and has managed to become seriously collectible in that time. The ref. 5020 was first introduced in 1995. Its lack of success early on—due in large part, no doubt, to its funky attitude—led to fewer than 300 pieces being produced. This example is especially rare, since less than 100 were made in this white gold livery.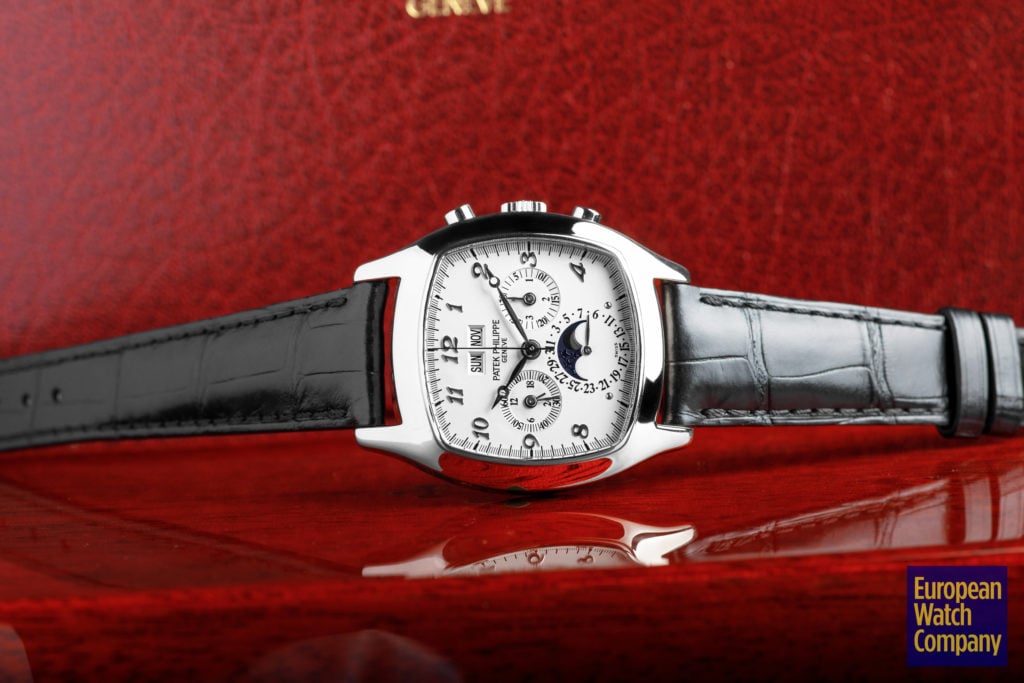 Aside from this rarity, the watch's complications might give us a clue as to why it has suddenly become sought after at long last; the timepiece boasts a chronograph, a perpetual calendar, and a moonphase complication all in a single neat—though square—dial. Those complications are powered by the caliber M.27-70. This historic movement is manual wind and features 24 jewels. It was based on the Lemania 2310 and carefully built upon by Patek. As it happens, the Lemania 2310 was also the base for the Omega caliber 321, famous for powering the Speedmaster during its Apollo days. Patek added a free-sprung Gyromax balance wheel, a Y-shaped chronograph bridge, a polished cap over the column wheel, and of course, all of the other excellent finishing work you'd expect from the manufacture. Thankfully, all this is easily visible through the exhibition caseback.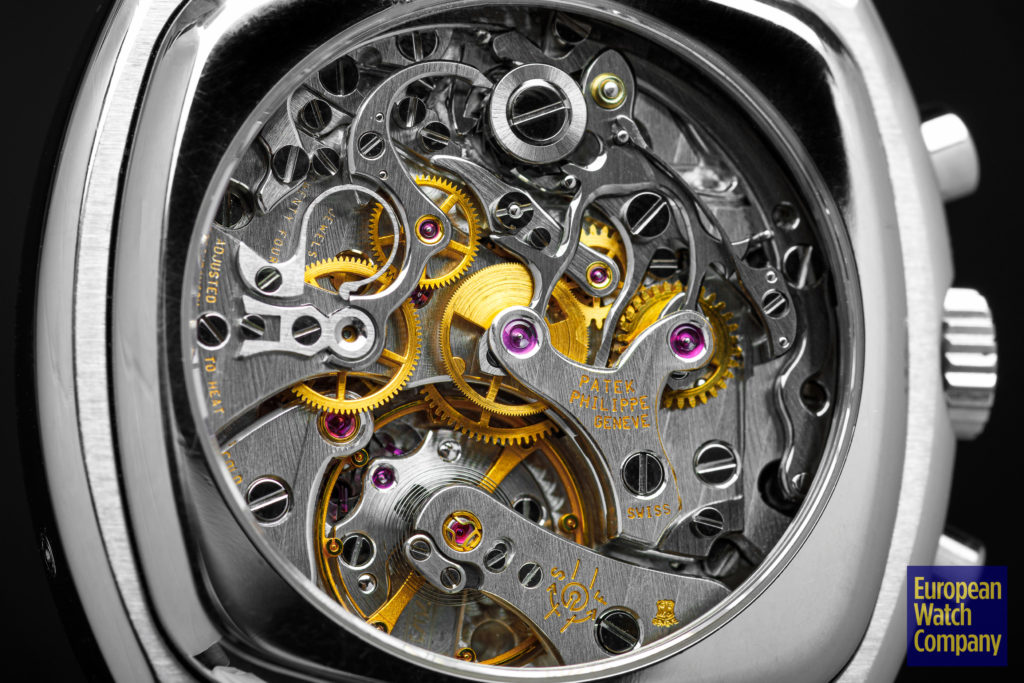 If you're familiar with the history of perpetual calendar chronographs, you know this watch was not Patek's first rodeo—in fact, Patek developed the world's very first perpetual calendar chronograph: the ref. 1518. Released in 1941, it stood unchallenged for years after its debut. This led to the ref. 2499, which is an absolute legend in its own right. Lest we forget the platinum 2499 owned by Eric Clapton that sold for $3.6 million in 2012. While the dial of the 5020G may seem a little out there, this watch has as its ancestors some of the most storied timepieces in horological history. If you ask me, that has a lot to do with this watch's impressive comeback.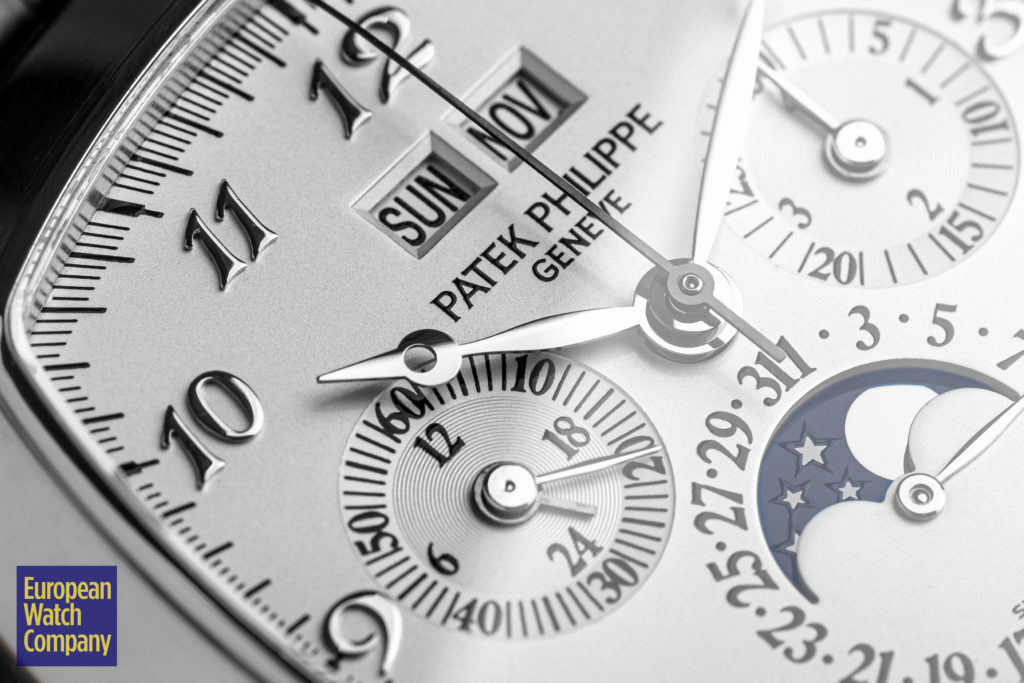 But of course, the star of this show is that dial and case design. The dial itself features elegant applied white gold Breguet numerals along the outer minute track, complimented a set of Breguet minute and hour hands. At 12 o'clock is the day-month display, counter balanced by the delightful combination of day and moonphase down at 6 o'clock. While this may well be me reading into this choice too much, I appreciate that the pairing of these two complications nods to the intrinsic connection between the concepts of months and the moon's orbit. As I've noted before in past articles, I'm a sucker for a moonphase complication; if you look close at these photos, there's a particular air of whimsey about the stars as they peek out above the "clouds" at 6 o'clock that is just lovely. At 3 o'clock and 9 o'clock are the chronograph subdials with Arabic numeral markers. The 3 o'clock register features both the chronograph totalizer and the leap year function.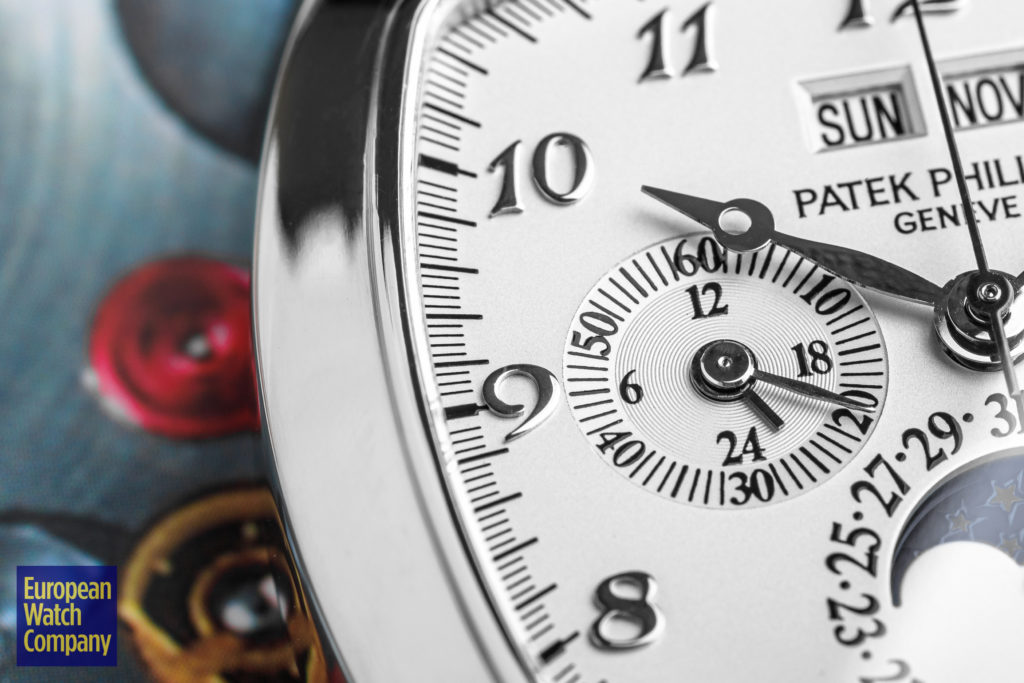 Now, yes, the "TV set" shape of the case seems a little radical at first blush, but it's not without precedent. One fun comparison is the Heuer Camaro. Debuted in the late 1960s—a time when TVs really did share that peculiar shape—the Camaro was a manual wind race watch. Of course, it's hard to imagine pushing your Porsche racecar to its limits in something so elegant and refined as this Patek 5020G. Still, something about the combination of the cushion case shape and the chronograph function does seem to suggest—however subtly and daintily—the notion of a racing sport watch.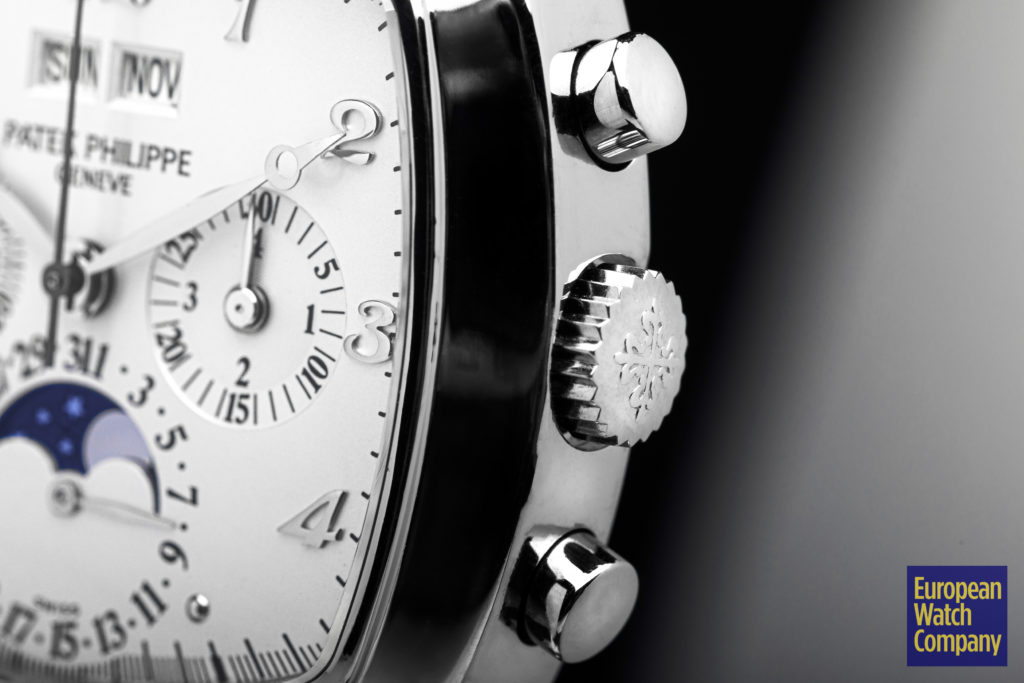 There is a lot that is unexpected about the Patek Philippe 5020G. Its styling was, of course, unexpected back in the '90s when it first hit the market; perhaps it was too unexpected, even. But then its second shot at collectability in recent years has come as a surprise to some, as well. Ultimately, though, no one should really be shocked. This is a watch with personality, Patek Philippe craftsmanship, and some of the most coveted complications you can ask for packed together in one (TV-shaped) package. Even in our modern age of LCD screens, there's a lot to love about this piece.