Co-branded Rolex watches have a special allure for watch collectors. They're a reminder of a time when Rolex was a little less conservative and a little less luxurious, and because the brand has essentially stopped participating in this type of co-branding, these pieces have become increasingly rare and collectible. But there is one brand whose partnership with the crown has endured, and it's probably not what you would expect. Despite stopping almost all other co-branding partnerships—including their most famous one with Tiffany & Co—Rolex continues a 40 plus year relationship with the Pizza titan, Domino's.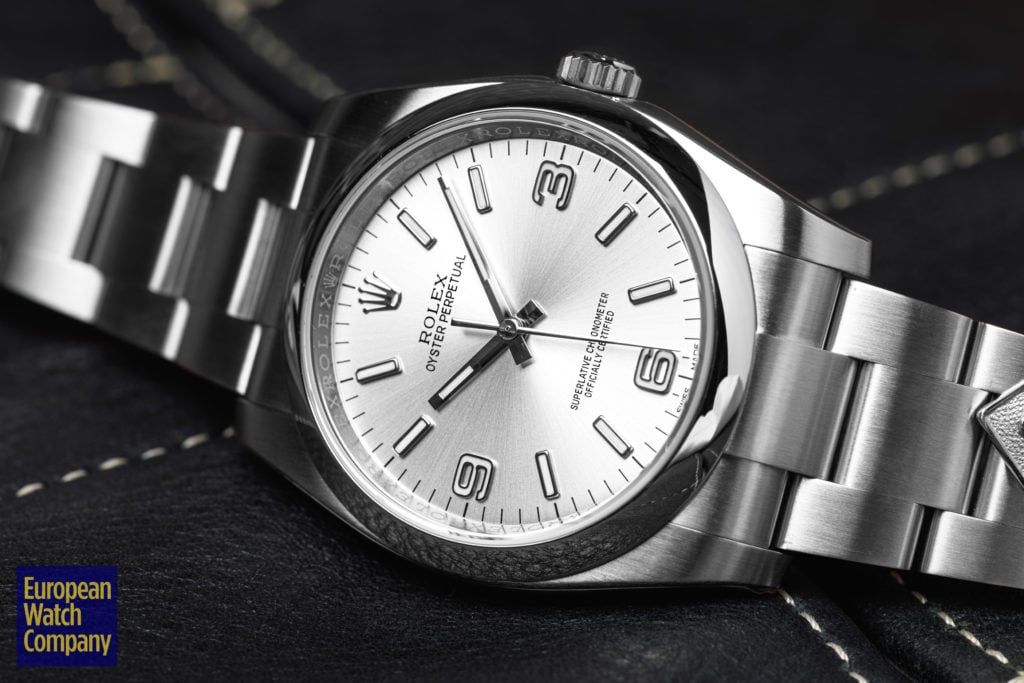 This  Rolex Oyster Perpetual 116000 is a modern product of the enduring partnership between Domino's and Rolex. Still, before we go over this specific piece in detail, we should review this eccentric brand partnership's history. Domino's founder and CEO Tom Monaghan originally conceived the "Domino's Rolex" as an incentive and gift for his top managers. The idea came from a Domino's employee who, while admiring Monaghan's Bulova wristwatch, asked what he had to do to get that watch. Monoghan responded that the manager needed to 'Turn in a twenty-thousand-dollar sales week.' The employee rose to the occasion, got the Bulova, and inspired Monaghan to create the "Rolex Challenge" as motivation for managers. The challenge has changed a bit over the years to keep up with the increase in Rolex prices, but it is still in place, and the spirit of the challenge is the same. Sell $25,000 worth of Pizza for four weeks in a row, and you get a Domino's Rolex. In other words, Domino's will give you a crown for a very specific achievement.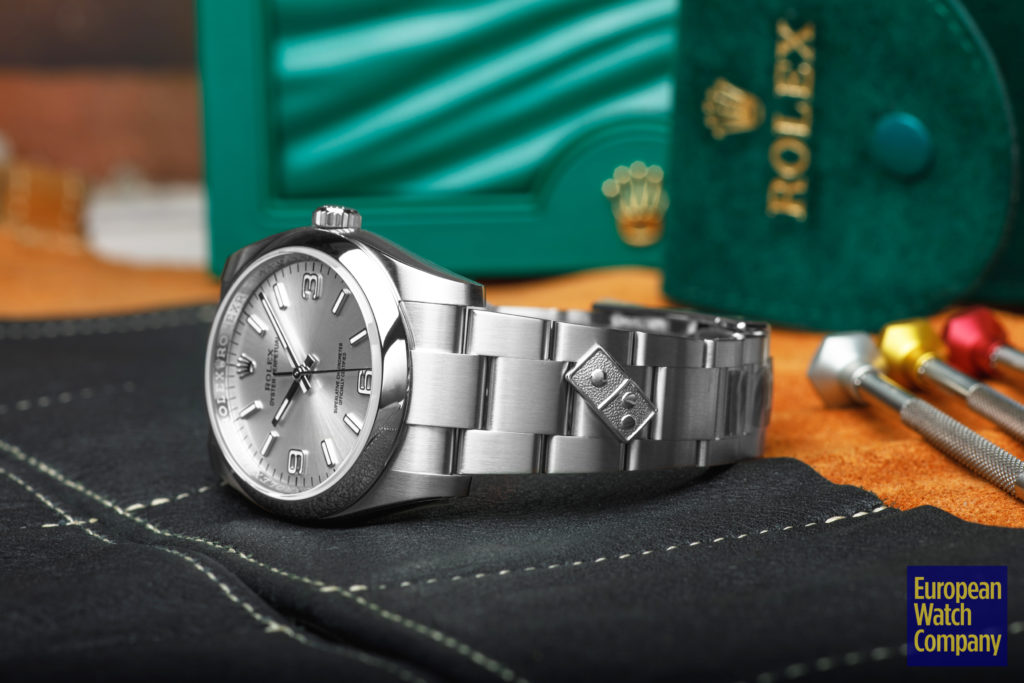 This partnership has been in place for over forty years and has spanned multiple Rolex models starting with the Air-King and now on the modern Oyster Perpetual—including the newest 2020 models. The customization has also changed a bit, starting out as a colored logo on the dial, then a black and white logo, and now an embossed steel logo on the bracelet, as well as a caseback engraving. These watches are often mistaken for odd aftermarket customizations, but they're not. These are Rolex factory-made modifications.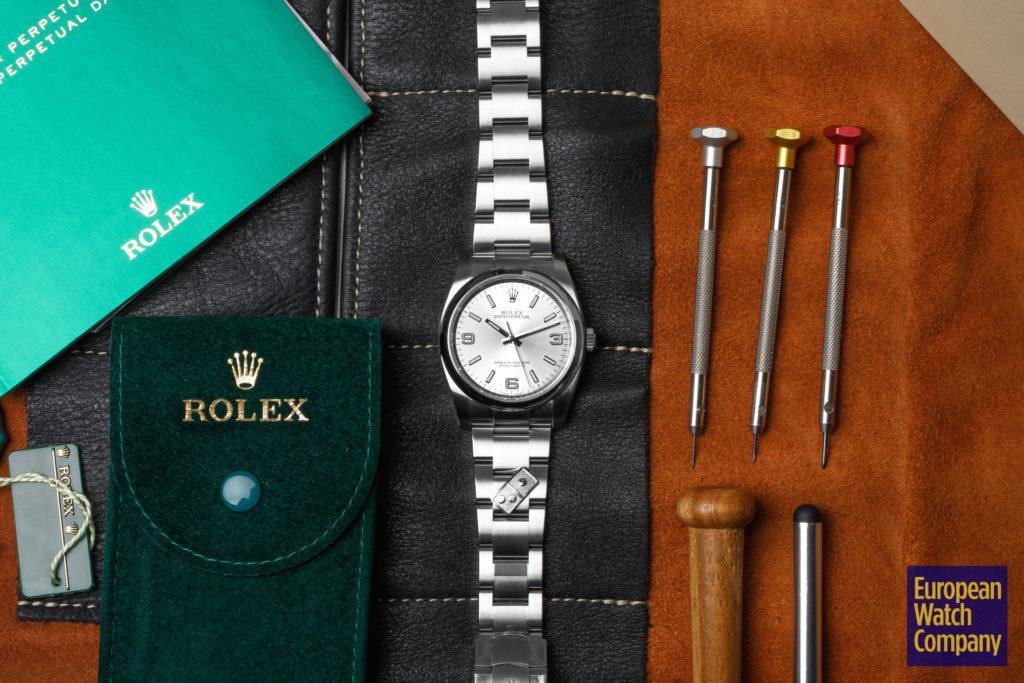 This particular example is a 2015 stainless steel Rolex Oyster Perpetual reference 116000 and is un-worn, with stickers, box, and papers measuring 36mm in diameter by 11.8mm thick. The Oyster Perpetual is a longstanding and foundational model for the brand representing the Rolex philosophy in its most distilled form. All Rolex watches—excluding the Cellini line—are built on the foundation of the Oyster Perpetual. This modern reference is the epitome of a go-anywhere do-anything timepiece, and despite the Domino's logo flies under the radar.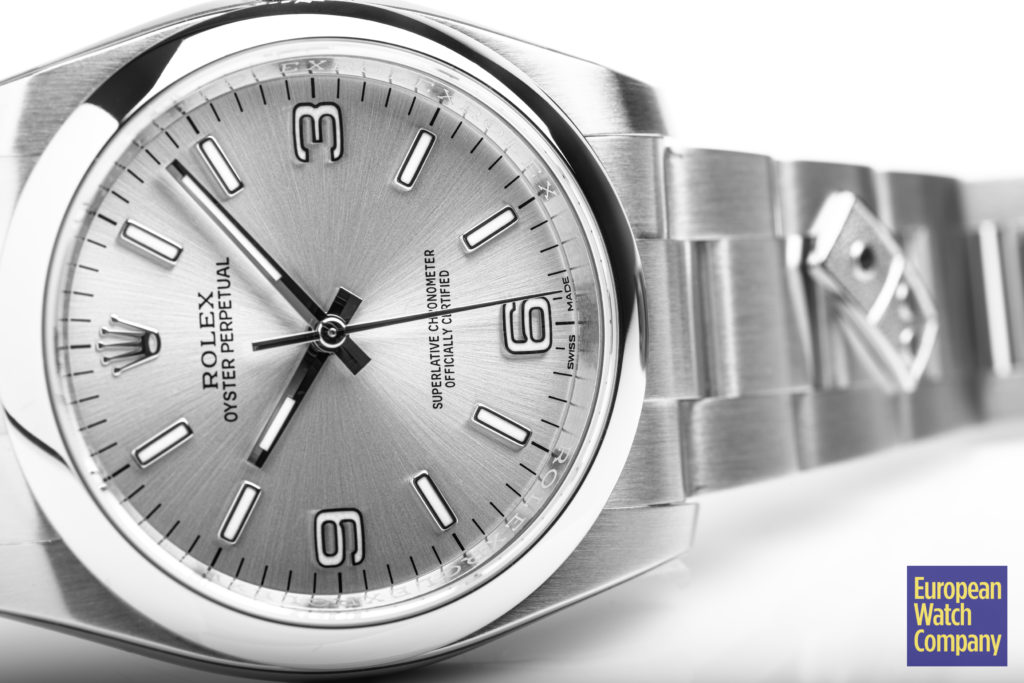 The 904L stainless steel case and bracelet are both in the Oyster style and are primarily brushed with just enough polished accents to keep the watch from being too casual. With its domed bezel and classic Oyster profile, the watch has a simple but timeless design. The case has a screw-down crown and is water-resistant to 100 meters. The modern case and Oyster bracelet will take anything you can throw at them and likely easily outlast you. While the Oyster Perpetual case design is excellent and its bracelet among the best on the market, they're standard issue for any Oyster Perpetual, and this Oyster Perpetual is anything but standard.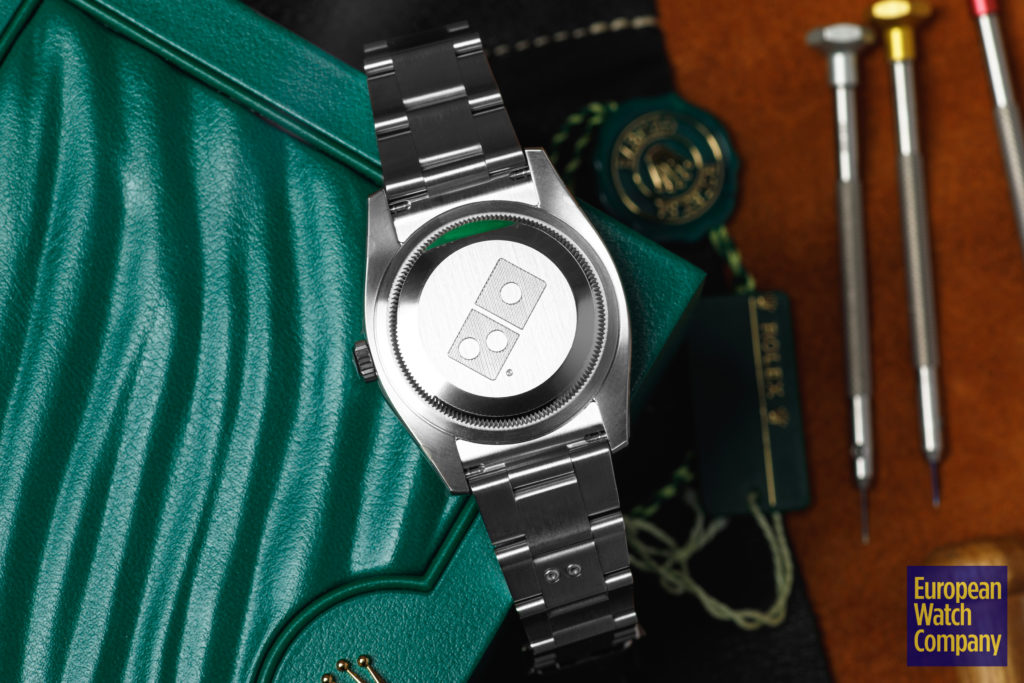 Obviously, what sets this watch apart is the metal-applied Domino's logo on the bracelet and the more subtle but equally cool engraved Domino's logo on the caseback. These two features instantly set this watch apart from anything else in the Rolex line-up. The metal badge is fixed directly to the bracelet, and while noticeable, it doesn't directly call attention to itself. The caseback engraving logo is simple and matches the one on the bracelet. When looking at older Domino's examples with the full-color logo on the dial, I could see some thinking it's too cheesy or loud. But that's not the case with this example. The co-branding is well done and very cohesive. There's no part of it that feels like an afterthought.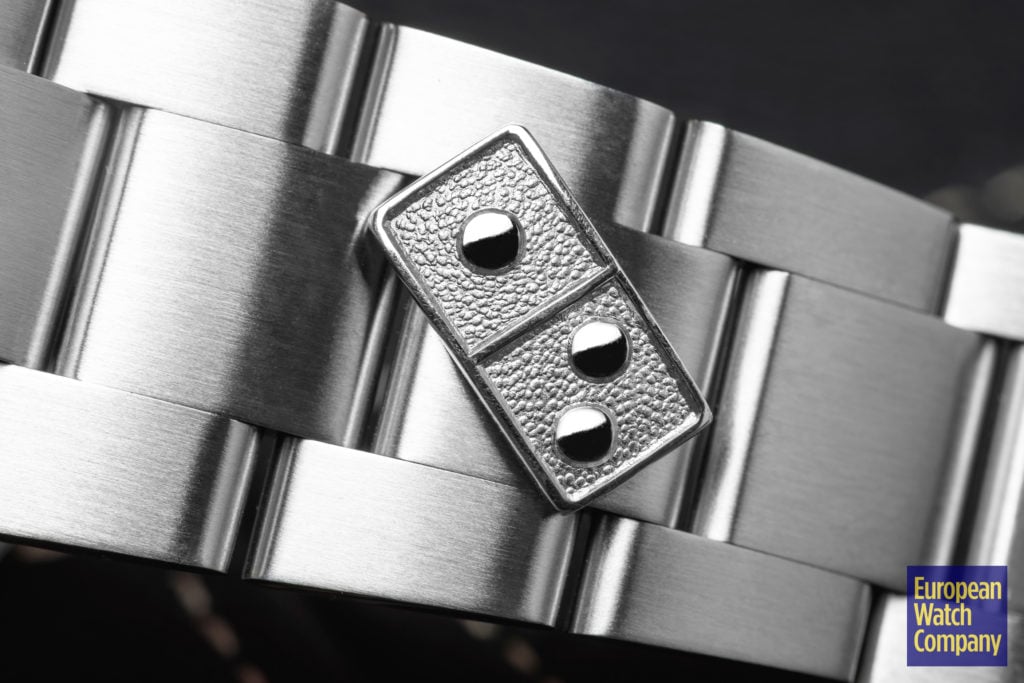 While the Domino's co-branding is my favorite feature on this watch, the dial is a close second. It has a silver sunburst finish which gives the watch a monotone theme but still adds some visual interest. The sunburst finishing can change drastically based on lighting and makes for a stunning visual element without being too loud. This dial also has the now discontinued Explorer-style indices and numerals that are fully lumed and copy the iconic Rolex Explorer's layout. This makes the watch more sporty and adventurous than the standard simple baton variants.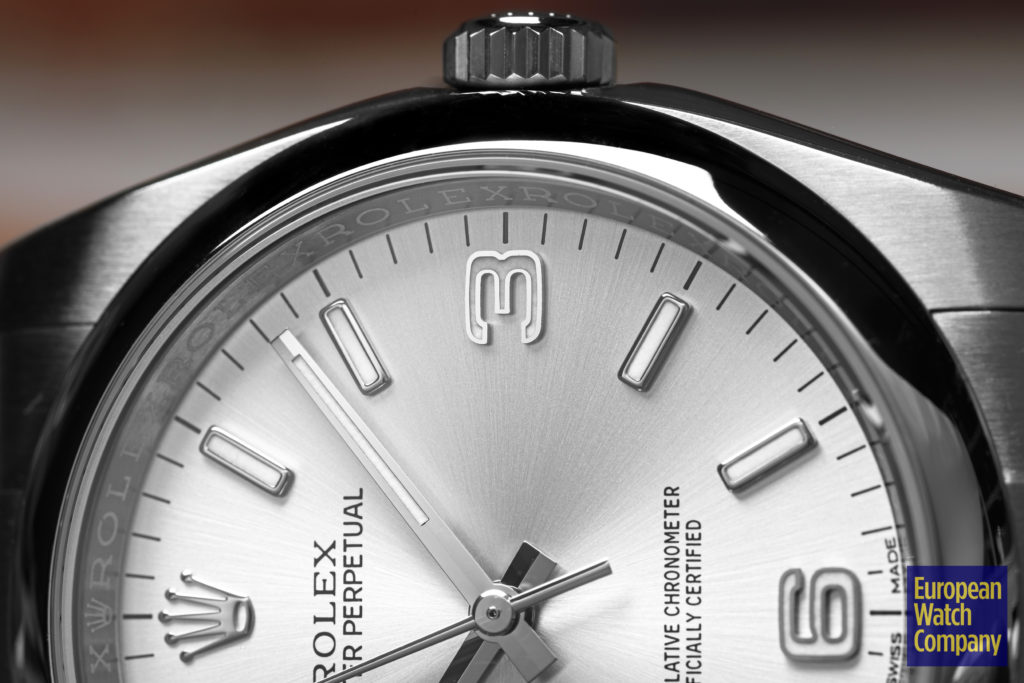 Inside the case, you have the tried and true in-house automatic caliber 3130. This is a very durable and accurate movement, and despite the Oyster Perpetual being an "entry-level" Rolex, there are no compromises to be found in the movement. In fact, this caliber was also used in the previous generation Explorer and ceramic Submariner. It's a Superlative chronometer officially certified, complete with a 48-hour power reserve, shock protection, a free-sprung balance, and a paramagnetic blue Parachrom hairspring. Much like the case and bracelet, this is an all-around bulletproof workhorse of a movement.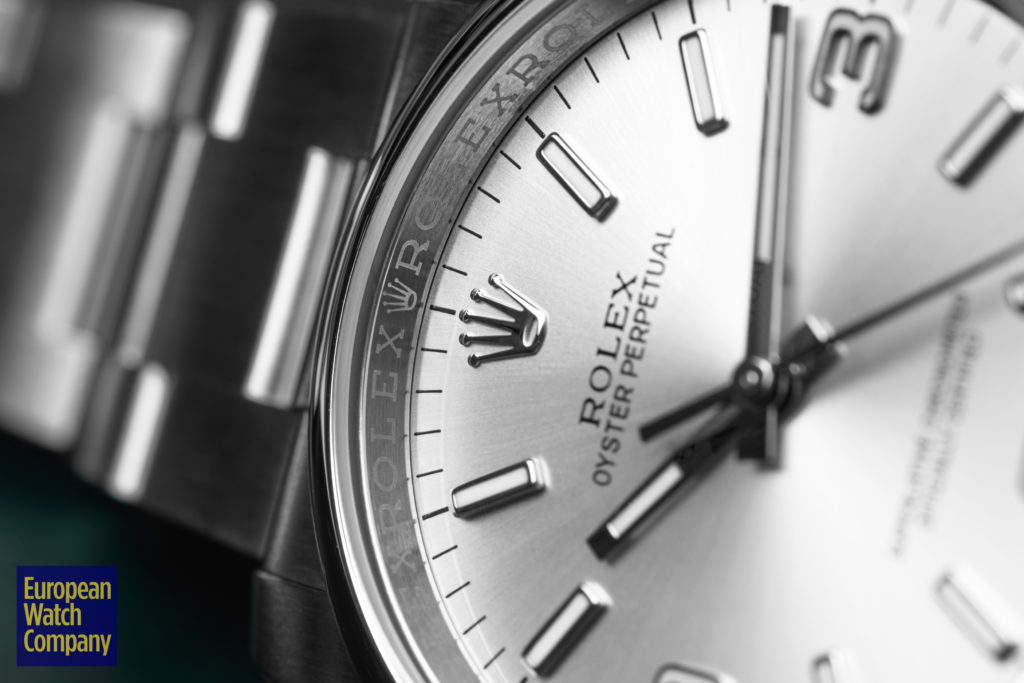 A Domino's co-branded Rolex is a little eccentric and odd, but it's also one of the most special modern watches Rolex produces. It's one of the few enduring co-branding partnerships that Rolex still participates in. Also, unlike some of the brand's prior co-branded partnerships, this watch isn't produced and put onto the market regularly. Someone has to win the Domino's Rolex Challenge and then decide they don't want the watch—in this case, choose not to wear it— before it can reach circulation and give regular non-pizza sales gods a chance to own it. It's a token of exceptional performance, an enduring piece of the interesting and sometimes confusing story of co-branded Rolex's, and the ultimate conversation piece.