One of the more interesting things about vintage watch collecting is how important community-led research has been to the hobby. One would think in this modern age that all the information anyone would need about a vintage timepiece would be readily available on a brand website, but that's not always the case. Initially, watches weren't seen as collectible and were more viewed as just tools; because of this, many brands didn't keep detailed records of everything, and even some who may have don't release those records to the public. This absence of information and cooperation means now a lot of what we now know about vintage watch references has been pieced together by motivated, intelligent watch nerds.  However, this also means there are some mysteries in the watch world that may never be solved, the most famous of which might be that of the Rolex GMT-Master "Blueberry", reference 1675.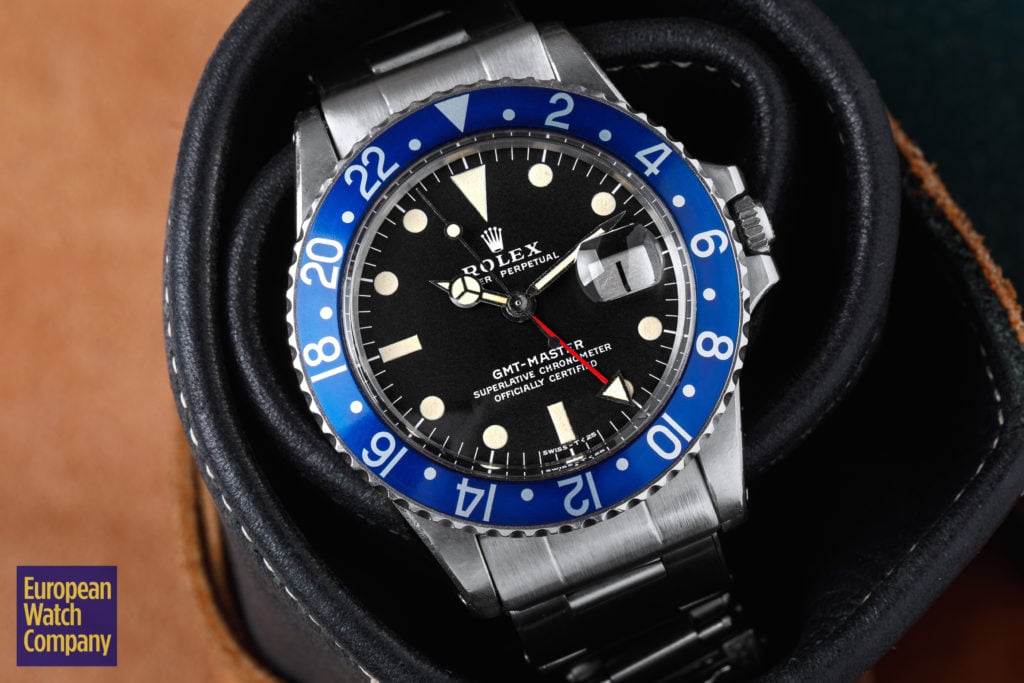 The Rolex Blueberry GMT, easily picked out of the crowd on account of its all blue bezel, is one of the most enigmatic and desired vintage Rolex models out there. Despite being such a highly collectible and valuable timepiece— it often commands a substantial premium over a standard 1675—there are still many unanswered questions about its origins and even legitimacy. There are all kinds of legends about the watch. Some claim a batch of blue bezels was saved from a factory fire by a brave worker, with all the rest getting burned up. Others say Rolex has confirmed that they never made a Blueberry GMT, while some claim the opposite. We may never know the truth, but the scholarly consensus is that rare genuine examples exist, and those examples share some generally agreed-upon traits.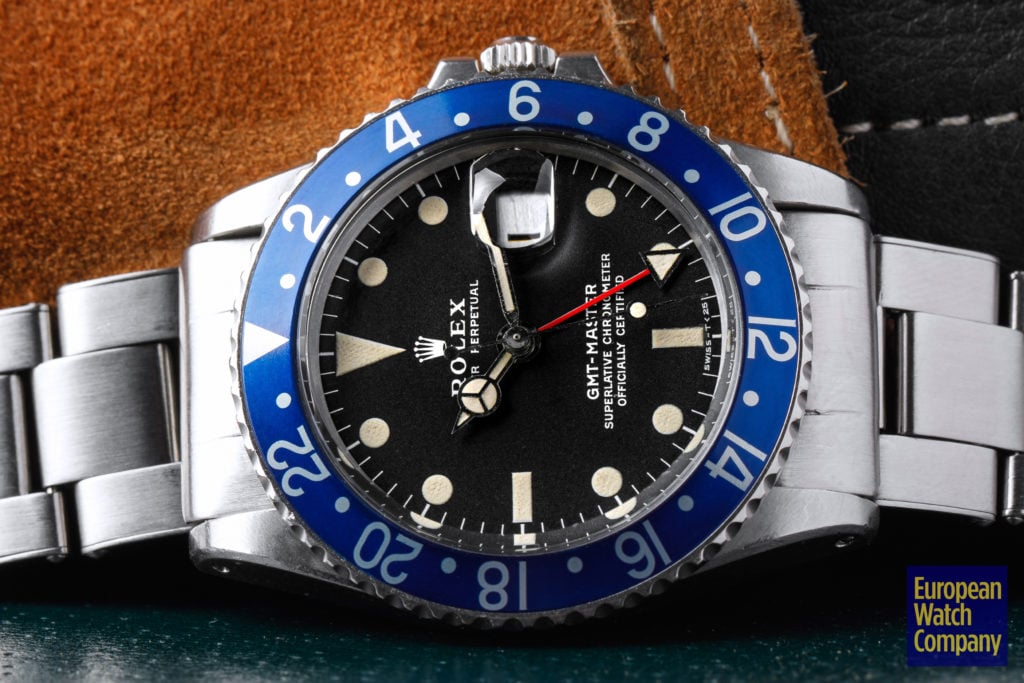 First, this all blue bezel was only made for the reference 1675 Rolex GMT-Master from the 1970s. This timing lines up with Rolex's introduction of all black bezels, so part of the thinking is that the blue bezels could have been an alternative single color bezel option that Rolex was trying out. The blue bezel has been found on Mark 2, 3, 4, and 5 dials. This specific example is a Mark 2, which you can tell by the wider "Rolex" font and logo as well as the closeness of the "LE." Most people also agree that the blue bezel was not a standard retail configuration for the GMT, but rather it was offered to clients by Rolex Service centers. It's also believed that the blue bezels may have been allocated specifically for military orders in the Middle East. There have been multiple co-branded United Arab Emirates GMTs that have these blueberry inserts, which helps back this theory. Additionally, there are small hallmarks like the font and an alignment notch on the back of these bezels that help when validating them. As always, using a trusted and reputable dealer—like, say, European Watch Company—is the best route to go when looking to buy the Blueberry or any vintage timepiece.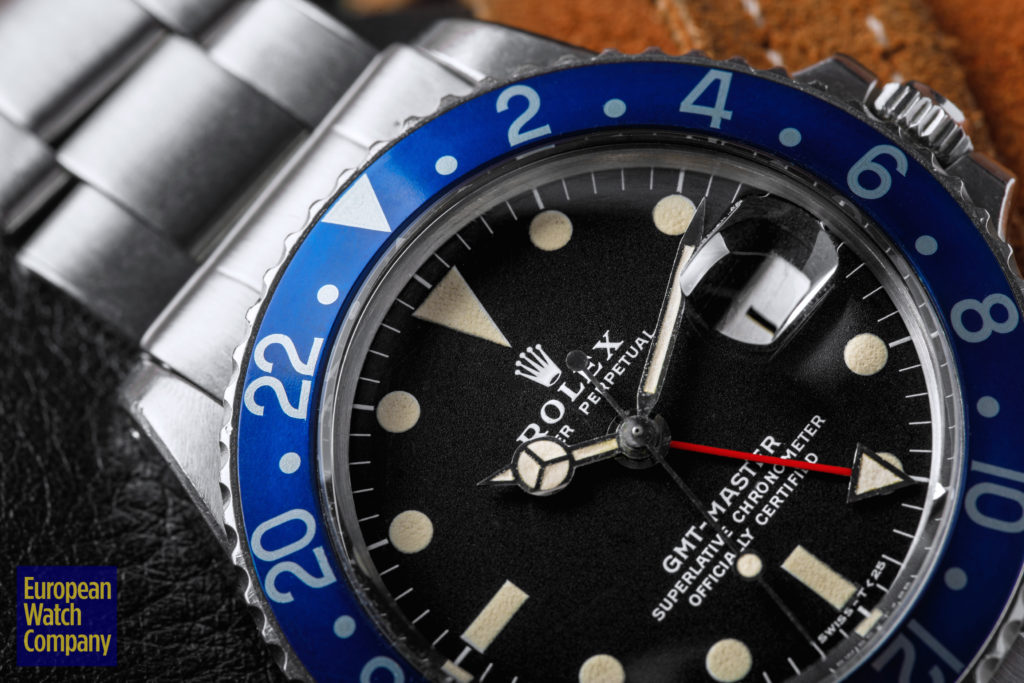 Enough of the speculation; let's talk about the specific watch at hand. It is a reference 1675 from 1973 with a Mark 2 dial, and it appears to be in excellent condition. The lume has patinated to a creamy off-white color, and it matches across the hands and hour plots perfectly. Its matte black dial has now faded to dark charcoal color, and overall the dial gives the impression that this watch has spent plenty of time in the sun. On duty in the Middle East, perhaps? For me, this is about as much patina as I would want on any watch. There's some character here, but it's not so aged that you start to worry about its durability.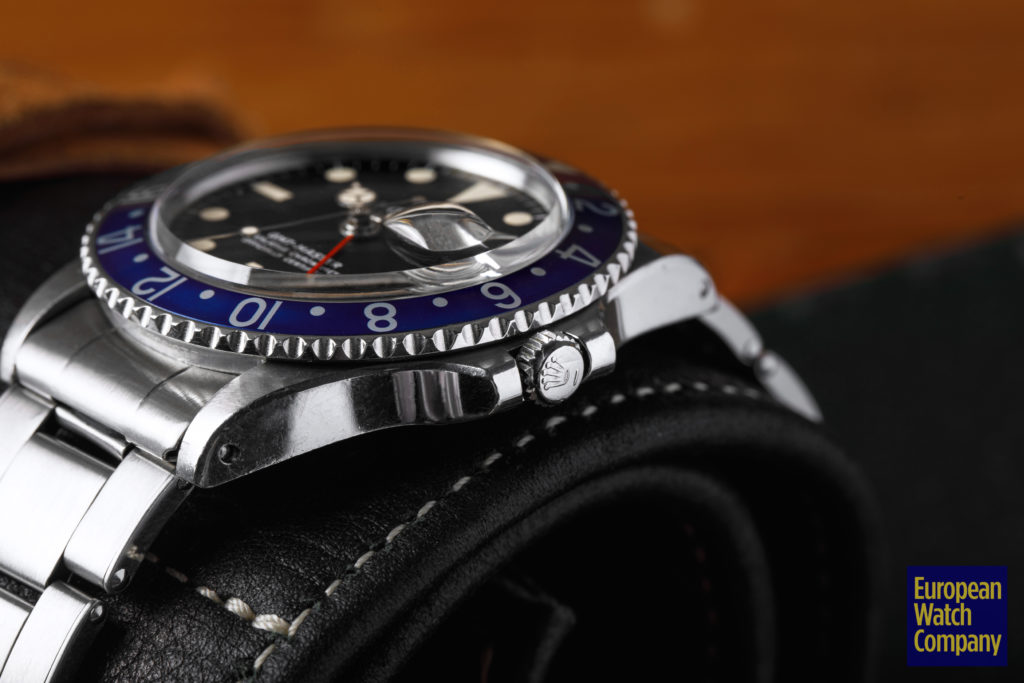 The case and bracelet are in great condition as well, with well-defined lines and bevels on the lugs. There are some dings and scratches here and there, and the watch was certainly worn but also taken care of. It doesn't appear to have ever been overly polished if polished at all. Another detail I love is the original rivet bracelet. It gives the watch a more classic utilitarian vibe. While a modern Oyster bracelet is bulletproof, it's also fairly refined; this rivet bracelet oozes classic tool watch charm.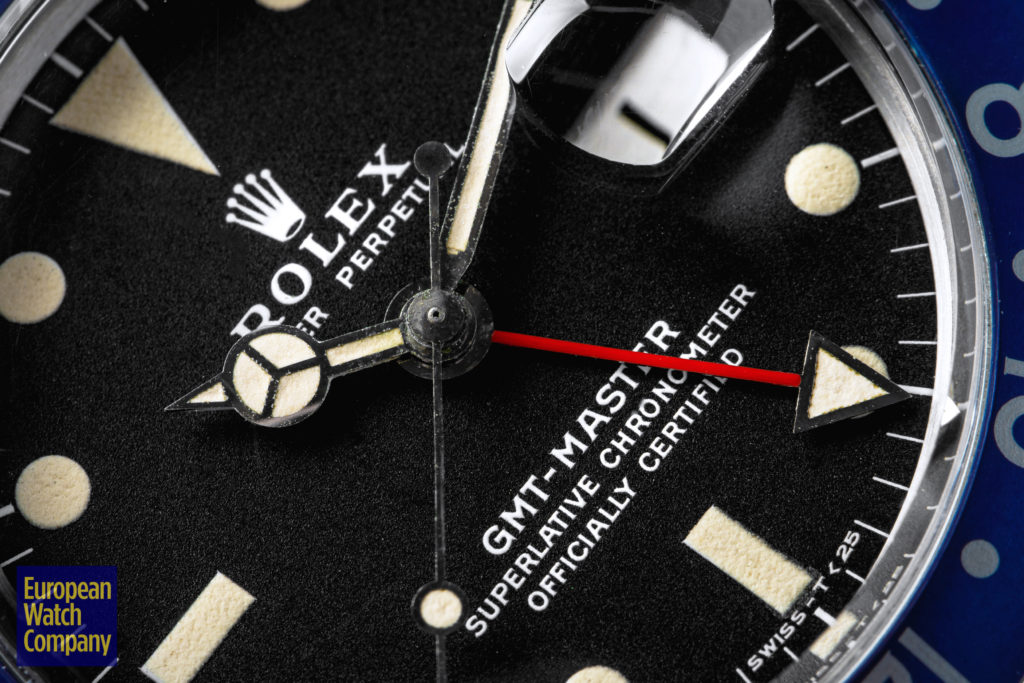 Powering the watch is the in-house caliber 1575 with the GMT complication and hacking seconds. Its rhodium-plated, automatic winding has a free-sprung balance, a 48-hour power reserve, and a KIF shock absorber system. This specific movement was recently serviced and is a superlative chronometer. Produced from 1965-1981—which is a hell of a run—the 1575 and is widely regarded as one of the most reliable movements produced by Rolex. This watch is the subject of many disagreements in the watch community, but if there is anything about the Blueberry that's not up for debate, it's that its movement is rock solid.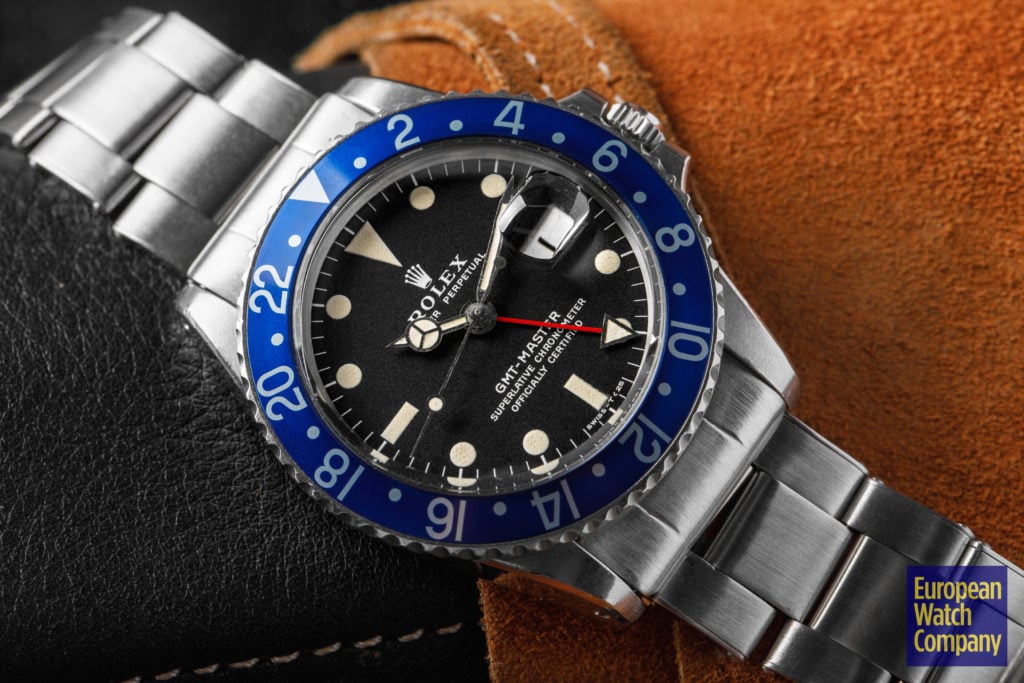 While the Blueberry is physically just a standard Rolex GMT reference 1675 with an all blue bezel, this small design difference and the stories surrounding it elevate the watch to serve an important role in the vintage watch collecting world. Because while knowledge is important, so are mysteries. They inspire debate, speculation and activate the imagination. In the information age in which we find ourselves—where answers have never been more readily available via google—watches like the Blueberry GMT keep us engaged with each other. They allow us all to capture the feeling of collaboration that was so prevalent in the early days of watch collecting before all the answers were just a search engine away. So while the curiosity and an inability to know may be frustrating, I hope we never solve the mystery of the Blueberry GMT.