Among the latest arrivals to the European Watch Company is this stunning 18k yellow gold Rolex Submariner, ref. 16618 with an extremely rare lapis lazuli dial. It comes complete with original box, booklets, hang-tag, and punched papers from April 1994. While the standard blue dialed 16618 Submariner isn't all that hard to come by, these lapis lazuli stone dials were produced in much smaller quantities (the actual numbers have never been disclosed by Rolex).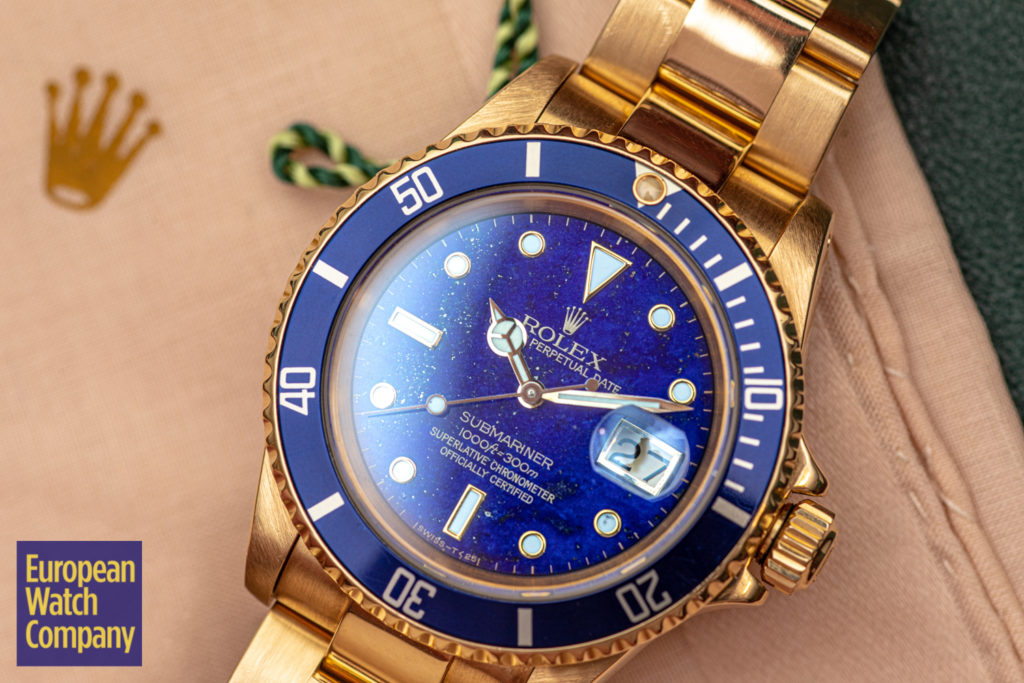 There's no mistaking how special this watch is—its lapis dial boasts a constellation of unique flecks and speckles against an ocean of deep blue. The timepiece is in near-flawless condition— the case and bracelet show very little signs of wear considering its age. It doesn't get much better than this, folks.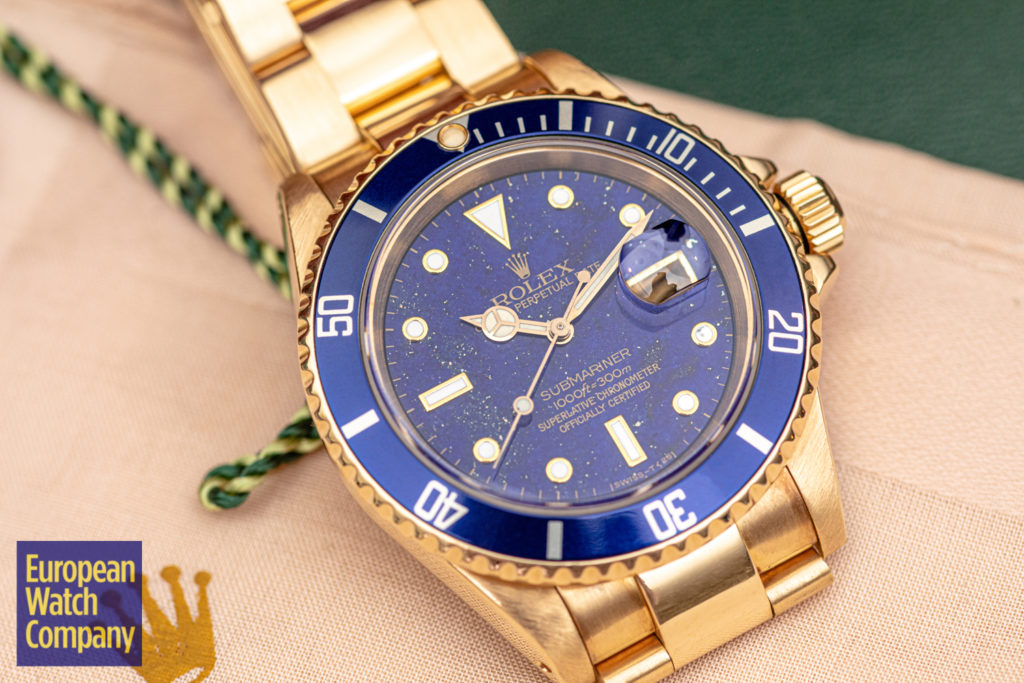 Reference 16618 was the first Rolex Submariner to come in all gold on a gold bracelet, produced from the mid-1980s up to 2010. Most of the lapis lazuli editions were made in the early '90s. This all-gold Rolex Submariner is one of only a few examples that have survived in mint condition, without any sign of cracks on the dial. While Rolex still uses this material in dials for some other models, there has never been another lapis Submariner before or since this period.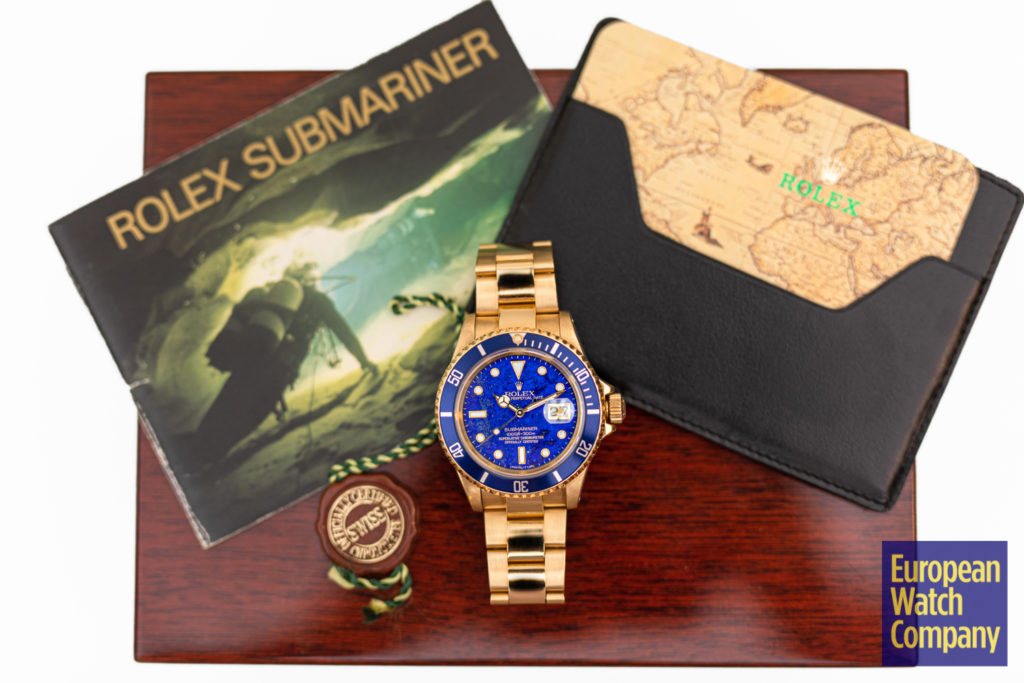 What is lapis lazuli and what's so special about it?
Lapis lazuli is a semi-precious stone with a characteristic mottled iridescent blue color. It's been prized for use in jewelry as far back as the 7th millennium B.C. Making watch dials out of lapis is no easy feat, since doing so requires mining large, high quality stones and cutting them into thin slices without breaking them in the process. Today, the best lapis is found in the mountains of Afghanistan. Not only are the best specimens hard to access, the explosives used in excavating lapis often crack the stones, rendering them unusable for watch dials.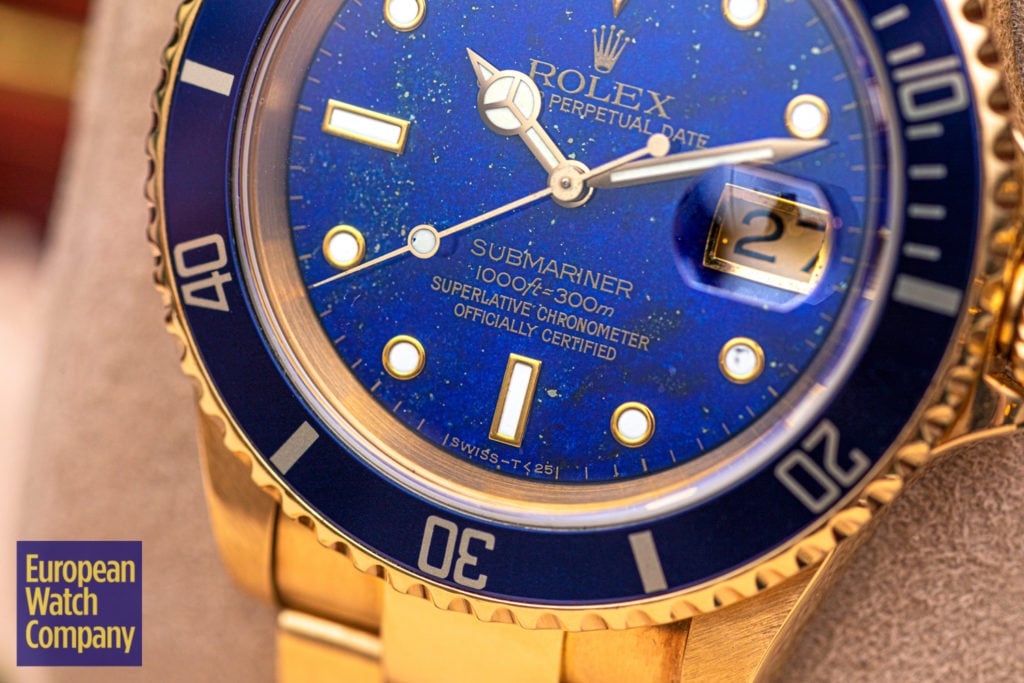 Pair that with the difficulty of building a watch out of gold in the first place, and you start to see why collectors are so excited about this all-gold Rolex Submariner 16618 with a lapis lazuli dial.
Stone dials are making a comeback
As rare as this lapis lazuli Submariner Ref. 16618 is, subs aren't the only Rolex watches that have been given the lapis treatment. Over the years, the crown has released Datejusts, Day-Dates, and Cellinis with such dials, and they still use the stone today.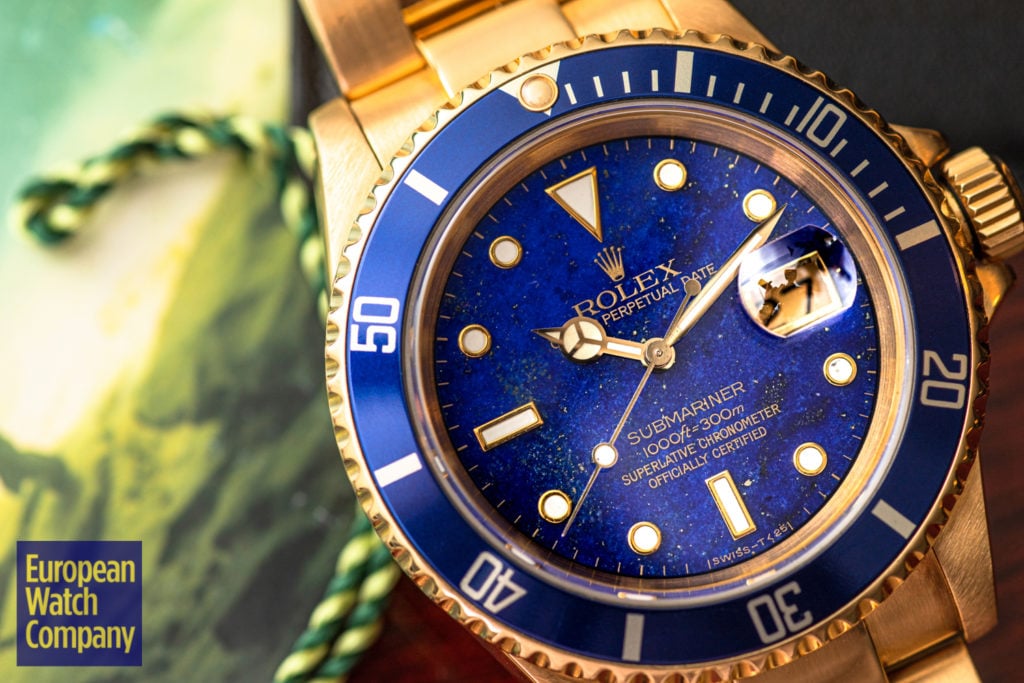 Of course, Rolex isn't the only brand creating watches with stone dials. Lately, the trend that first flourished in the '60s and '70s has been regaining popularity with brands like Jaeger-LeCoultre, Piaget, Cartier, and many others releasing not only lapis dials but other stones, as well—onyx, opal, marble, and more. Aventurine has also become the new 'hot ticket' of late, which has similar visual properties to lapis, albeit in a much darker blue hue.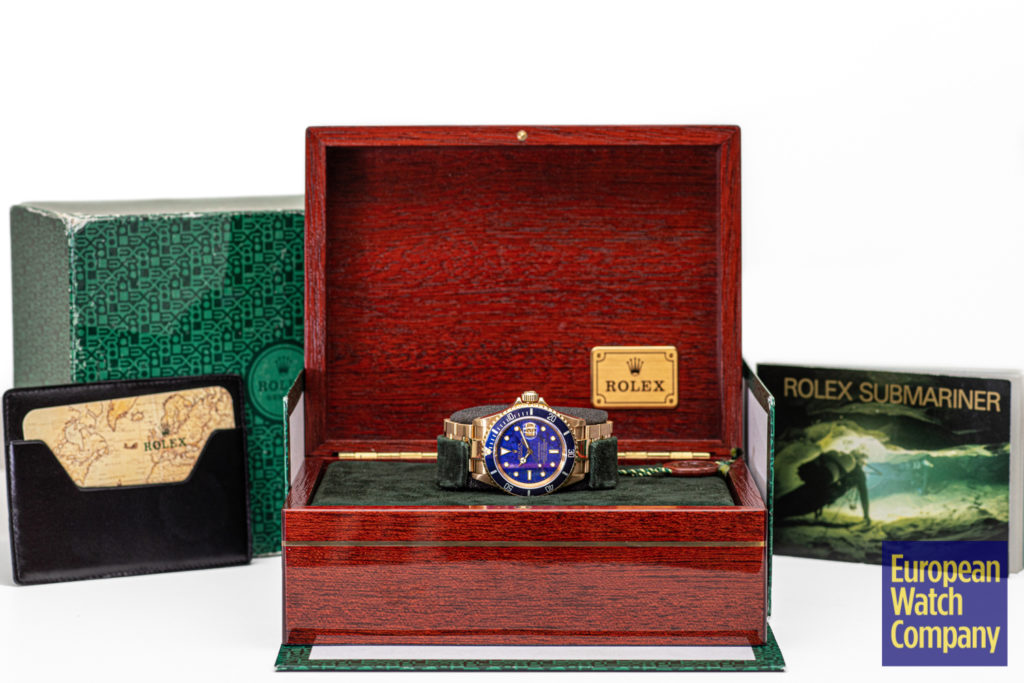 Making a statement
This Rolex Submariner ref. 16618 with a lapis lazuli dial in 18k gold is a breathtaking example of an extremely rare watch. Let's be real for a minute—not everybody can pull off wearing a watch like this. It's bold and deliciously eye-catching. Yet, after that initial splash, once you've settled in with the watch for a while, there is something far more profoundly mesmerizing about the starry night of that lapis dial. The result is a watch that is somehow both flashy and understated, brash yet subtly sophisticated. It's sure to capture the gaze of anyone who sees it—even its owner.