Before the dawn of dive watches, racing chronographs, or any tool watches, there were pilot watches. Not only was the pilot watch the first solution-focused tool watch, but it was also the first men's watch designed from inception to be wrist-mounted.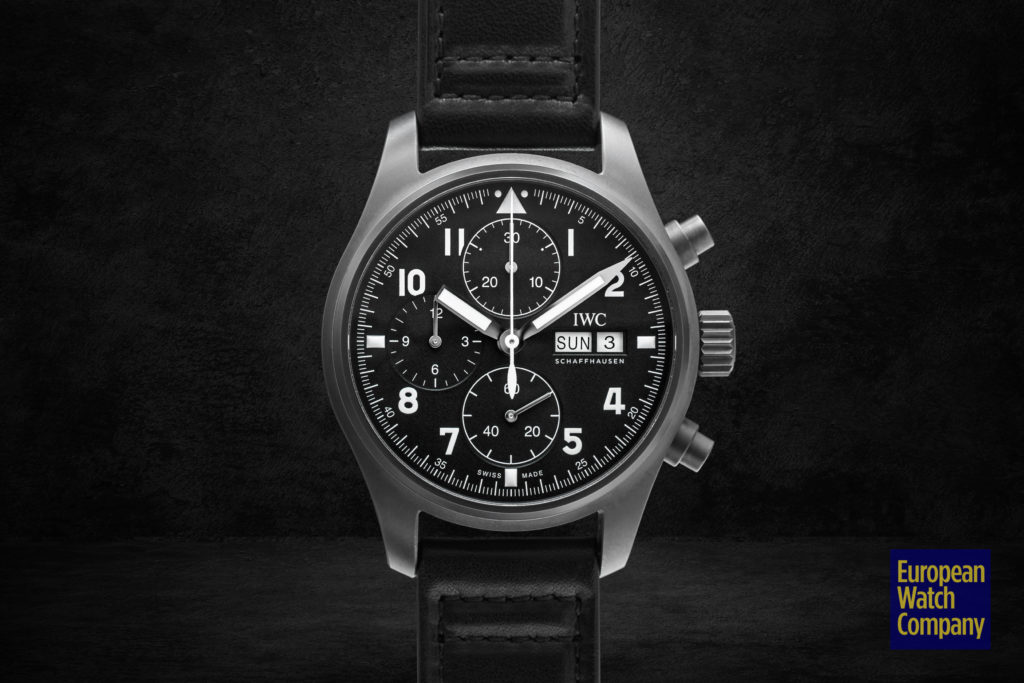 In short, the pilot watch is kind of a big deal and represents one of the most popular watch categories. Also, because there are so many different kinds of aviators—military, commercial, hobbyist, etc.—pilot watches are among the most diverse and broad of watch categories.
This guide will break down what exactly a pilot watch is, and review the different types and functions, as well as some of the most notable pilot watches you can buy today.
What makes a watch a pilot watch?
So what exactly makes a watch a pilot's watch. Well, if I pilot wears it, that's a good start. In general, there aren't solidified rules around the pilot watch category. It's not subject to the same specifications as, say, a divers watch, which has requirements it needs to fill that are passed down from an independent governing body. That said, there are some guidelines based on the purpose of a pilot watch that any good aviator's timepiece should have.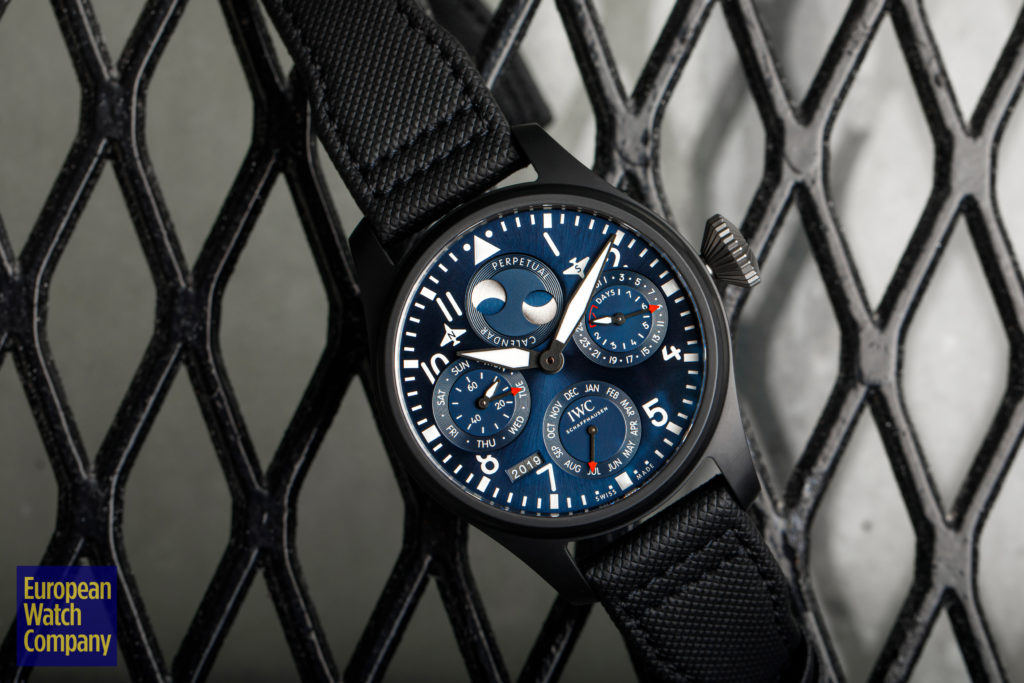 First and foremost, a pilot's watch needs to be legible. Legibility is an essential trait in the pilot watch category, and because of this, pilot watches usually have a large dial with very visible and lumed hands and indices. A pilot's watch will also often have the ability to track multiple timezones via a GMT or dual-time complication. Other features a pilot watch may have are a large crown to assist with operation while wearing gloves or a chronograph function to assist in timing things like total flight time, mission time, or determining when a pilot needs to refuel. With all this variability within the category, it can be hard to decide which pilot's watch is right for you, but we can help with that.
The Best Pilot Watches Available in 2021
Here are some of the absolute best pilot watches available to buy in 2021. When putting this list together, we considered functionality, aesthetics, wearability, and historical importance to develop a diverse list that should have something for all types of aviation enthusiasts.
We included some brand new models as well as classic icons to represent historic pilot watches as well as the future of the genre. While these watches are all very different from each other, they're all exceptional, heirloom-quality, dyed-in-the-wool pilot watches.
IWC Mark XVIII "Laureus Sport for Good"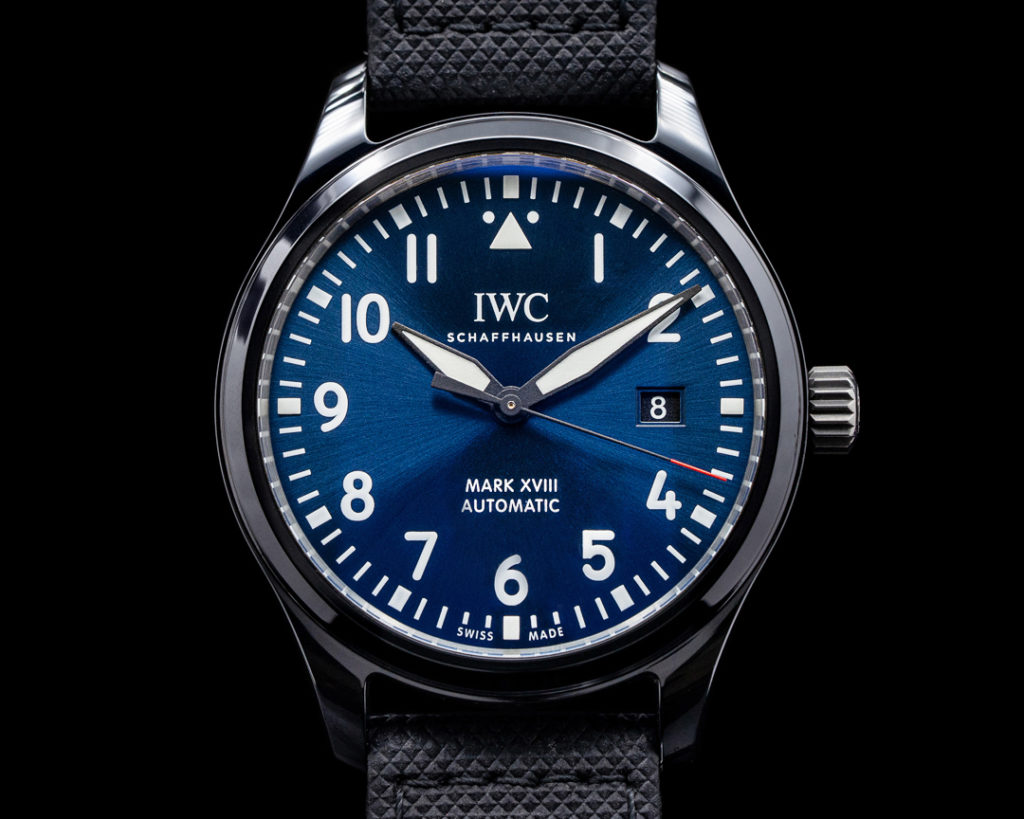 The IWC Pilot's Watch Mark XVIII comes from a long line of pilot watches going back to the 1930s. IWC has long been one of the most eminent producers of pilot watches. Specifically, Flieger-style pilot watches for the military with big, bold luminous hands and markers. This particular MarkXVIII is the "Laureus Sport for Good" limited edition—individually numbered 1500 pieces—with a striking black ceramic case, radiant blue dial, and "Spitfire" epee hands.
Some of the proceeds of the original sale of this watch went to the Laureus Sport For Good Foundation, which is commemorated on the caseback with an engraving that an 11-year old contest winner created. Like most Mark XVIII's, this is a time and date pilots watch that's built to last with an iron inner cage to protect the movement against magnetism and an extra secure sapphire crystal that won't pop off with sudden drops in pressure.
It's a basic but reliable tool watch and a great companion for any pilot. The only knock I have on it is it's 60 meters of water resistance, which is good enough for some light swimming but not much more than that. But hey, it's meant for the skies, not the ocean.
The Breguet Type XX
The other watches on this list are great, but they're all modern consumer products, and while some consumers might be pilots, most of the people who will these watches are not. That's not the case with this Breguet Type XX ref. 5101/54. The Type XX was specifically commissioned and issue to military personnel starting in the 1950s.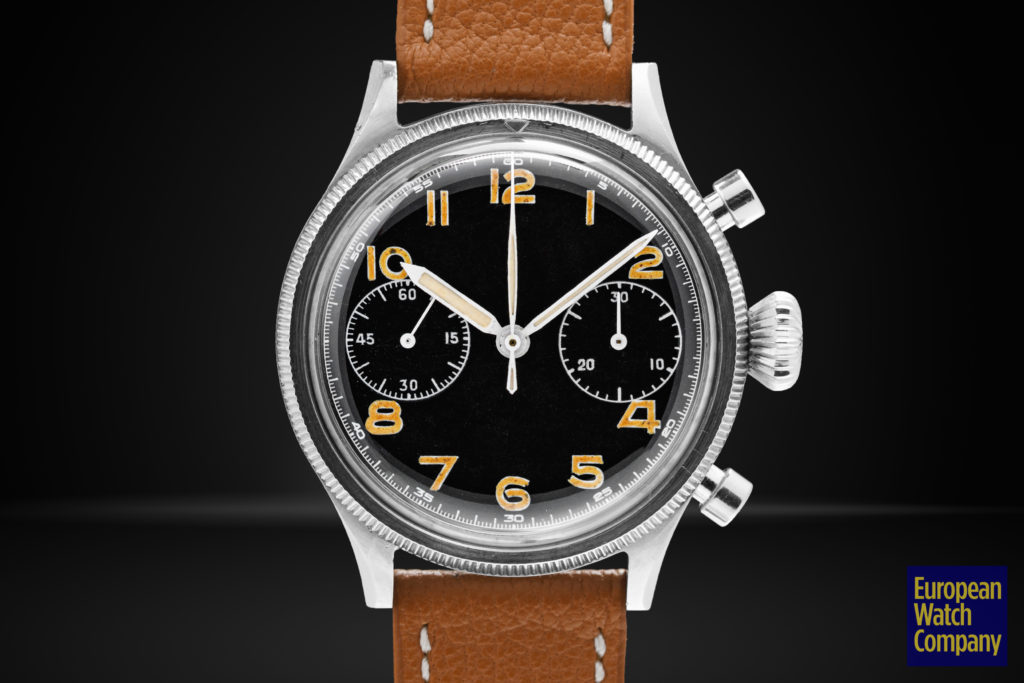 Even the name XX is comes from the project code that the French military came up with in their search for the ultimate pilot watch. All type XX watches had to fit specific requirements, such as measuring 38mm in diameter and featuring a bi-directional bezel. You'll also notice this watch has no branding on it, as that would add unnecessary information to the dial. When you're trying to check the time during a mission, no one cares what it says on the dial.
Powering the watch is a manual winding Valjoux caliber 222R with a flyback chronograph, and while this watch is getting long in the tooth, most military-worn examples were faithfully serviced and well taken care of. They often even have service markings engraved in their casebacks. This being a vintage watch, it won't be as durable as some of the other options on this list, but it is undoubtedly the most authentic. For more information on this watch, we have a full write-up here.
Breitling Navitimer
The Breitling Navitimer is one of the most notable pilot watches ever made. It's a tool watch in the purest form of the term and was the first watch to include a slide rule which is a common tool used by pilots.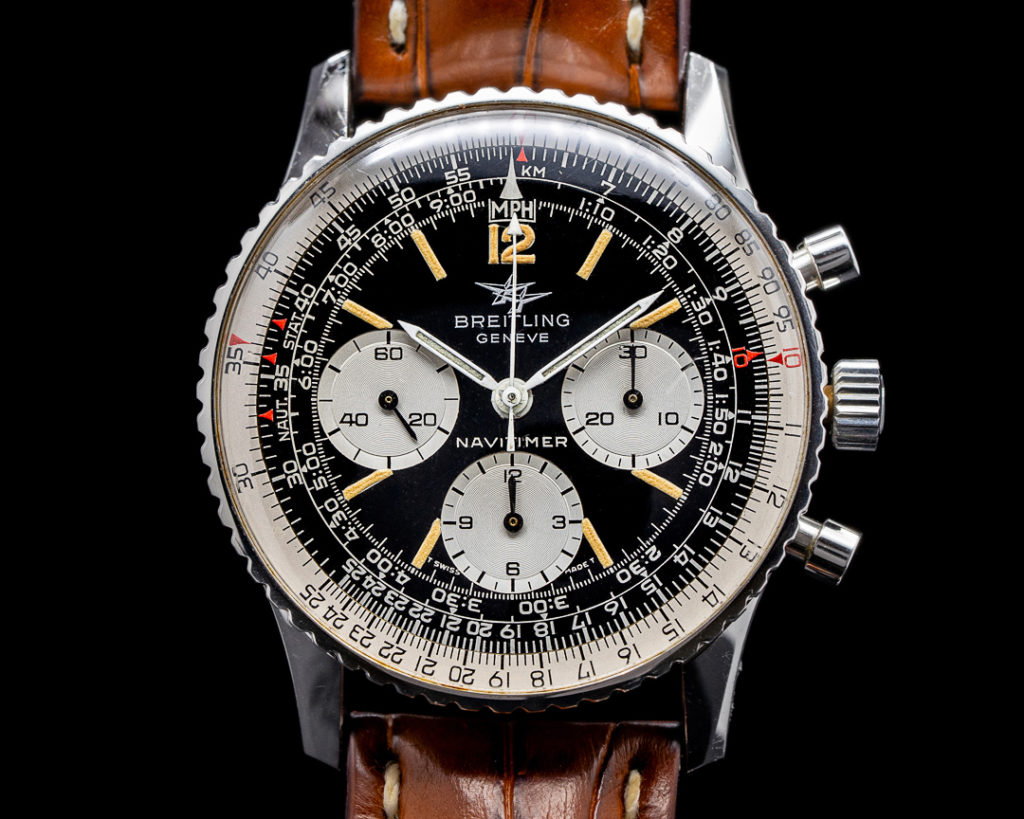 The internally rotating slide rule works in conjunction with the chronograph to help aviators calculate things like airspeed, rate of climb or descent, fuel consumption rate, and more, all on their wrists. Because of the slide rule, the dial is very information-rich and has an unmistakable tool watch aesthetic. It's clear to anyone upon first glance of the Navitimer that this is watch was built to get a job done.
This particular model is a vintage Breitling Navitimer 806 from 1966. It's powered by a manual-winding Venus caliber 178 movement, oozes vintage charm, and is a great value buy. Though because it's a vintage piece, it will require more care than a modern watch, but that's the case with any vintage collectible.
Rolex GMT-Master II reference 126710
Since its release in 1955, the Rolex GMT-Master has been one of the most popular pilot watches ever made. Produced in conjunction with Pan Am as a tool for commercial pilots, it combines tool watch functionality with dress watch class.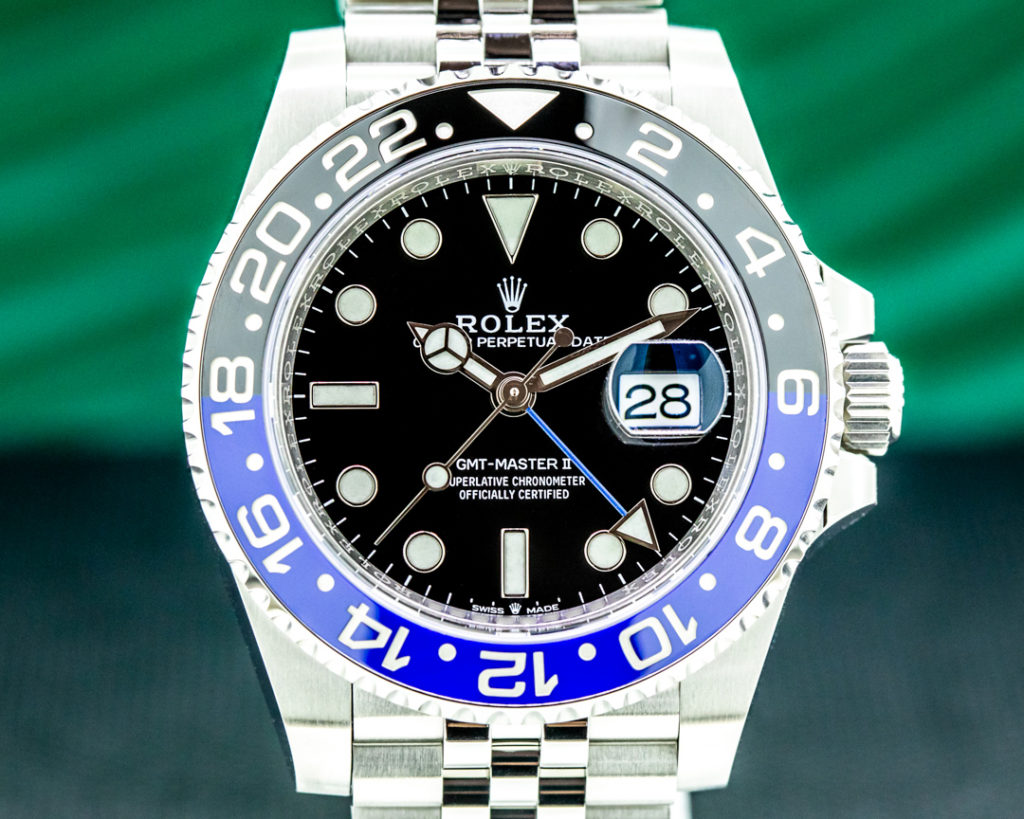 This modern reference 126710 with a black and blue ceramic bezel and jubilee bracelet has a state-of-the-art in-house movement with a 70-hour power reserve. It also has an independently adjustable hour hand and a rotating bezel that allows the wearer to track up to three timezones at once and effortlessly adjust the local time.
It's also housed in Rolex's legendary oyster case, which is notoriously tough. However, as I said, it is extremely popular and is unfortunately near impossible to get at retail without waiting possibly years.
Patek Philippe Calatrava 5524G Pilot Travel Time 18k White Gold 2020
This Patek Philippe Calatrava Pilot Travel Time 5524G is undoubtedly the most luxurious watch on this list and is also one of very few pilot watch models made by Patek Philippe. Regardless of its solid 18k white gold case and the lack of aviation legacy, Patek did not cut any corners in terms of pilot watch legitimacy.
Its large lume-filled hands and numerals provide excellent legibility and are done in a style that tributes 1930's military pilot watches. In addition to this watch's vintage design traits, you get modern dual-time functionality with easy pusher adjustment.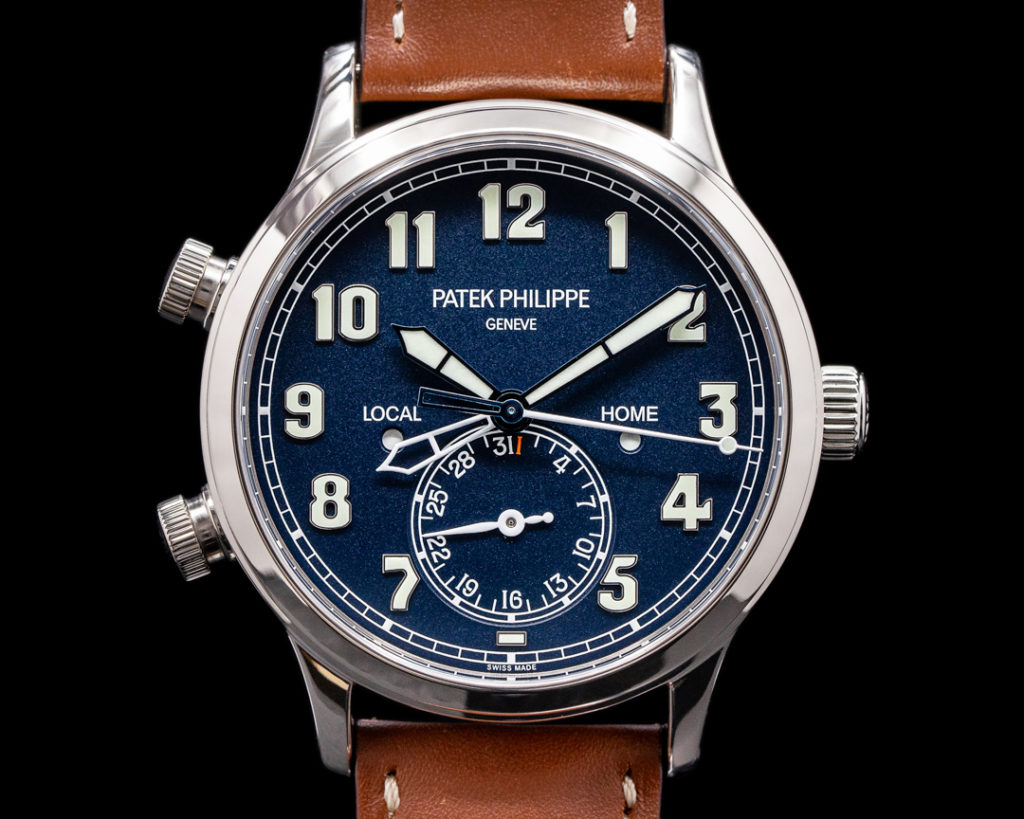 The top pusher advances the local time backward, the bottom forward, bringing with it the date. There are also day and night indicators for local and home time and the date in the subdial at six.
This specific example is a 2020 model in almost mint condition with box and papers. But remember, this is a full-blown luxury watch in addition to being a pilot watch and costs more than any other timepiece on this list.
Cartier Santos-Dumont Limited Edition Platinum "Le Bresil"
This watch possesses virtually no traits of what we've come to think of as traditional pilot watch traits, but I would be remiss if I left it off this list for one very good reason. The Cartier Santos Dumont is the direct descendent of the very first pilot watch ever, and its design has changed very little since its inception.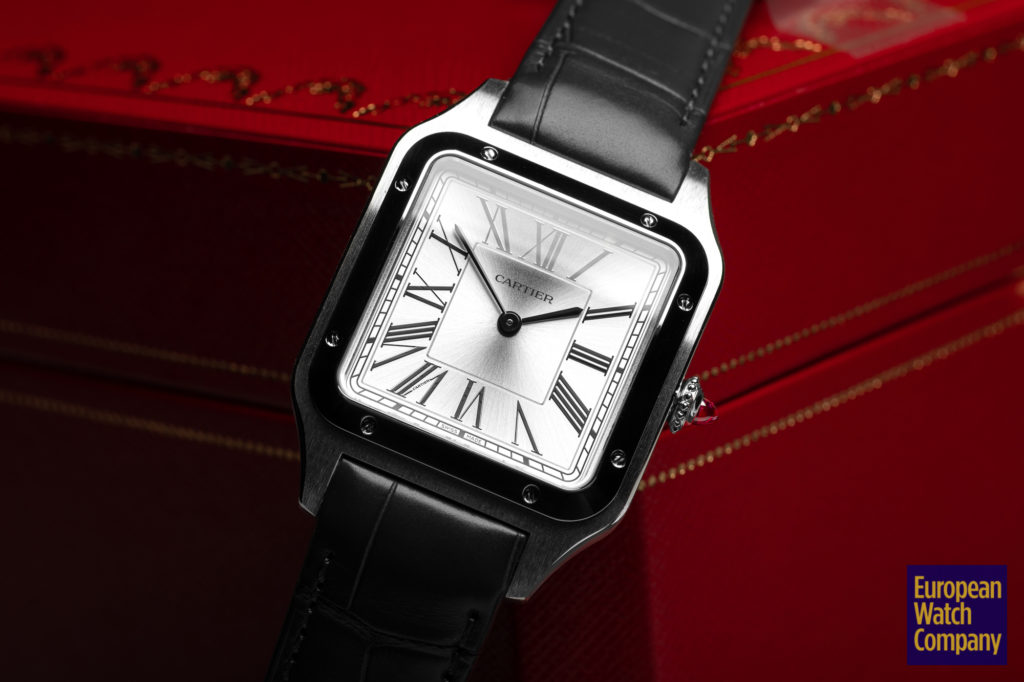 Made by Louis Cartier for his aviator friend Alberto Santos Dumont—hence the watch's name—the Cartier Santos was not only the first pilot watch but also the first tool watch and the first men's wristwatch. Though it's not the best watch for pilots today, its durable case and ability to be mounted to a pilot's wrist were a big step up from a pocket watch when it was introduced in 1904.
This modern platinum "Le Bresil" limited edition is an effortlessly stylish and luxurious iteration of the original pilot watch. That said, there are only 100 examples in existence, so it will not be easy to get a hold of.
IWC Big Pilot's Watch
No list of pilot watches would be complete without the iconic IWC Big Pilot's watch. It's perhaps the purest modern example of the genre, and I think it best represents the classic Flieger-style military pilot watch. This model is the IWC Big Pilot's Watch reference IW500401.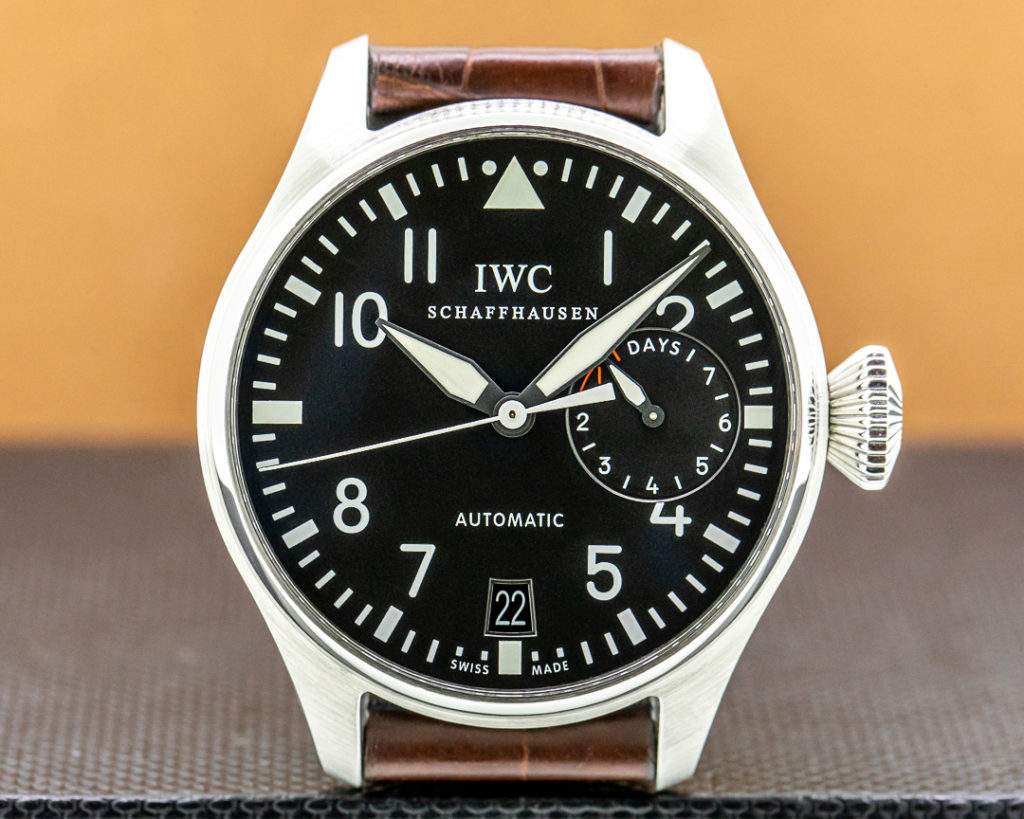 It measures a whopping but true to form 46mm in diameter and has the trademark large lume-filled hands, bold luminous Arabic numerals, and the orienting and recognizable triangle with two dots at twelve. It's powered by the automatic IWC caliber 51111 movement, which notably has a seven-day power reserve. If you really want an authentic, modern pilot watch and feel you can pull off the 46mm case size, this is the watch for you.